Aweber reviews are all over the internet – but trust us as experienced email marketers who have gone through Aweber step by step to bring you this comprehensive and honest review.
Email marketing is now a must for all businesses, whether big or small. In the past, email marketing was reserved for bigger brands or e-commerce websites. Now, almost everyone (even small businesses and personalities) is expected to use email marketing.
Even bloggers and social media influencers use email marketing nowadays, which was not the case a few years ago. If you do a simple Google search for email marketing tools, dozens of services come up. One of these is Aweber.
So, how does Aweber fare compared to other email marketing tools? Let's take a look.
Aweber Review Summary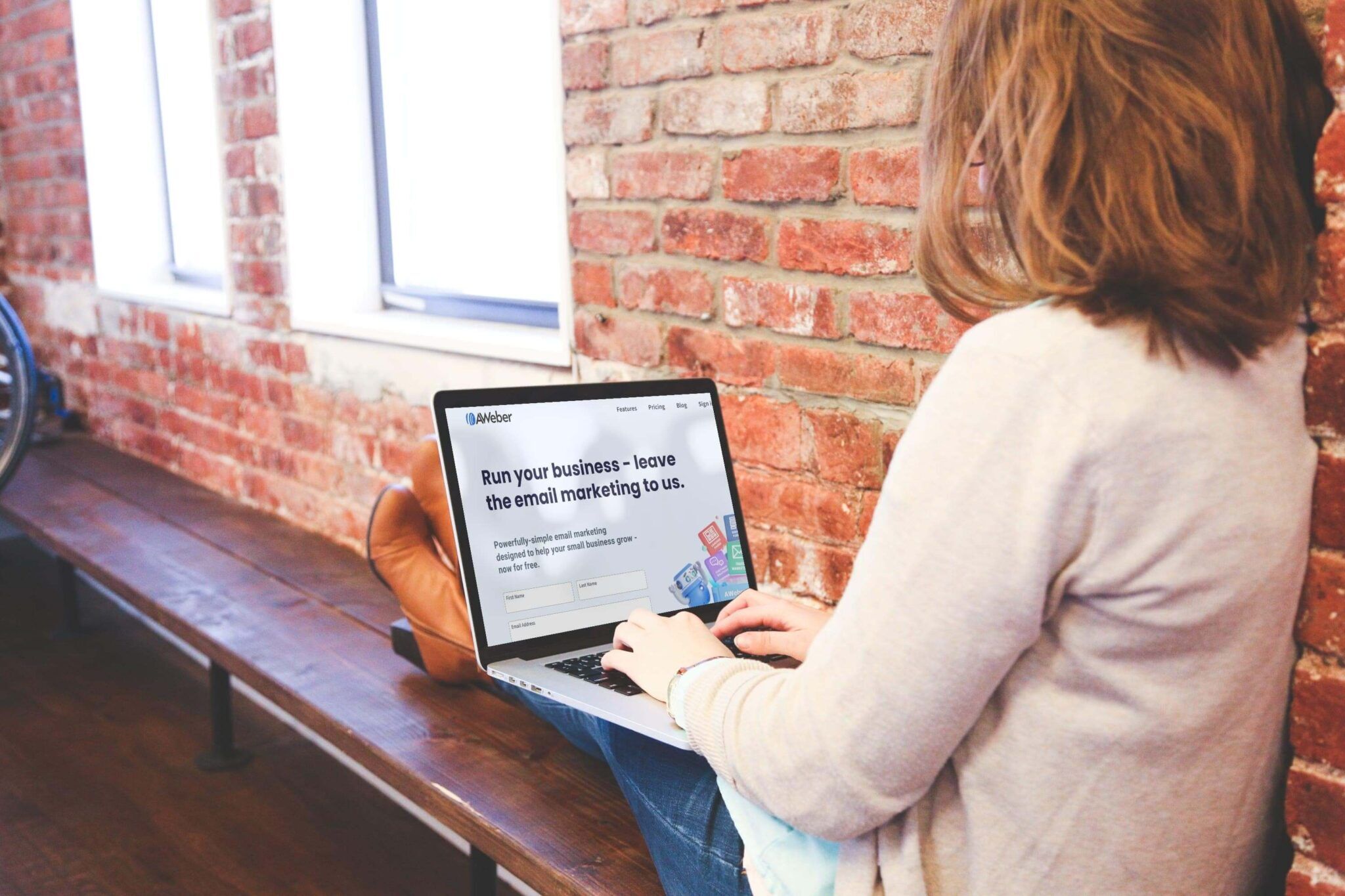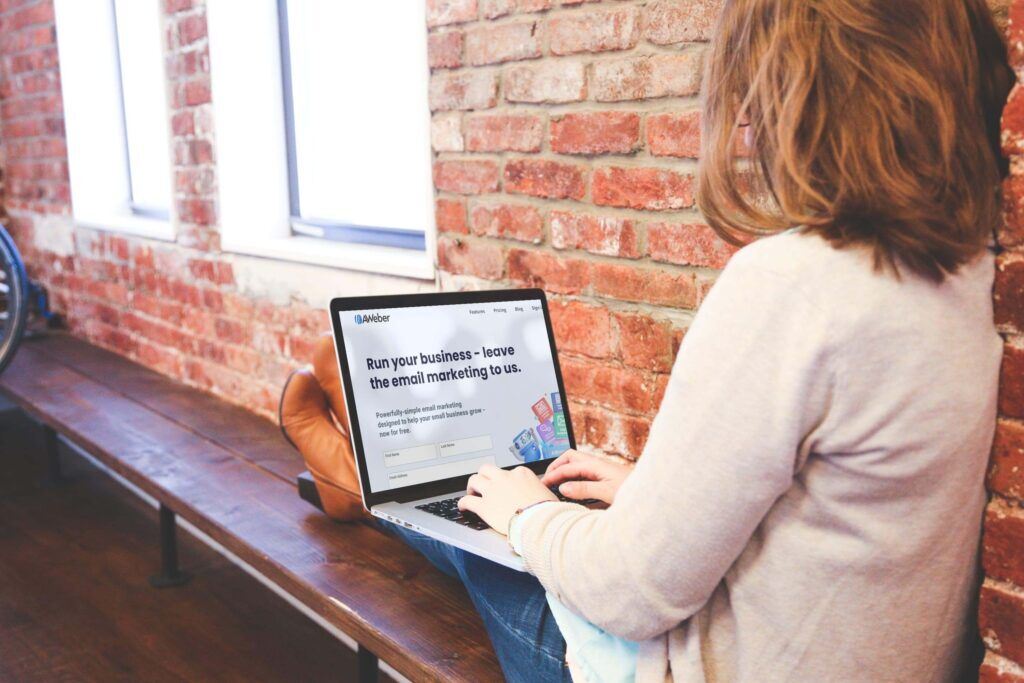 Aweber's mission is to "to deliver powerfully-simple email marketing software for small businesses that does 90% of the work for you. We leave the last 10% for you to have fun!" Straight from Aweber itself, this email marketing tool is made especially with a small business in mind.
The company was founded in 1998, making it one of the earliest email marketing companies established. It is also one of the most popular email tools, with over 120,000 companies from all around the world using it for email marketing.
Aweber offers most of the functionalities that are considered the standard now in email marketing platforms. With Aweber you can:
easily create forms and landing pages
import and add new subscribers
automate email sequences
split testing
reliable support
data analytics
This is not perfect a perfect platform. Although in my opinion, I don't think a perfect platform actually exists. Some of the flaws that should be pointed out are dated templates and limited marketing automations. If you do your research, this is not the only Aweber review that will mention those two negative points. Read on and you'll see why in more detail.
However, for people looking for a solid email marketing tool that is made for small businesses, that's fairly easy to use, and has all of the features that one would need to get their email marketing campaigns off the ground and running, Aweber might just be the one to fit the bill.
Features
Let's take a closer look at the features that Aweber offers.
There are two plans available – a Free Plan and a Pro Plan.
The Free Plan can be used for up to 500 subscribers and can send 3,000 emails a month. It also offers 1 list profile. If your subscriber list grows beyond 500 contacts, you will need to start paying for a Pro Plan.
The Pro Plan offers sending to unlimited subscribers, sending out unlimited number of emails, and unlimited list profiles. It also offers data reports that are not available in the Free Plan.
Aweber's Pro Plan offers the following features:
Customer subscriber segments
Advanced reports
Click and open automation
Website tracking,
Sales tracking
Custom branding
Aweber provides the same functionalities across all plans. Unlike other email marketing services that offer more features when you sign up for a more expensive plan, Aweber price only differs based on the number of subscribers.
Ease of Use
As previously mentioned, Aweber was founded more than 20 years ago and is one of the oldest email marketing services around. In my opinion, this is both a good and bad thing.
This is good because it gives Aweber a deep well of knowledge and experience when it comes to offering the features that its target market needs and wants.
On the other hand, this long history can also be bad because the age of the platform shows in the user experience.
Although I'm sure it has evolved with time and the company has made sure that 2020 Aweber is completely different from 1998 Aweber, the interface is not as easy to use as other email marketing apps. It has a slightly dated user experience.
I feel like this is because of how long Aweber has been around. If you've used other (newer) third party email marketing tools, such as ConvertKit for example, the user experience is more seamless and intuitive.
If we were comparing the 2 services, just in terms of ease of use, Aweber is definitely not as easy to use as ConvertKit. Although it does offer convenient features like drag and drop in creating emails, the look and feel of the entire Aweber experience is dated.
Don't get me wrong, Aweber is not hard to use in itself. Even if you've never tried any other email marketing tool, you would still be able to use Aweber effectively. The user interface is decent and can definitely be worked with. However, it you've tried others, then you'll see and feel the difference between using Aweber compared to newer platforms.
Pros
Email templates available
There are hundreds of templates available for you to choose from
Complete integration options
Integrates to over one thousand apps and websites
There are easy ways to get in touch with customer service – live chat, phone support, and email support are all available
Cons
It seems that some templates from 1998 were left in the library
Not really a con, but there are cheaper email marketing options that offer more automation features
Basic autoresponders are available but not as advanced as other services offer
What is Aweber Good For?
As Aweber's states in its mission statement – this service is made for for small businesses. It's not meant to be used by large, multi-national corporations with hundreds of thousands of subscribers, or for other companies that require complicated automations when it comes to sending emails.
Aweber is a great tool for brands or business that might just be starting out and want to save time in getting new subscribers and growing their email database.
Aweber is also great for people who want, and need, lots of support available. Aweber offers users live chat, email support, phone support, webinars, and tutorials.
Many services nowadays just offer knowledge base of FAQs and make it almost like a scavenger hunt to get in touch with an actual person for customer support. Fortunately, Aweber realizes the importance of providing great customer service and convenient support.
What is Aweber Not Good For?
A lot of Aweber reviews online and on social media can be a bit too gleaming because these publishers will do anything for a referral commission. But not us. There are plenty of reasons might not be the best email marketing for you.
Aweber is not good for large companies or multinational entities with hundreds of thousands of subscribers. This is a a good service for smaller businesses that has up to a few thousand subscribers. It is also not good for those who need in-depth and predictive analytics. There are other services that offer more options in these aspects.
Aweber will also not be a good fit for people who may have used other email marketing platforms that offer an easier and more intuitive user experience. Although it is not complicated (you will not need to invest a lot of time in learning how to use it), there are other services that offer a more seamless user experience.
Aweber's free plan has won it a lot of support that consistently beats other beginner-friendly autoresponders like Mailchimp and ConstantContact.
That's because the free plan is very generous with 24/7 support and multi-user access if you have collaborators, which is pretty exceptional for a free plan.
Perhaps the most noticeable exclusion of free vs pro is split testing but that is quite an advanced feature which competes with much more premium email marketing services.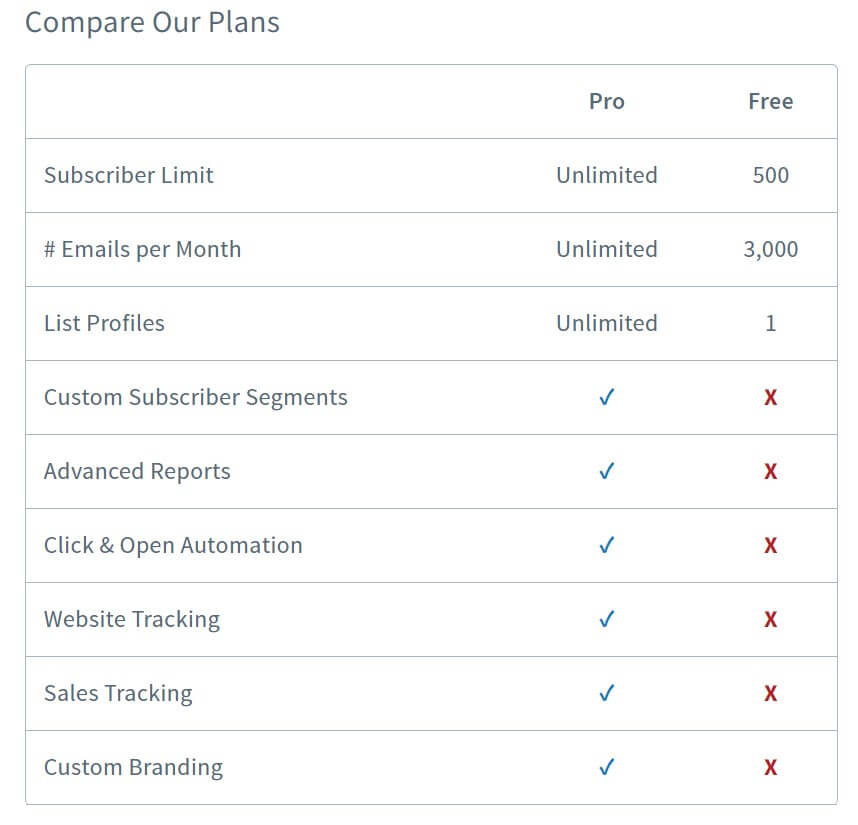 Aweber Review In Detail
Let's see how the process of working with Aweber goes.
Signing Up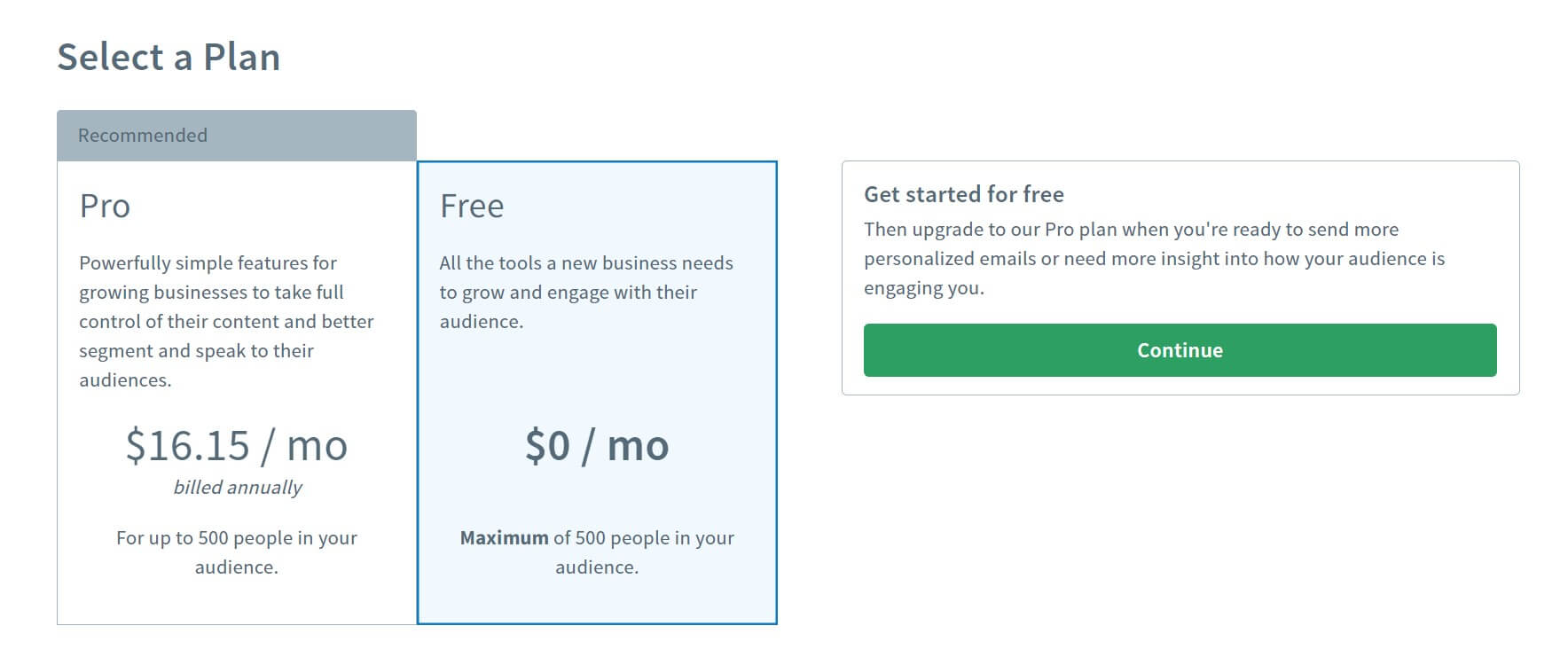 Signing up to Aweber takes no time at all. Trust me that despite having run a number of websites with traffic, actually setting up email marketing can be a big turnoff, resulting in an opportunity cost when I don't collect any leads.
When you sign up for an account using your email address, you are immediately brought to a landing page that asks if you want to sign up for a Pro account or for a Free account.
One plus point for this service is that Aweber offers a completely free plan, and not just a free trial.
Other email marketing services offer a free 30-day trial, before you have to upgrade to a paid plan. Aweber's free plan is free forever, or until you reach 500 contacts, whichever comes first.
However, I must say that I am not a fan of the account sign-up page of Aweber. This is the first page you see when you are signing up for an account. Compared to the sign-up pages of other email marketing tools, like ConvertKit and Mailchimp,
Aweber's is not as smooth to use. The sign-up process for these platforms are much easier and more pleasant. Their landing pages are also more welcoming, in my opinion.
The first landing page of Aweber contains the fields required to sign up for a Pro account, including fields asking for your credit card details. This might be a turn-off for some users (me included), as it gives the impression that you need to enter your credit card details to get started, which is actually not the case.
It feels like Aweber is pressuring you to get the Pro plan immediately. This is a minor issue, but just something that I noticed and felt was worth mentioning in this review.
Moving on, if you click on the free plan, you'll be asked to do 3 steps:
Step 1: Input your personal information
Step 2: Name and describe your list (the group of people who have given you permission to send them broadcasts or campaigns to their email addresses) – You'll be asked to give a list name and describe your list (for example, new customers or loyal customers). This information can be edited later on if you decide to change this after.
Step 3: Approve your confirmation message – In this step, you can choose the language, edit the subject line, and edit the message preview.
The default subject line is "Confirm your subscription" and the default message is "Please click the button below to confirm that you'd like to receive email from ___." This is typical of most email newsletters, so you can change it to something unique to you or you can keep it as is.
Once you're done setting up your account, you can start populating your email list with new subscribers either one at a time or upload many at a time.
If you're starting from scratch you can create a sign up form that you add to your website or share on social media. The user experience is fairly simple and easy to use. However, it is not as visual as other email marketing tools.
However, it is very easy to get your own domain email address integrated with Aweber. Simply enter the email address and you'll receive an email to verify the connection.
Aweber then provides a detailed beginner-friendly guide to updating your DNS records so your DKIM and SPF records to protect your domain from fraudsters posing as you and maximize your deliverability rate by making sure your domain is verified sa trustworthy.
Dashboard
On your Aweber account dashboard, you'll find everything you need all in one place.
Highlighted is the Create A Message which will allow you to start creating your emails immediately.
When you click this, you can choose to make your messages using a Drag and Drop builder, a Plain text message to create a text-only message, or an HTML editor that uses WYSWIG or allows you to edit the raw HTML.
The Aweber dashboard will also let you build your list, create an email (this will bring you to the same place as when you click drag and drop on the Create a Message), and Connect an Integration.
Another plus point for Aweber is the number of integrations it offers. According to the site, there are exactly 1,031 integrations that can be done.
You can integrate to WordPress, Zapier, Facebook, Shopify, Paypal, and many many more. If you don't find what you need in this extensive list, maybe you don't really need it, and you'll find a suitable alternative already available.
My favourite is its easy connection to popup builders like OptinMonster and Sumo since Aweber's form builder is terrible. Again setting up a popup in one of these and then connecting it to Aweber took no time at all.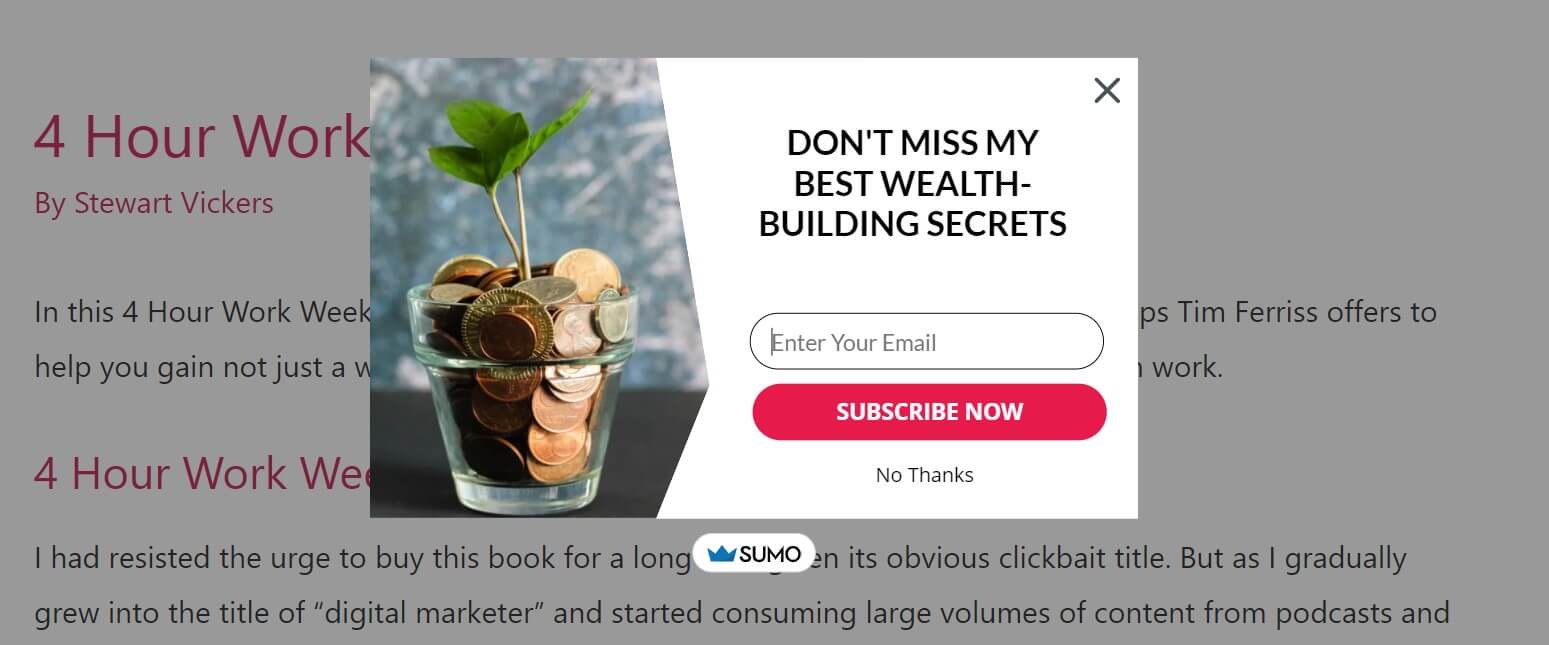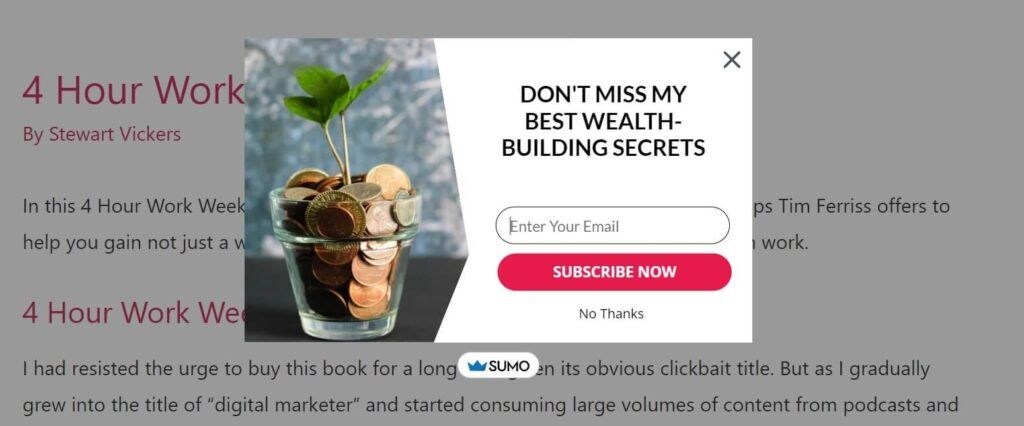 Your subscriber stats, landing pages, scheduled broadcasts, sent broadcasts, and list stats are also found in the Aweber dashboard. This is one more plus point for this service.
Aweber provides everything you need is all in one place. Just scroll down and you'll see a quick snapshot of how your email campaigns are doing – like how many active subscribers you have, how many email addresses you've added to your list today, and how many have unsubscribed from your email list.
The dashboard is also where you'll find different dropdown menus. First, you'll see Messages where you'll find Broadcasts, Split Testing, Campaigns, Blog Broadcasts, and the Email Template Manager.
Single Broadcasts

In Broadcasts, you'll find most popular feature which is allows you to create your first email newsletter. You can design your own layout using a drag and drop feature or you can choose to use one of the hundreds of email templates available.
Some of the templates provided are slightly dated (think 90's era Clipart) and have probably been in the library of Aweber since it was founded.
There are also newer, more contemporary designs and blank options that you can customize yourself. If you're working with a Pro plan, you can also contact Aweber and they can customize one for you. The wide range of templates available is definitely a plus for Aweber.
Aweber also has a feature where you enter your website URL and it will create a variety of templates for you. The designs are very basic and will simply scrape your logo, colours and font but it is definitely a quick way to create branded emails.
Automated Campaigns
Campaigns allow you to create or import a campaign or create a campaign based on a template. Templates include a welcome series, lead magnet, blogger series, or a mini-course. This is a great feature that makes it easy for the user to start an email campaign without having to spend too much time setting it up.
Having said that, the campaign templates are very limited. In fact, the whole campaign builder is pretty much just emails, delays and applying tags.
More advanced marketing automation software like GetResponse and ActiveCampaign will let you create a new journey for subscribers meeting certain conditions there and then.
However, while Aweber only gives you the bare bones of an automation, if you enter any of the email designs you'll find they have been pre-populated with effective sales copy.
For free software like Aweber, that's a big helping hand given the demand for paid sales copy software like Funnel Scripts and Automatic Script to condense the time taken to create an email funnel.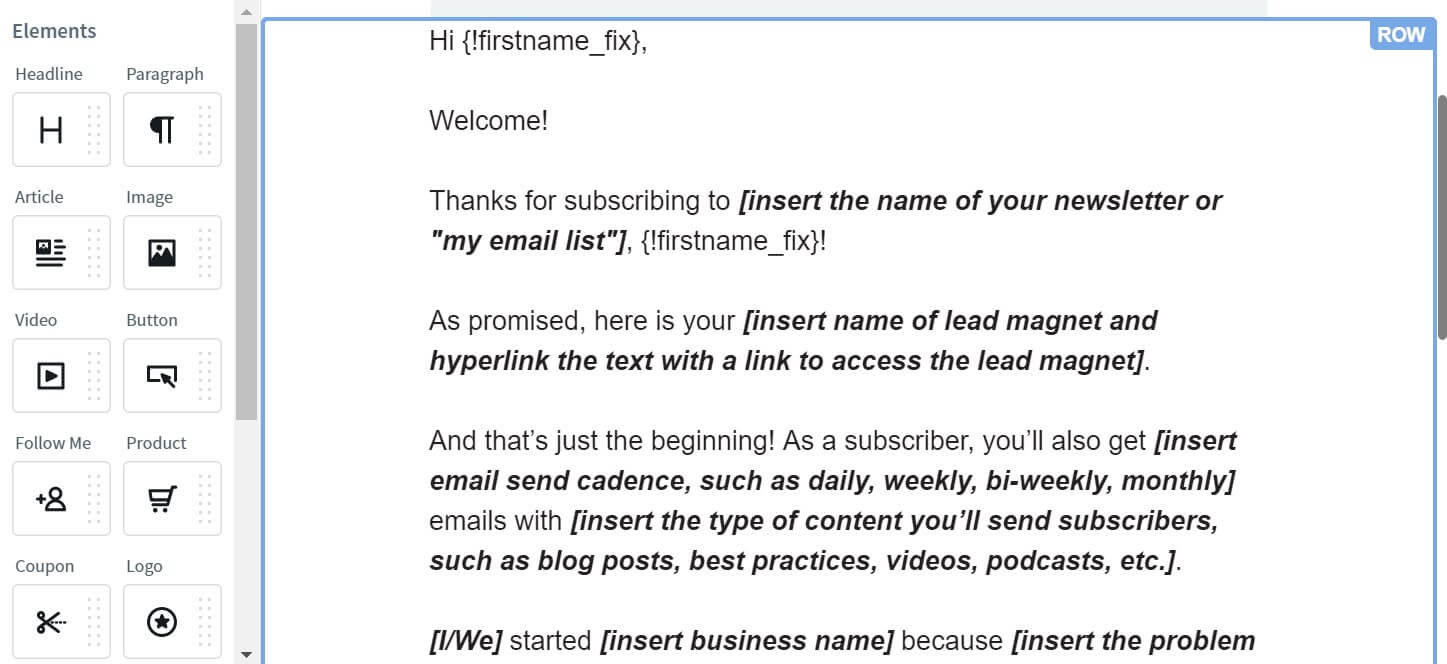 With Aweber you can automatically add a tag to a subscriber if they either open an email or click a link (and you can specify which link). To create a new campaign for that subscriber you have to go out and create a new campaign that starts with the trigger "tag added". However, this is enough to allow you to target emails carefully.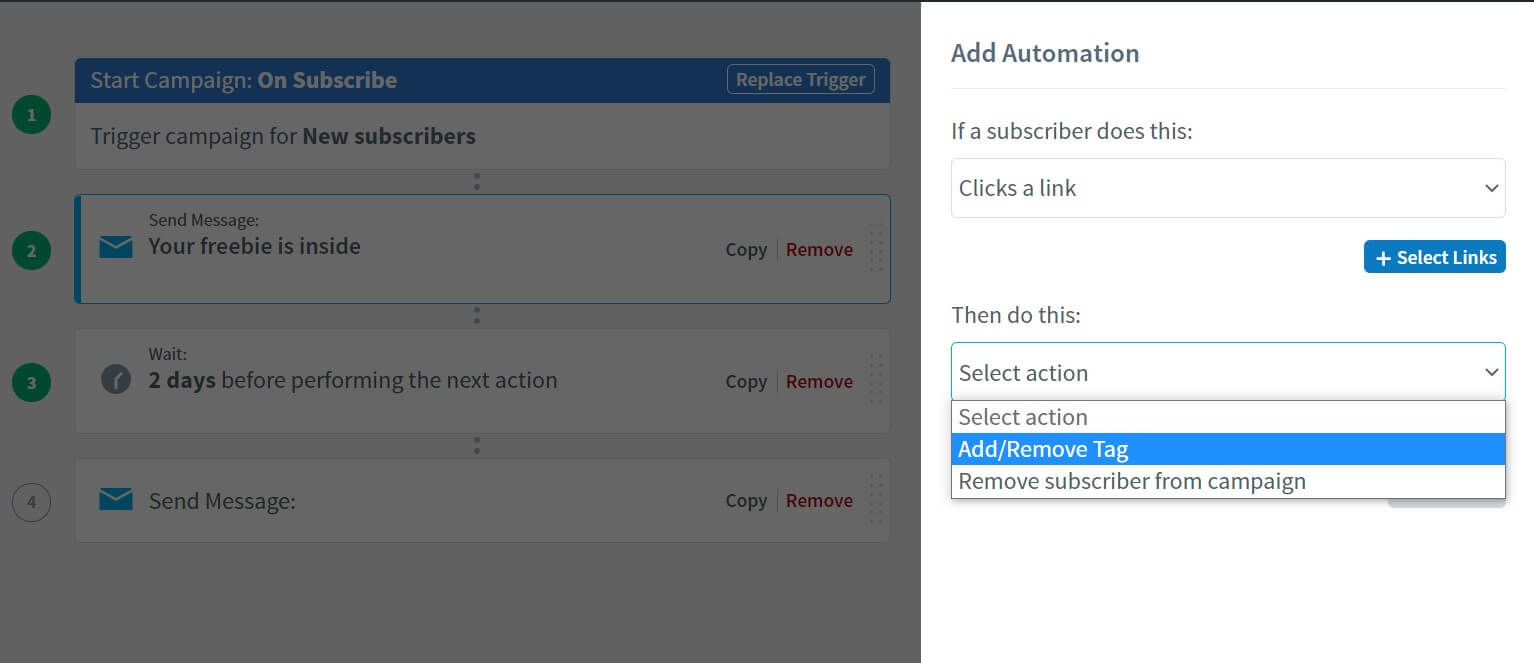 For instance, you can set up your opt-in so that new subscribers that joined through your free ebook offer are automatically tagged as "ebook" and you can create a campaign that delivers them their ebook and then treats them differently to someone who just signed up through your website signup.
For example, a mini-course allows you to send out a step-by-step instructional to your audience. If you were a fitness blogger, you could start an Upper Body mini-workout and send your subscribers a useful workout.
This will definitely increase your engagement and keep them interested in your emails. You can also add automations like sending out specific emails after a certain action (like click a link) or certain amount of time (1 day after performing a certain action).
Broadcasts and RSS Campaigns
Blog broadcasts are email newsletters that contain the content of your blog. You can choose how often to send emails to your subscribers, depending on how often you update your blog. This is another great option that Aweber offers that saves both time and effort.
This instantly turns your already-existing blog content into emails. This not only updates your email subscribers about what's happening on your blog, it also extends the readership of your blog. You just need to link your blog using the RSS feed. URL. Aweber offers a step-by-step tutorial on how to do this.
The Email Template Manager is also found under Messages. Here, you can make your own template to make sure that your emails are on brand. You can start with an existing Aweber template, importing one of your own existing templates, or coding your own.
Again, Aweber has tutorials on how to code your own template, another testament to the support that Aweber offers its users time after time.
Split Testing
A/B testing is a very important part of email marketing. What's the best subject line? Should I use the recipient's name or emojis? Am I being too salesy?
Some email tools are very limited when it comes to split testing and only let you test subject lines. While that is the biggest variable people look to for open rates, it doesn't help with testing out products or blog posts.
With Aweber this is not the case if you get the Pro version. You can test whole different emails against one another. You can try different button colours, sales copy and more.
And this isn't just a simple A/B test – you can test up to three emails which makes this a full multi-variate test.
Contact Management
Another drop down menu found on the dashboard is Subscribers. As mentioned already above, you can use existing subscriber lists and import them into Aweber or create a sign up form to ask new subscribers to sign up.
On individual contacts you can see a lot of information including their location and you can see if they have confirmed their subscription or not.
However, if you do wish to delete inactive subscribers to save money and improve your deliverability rate, you can easily filter out those who have not opened emails or engaged well and delete them.
Like many email services, Aweber does count unsubscribes towards your plan limit.
Form Builder
After Subscribers, you'll find Sign Up forms, where you can create your own Sign Up form. Again, you can start from an Aweber template as a base then tweak it to make it your own. You can also make your own design. From this page, you can also automate the form already, tagging any subscriber who fills up this form.
The feature itself is easy to use, but the look and feel of the whole process is a very dated. I mean, seriously, look at these designs…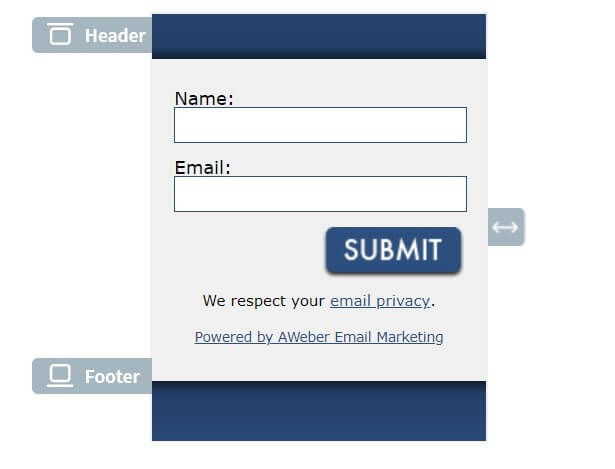 It doesn't feel as intuitive or contemporary as other email marketing platforms. This has been a complaint about Aweber for a long time as one of the oldest email marketing platforms.
They addressed this issue recently by introducing a landing page builder – and the change is remarkable.
Landing Pages
After this drop down menu, you'll find Landing Pages. The templates of these pages are noticeably more modern-looking than the form templates available.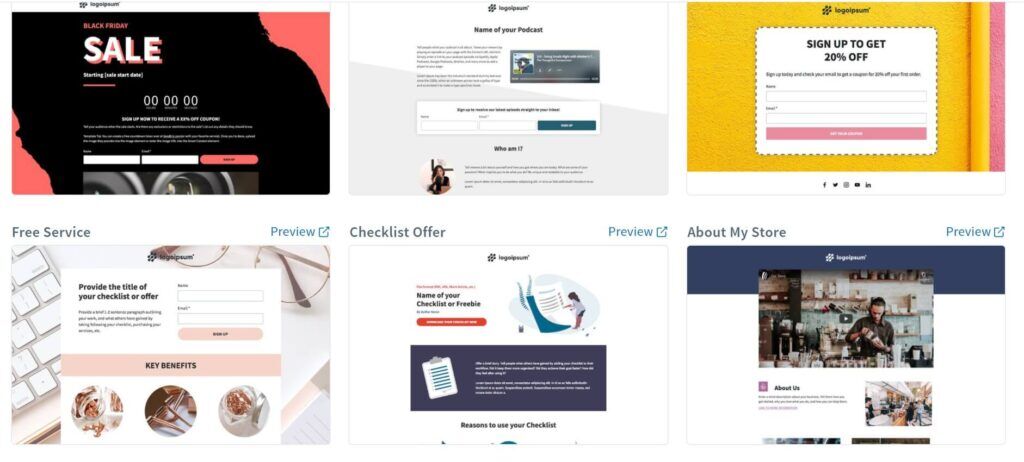 You won't find any 90's clipart featured here. However, there are much fewer options available in the landing pages templates compared to the email templates. This feature also uses drag and drop options to allow you to customize your landing page. You can add buttons, forms, or additional text or images to existing templates.


Reports are only available to those using Aweber paid Pro plans. Free plans do not get any data reports at all. Paid plans can access analytics like website and sales tracking.
The pages are nice but basic. Would I use them? Probably not. GetResponse certainly leads the way here. GetResponse lets you set up multiple pages as part of a sales funnel that rivals premium software like Clickfunnels. You can even set up shopping carts and webinars using their funnel templates and integrations.
If you have a single product to sell then GetResponse may well be a better option for you.
But back to Aweber – if I didn't have my own website I would probably look at a landing page builder like Leadpages, Unbounce or Instapage to unlock the benefits of speed, A/B testing and branding.
But these are not cheap tools whereas Aweber lets you build a reasonable web presence for free which could easily highlight the benefits of signing up to your list or whatever product you are aiming to sell.
The last drop down menu is List Options. Here you'll find list settings, tags, custom fields, and list automation. List settings is where you manage your list details, confirmation message, and other list-level settings. When you click on tags, it will re-direct you back to your contacts and let you add tags there.
Custom fields are for additional information you might want to collect from your subscribers, like telephone number or country. List automations, like click and open automations, are only available for paid plans.
Aside from the menus featured in the main part of the dashboard, there are other options you'll find in your Aweber email account. One is Manage your lists which allows you to create, export, or deactivate your lists. The other one is Integrations, where it offers you all the integrations with other apps available.
Ease of Use
If you notice, Aweber provides its users different ways to get to the same place. For example, the Integrations drop down menu featured on the top of the site leads to the same page as the Connect an Integration found in the middle of your dashboard.
Personally, I found it a little redundant, but I'm sure Aweber wanted to give users a variety of ways to get to the same important section. Other users might also like this feature. Although not necessarily a point against Awebere, this is also something worth mentioning in this review.
Overall, Aweber is a sold email marketing platform. For small businesses, bloggers, podcasters, and other personalities, it might just be the right tool they need. If you fall into this category and you want a platform that you can use immediately upon signing up, great support, and standard core email marketing features, then Aweber is a good fit for you.
Aside from the Free Plan which is applicable for up to 500 contacts, Aweber Pro plans differ in price depending on the number of subscribers. You can choose between monthly, quarterly, or yearly billing cycles. Aweber offers a 14.9% discount if you choose to pay yearly.
For the following number of subscribers, pricing is as follows (per month):
0-500 subscribers – $19
501 – 2,500 subscribers – $29
2,501 – 5,000 subscribers – $49
5,001- 10,000 subscribers – $69
10,001 – 25,000 subscribers – $149
In terms of pricing, Aweber is comparable to other email marketing tools and its cost is about in the mid-range. However, it does have an excellent free plan which certainly beats Mailchimp on functionality if not list size.
Aweber Alternatives
If you're reading this review, you're probably familiar with other email marketing tools already. There are dozens of email platforms available to all email marketers. It can be confusing with the number of email marketing alternatives available. Let's review some of them:
Activecampaign differentiates itself from other email marketing platforms through its advanced automations. This is an email tool thats made to save time and effort in marketing with its use of autoresponders, automation of contacts and list segmentation.
It also has a CRM component (available for $70 per month) that Aweber (and most other email marketing software) does not offer. If your priority is powerful automations and you are not a beginner in email marketing, then you probably will want to choose Activecampaign over Aweber.
For beginners who want to save time and start sending emails at once, without having to study new software, Aweber is the better choice.
Getresponse is another well-known email marketing software. Price-wise, it is slightly cheaper than Aweber, costing $15 a month for up to 1,000 subscribers.
Features-wise, they offer similar main features – ability to create newsletters without coding, autoresponders, and landing page builders.
If you are looking for a product with more sophisticated features, Getresponse has an edge over Aweber.
If you are looking for more email templates, phone support, and a free plan than Aweber is the choice for you. In terms of support, Aweber has an edge over Getresponse, offering more ways to contact them.
Sendlane vs Aweber Review
Sendlane focuses on turning online shoppers into loyal customers. Many of the email platforms mentioned here offer the same core products – email templates, automations, and analytics.
Sendlane is one of them, but looking more closely at its features, it does have qualities that differentiate it from others. In particular, when compared to Aweber, Sendlane offers more A/B testing capabilities and is more competitive in long-term pricing.
Aweber on the other hand, caters more to people who are just beginning their email marketing journeys with a third party software. It also comes out cheaper if you use it long term. Sendlane has a 14-day free trial compared to Aweber's 30-day free trial.
Infusionsoft is not made with beginners in mind. It calls itself the #1 all in one CRM, sales, and marketing automation platform. This is not just an email platform that offers marketing automation and allows you to send emails to subscribers.
Infusionsoft is a more sophisticated tool that requires a learning curve. Part of the pricing includes expert coaching for an additional $1999 flat fee. This already gives users a clue that this is not as easy to use as other platforms.
Price-wise, Infusionsoft is significantly more expensive than Aweber and starts at $40/month for up to 500 contacts. It does offer a 50% discount for the first 3 months and a free trial for 14 days. Again, if you are a small business and just starting out, Aweber will win over Infusionsoft.
In contrast to Infusionsoft and Aweber, Sendgrid focuses on email delivery. There are two kinds of plans – Email API Plans and Marketing Campaigns Plans. The first kind allows you to integrate email on your app or website, while the Marketing Campaigns Plus lets design and and send email marketing campaigns and automations. Sendgrid's free plan is very generous – you can store up to 2,000 contacts and send up to 6,000 emails a month. The Basic 5K Plan can send up to 5,000 contacts and 15,000 emails a month before additional charges a month are applied to your account. Aweber is not as sophisticated as Sendgrid in terms of features. However, in terms of support, Sendgrid's paid plan of $15 per month offers only ticket and chat support. Again, Aweber wins in the area of availability of customer support.
Constant Contact is a solid email platform and is popular with many businesses around the world, both big and small. It has many features that most organizations are looking for such as list segmentation, customizable templates, and a variety of apps and integrations.
Constant Contact also offers a wide array of classes and a deep knowledge base on how to maximize its email platform, more than Aweber. Features wise, Aweber has less features than Constant Contact.
One thing that Aweber has that Contact Contact doesn't, is a completely free plan. Constant Contact only offers the first month free when you sign up.
Aweber vs ConvertKit
If you compare Aweber to ConvertKit, the first thing you'll notice is the difference in ease of use and visual experience. I'm a fan of ConvertKit because it is one of the easiest email marketing platforms to use, plus it also has a very clean and seamless look and feel to it.
Looking at features, they have similar offerings in terms of creating email lists One advantage Aweber has over ConvertKit is the availability of customer service 24/7, via phone, live chat, or email. ConvertKit only offers a knowledge database and opening a ticket via email.
Aweber vs Mailchimp
Mailchimp is one of the mot popular email marketing tools worldwide, with good reason. The tone of the whole brand is very friendly and welcoming and the user experience is also pretty straightforward and intuitive. Both Aweber and Mailchimp would give its users an easy way to start marketing to an email list.
When compared to Aweber, the edge of Mailchimp is the availability of send time optimization and more extensive autoresponders. While Aweber provides more email templates, more stock images available, and better customer support.
As you can see in this review, there are a number of options and contenders when looking for the right email marketing platform for you.
The best thing to do is to narrow down your priorities and take it from there. If an extensive library of templates, excellent customer support, and a platform made from smaller businesses, e commerce sites, and social media personalities are what you need, then Aweber is the right choice for you.