This head-to-head comparative review promises to be very interesting because AWeber and Constant Contact are two serious contenders in the field of email marketing and marketing automation.
It is clear to see how both these examples of business marketing software are extremely popular thanks to their features and value for money. However, in Google Trends Constant Contact dwarfs Aweber. Are that many users really right?
Regardless of the size of your business, you can rely on Aweber and Constant Contact to create targeted and attention-gripping emails from a variety of beautiful templates.
After you've launched an email marketing campaign, you can use either of the two platforms to analyze its metrics or set up trigger-based autoresponders.
Similar as they appear to be regarding their user interface, Constant Contact and Aweber also have some unique automation features that we are going to highlight in this post.
There may be an overall winner, but the bout may end in a draw just as well. At a first glance at least, Aweber seems to be the challenger, and Constant Contact – the old combatant.
About Aweber
Aweber appeared on the stage in 1998 as the brainchild of Tom Kulzer, a Pennsylvania native, who wanted to help companies around the world establish more reliable communication channels with their customers.
For our younger readers, let us just mention that back then Google had just come online and AOL was the number one place to get in touch with people online.
Today, Kulzer is still at the helm of Aweber, and the platform has earned a reputation as a reliable and easy to use communication provider to more than 10,000 businesses worldwide.
Automatically responding to emails is one of Aweber's superpowers. In fact, they are so good that receivers seldom realize that the message they've been reading has been automatically generated.
Later, we shall have a closer look at some of Aweber's top features. These include email automation, email marketing tools, and a solid landing page builder, to name a few. Aweber's library contains over 150 landing page designs and email templates. These are organized into categories that cover almost all of the trendiest online businesses.
Another thing that Aweber prides itself on is its 24/7 customer support and its short response time. We shall check if that's still the case later in this post. The company's pricing plans also appear to be slightly cheaper than that of Constant Contact. There's a free plan with basic email marketing tools and a 500-strong contact database. The paid plan costs just $16.15 if paid annually, and you can try it for free for 30 days.
Constant Contact began its existence in 1995 under the name Roving Software. On his LinkedIn profile, the company's founder, Randy Parker, shares that he pioneered many software-as-a-service and email marketing techniques that have now evolved into industry standards. Randy also writes that some of these techniques have been used by giants like IBM and Intuit.
Nine years after it was founded in Parker's attic in Brooklyn, Roving Software was rebranded as Constant Contact.
Rather than developing their own tools, the company's managers decided to look around and acquire other companies' online marketing tools that were both efficient and easy to use.
In 2008, Constant Contact bought out e2M Systems, a little-known company that had developed a small platform for webinars and event management. Two years later, the company acquired NutshellMail – a free tool that lets users check out their Facebook account directly from their inbox.
In an attempt to add some CRM capabilities to its portfolio of features, Constant Contact acquired Bantam Live in 2011. When Constant Contact decided they needed a loyalty program and a cool-looking façade for their online stores, they acquired CardStar and Single Platform in 2012.
All those acquisitions resulted in the announcement of their all-in-one marketing platform ToolKit in the spring of 2014. With ToolKit, you can launch more than a dozen online marketing campaigns via email, social media, or mobile apps. Its real-time reporting capabilities let you make the necessary adjustments on the go.
So, while many other online marketing platforms have developed native apps and tools from scratch, Constant Contact has compiled its tool suite solely by means of acquisition. This strategy, apparently, worked as Endurance International saw Constant Contact's huge potential and in turn acquired it in 2015 for over one billion dollars.
As an email marketing service, Constant Contact caters mostly to small businesses that need a robust email marketing solution.
They have recently added some e-commerce, marketing, and website management features to their portfolio.
Most users sign up for the platform's Email Plan that includes some essential email marketing tools and a directory of 500 contacts.
Microbusinesses with less than 10 employees will certainly enjoy the fact that there's no cap on the number of emails they need to send per month. Mid-sized businesses had better go with the Email Plus Plan, albeit it starts at $45 per month.
Its list of features is considerably longer and more diverse. Regardless of your plan, you can add more contacts to your list at any time.
Who is Aweber for?
Just like Constant Contact, Aweber is an email marketing service developed for small and medium-sized companies. Instead of contacts, Aweber's Pro Plan comes with a list of 500 subscribers and costs just $19 per month.
That's six dollars less than Constant Contact's cheapest plan. Like Constant Contact, Aweber lets you pay extra for a longer list of subscribers.
Aweber's outstanding feature is the so-called AMP for email functionality. Email and marketing automation are certainly the areas where Aweber can improve further.
On that whole, it's a good platform to make your first steps in email marketing on. Their premium phone support will help you make the most of your experience on Aweber.
The real difference with Aweber is it is a simple and reliable EMAIL solution that's great for bloggers and small businesses.
Constant Contact aims to be much more of a complete marketing tool with native Google Ads and a website builder, which makes it appealing to small businesses who desire a complete marketing solution without the technicalities of managing these different platforms separately.
In the following paragraphs, we shall compare Aweber's and Constant Contact's best features and decide the winner in each category.
Aweber's Key Features:
Contact List Management
Email Templates
Autoresponders
Marketing automation
Mobile responsive templates
Reporting Capabilities
A/B testing
RSS / Blog to-email
Contact List Segmentation
Landing Page Builder
Contact List Management
Email Marketing & Automation
Email Editor
E-commerce
Social media marketing
Campaign Tracking
Email surveys & Polls
Fundraisers
Sign-up forms
Online Event Management
Free Trial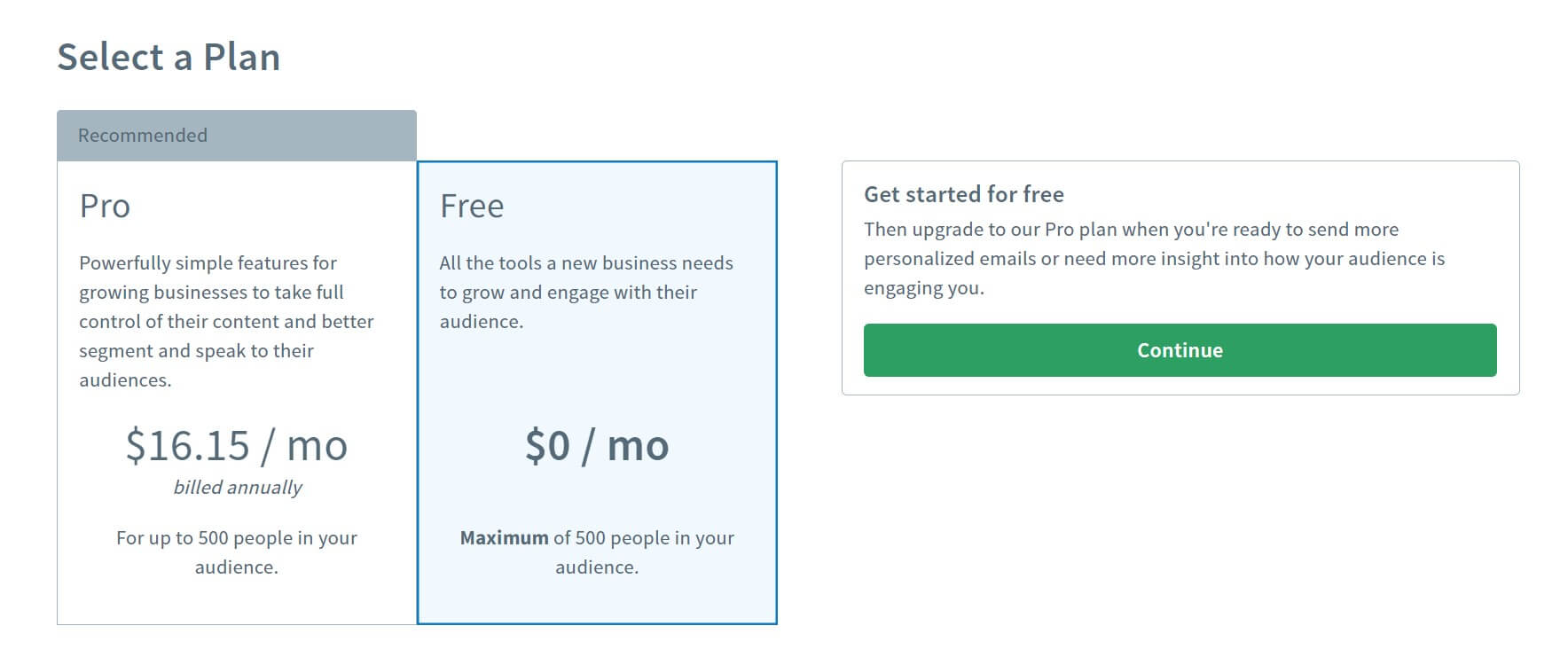 It is important to note the big difference in free tools with Aweber vs Constant Contact.
With Aweber you can sign up for the free plan indefinitely with no credit card required. The free plan allows pretty much full access to Aweber's marketing tools with only a few exceptions like split testing. You can keep using all these free marketing tools until you reach more than 500 contacts.
Constant Contacts is not so free. While you can get the 30-day free trial you do need to sign up with your card – the classic approach willing you to forget to cancel.
Once you're in you'll then find plenty of features off-limits including marketing automation campaigns.
When it comes to adding new marketing contacts to your Constant Contact directory, you can import entries directly from your Gmail account, or drag and drop them from Microsoft Outlook. Alternatively, you can upload them in one of the following formats: CSV, TXT, XLS, or XLSX.
There are also plenty of native integrations with Shopify, Facebook, OptinMonster and Eventbrite.
When you're done, the contact manager automatically merges duplicate entries. You may need to manually curate specific fields or add new ones, but that's easy to do. Unlike Aweber, Constant Contact does not block messages sent from a temporary email address generated by Mailinator.
As part of its CRM suite, Constant Contact allows you to pin different tags to your contacts. Tags allow you to better systematize your directory and measure their commitment to your brand and products. The platform's CRM tool allows you to segment your contact list by location, place of work, or the number of completed purchases.
On AWeber, you cannot rely on third-party apps to import your contacts. So, If you are planning to migrate to Aweber from some other SAAS, you have to first export the contacts from that service to your PC, and then use Aweber's spreadsheet upload feature.
However, as such a popular software most other marketing tools integrate cleanly with Aweber, such as Sumo for lead-gen popups.
Just like Constant Contact, Aweber provides some robust contact management, segmentation, and tagging features.
Aweber and Constant Contact both require you to verify that you have legally obtained the consent of all contacts on your list. This prevents the use of purchased contact lists. The use of a group email address such as sales@ or marketing@ or distribution lists is not allowed on Weber or Constant Contact.
The only downside of Constant Contact's list management tool is that once made, the entries are rather difficult to edit. For example, you cannot add the same extra info to several entries simultaneously. You've got to update each contact manually, instead.
Constant Contact vs Aweber: Email Marketing & Automation
Constant Contact's smart email editor is really easy to use. It will help you get the word out. Its features let you set up and launch professionally-looking email marketing campaigns in no time.
In the library, there's a wide variety of email templates that will look great on any device. There are a whole lot of templates to choose from. A lot look a little old and clunky but there are some modern ones too.


The organization is a bit scattered, although there is a search function. However, I didn't find the search particularly effective when I searched for "coaching" as an example.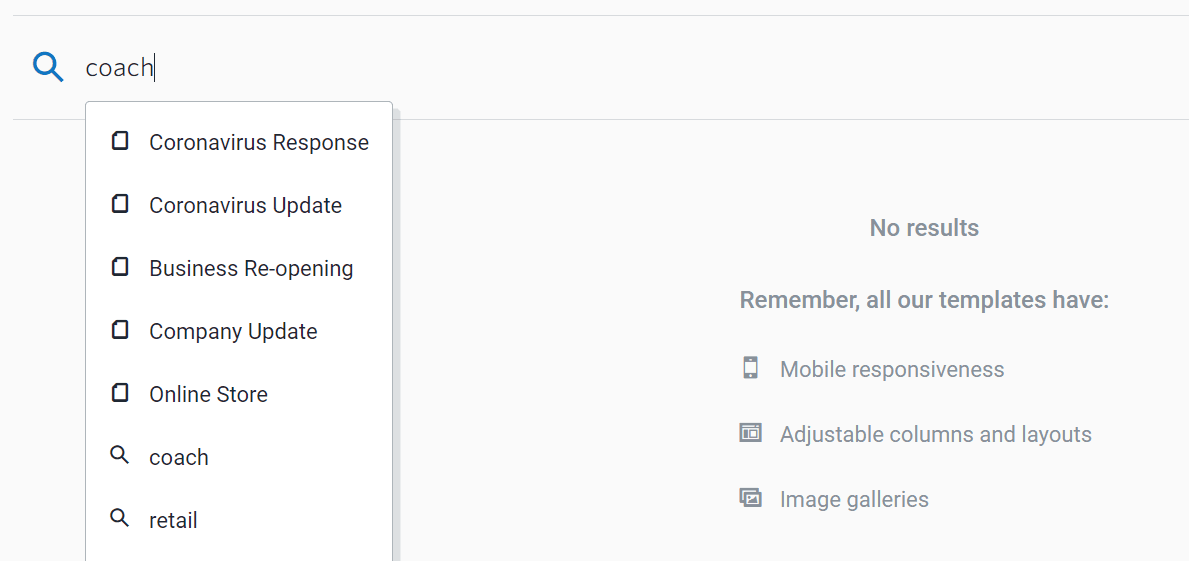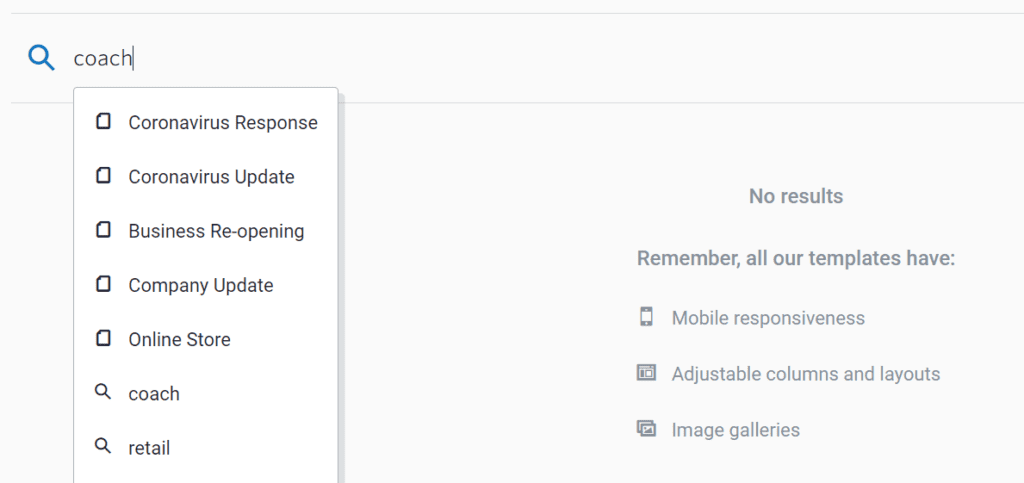 However, the best thing about the templates is they include really good swipe copy. For instance, I was able to load up a brilliant Coronavirus update instantly. The only other email marketing software that really competes with these is ActiveCampaign.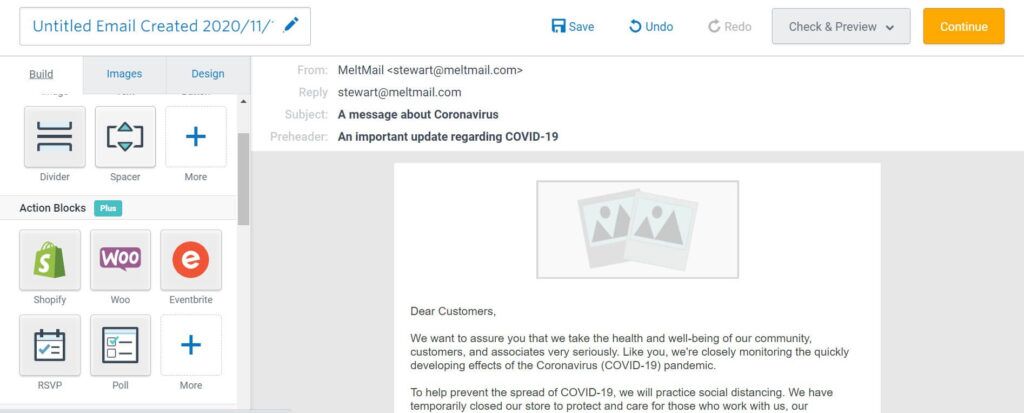 The editor's drag-and-drop functionality makes it easy for you to send out batches of emails at a specific time.
The email marketing automation tool of Constant Contact lets you send smarter, not harder. As soon as you get a new subscriber, the platform will automatically send them a welcome message.
Once your contact database grows, Constant Contact will automatically segment them depending on their consumer preferences and habits. The segmentation is quite standard, but there is an interesting "engagement" category so the software will identify contacts based on a range of engagement features.
The platform will also suggest certain email triggers that you can implement at will. And if your emails do not always get opened, Constant Contact will automatically resend emails to those addresses.
Aweber's AI-based smart email designer is just as good as Constant Contact's smart email editor. Yet, its artificial intelligence offers greater ease of use and allows the designer to create perfectly-branded email messages.
All you have to do is load your company's logo into the system and the designer will automatically scale it to fit the selected email templates.


Awebre has a huge library of email templates but many of these are very dated. But the editor makes it easy to craft your own in no time and no user should struggle. Aweber is definitely more clunky and old fashioned visually but it is still easy to use.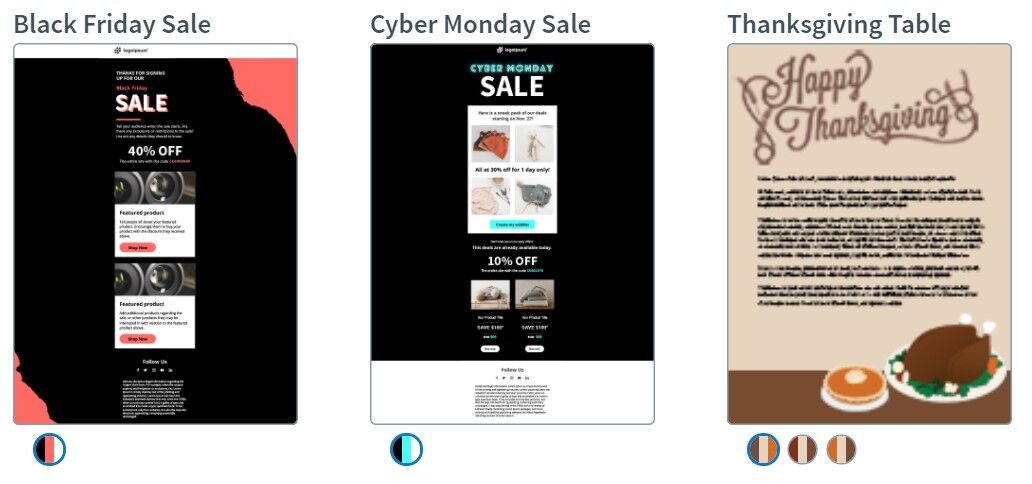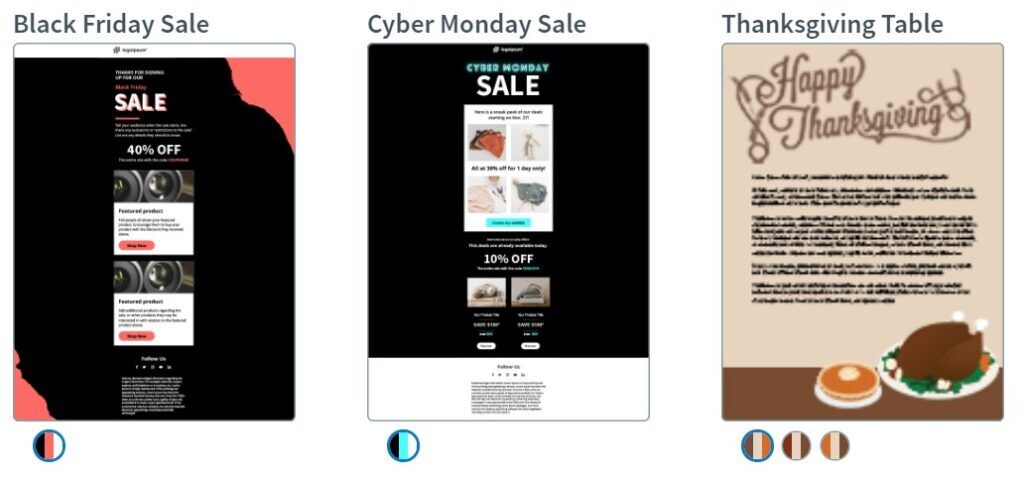 Aweber is one of the few platforms that let you contact their team and ask them to customize an existing email template for you or design a new one from scratch. The first option costs just under $30, but the second one is ten times more expensive.
It's good to mention that Aweber's email messages rely on the so-called dynamic content to engage your leads' interest. This content changes according to the behavior of your page's visitors. Thus, you will direct your campaigns to the right leads and close more deals in less time.
Both Aweber and Constant Contact allow the user to assign specific triggers and flows to their emails. Because of Aweber's greater flexibility in template customization, the platform grabs the win in this category.
While testing this functionality on Constant Contact, we were surprised to find out that the platform lets you create only one sign-up form per account unless you upgrade.
That's quite odd, having in mind that an email marketing campaign targets different user groups, which won't necessarily respond to the same form.
The sign up form is quite basic and there was no option to add additional consents like GDPR.
Exit-intent is also reserved for higher pricing plans.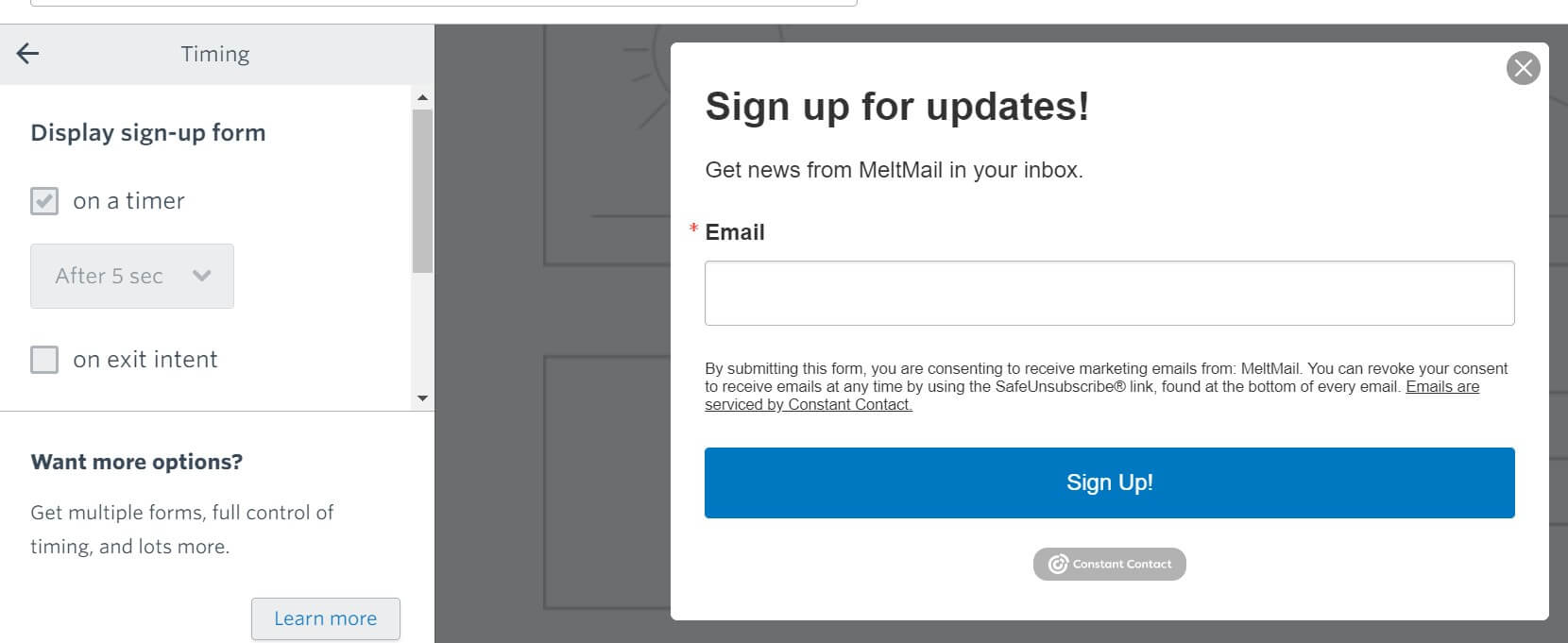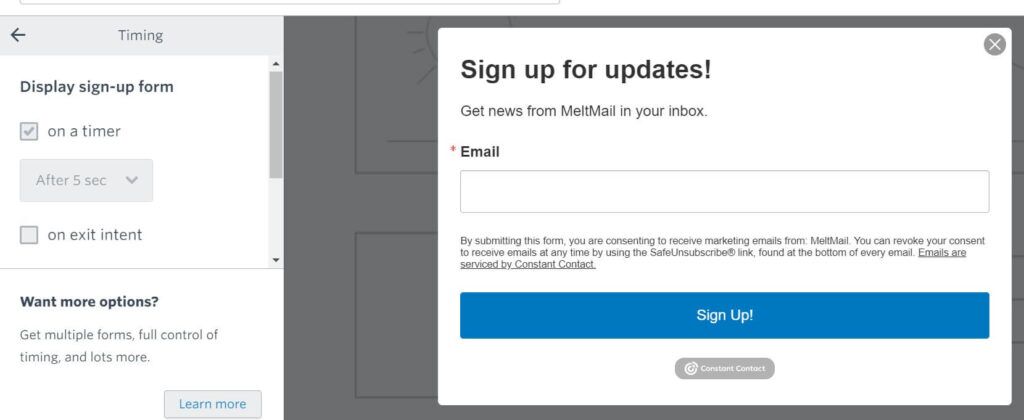 By contrast, Aweber lets you access a huge selection of email sign-up forms regardless of your account type.
Moreover, its Atom app, available for iOS and Android, is a mobile sign up form in itself. With Atom App, you'll see your email subscribers' list grow by the minute. The nice thing about this mobile approach is that every new subscriber will automatically receive your follow-up messages.
That said, Aweber's form builder is pretty terrible. It's surprising how the landing pages look great and yet the form templates look 20 years old.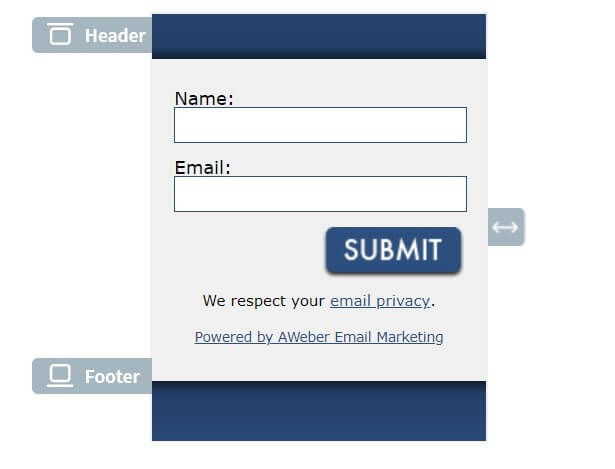 Aweber vs Constant Contact: Landing Page Building
Although Aweber is primarily an email marketing platform for small businesses, its landing page builder is quite reliable and easy to use. The library has an unlimited number of templates to choose from. The builder is of the drag-and-drop type, so you do not need any coding to set up your landing pages.


If you still don't know how to make the most of Aweber's landing page editor, the company offers a free on-demand webinar. All you have to do to watch the tutorial video is enter your name and email address in the pop-up form. The webinar also includes some conversion-oriented copywriting techniques that'll make the content you upload even more engaging.
Every page you set up on Aweber has an integrated sign-up form. Once a visitor signs up for your newsletter, their details are automatically added to your contact list. Awesome!
Aweber is a cloud-based SAAS, which means that you don't need a server-hosted website to build amazing landing pages that promote your business.
Aweber's landing pages allow you to add videos to better showcase your brand without relying on Vimeo. This puts the platform's editor on a par with some of the best landing page builders out there.
Although landing page building is not Constant Contact's superpower, its editor does a fantastic job when you need it, and its ease of use is just remarkable. The pre-set templates in its library fall into two main categories – Lead Generation and Shoppable.
The lead generation templates let you customize your landing page with your company's logo, integrate a fill-in form, and provide an incentive description. Your landing page can easily be promoted on social networks so as to drive visitors to a specific call-to-action event or item.
Constant Contact's shoppable landing pages look very much like sales funnels. These templates provide room for product lists and payment gateways. From your account, you'll be able to manage your customers' orders and offer them different shipping options.
So, because Constant Contacts lets you create two different types of pages vs Aweber's one, it is the clear winner in the landing page building category.
In the past year or so, Constant Contact's reporting and tracking capabilities have seen major improvement regarding the reports' depth and scope. The website traffic tracking tool of Constant Contact will help you draw in a huge crowd and keep them engaged.
On the detailed pie chart, you can see the dates and times when your website was visited the most. As soon as you realize which traffic sources generating the highest number of mouse clicks, you can amplify their number as needed. The platform also measures your page's ease of use and shows how much time a visitor spends on it.
Constant Contact's website analytics tool is right on your dashboard, integrated into the website builder. In addition to pie charts, it can also generate neatly-organized graphs and charts that show your web page's performance on a daily, weekly, or monthly basis. If you need even deeper insights, you can always enter your tracking code and integrate Google Analytics.
Aweber offers what the company calls "Pre-built analytics and reporting". These tools are mainly focused on giving you a quick insight into your subscribers' buying habits and preferences. The tool automatically alerts you when subscribers open links in your message so you can send these out at the right time.
Over time, you'll start sending promotional messages only to those subscribers who respond to your campaigns. Aweber's campaign tracking tool also shows the revenues generated by each campaign. It is true that AWeber offers a mobile reporting application for iOS and Android that shows important stats in real-time, but it does not allow you to react accordingly.
It quickly becomes clear that while Constant Contact's reporting & analytics tool measures the whole traffic to your website and the revenues it brings, Aweber's is mainly focused on email tracking. This is a nice thing if you rely mainly on online campaigns to make money. However, Constant Contact's broader reporting capabilities clearly earn the platform the win in this category.
When it comes to split testing, Constant Contact's tool is best for email subject lines and popup forms testing. Not that you can't use it for landing page testing, but we feel it just isn't that comprehensive.
If you really need to split-test two web pages on Constant Contact, you can create the two candidates on their auxiliary platform called Unbounce, which you can find on their marketplace.
Aweber's A/B testing tool comes with their paid plan only. Here, too, the focus is mainly on email marketing elements. These include messages opened, subject lines, free downloads, etc.
Aweber Pro subscribers get their email campaigns split tested automatically. However, they can still select what section of their subscribers' list should the split test be sent to.
Small businesses can use Aweber's split testing tool for lead generation as well. In this case, you should set open rate, click-through rate, and fill-in rate as goals. Whereas Constant Contact provides some landing page a/b testing even with the help of a third-party app, Aweber does not seem to provide any. So, the win in this category goes to Constant Contact.
Constant Contact vs Aweber: Social Media Marketing
When it comes to getting your email marketing campaign on Facebook, Aweber offers plenty of options. With Autoshare, you can share your Aweber emails with your Facebook followers. As soon as you set up a new email newsletter, you should check the Enable Social Media/Sharing box.
Then, you should link a Facebook account where your newsletter will appear. The AWeber web form app adds a custom tab to your Facebook page that your fans can use to sign up for your email newsletter. The sign-up process is even easier with the Facebook Connect App.
In addition to Facebook, Constant Contact's social media app can post your newsletters on Instagram and Twitter as soon as they come out. Thus, you can target Facebook, Twitter, and Instagram users with the same shopping preferences as your most loyal customers. Constant Contact has developed a special app, the Facebook Audience Picker, to help you find new hot leads based on their gender, location, and buying preferences.
The social media campaigns that you launch from your dashboard are fully trackable, so you'll get insights into your ads' performance in real-time. Setting up a Facebook ad from your account takes just three easy steps. Best of all, new Facebook followers are automatically synchronized with your Constant Contact list of subscribers.
Constant Contact vs Aweber: Third-party Integrations
Both Aweber and Constant Contact integrate seamlessly with a wide variety of third-party apps and add-ons to improve your user experience.
AWeber pairs without a problem with more than 120 external integrations, including the "Holy Trinity" – Shopify, WordPress, and PayPal. In addition to the Atom App mentioned above, its mobile app suite also includes Aweber Stats and Curate. The last one is a mobile email editor.
Aweber's response to Constant Contact's EventBrite integration (see below) is GoToWebinar. It makes the organization of an online audio/video conference a no-brainer.
At the same time, large-scale online events aren't a problem at all. As soon as a person signs up for your online event, GoToWebinar automatically adds their details to your Aweber contact list. The app also reminds them of any upcoming events you are hosting.
Duda is what you need to integrate with your Aweber account so as to enhance your account's website building capabilities. You'll be able to quickly set up high-converting websites optimized for mobile view.
The Aweber + Duda integration is based on a trigger-action sequence. One of the apps acts as a trigger that kick-starts certain automation in the other.
Constant Contact has a slight edge in this integrations category, as it integrates with more than 200 external apps. If that's not enough, they'll let you develop apps right on the platform, if you have the necessary skills.
In addition to WordPress and PayPal, they let you integrate special social media marketing apps to boost your campaigns.
If you need to organize webinars and other online events through your account, you can add EventBrite and get the job done quickly and easily. In addition to promoting your events, this integration can track responses, and manage registrations. In simple words, this means more attendees and higher customer commitment.
If you need a reliable CRM suite at hand, add Salesforce to your Constant Contact account. In this way, you'll eliminate duplicates in your contact list and you'll be able to launch even more precise marketing campaigns. If bookkeeping appears to be a challenge, you can integrate QuickBooks and forget about the problem.
Constant Contact also has a range of native tools and integrations for actually building out your marketing software stack within Constant Contact itself. However, for someone technically-minded like me these are rather lacking as they are very hands-off plug and play tools that will appeal to beginners but not always provide business results.
For instance, I tried out the website builder software. It was pretty impressive as it quickly took some basic details about my business and generated a pretty good landing page that you can build out as a full website.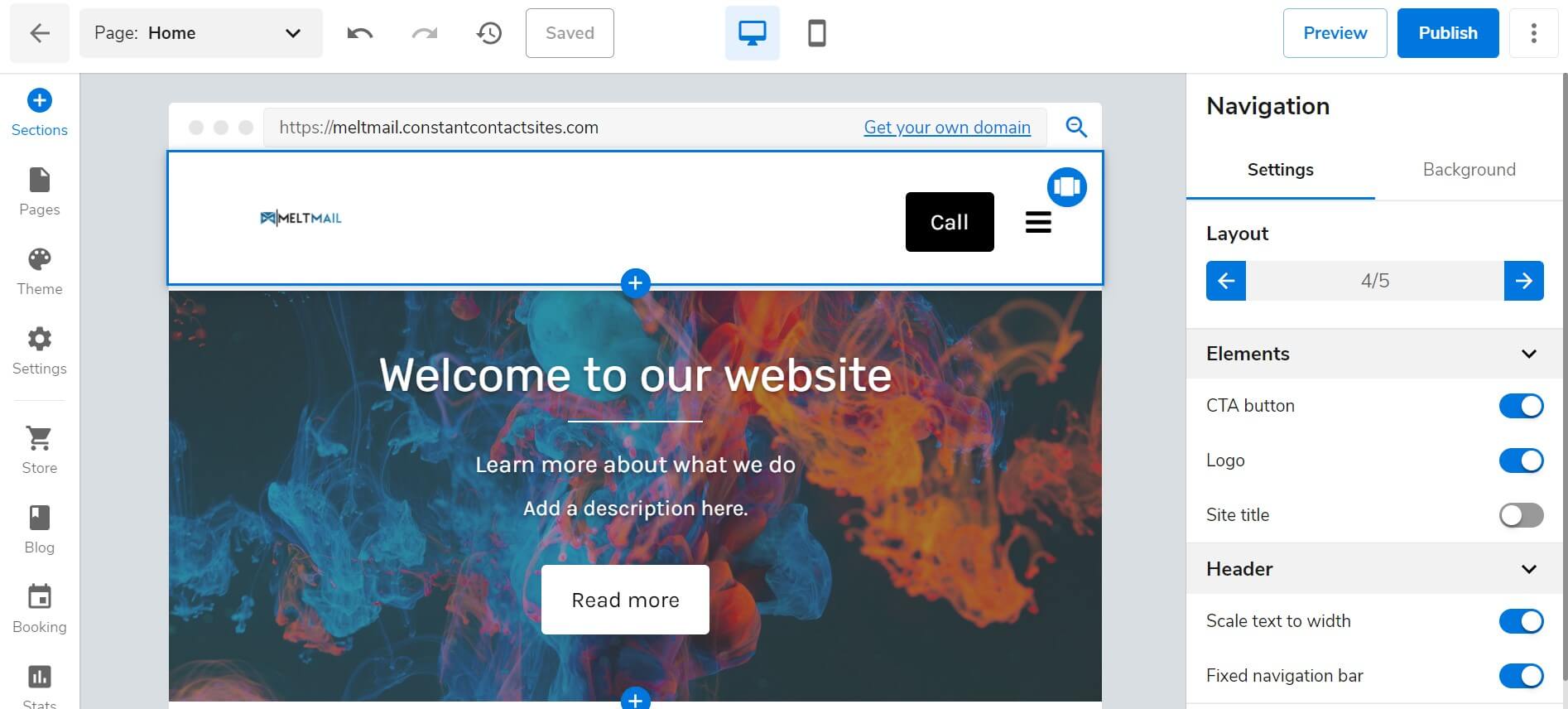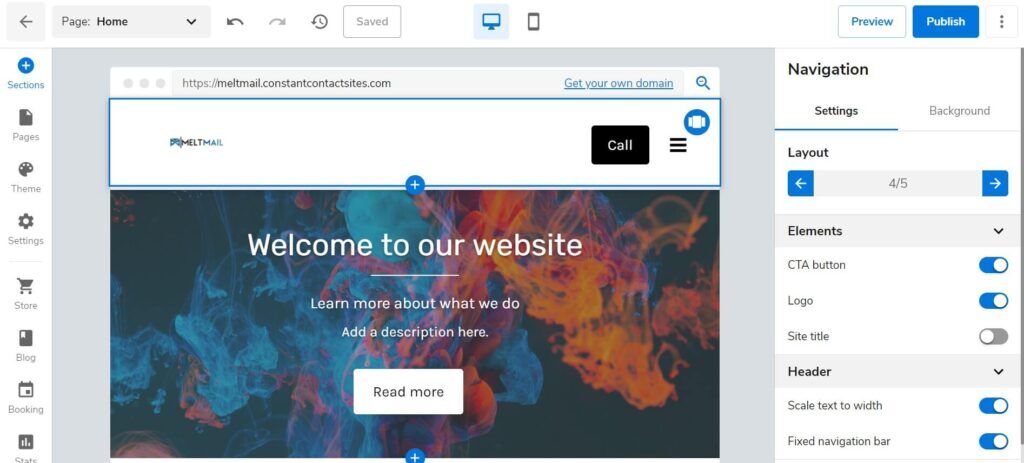 I wouldn't touch it myself as I like to control my own hosting, plug-ins and more without being in a closed system like Constant Contact, but as we're in an age of simple website tools like Wix and Squarespace this was quite impressive.
Google Ads
Then there's the Google Ads tool. I've been a PPC professional before and know the honey trap Google Ads is – fast results at big financial cost, and the perfect profitable campaign just another week of optimization away. Or not.
The integration makes it so easy to link up your Google Ads account and get started, with helpful instructions in the sidebar that save your the overwhelming complexity of the real Google Ads dashboard.
But that limited information means your own management is limited. For instance, you get keyword suggestions from your website (except it definitely didn't work in my case) with no indication of cost per click and competition level.


Instead you set your overall budget – which you are encouraged to pick as $40 a day – and the software takes care of the management.
I bet if users were actually told that many business industries easily reach $10 – $20 per click, they would question going into PPC at all, nevermind using a hands off management software which gives you so little information about the marketing landscape.
Both Aweber and Constant Contact offer excellent customer support.
Besides live chat, you can actually call them and reach a real customer service representative without having to wait on hold for at least half an hour.
On many bigger and better-known marketing platforms, phone support is available only on their most expensive plans. However, both Constant Contact and Aweber are relatively inexpensive.
When Aweber introduced their 24/7 customer service in 2018, their competitors thought the guys were nothing short of mad. However, Aweber knew they had to do the next big thing, having won the All-Star Service Team of the Year Award of the National Customer Service Association the previous year.
Other platforms say their phone support is available during business hours, but you have to figure out when these business hours are, depending on where the company's customer support is based. By contrast, Aweber's 100,000+ corporate clients can rely on their state-of-the-art customer care wherever they are and whenever they need help.
Constant Contact's customer service is also reachable via phone, but things appear to be slightly more complicated. You have to first visit their customer service contact page, and then dial the number of the department you'd like to reach. Also, their customer service centers in the US & Canada, Australia, and Mexico have office hours in Eastern Time that you should observe.
So, in the customer service category, the clear software winner is Aweber.
Towards the end of our post, it's time to take a closer look at Aweber vs Constant Contact's pricing plans.
Both platforms offer excellent value for money and a free trial. Constant Contact has two pricing options: Email, and Email Plus.
The first pricing starts at $20/mo for 500 subscribers, and the other costs $45/mo for 500 contacts.
Both pricing plans come with a 30-day free trial.
If you need Constant Contact's website builder, that'll cost you $10 per month. Their pricing policy is quite simple, the longer the contact list you need, the more you have to pay per month.
The Email Plus Plan includes the following extras:
RSVP forms
Surveys & Polls
Coupons
Online Donation Forms
Dynamic Content
New Customer Consultation
Advanced Ecommerce Marketing
Customizable Pop-up Forms
Automated Email Welcome Series
Automated Email Behavioral Series
Both email pricing plans and the site builder come with a 1.5% transaction fees. This means that 1.5% of all orders made on your site will go to Constant Contact. Extra fees apply if you need to use the site builder's Inventory, Order & Tax Management feature.
The basic pricing plan allows only three users to work in the same account, while the premium increases their number to ten. If you'd like to have up to 50 000 contacts on your list, then both plans cost $335 per month.
Aweber has two pricing options: Free and Pro. The Free plan includes one profile, 500 contact entries, and lets you send up to 3,000 emails per month. It also comes with 24/7 live support via phone, email, or live chat. Aweber's experts will also assist you with the migration process.
Aweber Pro costs from $16.15 /mo to $146.15/mo depending on the number of subscribers you want to have. If billed monthly, it costs between $19 and $149 per month. The plan includes the following premium features:
Email Split testing
Sign up form split testing
Behavioral automation
Branded click-tracking links
Remove AWeber branding from your email templates
Remove AWeber branding from your website
Save and send to custom segments
Advanced message analytics
Advanced audience/account analytics
Webpage & Sales tracking
Abandoned Cart Recovery
Purchase tagging
Before you jump to the conclusion that Aweber is the cheaper platform, please note that for $149/mo you get up to 25 000 contacts. To match Constant Contact's 50 000 contacts, you have to pay around $300. For the sake of precision, we must admit that Aweber appears to be slightly cheaper than Constant Contact.
And The Winner Is….
The results of our Aweber vs Constant Contact head-to-head comparison are as follows:
Both platforms offer equally good contact management.
In the Email marketing & automation category, the win goes to Aweber.
In the field of Sign-up forms, the winner, clearly, is Aweber.
Speaking of landing pages, Constant Contact appears to offer more flexibility.
When it comes to Reports & Analytics, the winner is Constant Contact.
Split testing is yet another field where Constant Contact wins by a small margin.
Because Constant Contact's social media app can post your newsletters on Instagram and Twitter, it grabs the win here.
As we already mentioned, Constant Contact has a slight edge regarding third-party integrations.
Aweber's customer support is somehow easier to reach.
Aweber is also the cheaper of the two platforms and offers better value for money with a great free trial
There's one more thing that may tip the scales in Constant Contact's favor: it's its easy to use mobile app.
Basically, it brings all features of the platform to your smartphone or tablet, regardless of its user interface. So, the overall winner by a tiny margin is Constant Contact!