The best autoresponder for affiliate marketing is your key to unlocking immense wealth from your email list.
No doubt you've been bombarded by fake gurus always telling you the next big thing is Facebook ads, or Pinterest traffic or selling courses. We've all been there and are all too familiar with the rinse and repeat process of being told a new way to make money online, wasting energy and money and then being told there's a shiny new approach in town.
But your email list is one of the oldest and most reliable methods in the book, as is affiliate marketing when it is performed professionally.
Sell More To Your List With AI Copywriting
Best Autoresponder For Affiliate Marketing
When looking for the best autoresponder for affiliate marketing your challenge is double. Not only do you have to find the best email marketing software for you at the right price, but you also have to consider their terms and conditions.
Affiliate marketing is a controversial field. Plenty of affiliates use it wisely and ethically by providing genuine recommendations of the best products to the right people. But plenty abuse its power through greed and desperation.
For that reason, some email marketing software providers ban affiliate links from their autoresponder.
That means you risk your email account and your whole email list if you are found to be in violation of their terms – your hard-earned and nurtured email list could disappear overnight.
Mailchimp is the most renowned autoresponder to ban affiliate links. ActiveCampaign and Mailerlite are also not thought to be affiliate-friendly. So what autoresponders should you use for affiliate marketing?
Aweber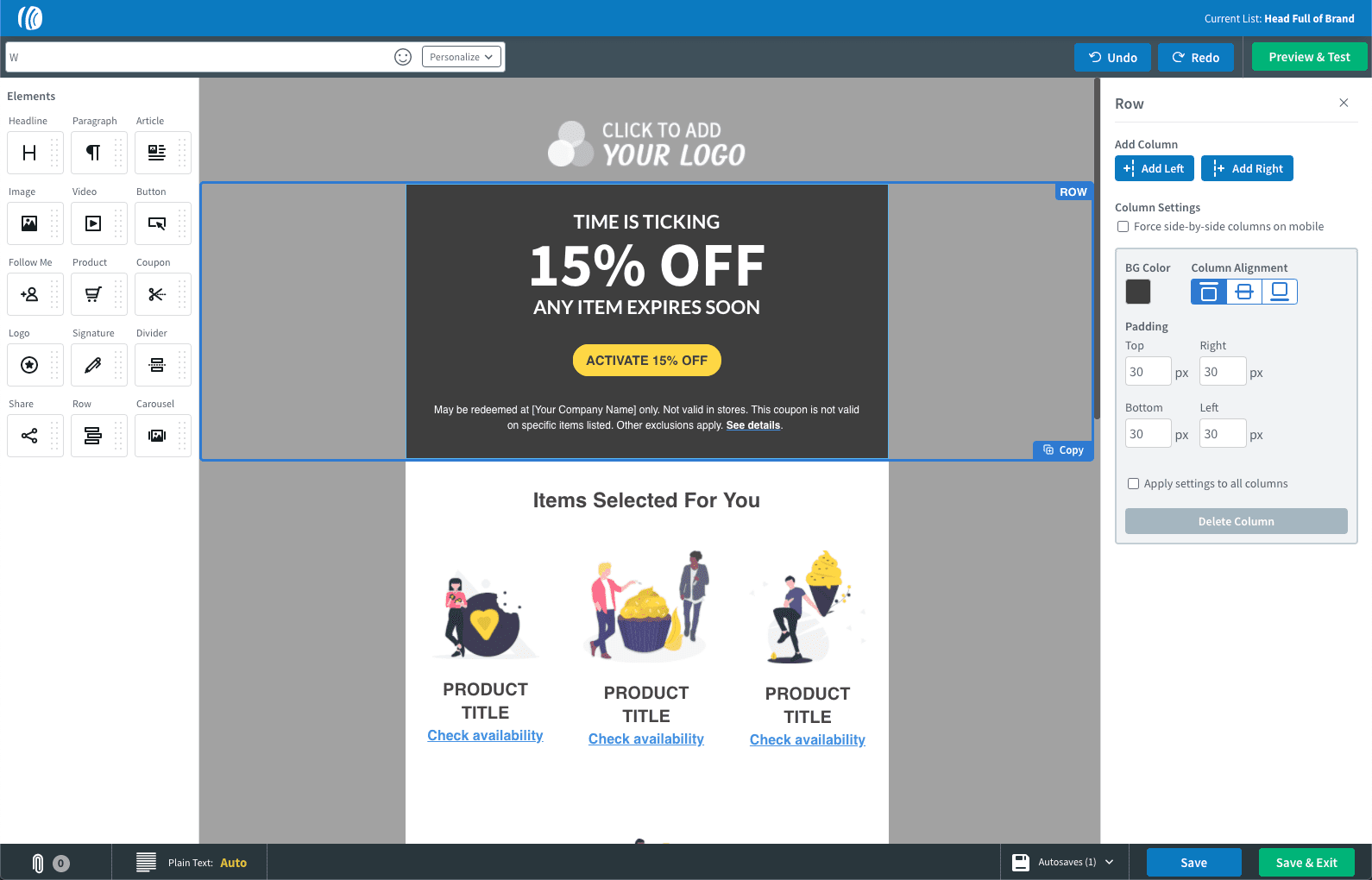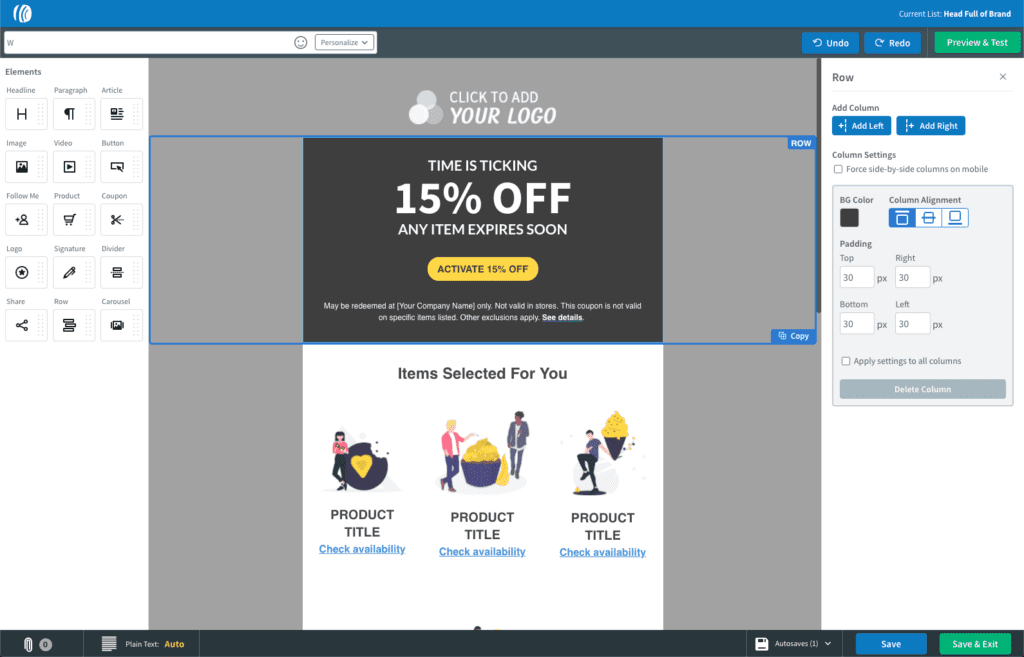 Aweber is undoubtedly one of the best autoresponders all round for its reliability, simplicity and range of features. However Aweber is also affiliate-friendly and offers a free plan that makes it the best free autoresponder for affiliate marketing.
The Free Plan can be used for up to 500 subscribers and can send 3,000 emails a month. It also offers 1 list profile. If your subscriber list grows beyond 500 subscribers, you will need to start paying for a Pro Plan.
In terms of Aweber vs GetResponse for affiliate marketing – GetResponse is both better and cheaper but you do have to pay upfront after the 30 day free trail while Aweber is free until you hit 500 subscribers.
Aweber was started in 1998 with small businesses in mind. For that reason its functions are simple and reliable – albeit at the expense of some rather basic templates. That makes it perfect for affiliate marketing where the aim is to connect with your subscribers on an emotional level rather than dazzling visuals.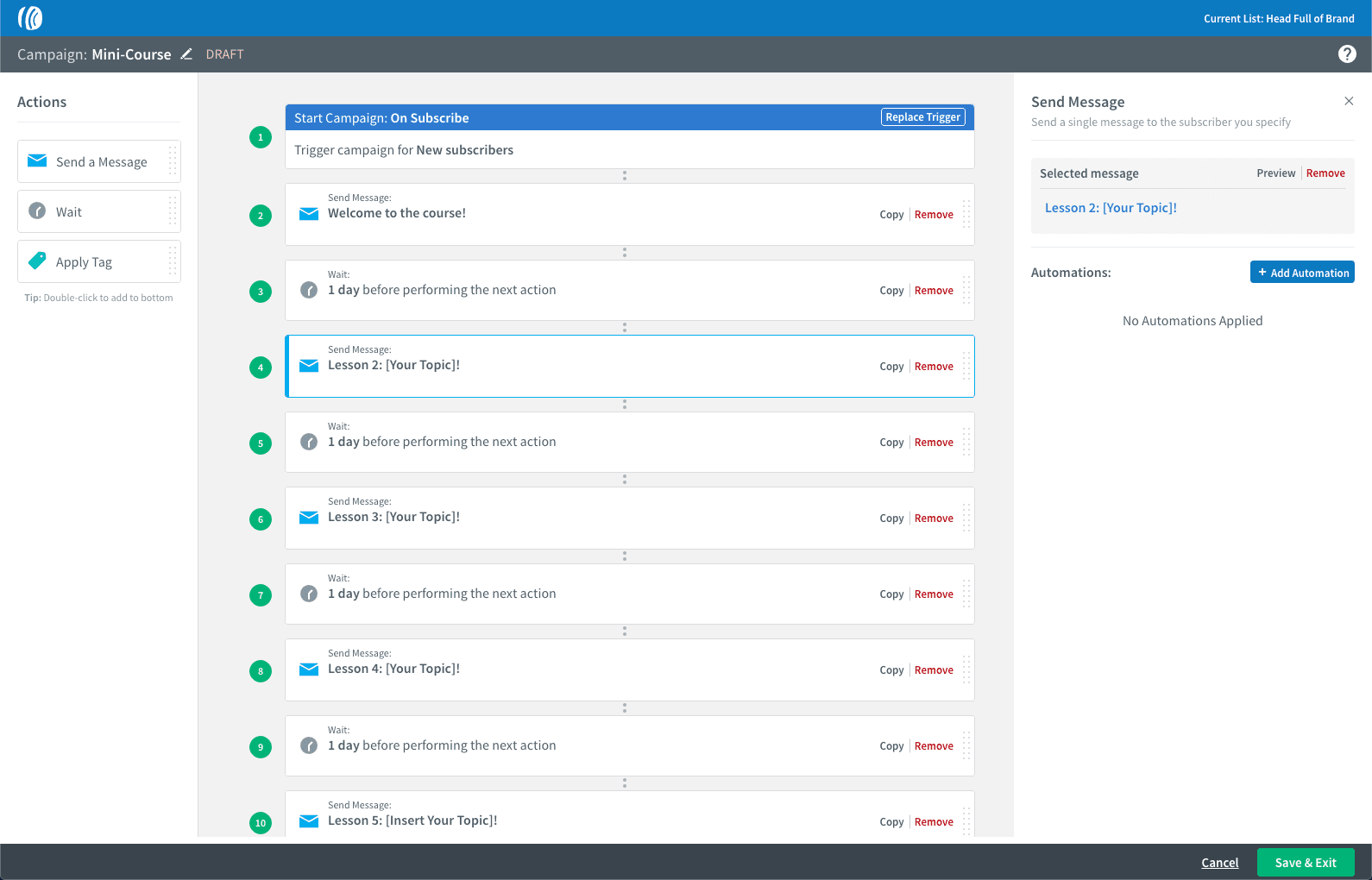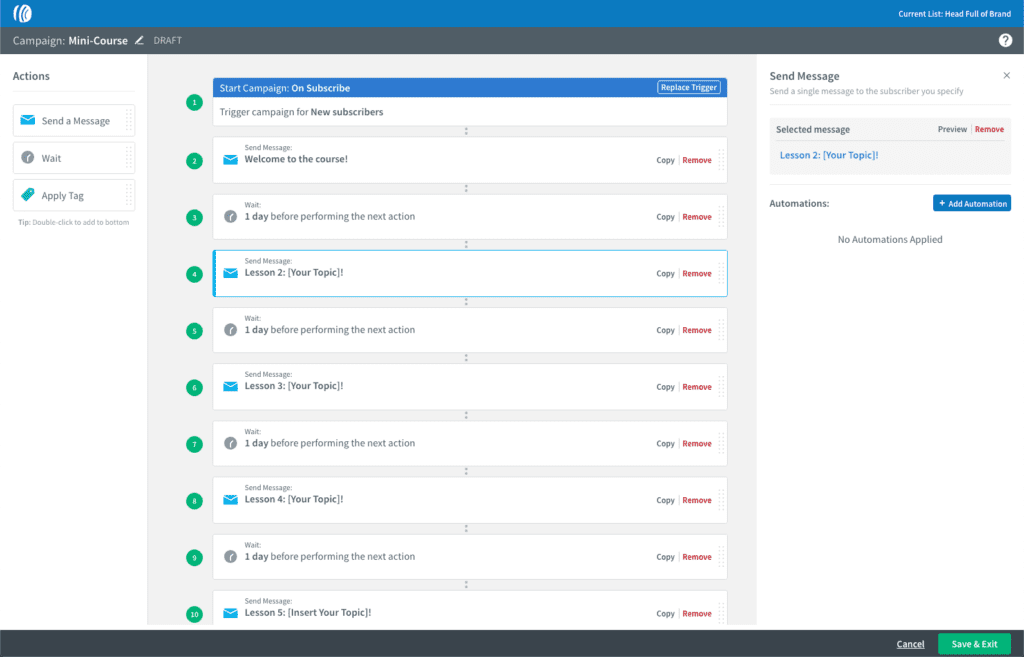 Some of the most successful emails I see on a regular basis are purely text-based and use a simple copy formula of addressing a problem and providing a solution. Many of these use Aweber.
But Aweber isn't lacking in features – besides a huge range of integrations (everything from simple Google Forms to powerful Clickfunnels) it also features a drag and drop landing page builder so you can capture and convert your leads all within Aweber.
Aweber Pricing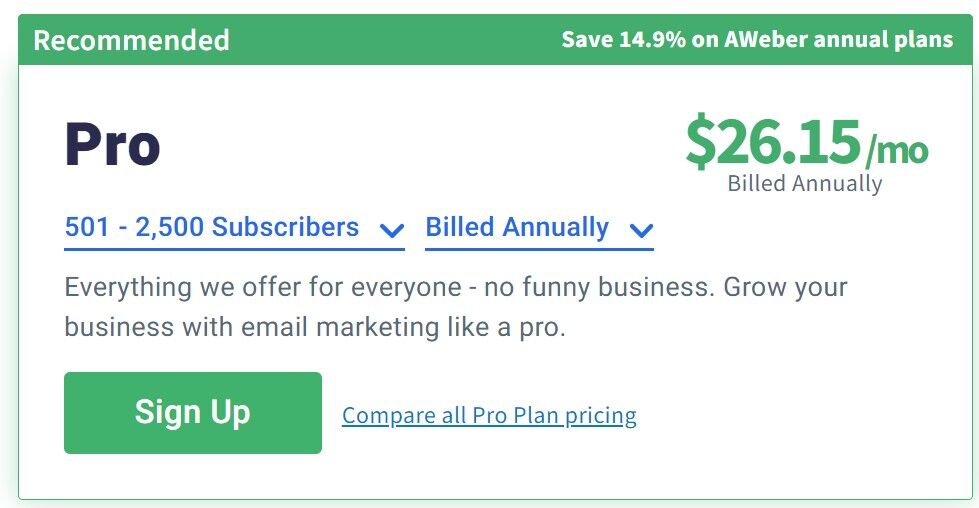 $19/month for 0-500 subscribers
$29/month for 501-2,500 subscribers
$49/month for 2,501-5,000 subscribers
$69/month for 5,001-10,000 subscribers
$149/month for 10,001-25,000 subscribers
GetResponse
GetResponse is a level up from Aweber as the best autoresponder for affiliate marketing, to the extent that it could be seen as packing more than you need as a simple affiliate. Nevertheless with a generous free trial this affiliate friendly autoresponder packs a punch for just $15 a month for the basic plan.
One of the top GetResponse features as the best autoresponder for affiliate marketing is its conditional logic that can create new experiences based on how your contacts behave.
For instance, you can set clicking an affiliate link as a trigger for a new autoresponder where you follow up and remind that contact about the product. Did they buy it? How was it? You can then identify your most engaged contacts who are more likely to convert in future.
GetResponse also offers prebuilt Conversion Funnels so you can implement a powerful product-based funnel straight away.
GetResponse also has a brilliant landing page builder packed with pre-designed templates and you can take advantage of 5000 free images from Shutterstock.
That said, if you did want to upgrade a tier you can unlock A/B testing, analytics and CRM tools. Imagine you were stuck between two affiliate products to promote. Maybe one has free shipping while the other has a much smoother website? Or are you just stuck between a higher value product with a low commission rate versus a cheaper product with a higher one?
As an affiliate it is always difficult to decide what product is going to drive the most commission.
With GetResponse's A/B testing you can send one link to 50% of your audience and then another to the other 50%, with other variables like subject lines and time sent remaining the same. With the analytics you could then see which link had the higher click through rate and compare that with what commissions you actually made.
GetResponse Pricing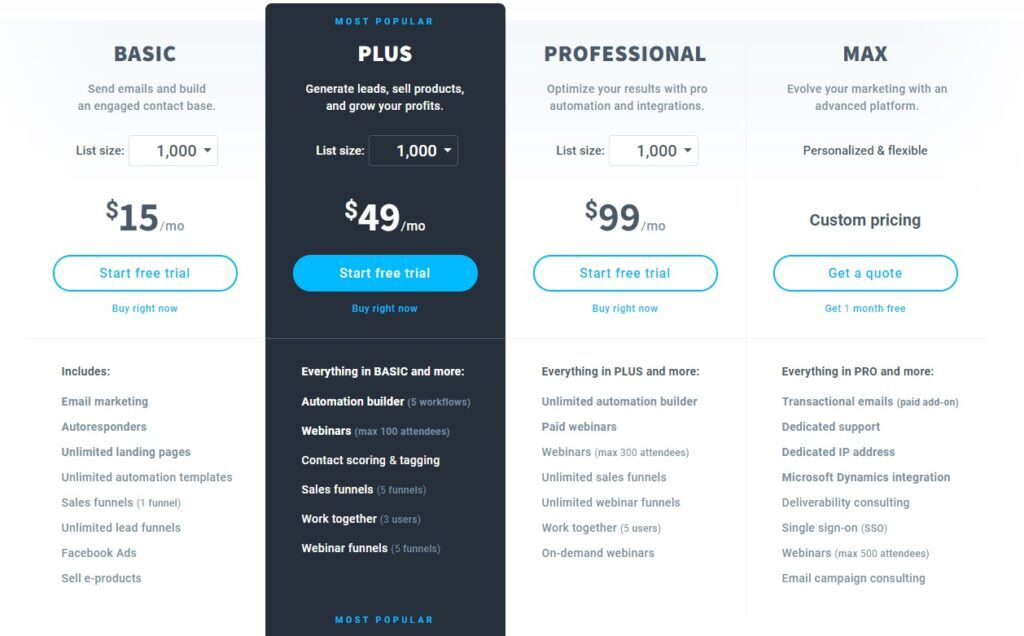 Pros
Shutterstock access
Great pricing
30-day free trial with no credit card required
Landing pages
Cons
Free version is only 30 days
Sendlane
Sendlane is an excellent choice for an affiliate marketing business because it was actually designed to be an affiliate-friendly autoresponder. That's despite it now being a popular email marketing service used by big brands like American Standard.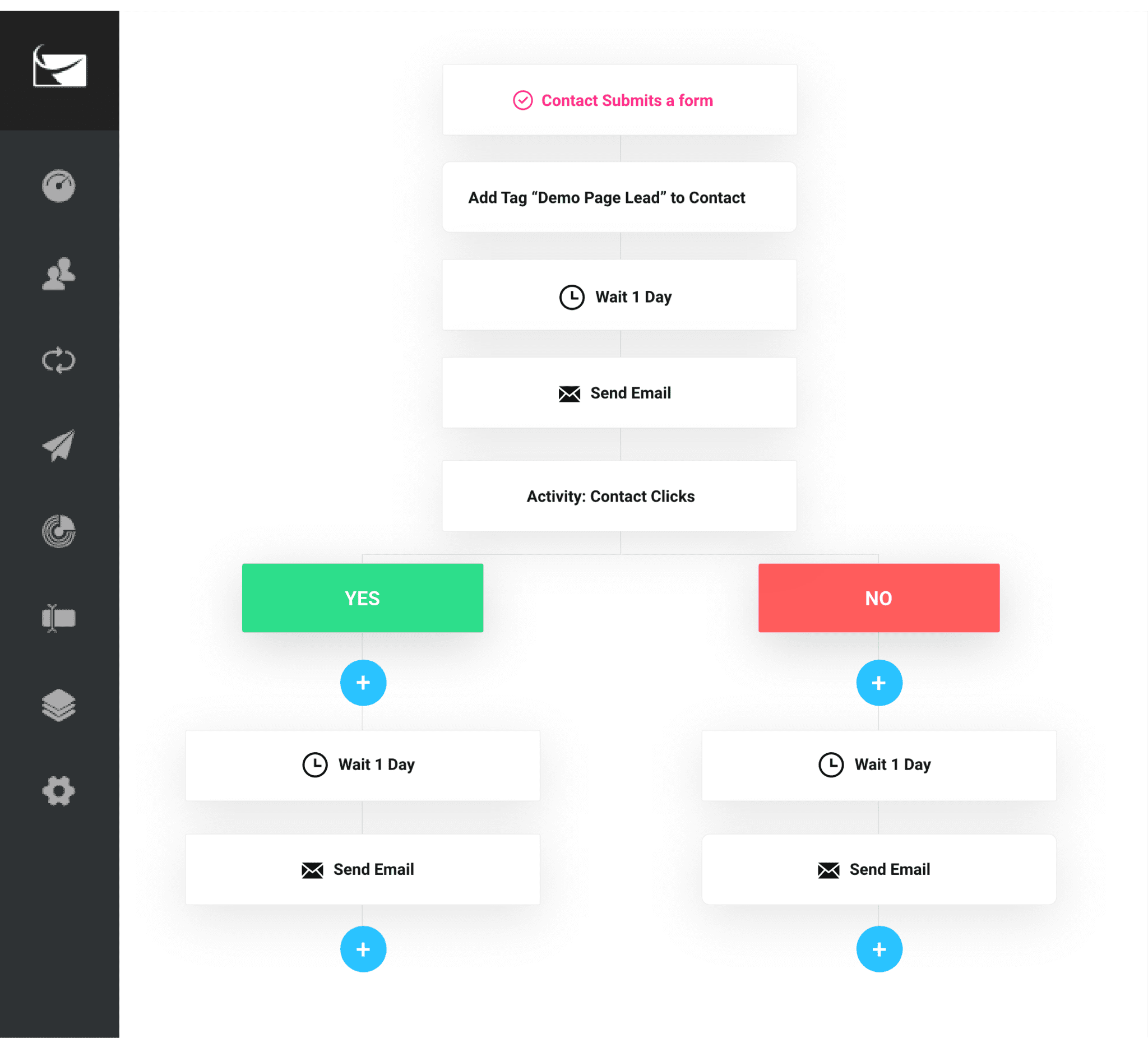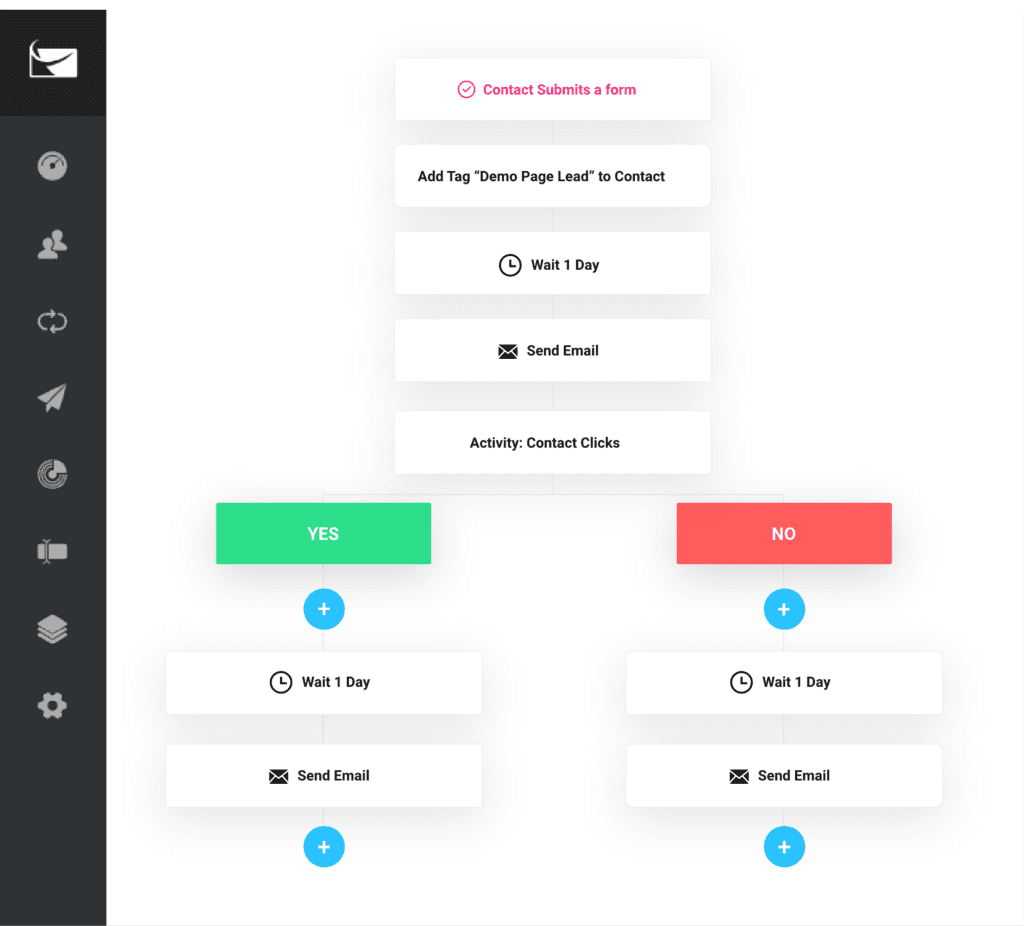 Affiliate marketers have a reputation for being spammy and that's why email marketing service providers are so distrusting of affiliate links. But that's what Sendlane founder Jimmy Kim wanted to change.
In fact they are even partnered with the affiliate marketing marketplace giant ClickBank.
In his own words: "when I started my own online journey back in 2008 as a digital marketer, I was primarily a product vendor that used affiliate marketing to supplement my business revenue by recommending relevant products and services to my email list.
"In fact, that's the entire reason why Sendlane was created. It all started as a platform that would support affiliate marketing. Why? Because other ESP's did not understand that affiliate marketing didn't have to be considered such a grey, spammy industry, when guidelines are laid out and understood."
That said, Sendlane does ban certain affiliate niches:
Loans
Mortgages
Debt servicing
Credit repair services
Job markets
Freebie/gift card/sweepstakes
Insurance
However, they do encourage you to ask if unsure about your niche.
They also ban any third-party data, so you can't buy leads. You have to generate them yourself through opt-ins on your landing pages and get their consent to email them – which you should be doing anyway.
You should also comply with spam laws and avoid spammy practices like writing in capitals and generally being unethical. In brief, don't be a dick.
Sendlane is proud of its high deliverability rate which it helps to maintain with automatic list cleaning tools which let you clearout leads that don't engage with your emails and lead more inboxes to mark you as spam.
Despite being built for affiliate marketing, Sendlane packs some very advanced features like smart automations and retargeting and "white glove" account management and support.
The multi-variant testing is also very impressive.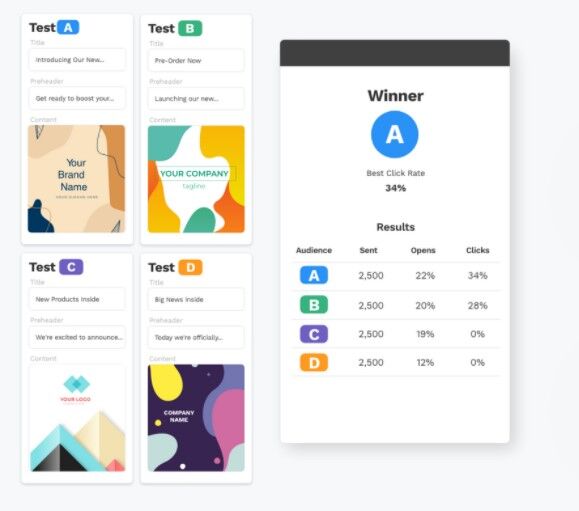 Sendlane Pricing
Sendlane could easily be the best autoresponder when it comes to affiliate marketing but is held back by its high price for lower numbers of subscribers. It is $79 per month for 5000 subscribers when paid annually. That's the same cost as ConvertKit paid monthly before a discount for annual.
The Growth plan features everything you need out of autoresponders for affiliate marketing while Pro offers extra support, migration, SMS and multi-user access.
These start at $79 and $125 per month for 5000 contacts if paid annually and you can start with a 14-day free trial of the Pro plan.
Pros
Sendlane doesn't just allow affiliate marketing. It actively supports it!
Great support
Sophisticated marketing automation and SMS
Cons
Expensive for few contacts and only a 14 day free trial
ConvertKit is a beautiful autoresponder software specifically aimed at creators like Youtubers and bloggers. That makes it an ideal autoresponder for affiliate marketing thanks to its ease of use and landing page builder.
If you have an existing website it can also create great opt-in popups and sliders, as well as visitor tracking that tells you what pages your subscribers have viewed.
Like Aweber, the email templates are quite basic and limited but that's typically all you need as an affiliate marketer.
Keep in mind that ConvertKit uses a single database of contacts rather than lists. You can segment them nicely with tags but this is an extra step compared to having one list for one campaign.
You can get started with up to 1000 subscribers on their free plan but this only allows single broadcast campaigns rather than automated autoresponders. Higher tiers are quite expensive. GetResponse features a much smaller increase between 1000 contacts and 10,000 contacts, but ConvertKit has the most generous free autoresponder for affiliate marketing.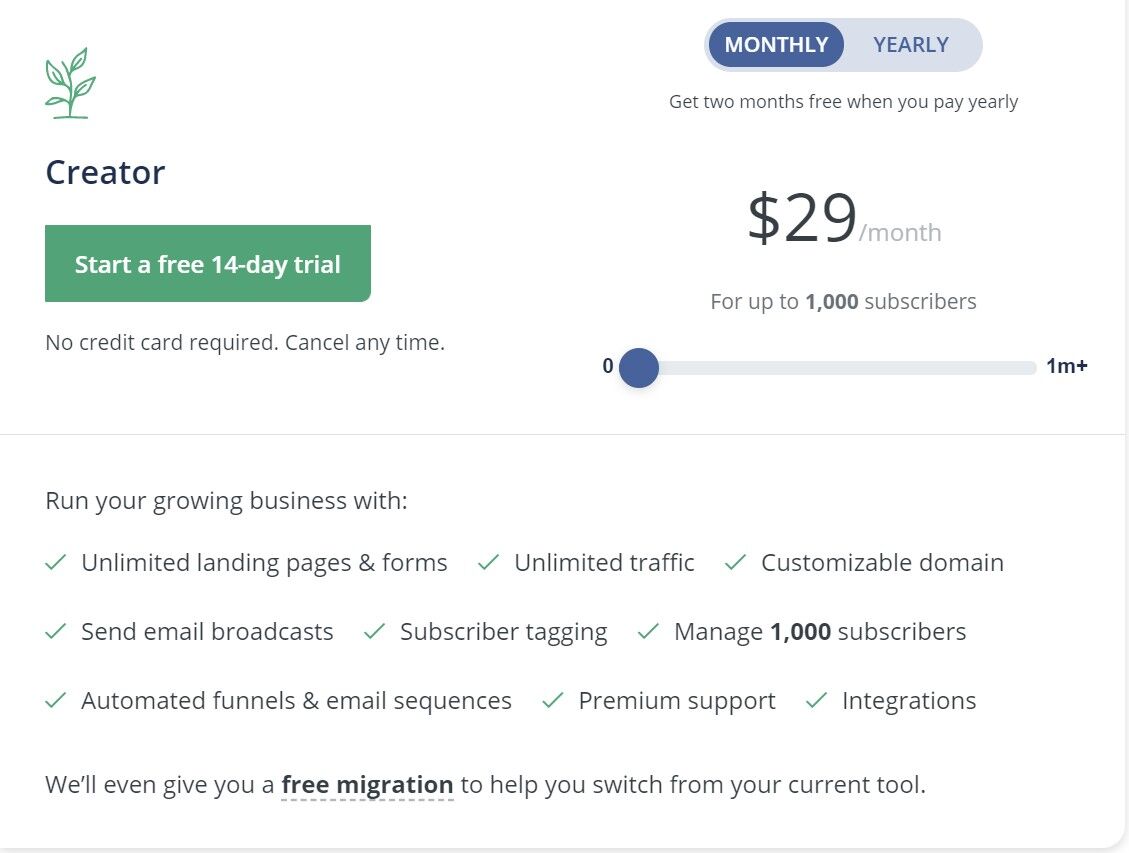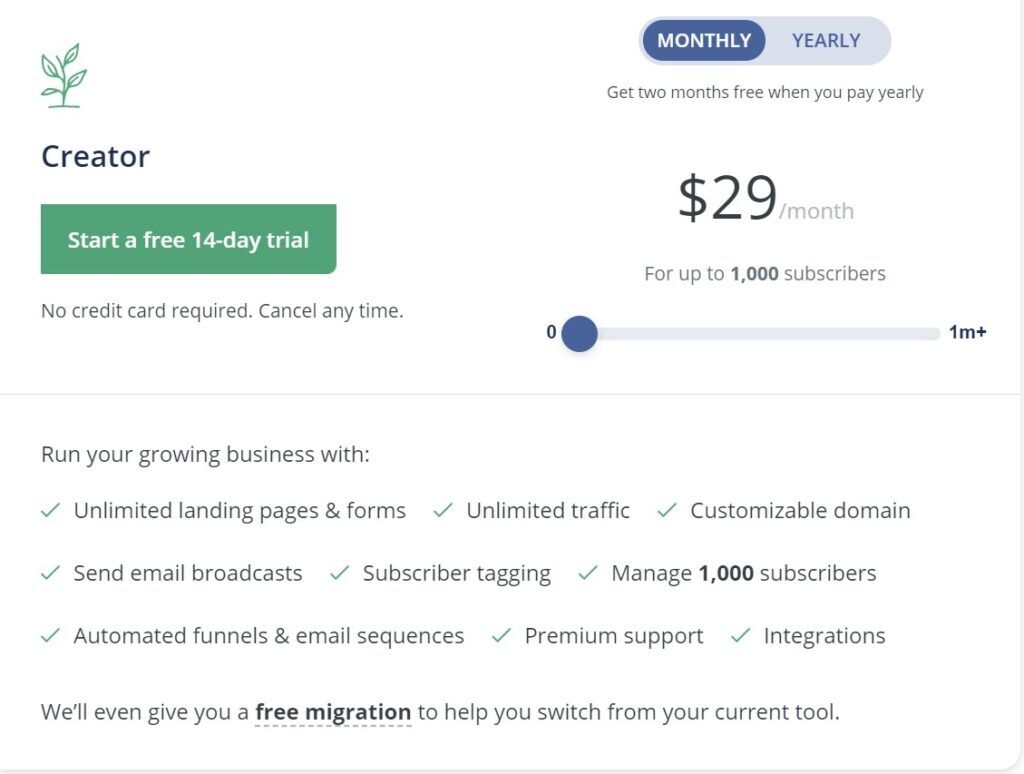 Pros
Free trial up to 1000 contacts
Beautiful templates and form builders
Cons
More expensive plans
Trial has no automation
How To Choose The Best Autoresponder For Affiliate Marketing
Affiliate Friendly
Services like Mailchimp and Mailerlite have made it clear they do not like affiliate marketers. Apparently they are more lenient if you actually have a website, but often affiliate marketers just want to get started without worrying about building a website and hosting. And then, why take the risk when there are plenty of choices for the best affiliate-friendly autoresponder.
Pricing
Choosing an autoresponder for affiliate marketing based on price is very difficult. Email software providers have different ways of pricing their products depending on features and list size. Now the issue with that is you don't know how big your list is going to be.
Maybe you'll find your niche wasn't as engaged as you thought and you struggle to get above a few hundred opt-ins, in which case a free autoresponder like Aweberwould probably work. These are easily the best free autoresponders for affiliate marketing given you get access to so much functionality without paying a cent.
On the other hand, as your list grows you may find the best free plan came with more expensive paid plans.
For instance, after the 1000 contacts free plan which doesn't include automation ConvertKit rises to $29 a month, whereas GetResponse starts at just $15 a month for up to 2499 subscribers.
Aweber is $26.15 per month for up to 2500 contacts after the 500 contacts free plan.
As an affiliate marketer your biggest enemy is fear. It is all to easy to hesitate and never achieve anything when you could just jump in and see what happens.
This is a concept called Burridan's Ass – a donkey caught between a bale of hay and a bucket of water who can't decide which it wants more and then dies of starvation and thirst.
Don't spend too long working out the perfectly priced autoresponder for affiliate marketing because it doesn't exist until you know what your list will look like. Instead, pick one, dive in and build a great business. If you do encounter problems you can always change, or simply adapt and keep moving. Just don't get stuck in analysis paralysis.
Features
Autoresponder features can vary significantly between email templates and customizations, A/B testing and landing pages.
Generally its best to start simple, but make sure you have the opportunity to add in more features down the line.
Whether or not you have a website and how you intend to generate leads will also have an impact. You don't need a landing page builder if you already have a website – but opt-in forms and popups will be a great way to collect leads from your site with a simple embed instead of dealing with plugins.
If you're relying on Facebook lead ads then you also probably don't need a landing page builder, but make sure you can integrate with Facebook easily without a third-party tool like Zapier. These autoresponders such as Aweber, GetResponse and Convertkit do just that.
On the other hand, landing pages might be useful not just to generate leads but also to feature products so you can send your leads to them. For instance, Amazon Associates strictly bans placing affiliate links in emails but you are allowed to feature them on a public page and email your contacts a link to that page.
A good page builder can let you replicate a lot of the sales funnel functions of Clickfunnels and Leadpages without their high fees.
Ease of Use
Email marketing can be very simple. But it can also grow very tedious when you have hundreds of contacts at different places in different autoresponder funnels.
Choose an autoresponder at is easy on the eyes and visual. Even if you think yourself technically-minded there is nothing wrong with embracing the beautiful visual workflows modern autoresponders have to offer.
How To Make Money With Affiliate Email Marketing
Whether you have a full website with hundreds of pages or a simple lead form, building and email list is a great way to make money on autopilot if you're smart about it.
Your email list is a special audience of people who know you and already have a degree of trust in you. Psychologists and marketers both put great emphasis on this idea of touchpoints. That's why the best autoresponder for affiliate marketing is so powerful through nurturing familiarity and trust with your audience.
How you generate leads is a big question with a variety of options depending on your position and goals. Personally I would always recommend building a WordPress website from scratch and publishing content targeting low-competition search terms that are relevant to your audience.
I achieve this by conducting keyword research with SEMRush to find searches with good volume and low competition, and then writing content using Surfer SEO to leapfrog up the search results by creating content that conforms to hundreds of on-page ranking factors.
If you're reading this now, then trust me – it works.
This strategy involves building an asset for the long-term that will keep driving you leads over time.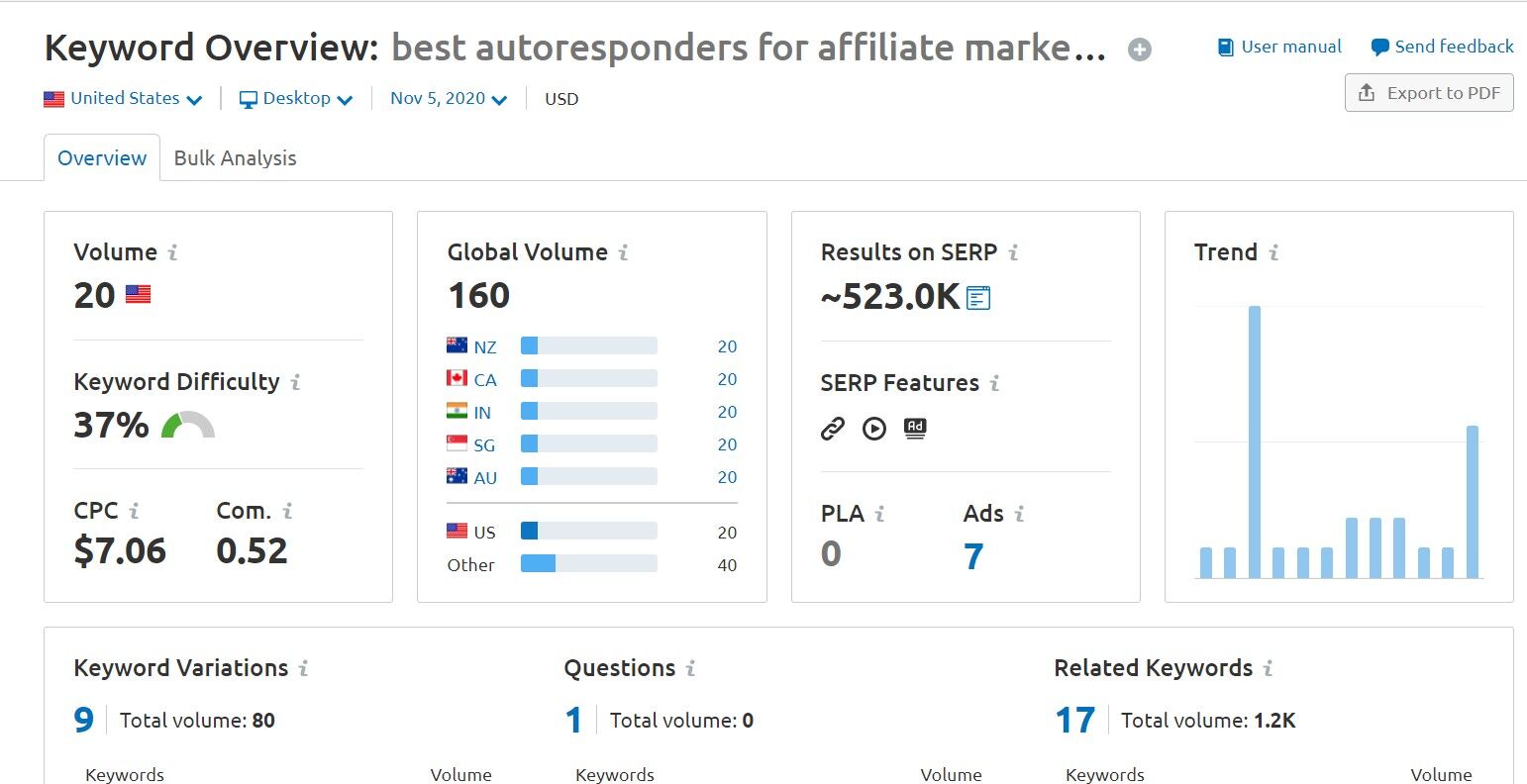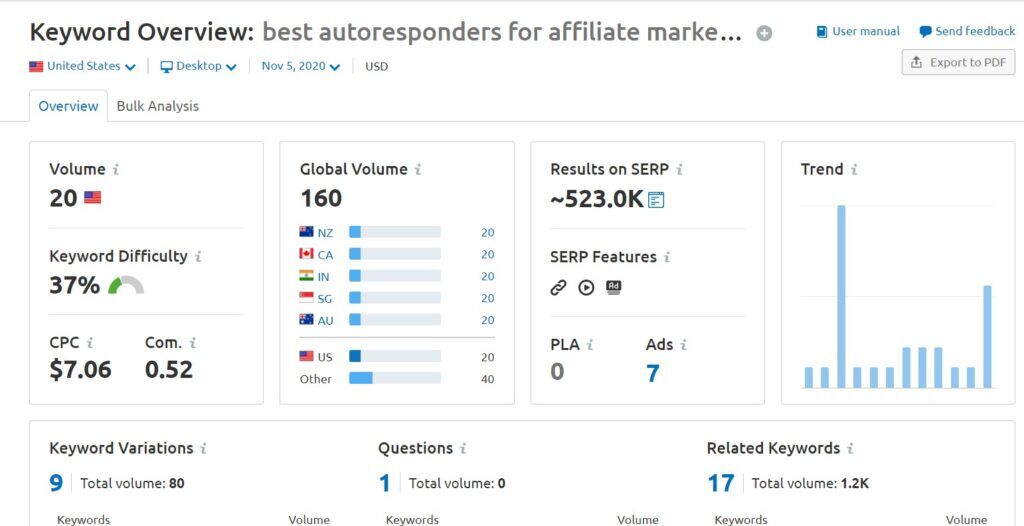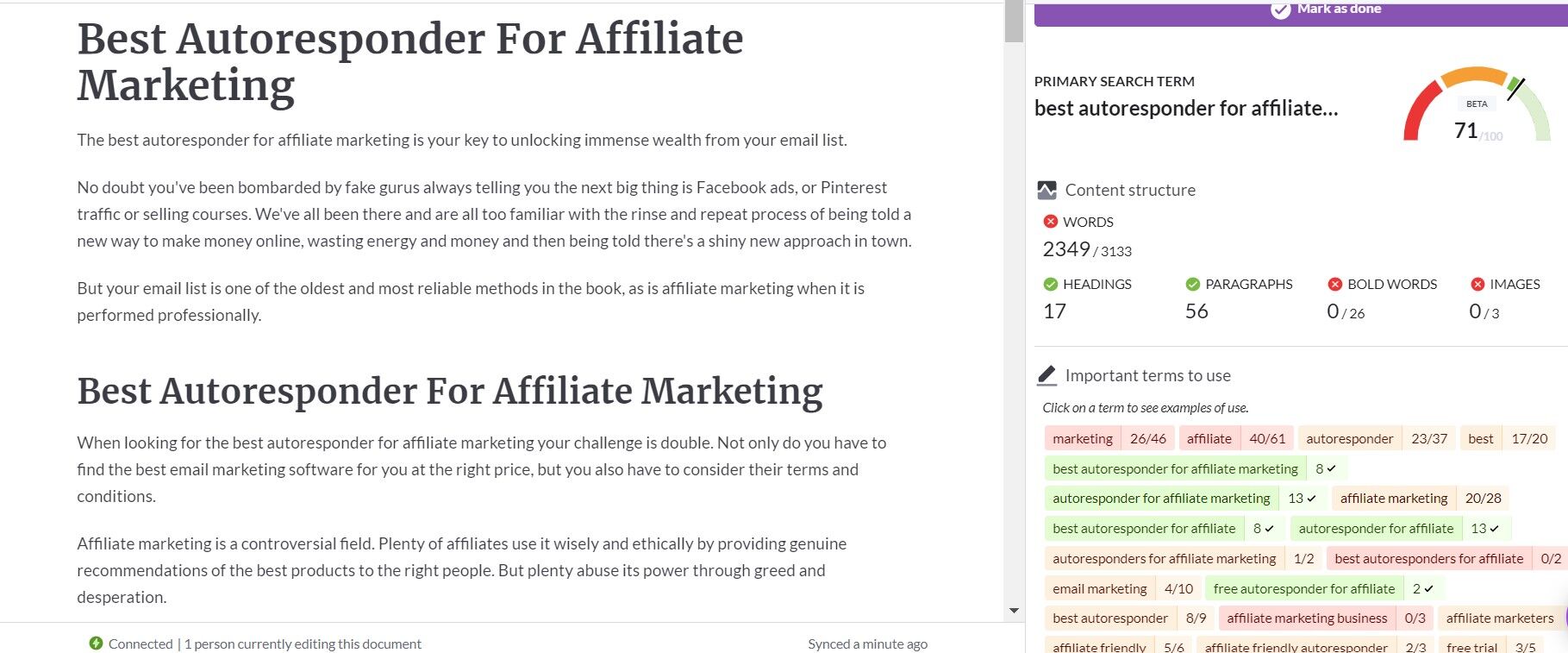 On the other hand, a much faster but approach is ads on Facebook or Google. Just keep in mind what you anticipate the value of each lead is going to be, which will depend on your revenue per sale and your conversion rate.
The good thing is once you have those leads they are quite unlikely to unsubscribe as most of us happily pile up our inboxes. Therefore if your first 500 leads don't buy right away you can keep experimenting – especially if you have A/B testing tools like GetResponse to find out what sort of emails and products your audience prefers.
Of course there are also opportunties to capture an existing audience, for instance if you have a popular Youtube channel.
Start off with your intial call to action – a "tripwire", whether that is a free or low-priced product or some informational content that your readers will value.
Over the next few days and weeks you need to focus on delivering maximum value to your new contacts by providing non-commercial communications that appeal to the purpose they originally joined your list for. Weight loss? Killer dating profiles? Content is king and you should give it freely.
Once you have earned your way into their attention – when they know an email from you will bring solutions to their problems – you can then turn on the sales side. You've probably got a ton of these in your inbox yourself – especially in if you've been in the digital marketing space a while.
You see the hard-sell on the offers but you wouldn't unsubscribe because the rest of the content is so damn good. The best affiliate marketers include affiliate products as the solutions to problems, doing their audience a service, rather than wedging them in.
Typical sales funnels work by introducing a low-value affiliate product first and then working up to the big-hitters. Again this is psychology as someone who has bought from you before and had a good experience will do it again. All this can be made automatic. Keep bringing in new leads to your sales funnel through Facebook ads or organic SEO and build a powerful funnel that guarantees a consistent average return.
Over time you can keep tweaking and optimising that funnel to generate even more sales. You can even build your subscribers into your marketing to broaden your reach – invite them to your Facebook group or create competitions to encourage them to share your content to their friends.
Of course the joy of affiliate marketing is you don't handle the inventory and have a universe of options to choose from. Your job is to tailor an experience of authority and trust so you can keep that email list active and eager for more. And when it comes to a big spending season like Black Friday you can hit your loyal subscribers with offers from all sorts of relevant brands.