Have you been targeted a Facebook ad about this powerful new copywriting software? So was I. And I decided to try it out and produce this intense, detailed ClosersCopy review from a career digital marketer with a large portfolio of websites.
I mean, with this 30-day moneyback guarantee (view offer details, terms and conditions here) how could I refuse? The result was spectacular – and I urge you to try it out for yourself while it's still available.
The price for ClosersCopy keeps going up as more and more entrepreneurs and marketers flock to this cutting-edge profit machine, and I regretted hesitating on locking in my plan earlier.
>> Want unlimited, LIFETIME access to ClosersCopy? Click here <<
As a writer at heart, I wanted to be disappointed and hail the human mind as superior to software…
But I wasn't.
My own mind opened up and received some powerful lessons for a more profitable – and persuasive – future.
I was exactly the same as you. Tempted by a powerful new innovation promising a real change for your business but unsure about trusting a new platform I hadn't heard of.
While most copywriting software is little more than a formulaic form, ClosersCopy is a full text editor resembling Google docs that encompasses sales copywriting, proven templates, AI-based spam analysis (which reduces the chance of your emails going into spam) and emotional analysis that helps you hit just the right tone for your audience.
If you are on the fence about jumping into a new product that promises to give you an unfair advantage over your competition, then don't delay.
Personally, I feel myself to be quite an effective copywriter – but the intimidation of a blank page together with the fatigue of writing email after email does mean that producing quality on-demand can be a challenge.
ClosersCopy takes care of the heavy lifting so you can put the finishing touches quickly and more efficiently.
I am going to walk you through the different features it offers and how these features can help your online business grow fast.
Overall, it is a very interesting tool and this review will definitely help you decide whether to buy it or not. I believe that many of you will also find it very useful. Now, let's jump right into Closers Copy world and see how you can use this tool:
Members Area
When you sign up for closers copy you're going to be brought into the dashboard area, it'll be completely blank here apart from the welcome to closers copy project you're going to be able to access a new project by clicking this button and it's going to pop up right here in your project files.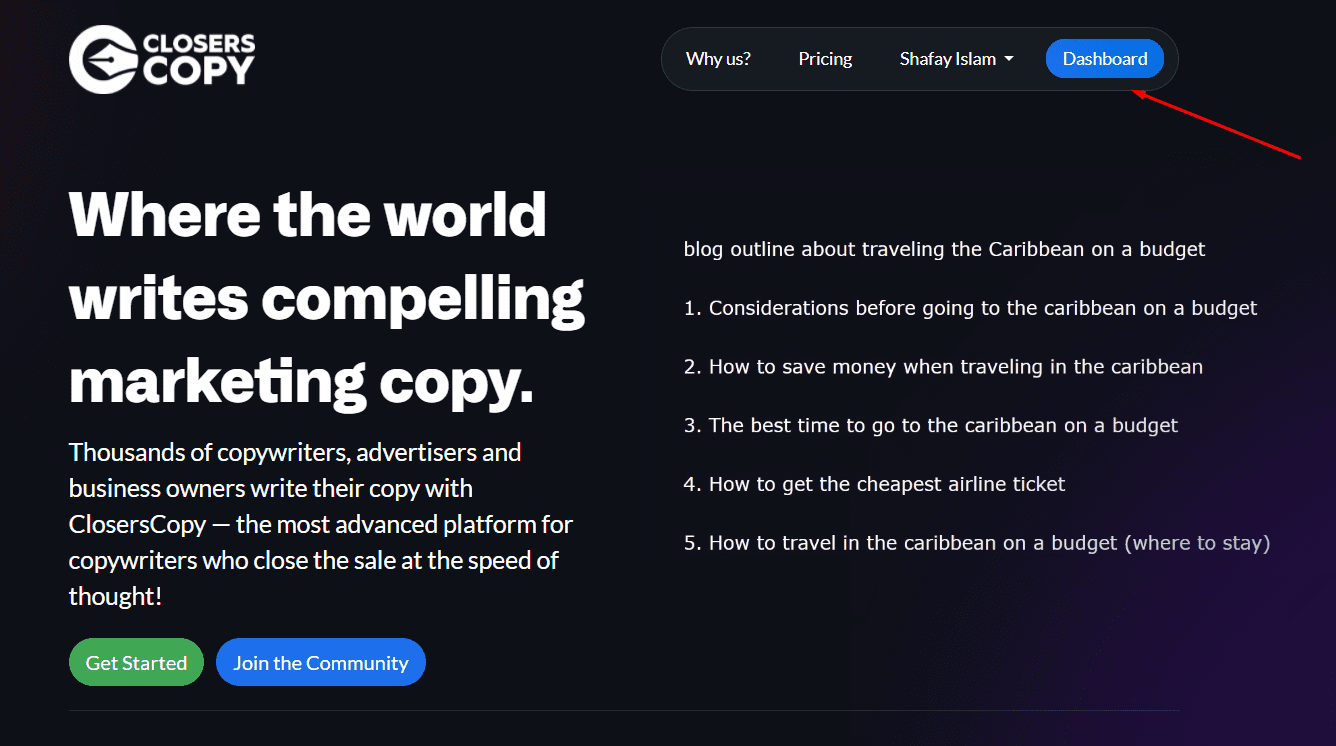 Under the projects, you can create different files and write content. You have total freedom here to create as many projects as you like.
Simple and easy project management just like in a computer you create a folder for a specific purpose and manage files there. It's the same here in ClosersCopy.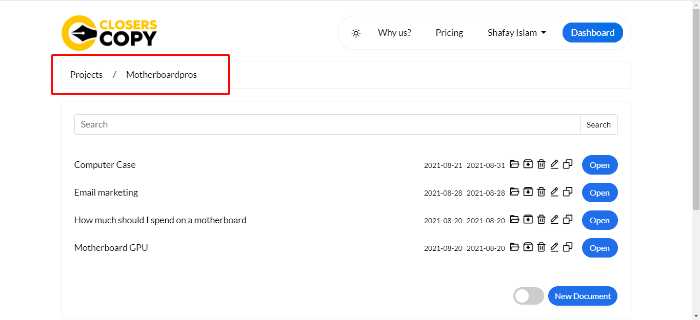 Moreover, you can add comments to projects and files in order to be more organized and productive.
Dark Mode
ClosersCopy has this nice feature "dark mode". If you're working in low-light conditions or just prefer the dark look it can be handy.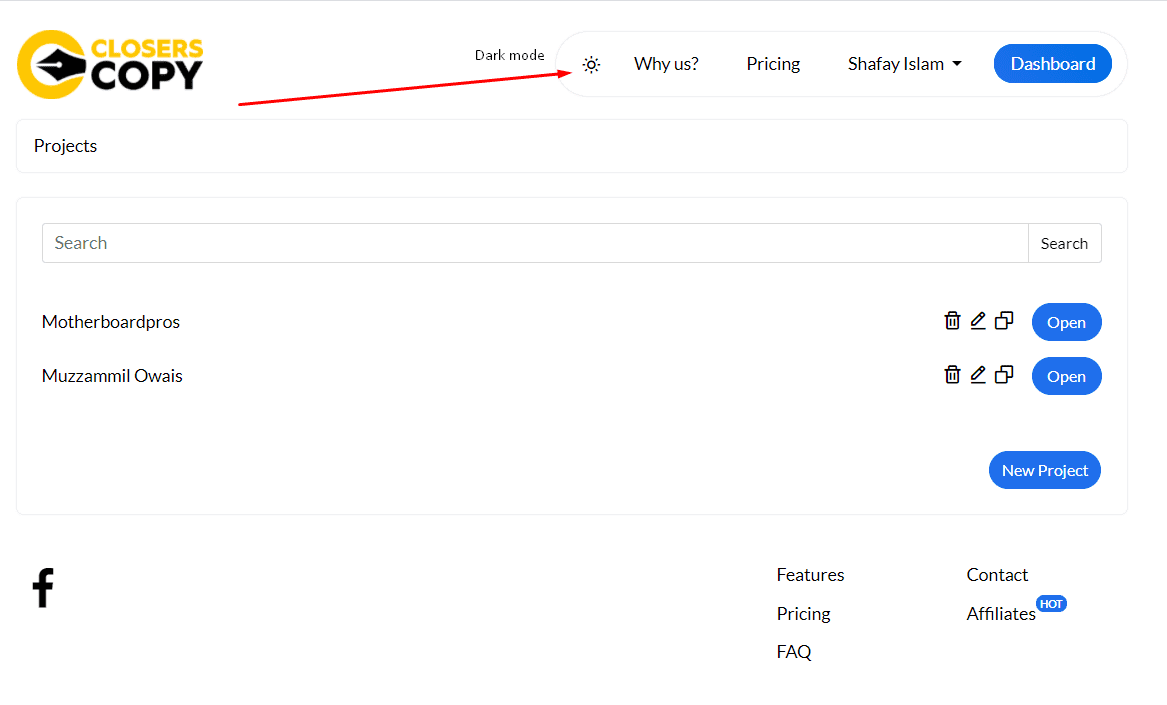 In the top right of ClosersCopy, there's an icon, click it and choose the dark mode. You can switch back to default mode any time from the project screen or it can be done while writing a piece of content in a document as well.
Content Research using Compete
This is a new feature added recently. It can be used if you prefer doing topic research within the ClosersCopy.
Let's say we want to do some research on "dog food". We'll just type it into the compete tool and hit enter and we got the result within some minutes.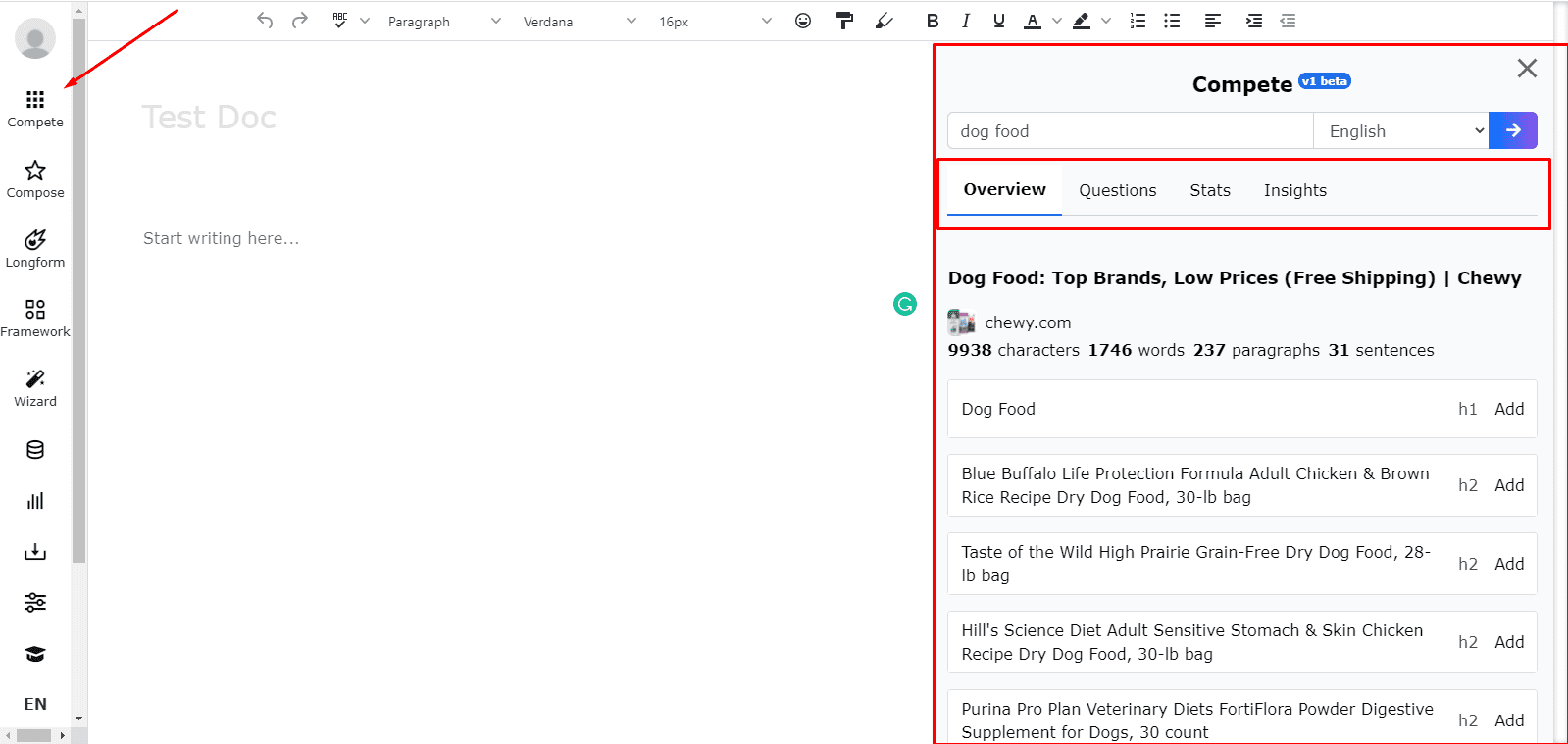 We have links to different relevant articles with the most recent on top positions so we can use them as sample content about this specific topic.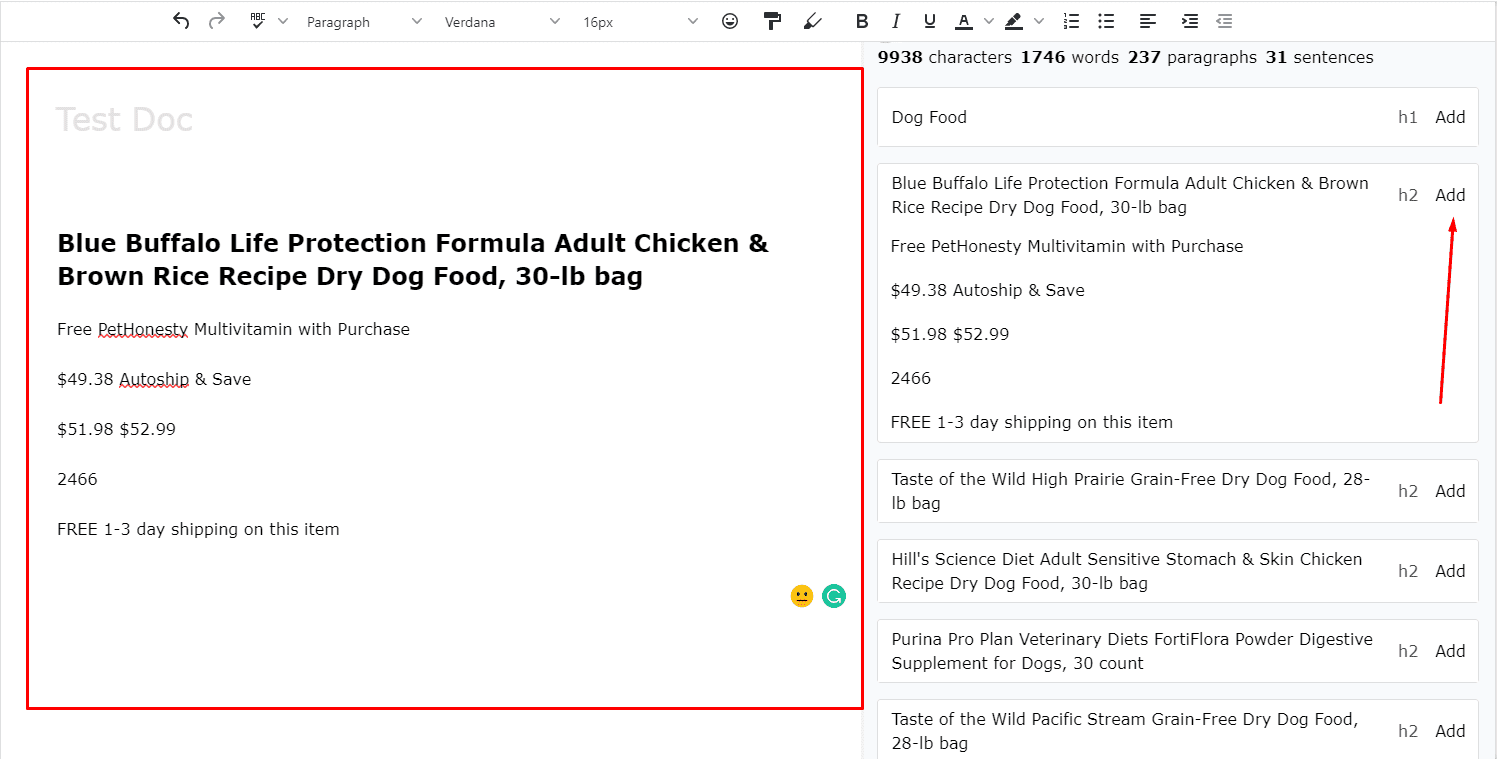 We can go through these pages, choose ones that are suitable for our article then copy them through ClosersCopy directly to the document. You can analyze the competitors easily because it shows all the details such as the number of words, paragraphs, sentences and keyword density. You can also refine your search by selecting a language filter.
It doesn't end here we have four different options "Overview, Insights, Questions and Stats". If you are writing anything that requires stats like the number of app downloads, population, etc then the stats feature is effective.
I hope they will add the "Average number of words required to rank" for a particular term within compete in the near future.
Create an AI Draft with Compose
Compose is under beta mode and lets you create a draft using AI to generate outlines, headings and perform research for a keyword.
Now let's test it out whether it's useful or not? I put the keyword pest control companies in the search and hit the compose button.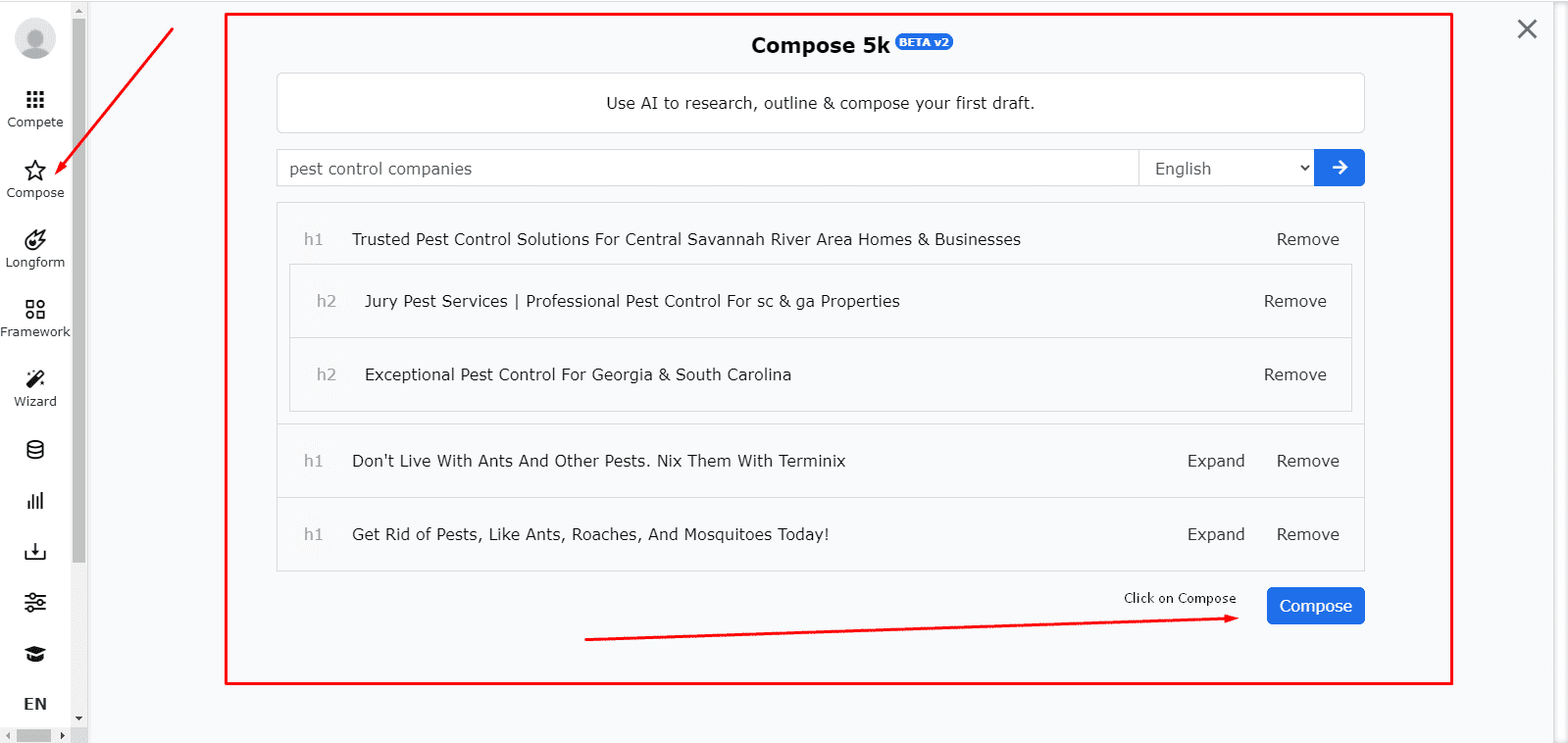 Here you can see it's showing us a list of h1s If I click expand there are subheadings in it as well. So you get the idea of how it works but there's one drawback here I can't add my own custom heading in the outline. There should be an option to add a custom outline so that it can be included as well with AI suggestions.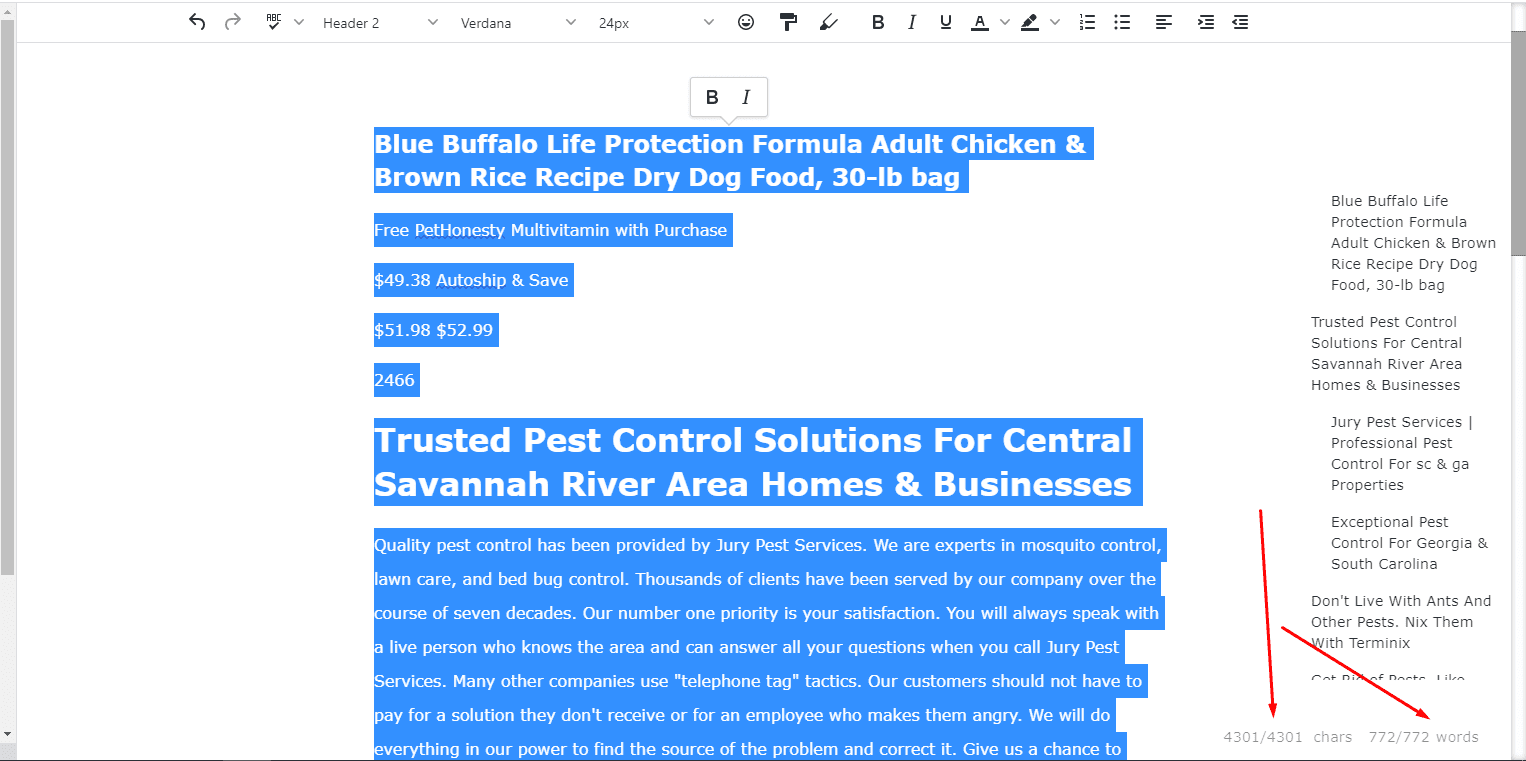 After clicking on compose it has generated 700 words of content and it took a bit of time as well nearly around 5 minutes. I don't find this feature valuable or useful at all because there are a lot of improvements required. Instead of using compose, you should do all the necessary research related to your topic and then start playing with Closerscopy.
Write Articles with Longform Editor
I have personally tried longform for my articles and it's amazing. Just like other AI writing tools you describe your content in the brief, provide a title in the document and click write. But with ClosersCopy you have 3 different options Creativity, Output and Context.
You don't have to change here much but if you notice that it is generating some gibberish or fantasy based content they try decreasing the creativity. Otherwise no need.
Here's an example, I want to write about affiliate marketing books, let's have a look at the content quality in the image below.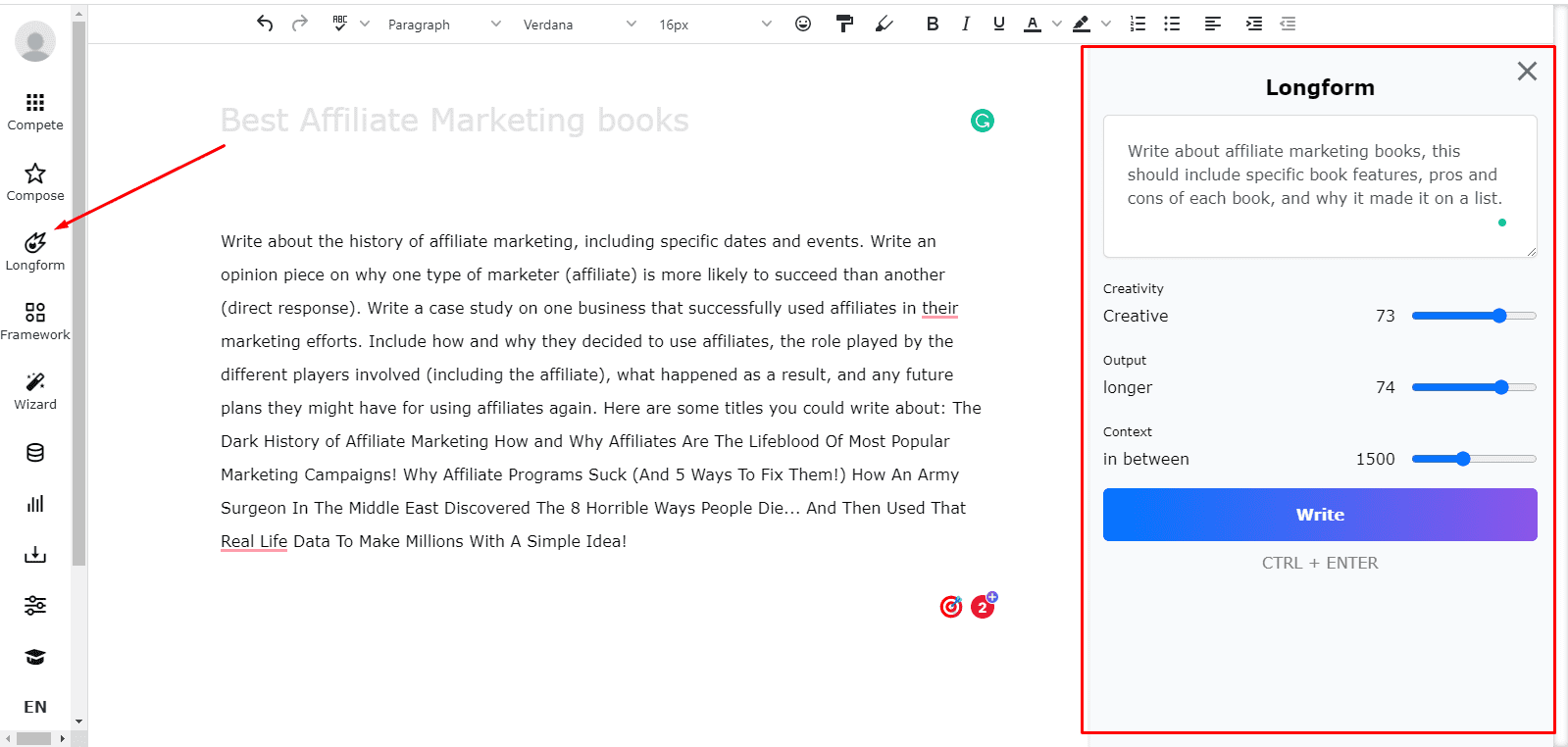 The output quality isn't good at all. Now, I am going to guide the AI by adding a sentence.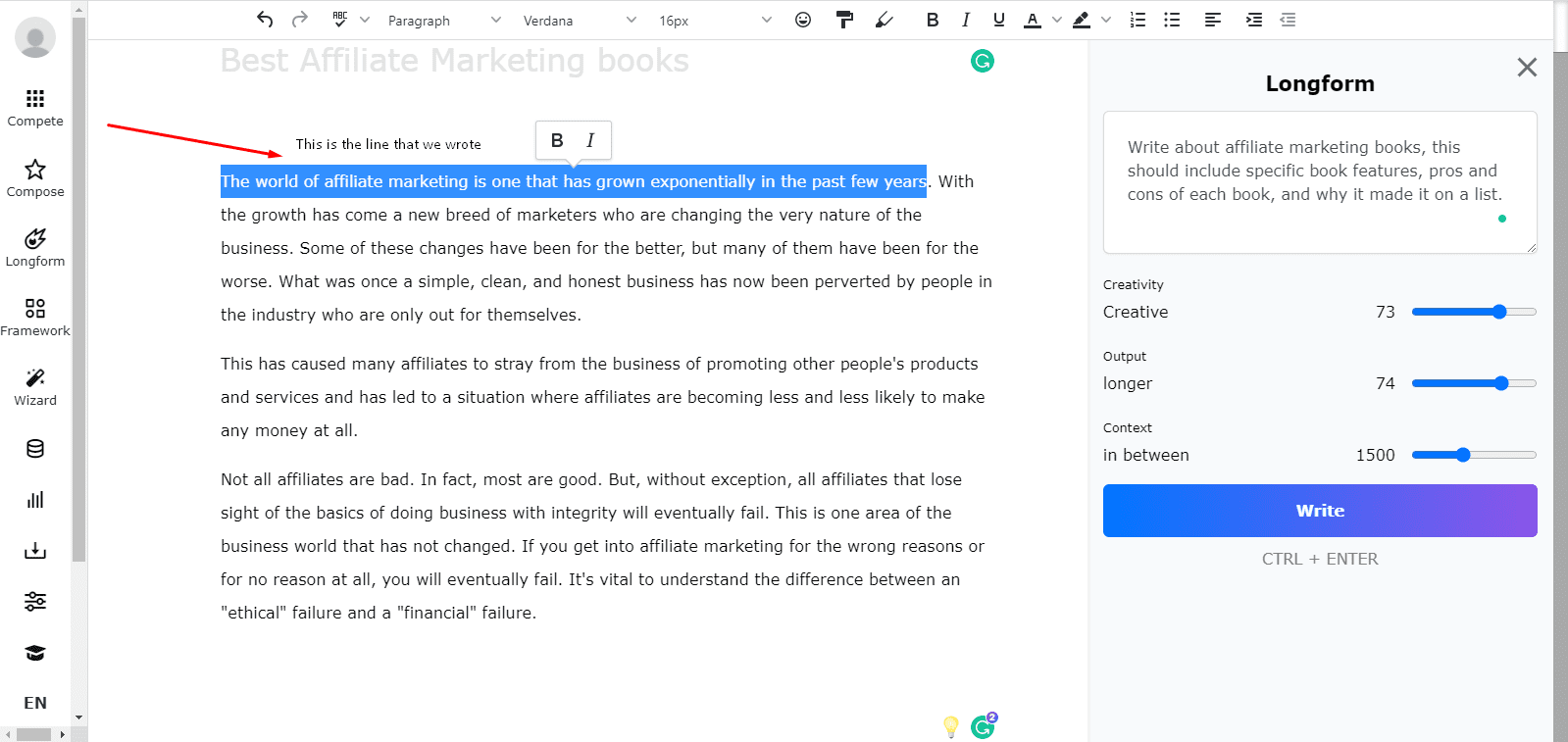 Boom, it's much better than before just some edits are required and it can be a nice kick-off for this article. Always guide the AI as much as possible because if you don't you will end up with gibberish content.
Wide Range of Frameworks
Closers Copy has a wide range of frameworks that can be used to produce copies for different purposes, following are some of the frameworks available:
AIDA
BAD
PAS
Google Ads
Titles
Outline
Q & A
Conclusion
Call to Action
Lead-in
Subheadings
Introduction
Product Review
Amazon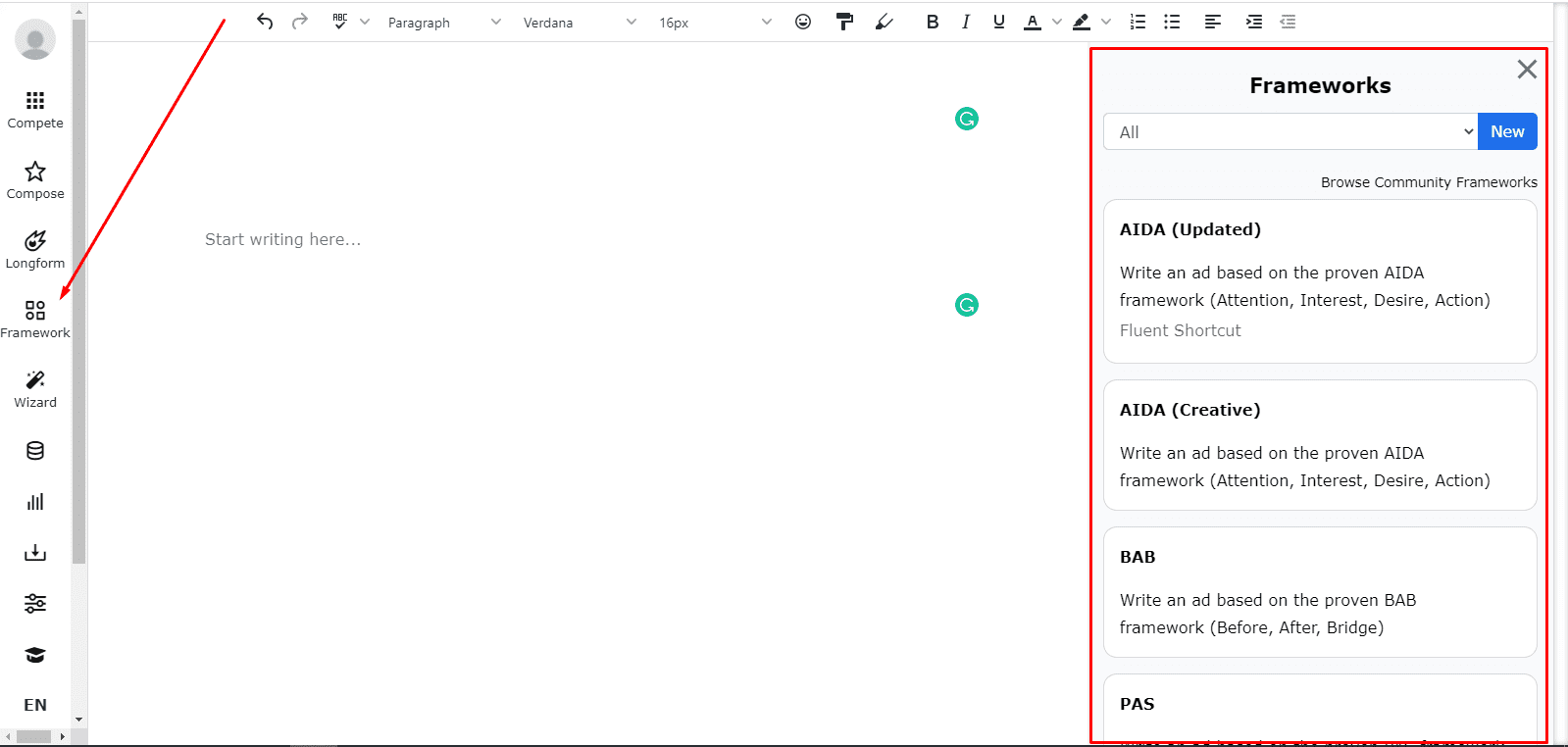 This isn't a comprehensive list, there are other frameworks as well that you can take benefit from. Moreover, you can actually create custom frameworks in order to kind of train the AI to write the type of stuff that you want it to.
Even if a framework for what you want to write already exists in Closers Copy creating your own framework is a really good idea because that's going to help the AI write in more a tone of voice that's similar to yours.
20+ Supported Languages
When it comes to writing other than the English language, Closerscopy provides support for more than 20 languages:
Chinese
Czech
Danish
Dutch
English
Estonian
Finnish
French
German
Greek
Hungarian
Italian
Japanese
Latvian
Lithuanian
Polish
Portuguese
Romanian, Russian
Slovak
Slovenian
Spanish
Swedish
You can select your desired language with respect to the country of your audience. Out of these 20 languages, I was able to test only French and Italian.
Wizard
The Closers Copy wizard lets you select your purpose and then choose from a variety of templates for each step to close a potential customer.
It is very handy for people who write sales letters, emails and offers. Basically, it's a full-fledge template based wizard that assists you in creating content according to your buyer's journey.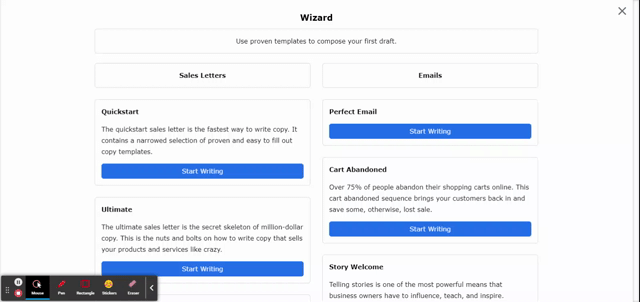 Writing Sales Letters, Email Scripts, Ads, Calls has never been easy, but with ClosersCopy you can craft all these and convert the target audiences into paying customers.
My Personal Testing
In my test, I was seeing how Closers Copy could help my SEO agency, which presented some interesting combinations with templates designed for fat loss…
But most of these templates use very widely applicable formulas. What is your audience struggling with? What can you do to help them? Why should they trust you?
It seems obvious on reflection, but how many emails have you written that just felt meandering and missed out on a crucial corner like a call to action, trust or really getting to grips with someone's problem before you barged in with your solution? You can do better now.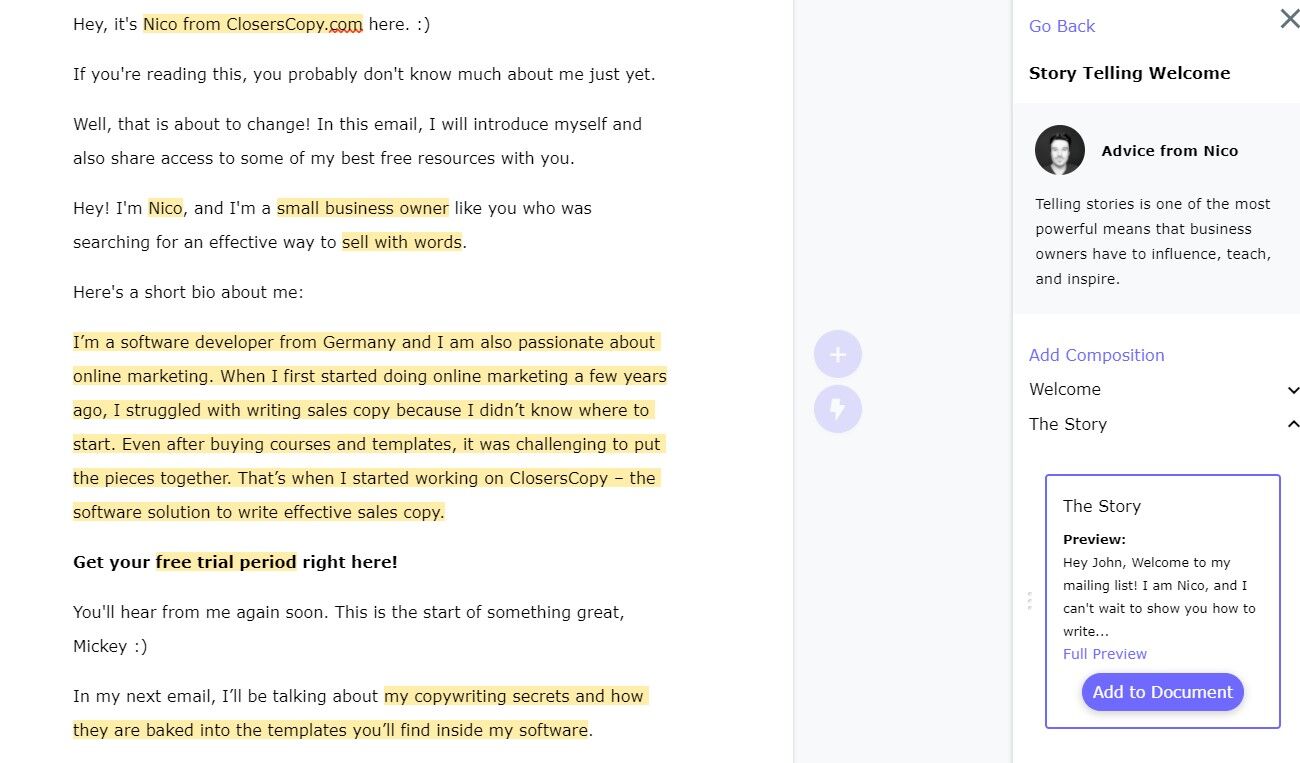 Largely built on what resembles Google Docs, Closer's Copy offers you a variety of ways to create email funnels, sales letters, and more with powerful sales copy. Founder Nico Engler even gives you hints in the side column for each step.
This is more than just a swipe copy. Nico goes deep. Just look at his advice here. It's not about word choices. It's about a whole process of using a virtual assistant to gather intelligence about your prospects so you can pitch them better.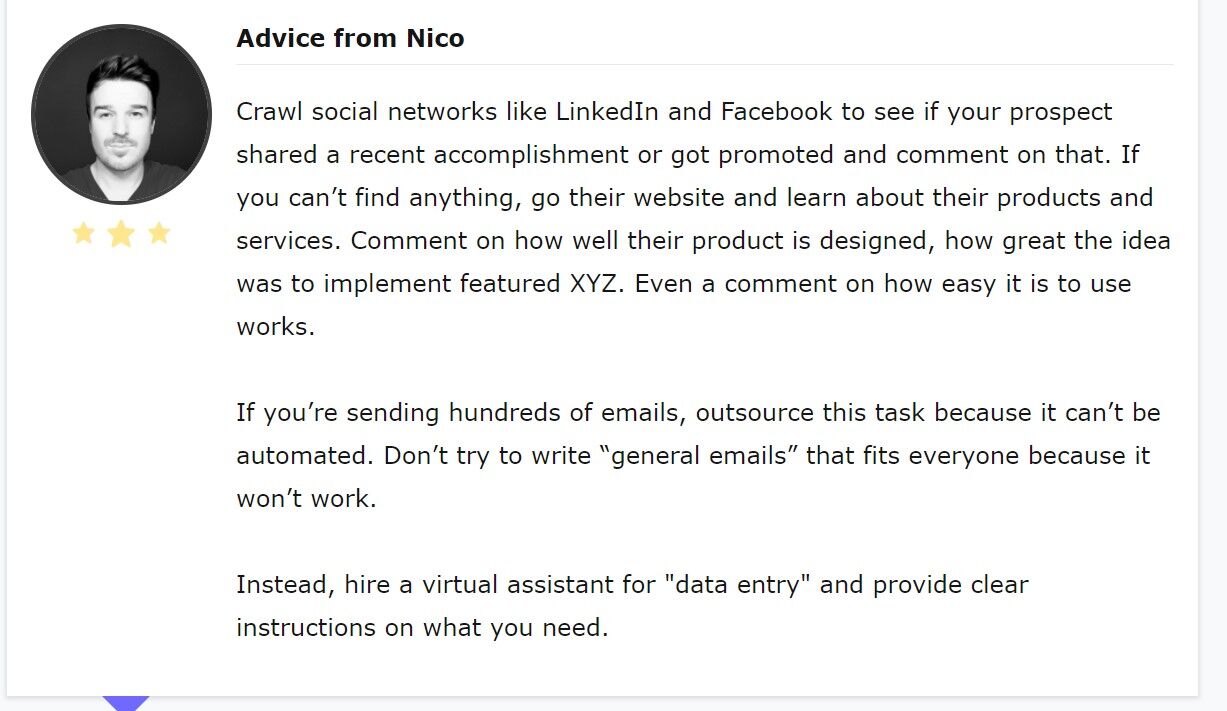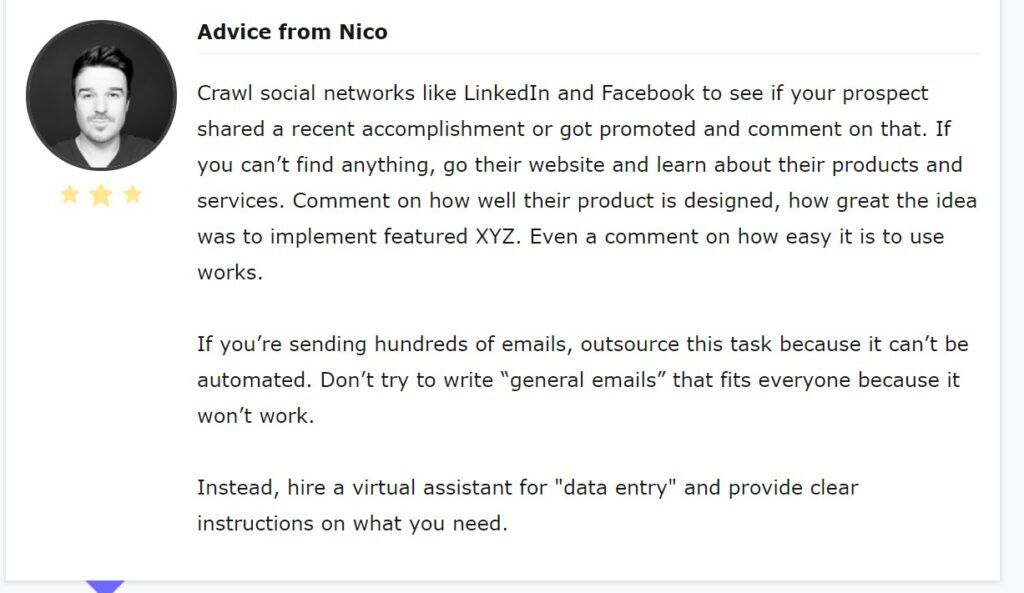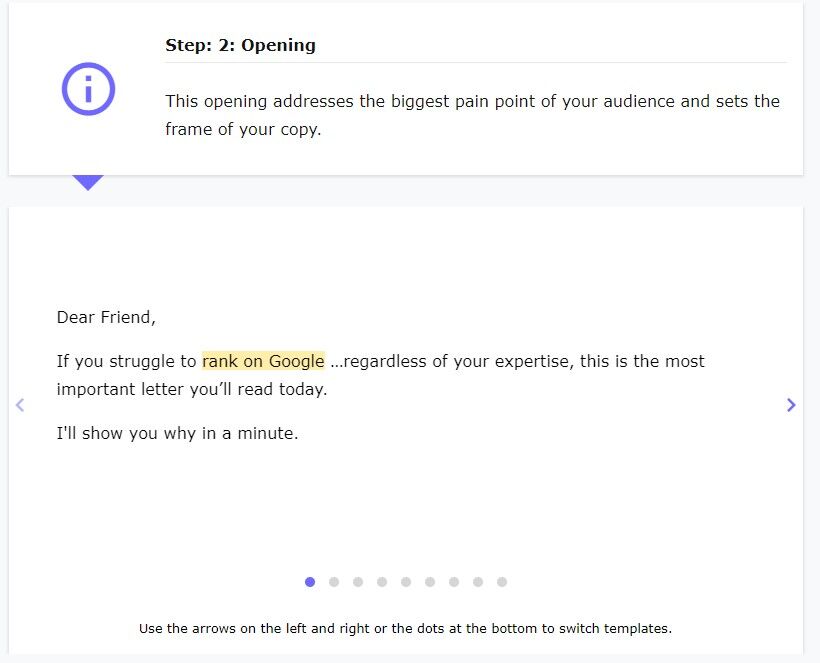 Each of the templates offers a specific copy depending on what you're looking for. For example, if you click on Ad, you can choose a template called Product Information. After clicking on your choice, it will then come out on your document.
Next, all you have to do is change the highlighted text to suit your needs. Each highlighted text puts focus on the text that you need to pay attention to.

Once you revise the template according to how you want it, you can also use other tools that this Funnel Scripts alternative offers like Headline Generator, Power Words, and Sensory Words.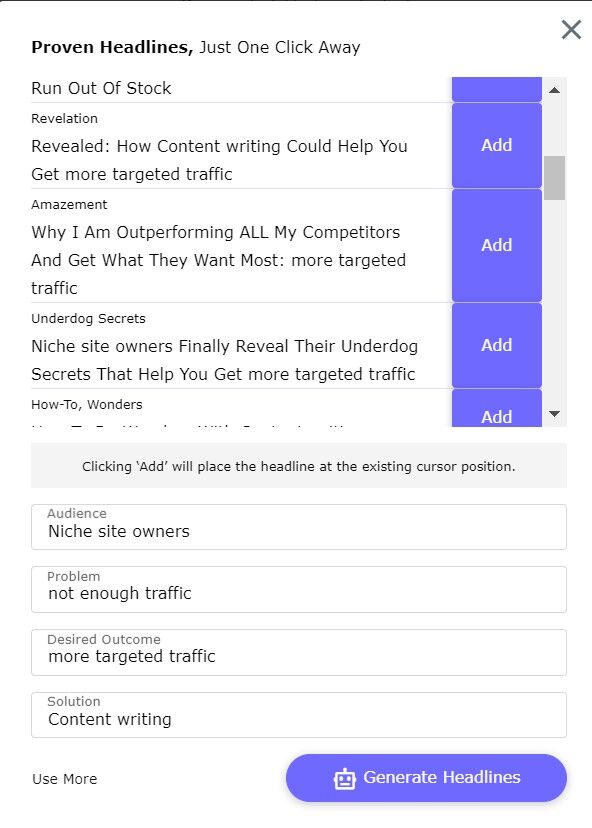 Each tool offers you ideas for how to write your script, depending on your marketing goal. The Headline Generator asks you for your audience, problem, desired outcome, and solution. Once you fill-up the form, it will generate what you need and help you build your funnel.
Like any preformatted system, you will always need to carry out a degree of tweaking yourself.
However, this feels much more intuitive with Closers Copy than other software. Partly because you choose from a wide variety of templates – hence choosing one that already makes sense – and then editing as a final polish.
Nico comments on a lot of these templates so there is also a lot of coaching thrown in as to why you should structure a script in this way.

This is a great Funnel Scripts alternative for its ease of use and number of features. There's no training needed at all to get started.
The templates come in sequences, so you can instantly craft a whole batch of emails to load up into your favourite autoresponder software.
AI-Powered Spam Analysis
What's more, Closer's Copy comes with an early-stage spam analysis that promises to monitor your copy for triggers that might send your emails into spam.
Spam is a hazard of the email marketing industry and it's never going to go away completely but there are tools that help you to reduce this problem, spam analysis feature in ClosersCopy scans all your email copy and gives you a score either in red or green.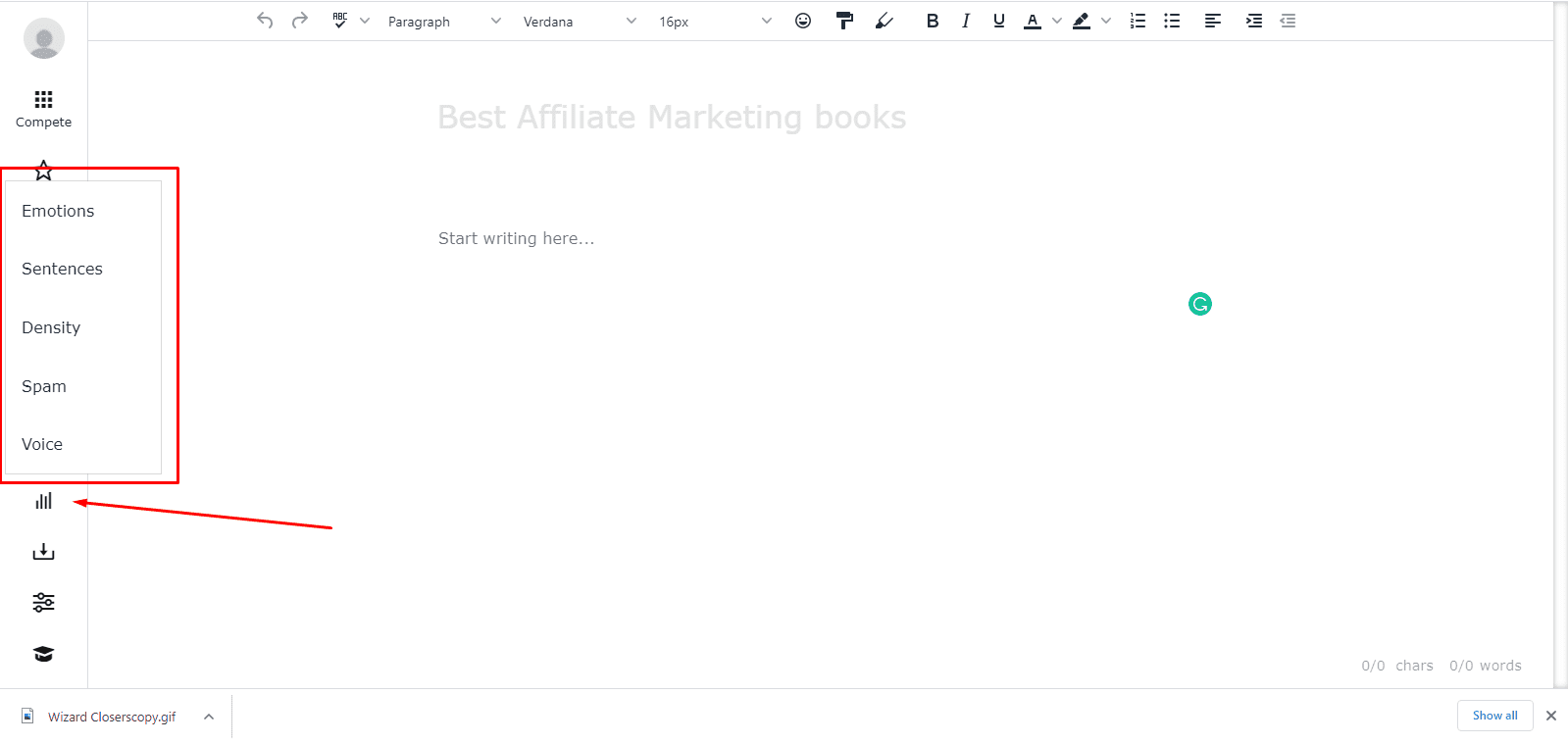 Red means that your copy can trigger spam and green means it's fine no actions are required. It's not effective for blogposts the main purpose behind this tool is to detect spam for emails because nowadays services like Google, Outlook and others are smart enough to understand the context of any email.
Overall you are presented with a tool that gets more emails successfully delivered into your leads' inboxes as well as offering them more compelling stories to turn them into customers.
Libraries
Libraries have a bunch of different options such as synonyms, power words, backups, etc. You can find meaningful words without heading over to Google.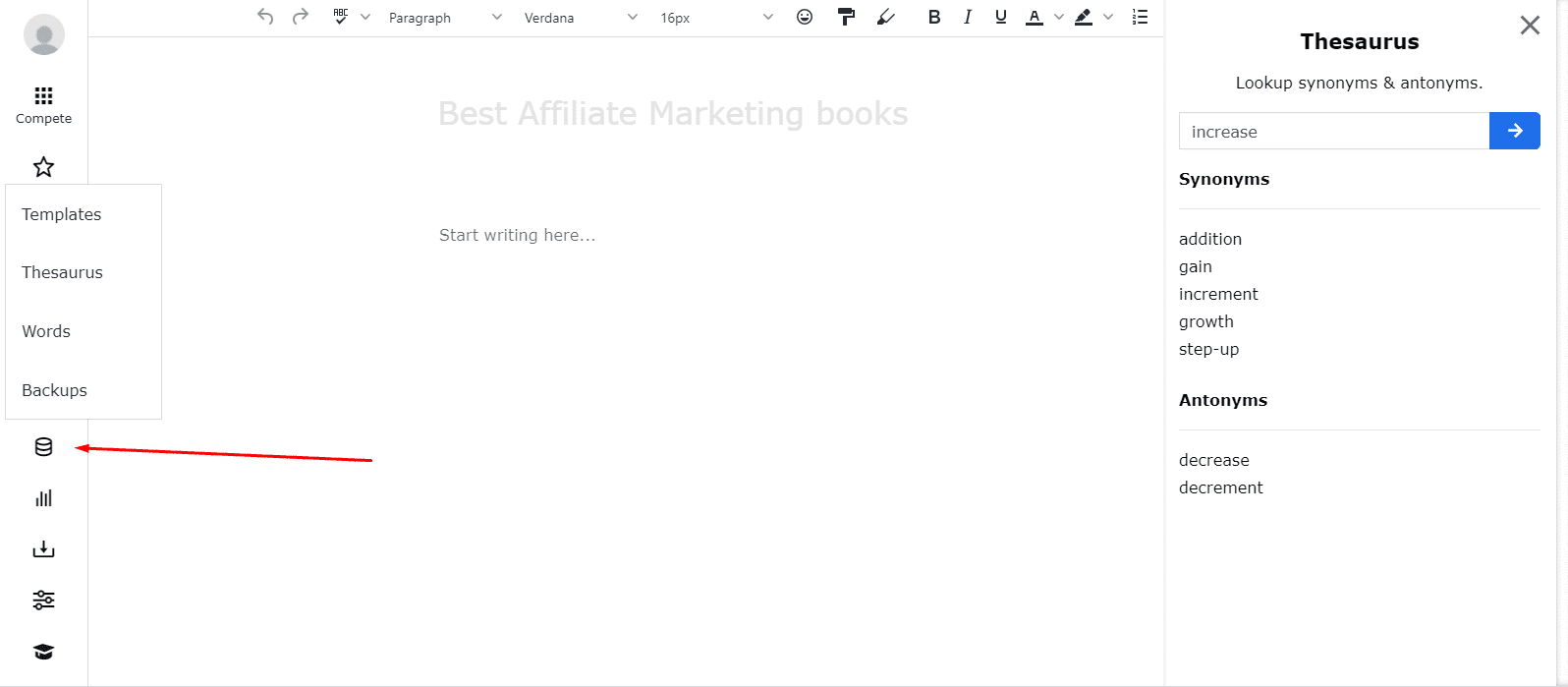 Another interesting thing here is templates these are created by other users but you need to have a code to access them.
Tutorials and Lessons
There are short tutorials available, you can learn more about the software simply by reading some guides that will give you an idea of how it works.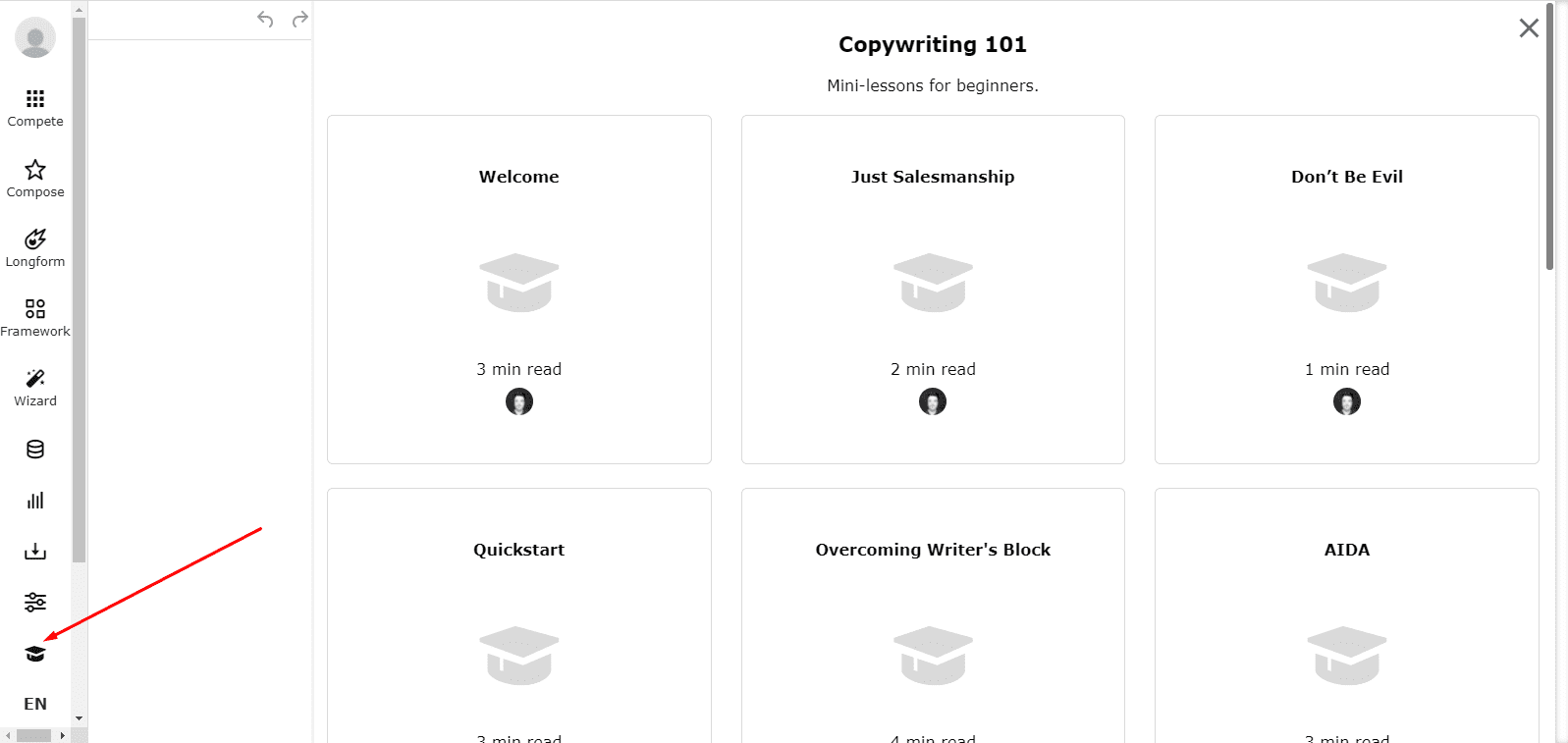 However, if you are stuck somewhere and don't know what to do and how to do simply ask a question in the official Facebook group of Closers Copy. I myself ask questions there and the community is extremely helpful and cooperative.
Grab a lifetime Deal with future updates promised.
Useful for email marketing and sales copy.
It's not expensive but an affordable option.
SEOs can perform Content Research within the tool.
30-day money-back guarantee.
UI needs a lot of improvement, you might find it a bit complicated.
It is slower than other AI Copywriting tools.
Currently, they offer two monthly plans – Freelancer for $39.99 or Professional for $49.99.
ClosersCopy Review
Summary
ClosersCopy offers fantastic value for money through its lifetime deal and members will benefit from locking in this price while new features are added and improved over time.
ClosersCopy is very easy for anyone to use and yet comes packed with features and functionalities. It's perfect for anyone who has to write regularly for their business and works well for sales letters, ads, emails, landing pages and website copy.
Copywriting is one of the most valuable skills you can learn. Imagine what increasing your revenue by just 20% would achieve over your lifetime?
In the words of Silicon Valley guru Naval Ravikant: "Learn to sell. Learn to build. If you can do both, you will be unstoppable."
Closers Copy offers a generous 30-day money back guarantee, as well as a monthly plan that means you can cancel anytime.
But frankly, I don't think you will be disappointed. I've been back and forth with Nico the founder on email with a few queries and he's always been responsive and helpful.
Plus, there are a variety of ways you can save money on Closers Copy with a generous discount on annual plans and a limited lifetime offer that resembles the kind of one-off launch sales you see on Appsumo.
Closers Copy is new and bold. There's nothing quite like it on the market today and I think over time it's perfectly reasonable that the lifetime offer could disappear very soon and the monthly price goes up on new subscriptions. They are adding new templates all the time – so it's just going to get bigger and bigger. On the other hand you could just pay a subscription like Jasper.
ClosersCopy is one of the best AI copywriting tools on the market. While it's output quality may not be a good as Jarvis, it offers a great value lifetime deal to avoid high subscription costs.
ClosersCopy is a powerful AI copywriting tool for writing longform SEO blog posts, social media posts, emails and more. It uses GPT-3 as well as its own proprietary AI.
Lots of support is provided in the app. Simply follow the prompts to craft great copy instantly.