Creating high-quality marketing copy is a time-consuming and difficult task. If you are a small business with limited resources, the cost of hiring a professional copywriter can be too much. Fortunately, there are AI copywriting tools available that can help you get the job done. However, there are also a number of things to consider when using AI-assisted copywriting tools.
Jasper and Closerscopy are clearly the market leaders here – but which is better?
Overall I would say that Jarvis is more intuitive and better-designed while also having a better standard of output quality.
They also show outstanding growth – I used to find the output quality quite poor. Even to the extent that I set up a Facebook group to share some of its hillarious creations (You can still join now to learn more pro AI copywriting hacks). But over time that output improved drastically.
Jasper is also essential if you write longform blog posts for SEO because it cleanly integrates with Surfer. You might be used to traditional ideas of SEO like "write a 500 word blog post andn use this keyword five times". That hasn't worked for years.
Surfer analyzes the top results in Google for your keyword and comes up with an AI-powered recipe of hundreds of factors such as many different keywords, length, structure and questions. And you can bring that template into Jarvis.
So overall I do prefer Jasper. But there is a catch. Jasper is more than $100 a month for full features. While Closers Copy does lean towards a more premium end of the market, it offers a lifetime deal that you can lock in and receive all future updates without ever paying again.
In today's article, we are going to compare Jasper and Closerscopy. They both have their own set of features that make them comparable to one another in a way. We will compare them on price, features, and a few other factors. This will help you decide whether you should go with Jasper or Closerscopy for your needs.
First, let's take a look at the features of Closerscopy and Jasper ai. Then we'll compare them with each other to help you decide which one you should go with.
Closerscopy is a content research marketing and writing platform that helps you write content with AI. The reason why we say marketing even though you can write SEO articles or blogpost descriptions and everything but the tool is heavily focused on copywriting or sales page writing modules so you will see a lot of additional features and functionalities which are geared towards sales copywriting.
Getting Started
When you sign in to your account you will see a dashboard button, click on it and here you can create various folders within Closerscopy and manage all your articles inside that folder.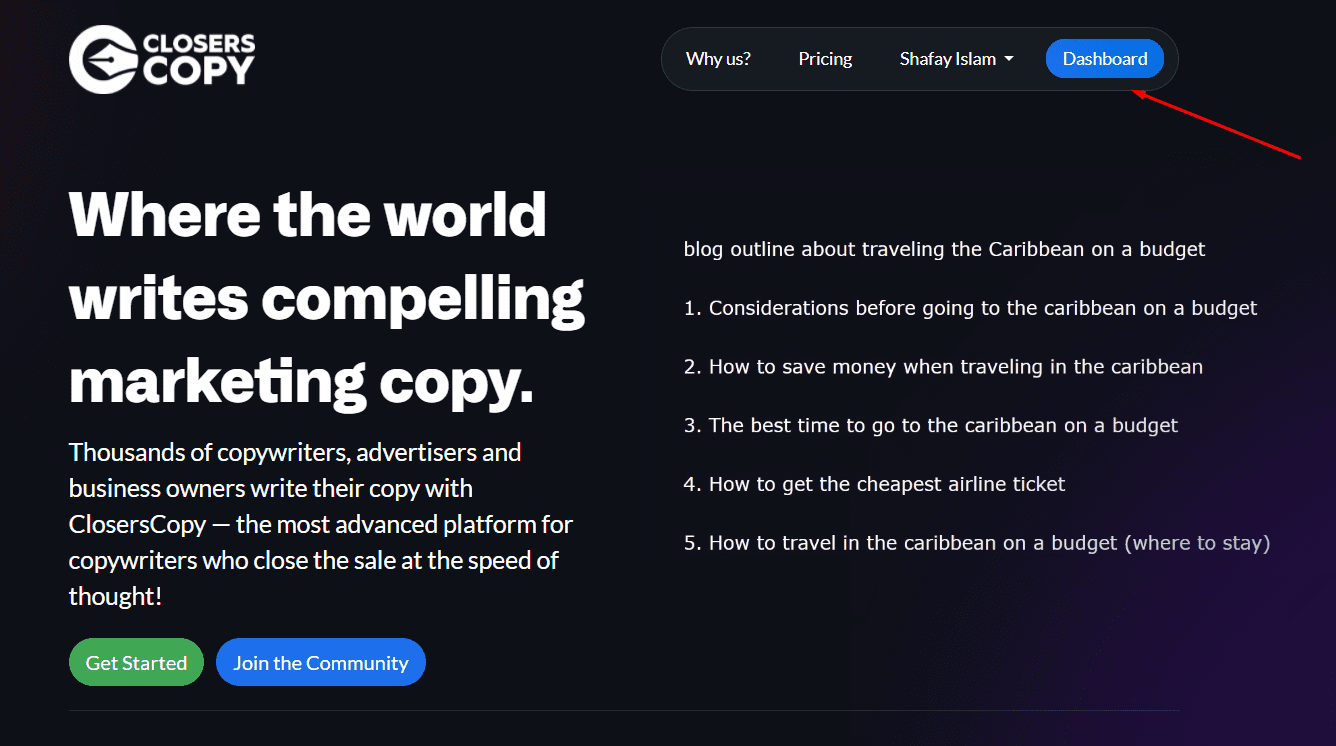 You can create as many folders/projects as you like and name them whatever you want to keep everything organized. You can also add a comment for your personal preference.
The dark mode feature is available for every page you are on to reduce eye strain. The tool is really well structured towards productivity.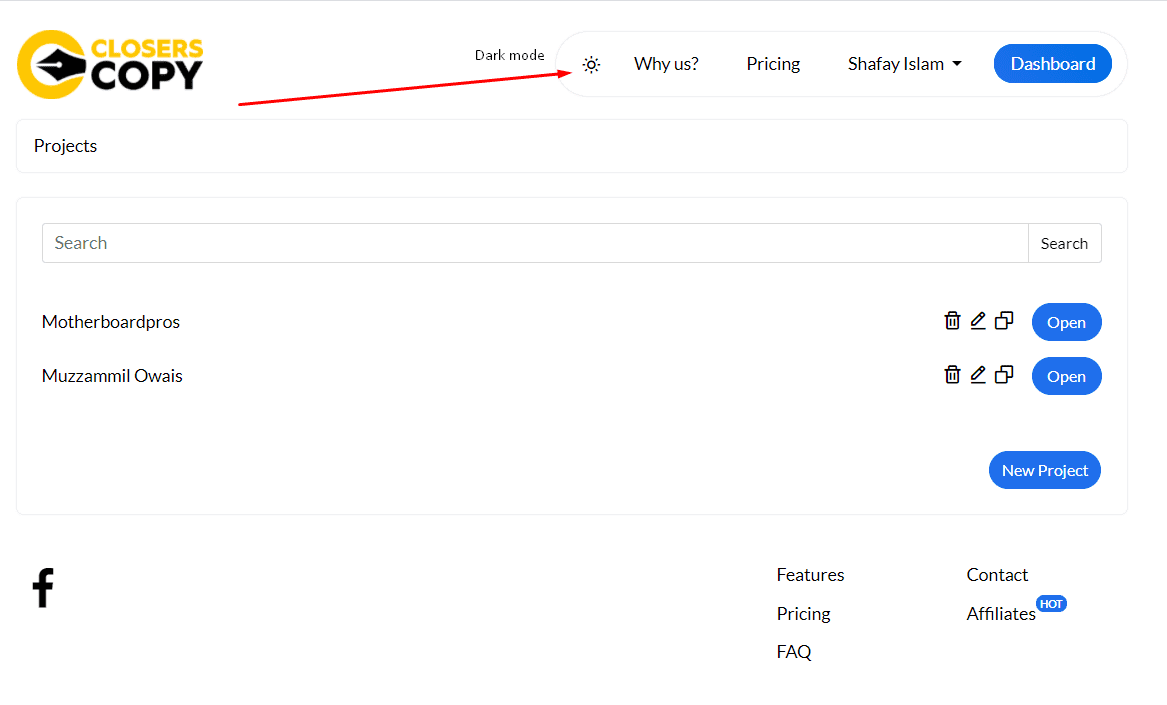 Follow these steps to get started: Sign in =>Dashboard =>New Project =>New Document =>Open.
Compete
This is a new addition to Closerscopy, it helps you to do research on top-ranking web pages for a keyword or you can directly give a URL to the compete model it will automatically extract all the h2s with their text and gives meaningful insights.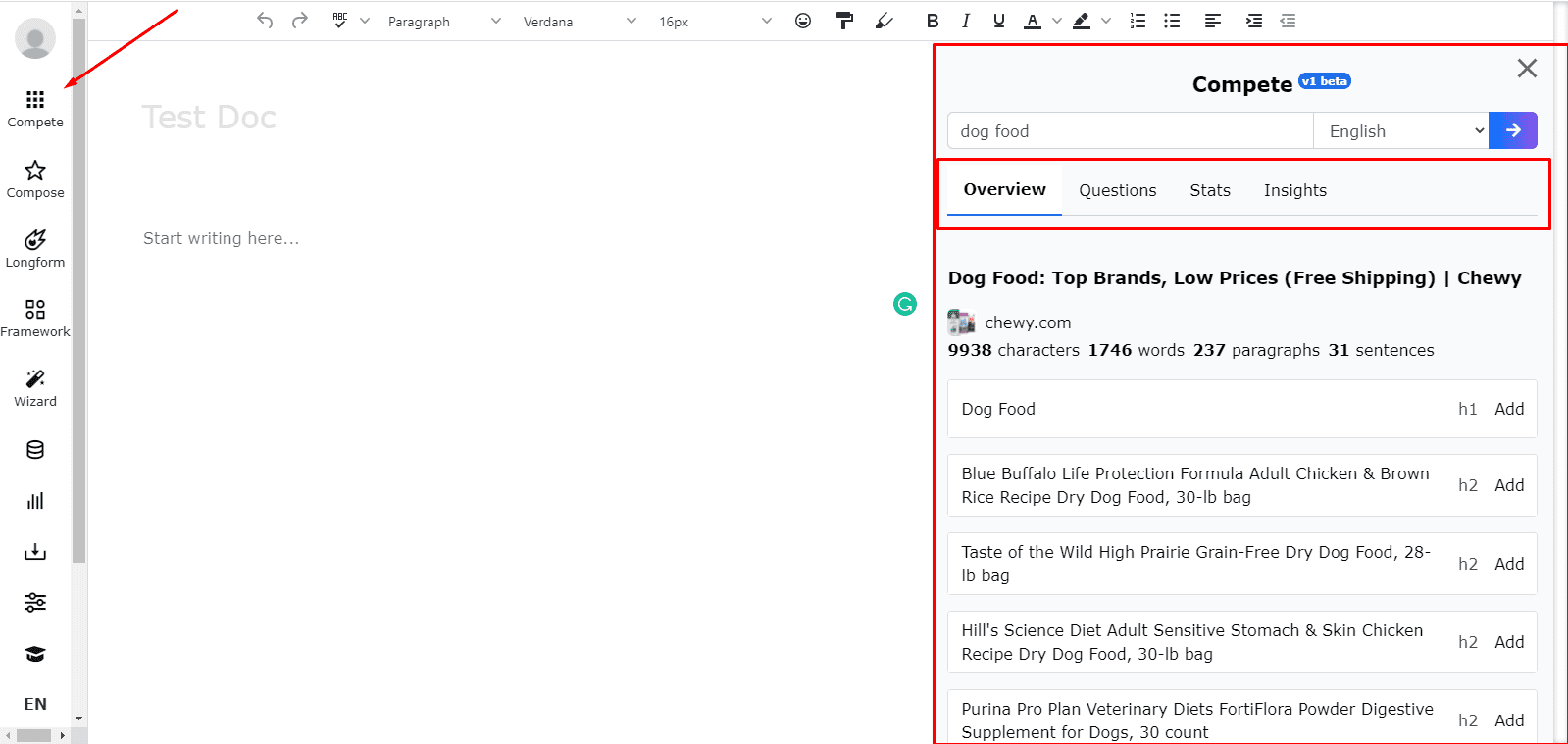 You can choose your desired language and wait for a minute to show top-ranking web pages for a query. It will show the title, total number of characters, paragraphs, sentences and keyword density.
You can transfer all the headings, outline and content from the ranking page to your document. There is also a stats function that is quite useful for research if you want to add certain statistics to your topic.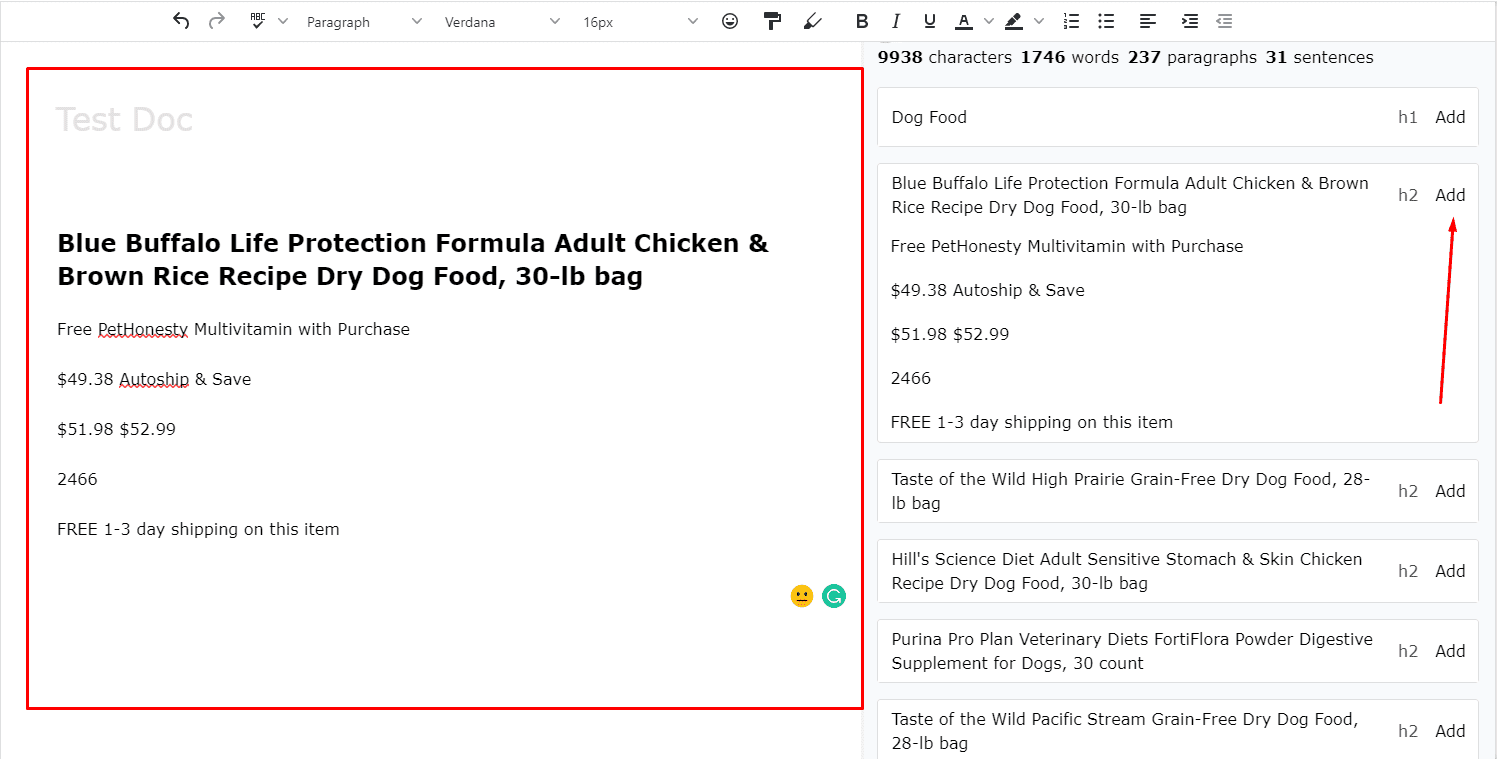 It would be great if they add an average of all the SERPs to get an easy idea about how many words are required to rank for a particular term.
Compose
This feature basically works like an automatic AI draft where they have given the option to enter any keyword, select the language and click on search.
It will search and try to find the headings for the particular keyword which might be useful.
We do find this interesting but to be honest, you lose a lot of control when using this model because it will suggest all the different titles but there is no option to add your own section and also if you click on expand it will show if there are any subsections for the topic. Sometimes it won't be able to show subsections either.
Currently, it's under beta mode so for now, you can't add sentences, custom outlines, h2s, etc which means no editing here.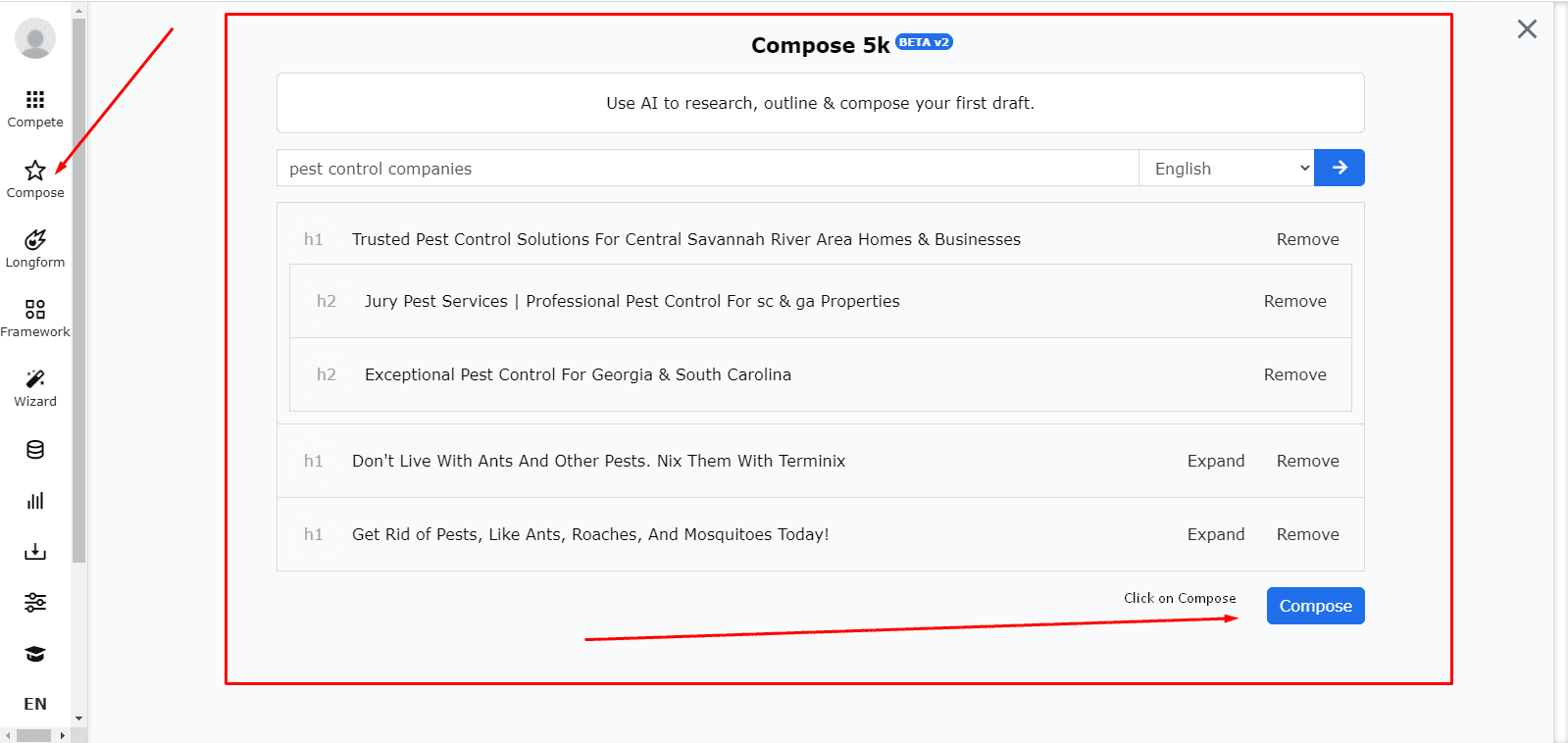 However, you can do each and every type of formatting in the main doc but not specifically in compose sidebar because it doesn't allow you to edit suggestions within the sidebar. If you would like to add a custom heading just submit it in the main document where you are writing the article.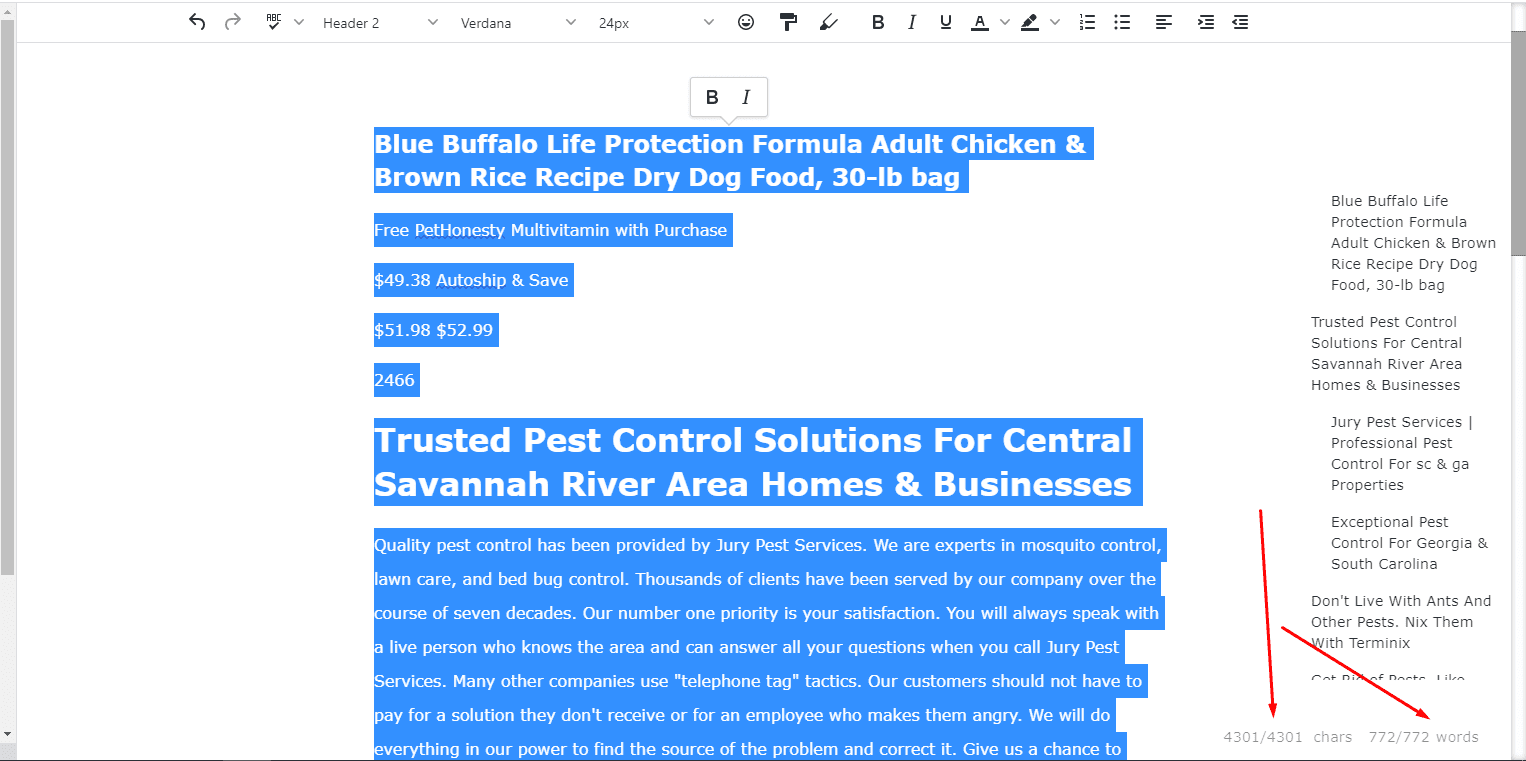 It took more than 5 minutes for Closerscopy to generate 774 words with compete function, we don't recommend using it. Instead, do your homework first, perform extensive keyword & content research then create a custom article structure for the desired topic.
Longform
The most common feature in AI writing tools today is a long-form content creator. Closerscopy also has this tool, where you have to enter article description select creativity level, output length then click on write, and boom it will generate unique content according to the article brief.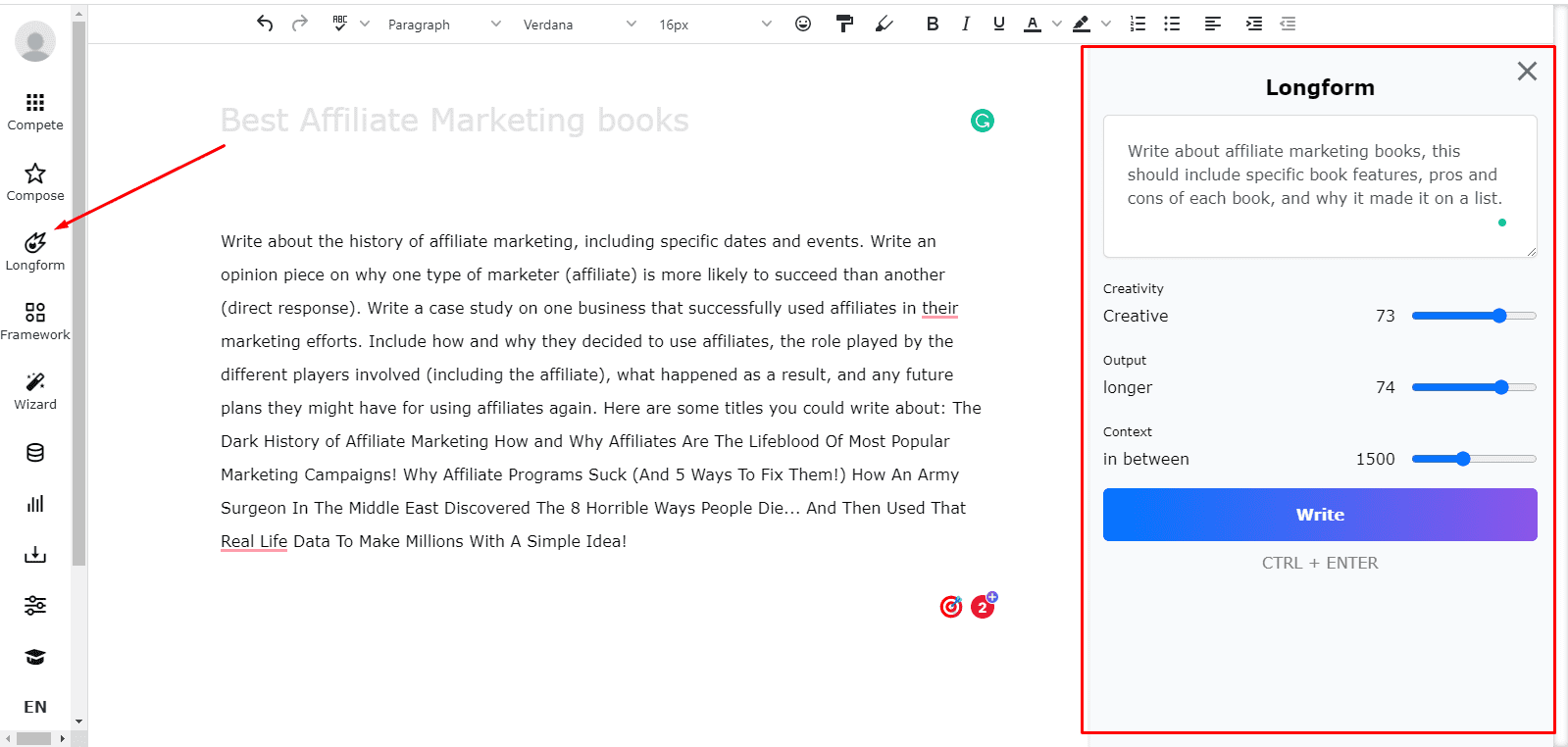 In the above image, you can see the content is produced, the output quality isn't good. It generated some titles for affiliate marketing, we don't want that.
Now let's try adding some lines to provide direction to AI and see what long-form can do for us.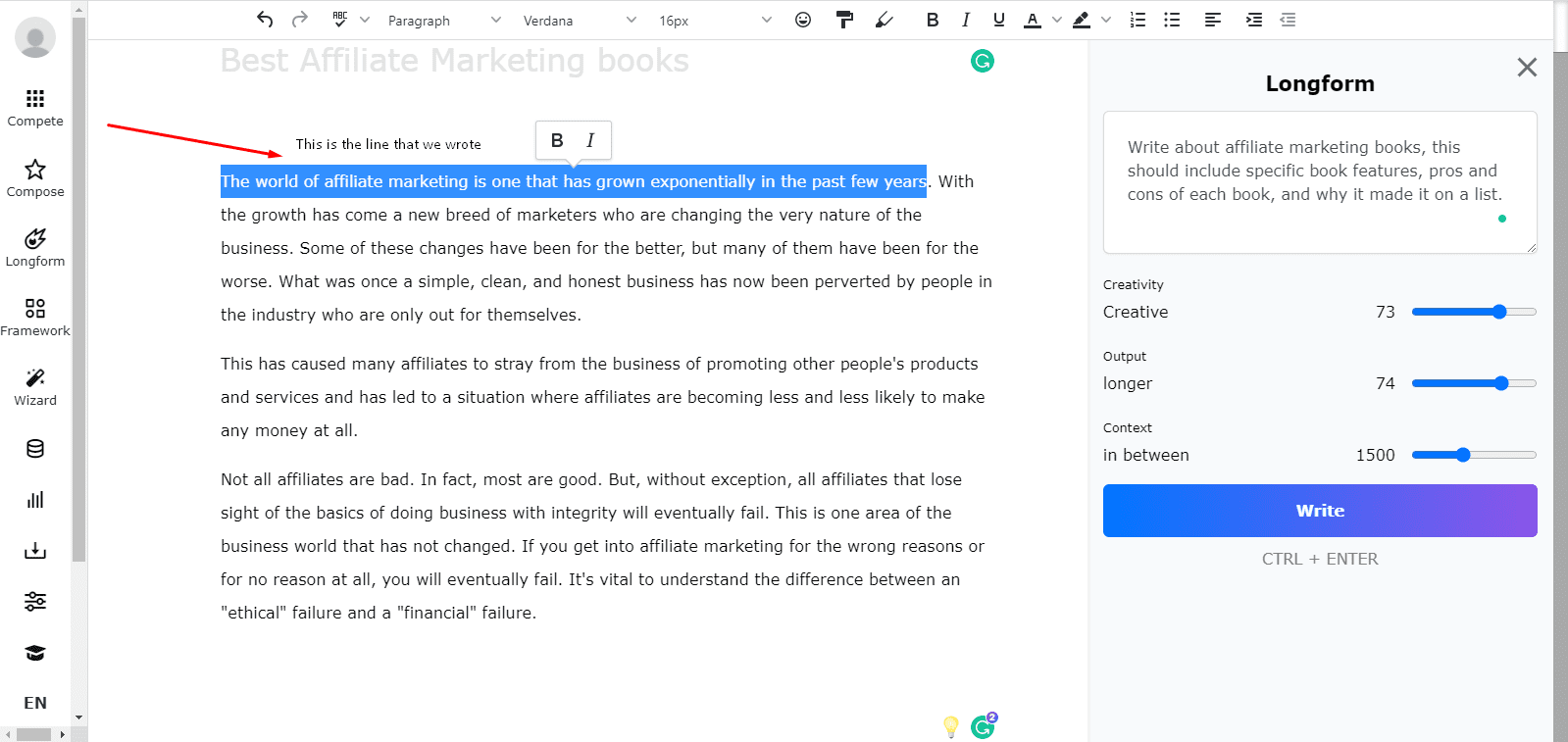 The output is much better than before, so always make sure that you are assisting AI in the right direction.
Frameworks
Frameworks are very useful if you are stuck somewhere while writing content. These are also powerful if you are working on specific service or product marketing.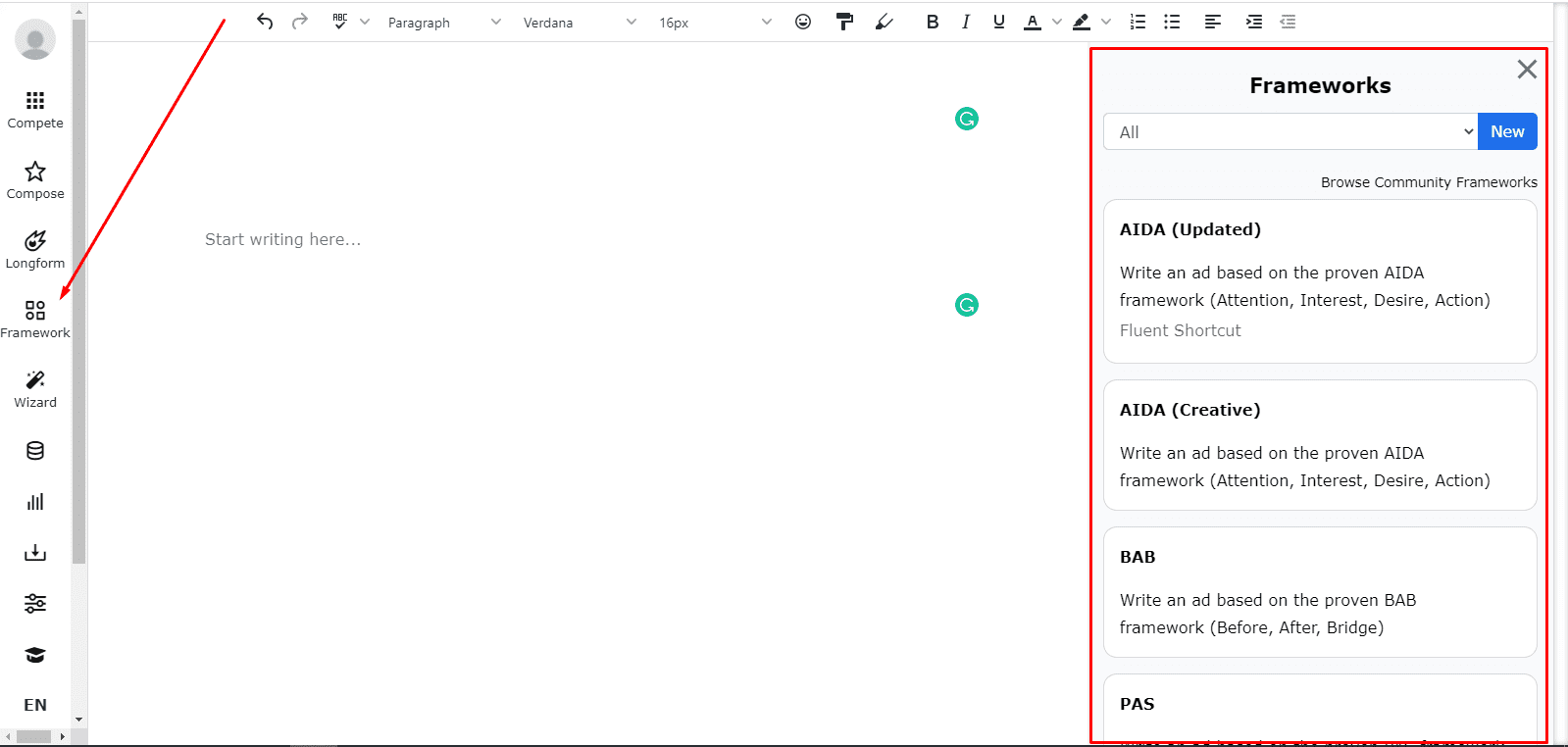 In Closerscopy frameworks were called vault but not anymore. Frameworks like AIDA, PAS, BAB, Challenges, SEO Title & Descriptions and a lot more are there to speed up your work.
Multi-Language Support
Not every tool is supporting multiple languages for content creation. Closerscopy has a feature where you can write in every language and also translate the text into your target audience's native tongue.
Supported languages are Bulgarian, Chinese, Czech, Danish, Dutch, English, Estonian, Finnish, French, German, Greek, Hungarian, Italian, Japanese, Latvian, Lithuanian, Polish, Portuguese, Romanian, Russian, Slovak, Slovenian, Spanish, Swedish.
Closerscopy is one of the platforms that can write in almost every language and they will get more creative as time passes.
Wizard
Find out how to write sales letters and emails that will generate high conversions. What if you had a tool that you could use to help you craft the perfect sales letter or email?
The wizard is a complete step-by-step process that will assist you in crafting sales letters and emails that convert.
Many people like Closerscopy because of the wizard feature because it is one of the product strengths. It not only guides but also encourages users to make their experience as simple and pleasant as possible.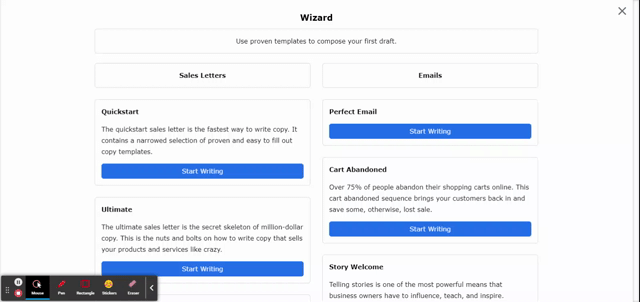 To make it simpler than ever, there are about 750,000 words and phrases organized into categories. You can simply create a draft by loading a template.
Spam Detection Tool
It analyses the freshness and success of your content then gives you a score. If the content contains terms like gambling, money making that can trigger spam filters.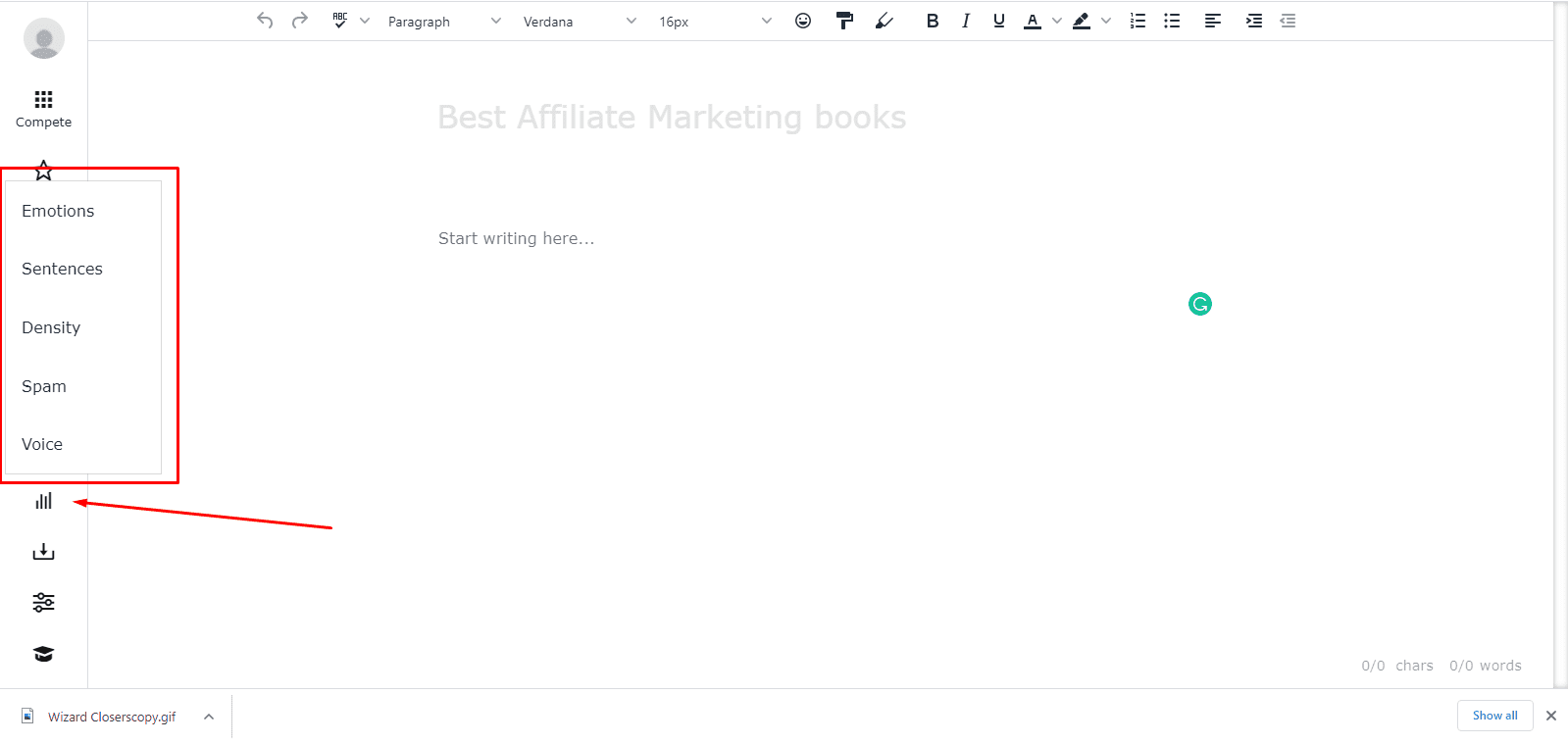 This feature comes into action when writing emails because google and other email services don't like fishy or Ponzi schemes.
Content sentiment Analysis
It provides an opinion on the tone of the content whether it's exciting, friendly, surprising, etc and what emotions it can trigger for your audience.
Libraries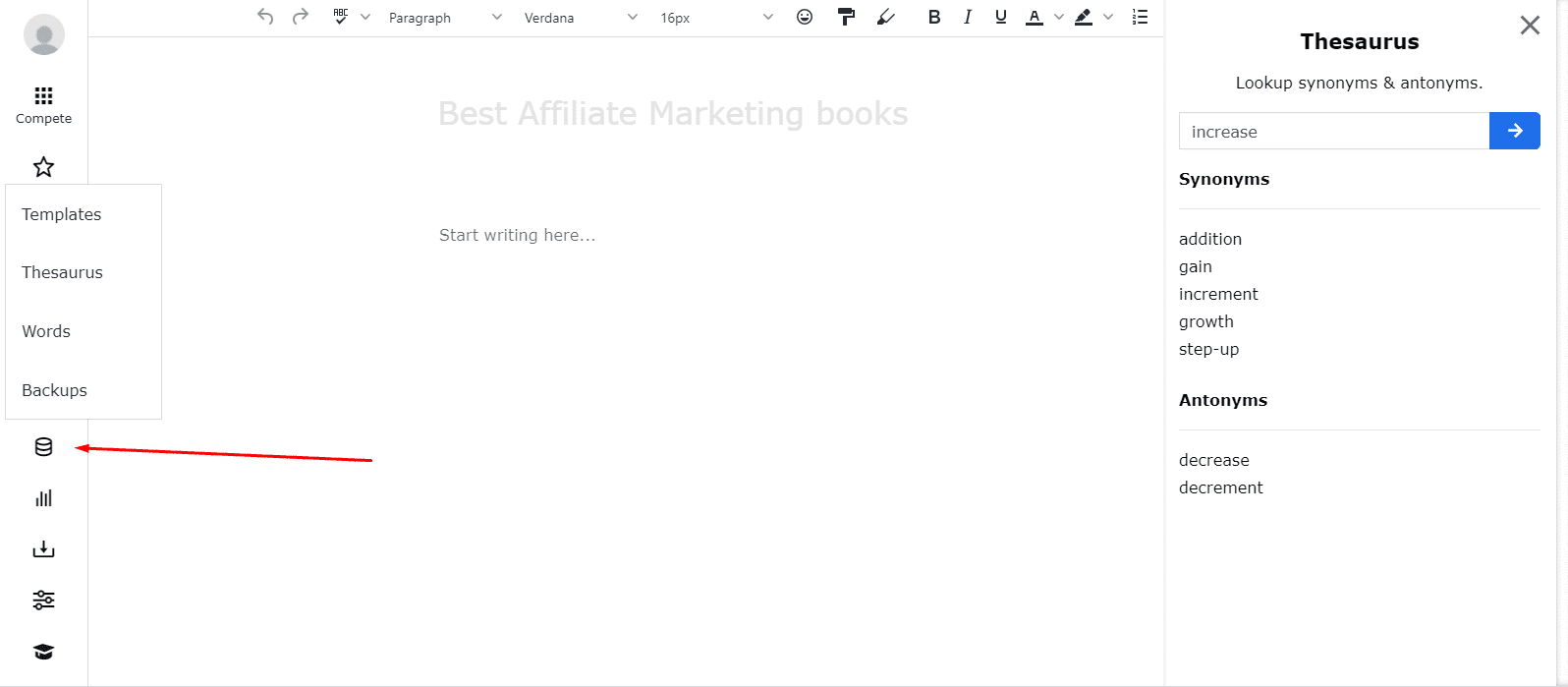 Find synonyms, look up meaningful words. The library has 4 options thesaurus, words (it contains 1000+ power and sensory words), backup, and templates (these are custom templates made by fellow users but you have to enter a code to access it).
Guides and Lessons 101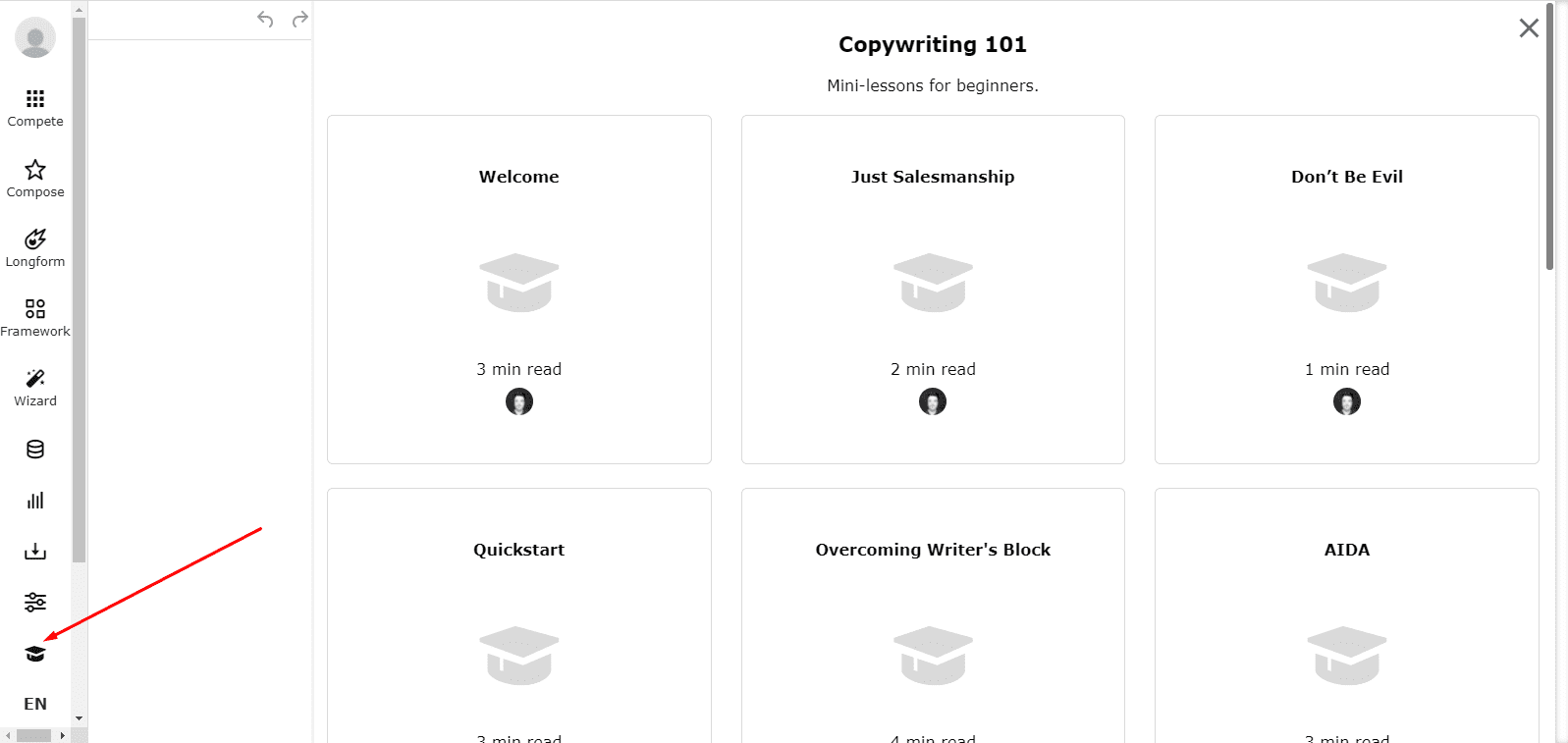 Mini guides and lessons can be accessed from the left side. There are many of them, and every guide teaches something different which is a massive plus as it makes content writing easier.
Easy to use drag & drop builder to get things done faster.
Content Research can be done within the tool.
Affordable, not expensive compared to other softwares.
It has LTD.
Beneficial for email writing.
There are over 10000s of ad, sales copy, and email templates to use for businesses.
The User interface is not intuitive, can be confusing for many people.
AI tools produce gibberish content and with Closerscopy you will come across this problem a lot. But once you start playing with it, you will be able to get the quality output.
It's 4 to 5 times slower than the competition.
Closerscopy starts from $29/month with a starter plan. Professional plan $49/month and unlimited plan $79/month which lets you add 3 seats and no character limits. Luckily there's a lifetime deal that you can grab here https://www.closerscopy.com/lifetime only 1-time fee with future updates promised.
Jasper ai is not just a copywriting tool but it's a real game changer that can scale your business and optimize your content marketing efforts by leveraging the power of artificial intelligence. It writes high converting copy for your ads, blogposts, emails and you name it.
It automatically generates content using a process that starts with existing, high-quality content from around the web or your own library. It then applies natural language generation (NLG) and machine learning to create new copy that is semantically similar to what you provide as input but has never been seen by humans in any form.
Jasper AI engine uses data mining and machine learning to generate natural language using statistical models. These models learn from existing content, allowing the technology to understand the semantic meaning within sentences, paragraphs, documents, etc., as well as to conduct advanced research on a given topic in order to write with authority.
Once you sign in to your account you will be redirected to a clean, nice and catchy page where you can see the latest updates and news at the top. Below that a graph showing number of words generated in the last 7 days. The right-hand side has a link to the official FB group.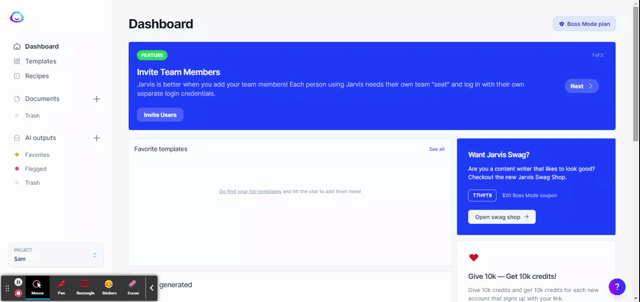 Projects
Projects can be created to manage the content for different purposes. Let's say create one project for SME Ad copies and the other one for SME blogposts. You can then create documents separately for each of the projects.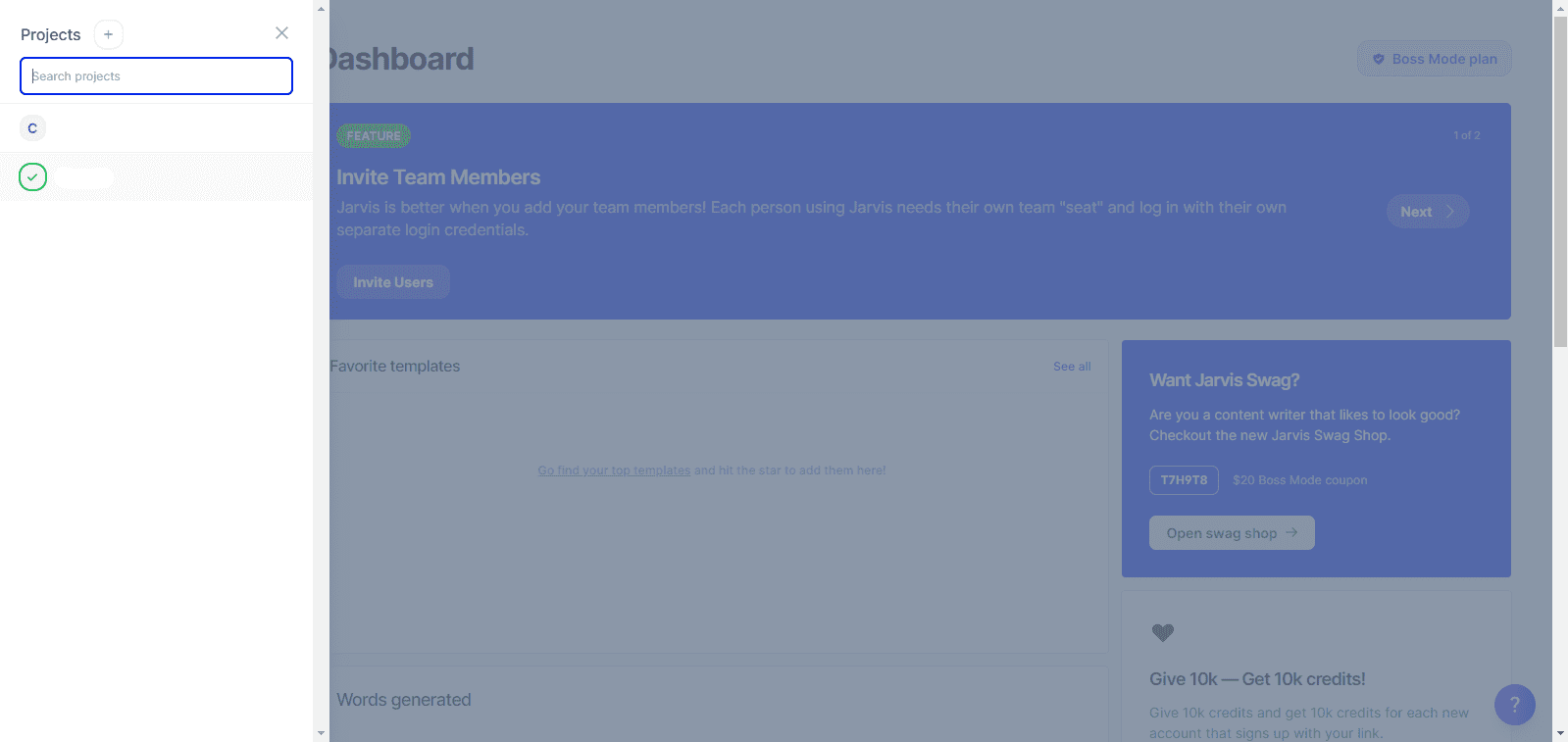 If you don't want then use the default project that comes with the account owner's name and manage all the documents there. It depends on whether you want to utilize it or not.
Templates
Jasper has 50+ templates that are divided into different categories such as Ads, eCommerce, social media, website, frameworks and a lot more.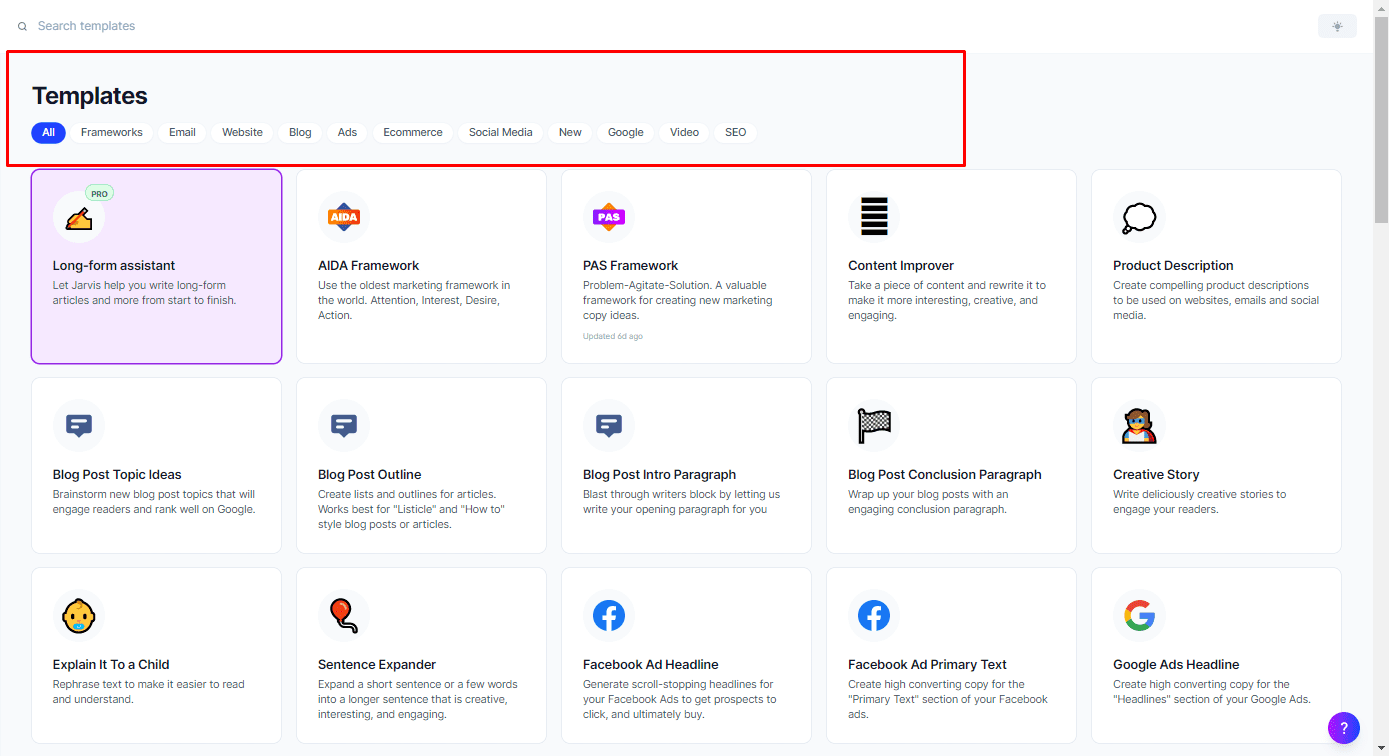 Templates are ready-made text blocks that you can use to create engaging content in any format. You can choose from multiple templates and personalize them for your specific needs by adding images, links, or even videos (if available).
Some useful templates are:
AIDA framework
PAS framework
Content Improver
Blogpost outline
Blogpost Conclusion
Persuasive bullet points
Feature to benefit
Company Bio
Product Description
The list goes on and on. So just explore the templates and see which one suits you.
Control AI
Jasper introduced commands that let you take over AI and essentially be the boss of Jasper. Instruct the robot to write anything you want for e.g "write blogpost outline for dog food" then hit ctrl + enter and let Jasper do the rest. It's truly mind-blowing how fast and useful it is. This feature is only available in the boss mode plan.
Let's have a look at the example below: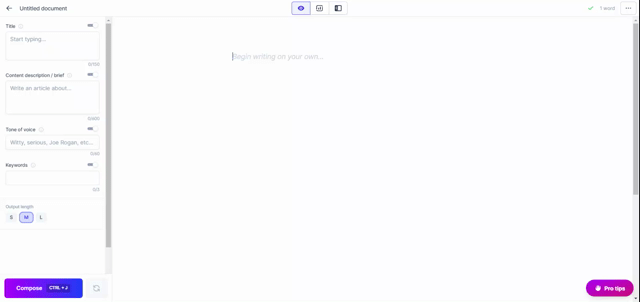 Recipes
They are extremely powerful and useful, these contain a set of commands provided by certified Jasper users to write the content in a proper format for specific purposes like review blogposts, cold email, press release, Rewrite/Expand blogposts. Moreover, you can design custom recipes according to your requirements and automate the process for future work. It saves your time and effort.
Longform Assistant
Just like other AI tools Jasper has a long-form assistant to help you write blogposts, ebooks, guides and other types of content that can be lengthy. It shows you what it has written in real-time as you input the text on the left-hand sidebar.
People who are new to blogging or have no writing skills can take advantage as well. Just provide a description of your topic, some keywords related to your niche and the text will be generated for you.
Blogpost Workflow
This is a highly efficient feature inside Jasper, it helps you in creating the workflow of the article. Just enter the article description, put some keywords that you want to include in the post.
Next, it will generate awesome titles choose any of them you like then generate an intro paragraph select the good one which has the ability to raise the curiosity for the readers, and finish the article.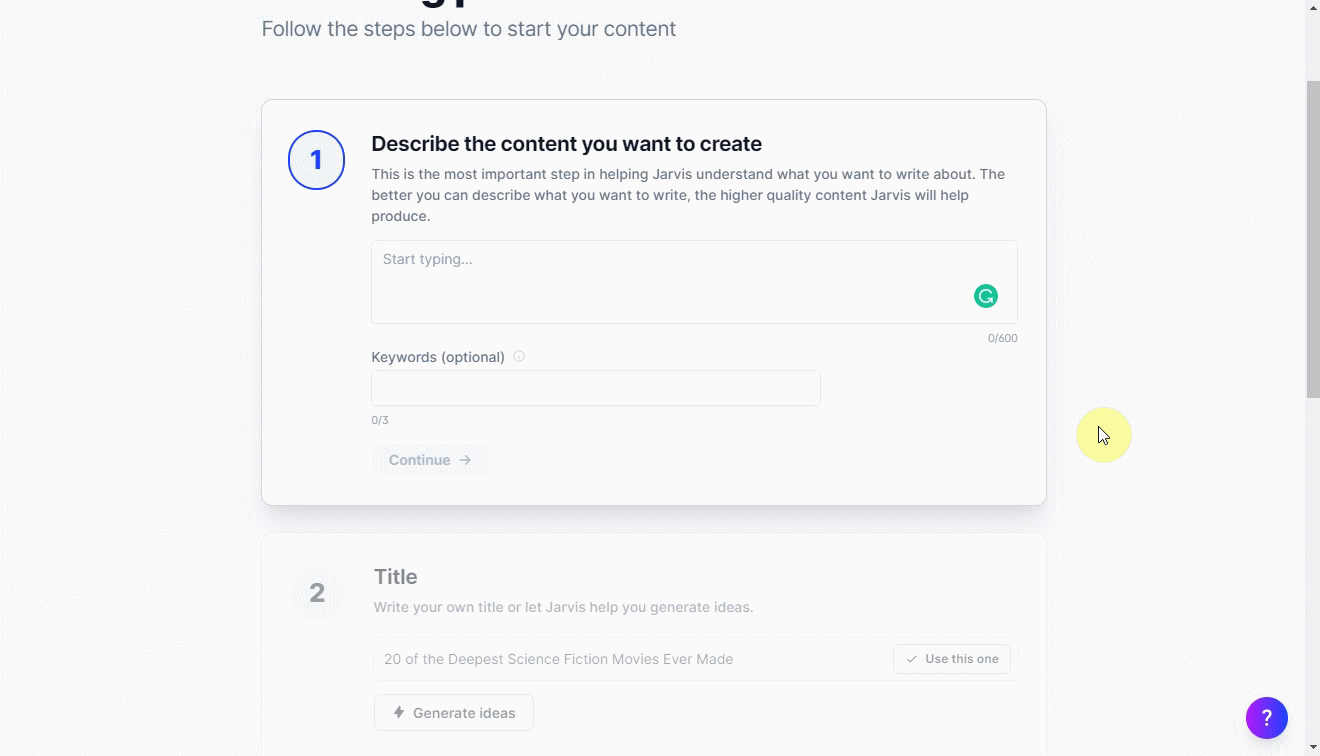 Blogpost workflow is available under documents just hit the plus (+) button and you will find it.
Start from Scratch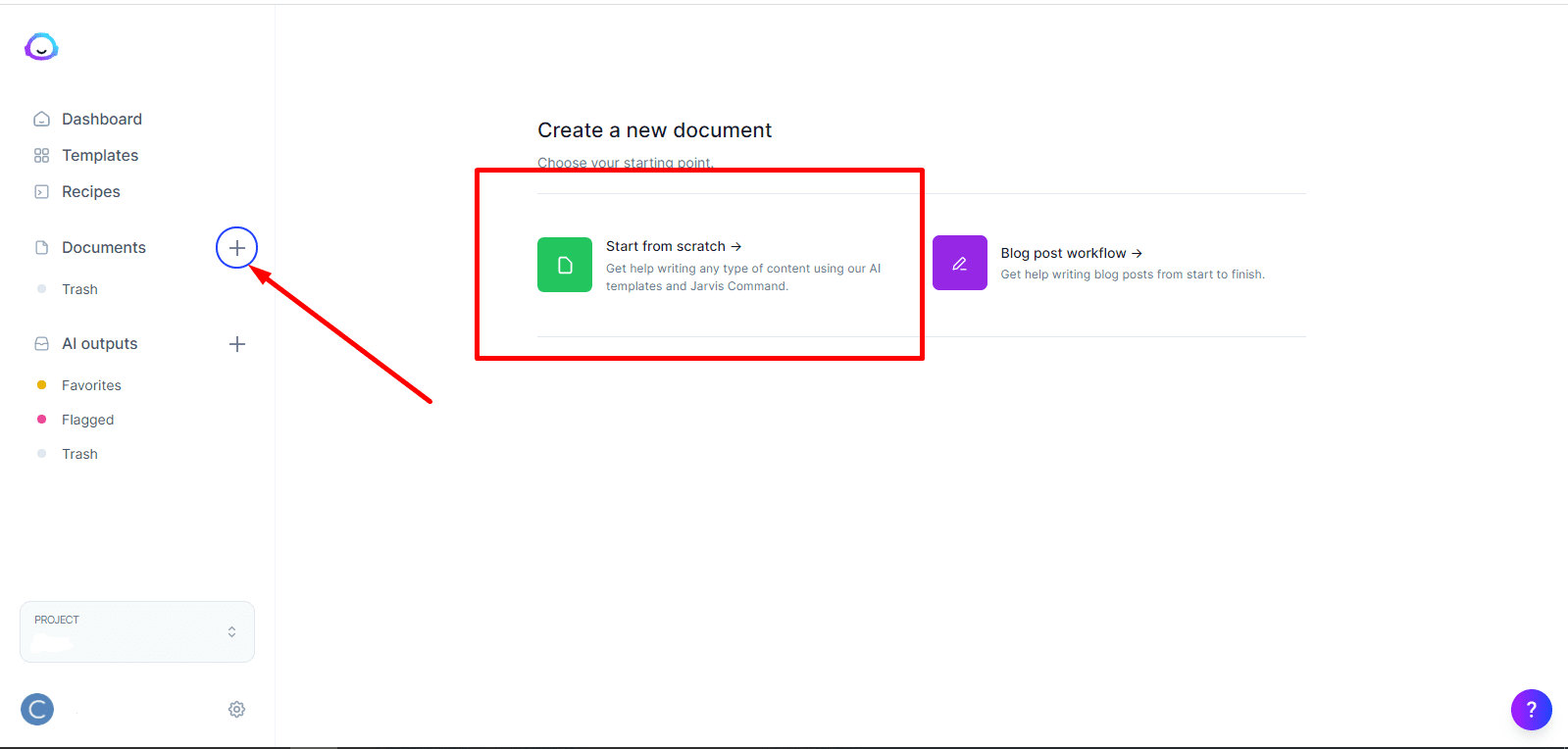 It also comes under the documents section, once you click it, you will be redirected to a blank canvas, here you can write the content the way you want without any workflow.
Powerful SEO Extension
Surfer SEO is a content optimization tool that can be useful for SEOs and bloggers to write friendly articles that rank on Google. It gives you suggestions, related questions, based on NLP (Natural Language Processing) that Google uses to understand the context of a certain piece of text.
Jasper integrated this extension so that you can optimize the content as well. Most of the SEOs and marketers love Jarvis because of Surfer SEO integration.
Find Other Templates/Frameworks Easily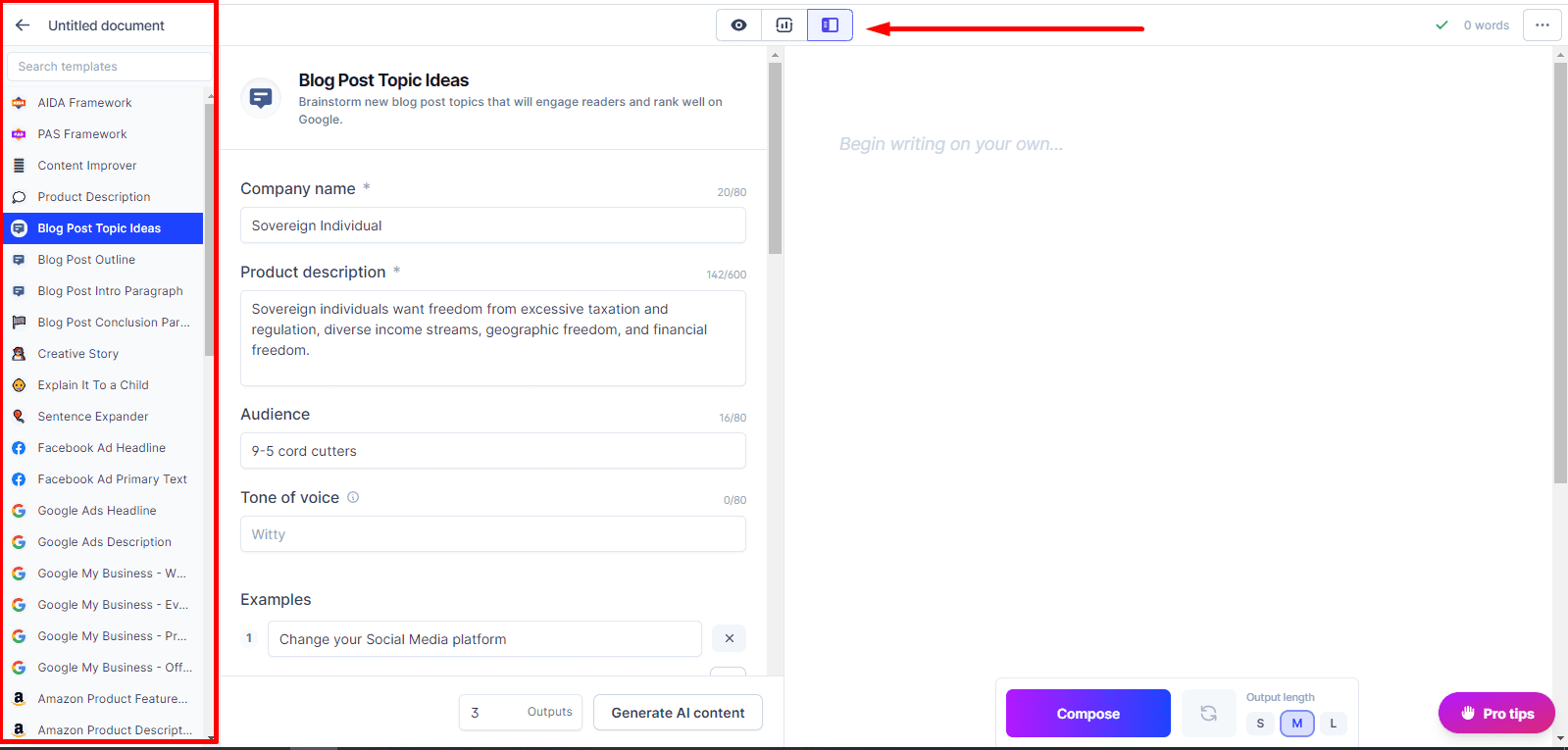 You can easily find other templates while editing the existing piece of content, just click on the power mode at the top of the document and the list of all the templates will appear.
Multi-Language Support
You can produce content in different languages whether Spanish, French, Italian, etc. We tried a command in a blank doc "write in Spanish" and it produced this paragraph:

"Hola, mi nombre es Marcos. Hace unos meses, estaba muy preocupado porque no sabía si podría terminar mi proyecto de estudios final en el tiempo requerido. Entonces me pregunté: ¿por qué estoy tan aterrado? ¿Cuáles son las posibles consecuencias si soy incapaz de terminarlo a tiempo? Esto me llevó a la idea de que mi preocupación se debía a la creencia inútil y sin sentido de que yo estaba obligado a terminar mis estud"

Support languages are German, English (US & UK), Spanish, French, Italian, Dutch, Japanese, Chinese, Polish, Portuguese and Russian.
Conversion/Jasper AI Pricing
Although the Jasper AI is not cheap, it may provide excellent value for money if you struggle to come up with new ideas or run out of inspiration.
Following are the different plans they offer:
Starter, $29/month
7-day Money Back Guarantee
50+ Short-Form
Copywriting Templates
Unlimited Users
5 Project Folders
25+ Supported Languages
Chat Support
AI Copywriter's Community
Pro, $109/month
7-day Money Back Guarantee
Long-form assistant
Workspace documents
50+ Short-Form
Copywriting Templates
Unlimited Users
5 Project Folders
25+ Supported Languages
Chat Support
AI Copywriter's Community
Boss Mode, $119/month
7-day Money Back Guarantee
2,000-3,000 Character Lookback
Unlimited Runs
Jarvis Commands
Long-form assistant
Workspace documents
50+ Short-Form
Copywriting Templates
Unlimited Users
5 Project Folders
25+ Supported Languages
Chat Support
AI Copywriter's Community
Pros of Jarvis/Jasper AI
Awesome UI and structured pretty well.
Variety of features available.
One of the fastest AI-Based copywriting tools.
The output quality is fantastic.
Totally worth the price.
24/7 support.
Saves you a lot of time and money to hire expensive copywriters.
It's amazing for people who have a hard time coming up with ideas and copy.
Constantly improving.
Prevent writer's block
It's highly-priced, not an affordable option for everyone.
You cannot write about sensitive topics.
ClosersCopy vs Jarvis Final Thoughts
We all know how important it is to have great content in your business, whether you run it online or offline. Because there's so much competition trying to strangle your business, you must stand out. So, having solid a content strategy is the best way to be remembered by your customers.
Both of the tools offer solutions that you can use right now to grow your business. Especially if you have a tight marketing budget and can't afford professional copywriters. Or, if you are well organized and established business running a multi-million dollar agency, AI copywriting assistants can make your life easier.
They can create excellent quality content on-demand and are capable of delivering it in just a few minutes. So, there's no reason you shouldn't be paying attention to them if you want to save time and improve your business at the same time.
Jasper AI is an excellent tool, but the price may turn some people off from trying it out, especially when you have to pay a lot than the competition and they don't offer any LTDs.
If your business is not that big or you don't want to spend too much money on it, Closerscopy is a fantastic alternative at a lower cost. But still, conversion.ai has many advantages over Closerscopy like speed, quality, efficiency, user interface & experience etc.
Closerscopy is still under development and there are a lot of features that require improvements on the other side conversion ai is a well-developed tool that is enhancing day by day.
Which is better ClosersCopy or Jasper AI?
Jasper leads slightly in terms of ouput quality and ease of use but it is very expensive. ClosersCopy on the other hand offers a great value lifetime deal.
Do I still need to edit articles?
GPT-3 and additional AI layers provided by these tools are very good at churning out a draft. However, you will still need to manually review and fact-check the copy generated.