CopyAI is one of the artificial intelligence-powered ad creation services in the web developed to help you create high-quality content for all kinds of marketing purposes.
Brainstorming ideas for a brand, producing dozens of copies, and paraphrasing even more content can be difficult and can take up so much of our time and energy. AI services such as CopyAI are designed to change our lives and boost our productivity.
So, just how effective is CopyAI?
What is CopyAI?
CopyAI is a startup AI-powered copywriting tool for business customers​ and marketers. Like most of AI copywriting tools, CopyAI is powered by a Generative Pre-trained Transformer 3 (GPT-3) artificial intelligence with the purpose of helping its users to produce unique copies and other content. The goal of CopyAI is to empower people to create a livelihood using this technology.
With CopyAI, you will only need to type a few words about your product or business in order to generate a copy fit for your target market, turbo-boosting your creativity and productivity. As CopyAI puts it, it's like "having a legion of copywriters spoon-feeding you ideas and crafting copy that converts".
Who is CopyAI for?
CopyAI is designed to service everyone, but it is very ideal for startups, small business owners and entrepreneurs as CopyAI offers a lot of tools mainly for online advertising on different social media platforms such as Facebook, Google, and Instagram.
Functionalities
CopyAI is a platform is one of the many startup AI copywriting services that started appearing just last year where you could create content for your business. It has over 70 tools for you to explore and choose from. If you find yourself frequently getting frustrated and losing time just thinking about how to start writing effective content, CopyAI may be a good fit for you. Among the copies you can create with CopyAI are the following:
Digital Ad Copy
Social Media Content
Website Copy
eCommerce Copy
Blog Content

Bullet Points to Full Blog

Sales Copy

Attention-Interest-Desire-Action
CopyAI also offers tools to create personal projects such as love letters, Mother's Day cards, and birthday cards. I can imagine that using these tools for when your business offers promos, special products, or personalization for different special events would be very beneficial in marketing your product. We can also see that CopyAI is targeting mainly a younger generation of businesses, and it's doing a really good job at it.
Features
CopyAI offers two plan types with similar features. The only difference being the number of users. For both Solo and Multiple Seats, you get the following features:
-Unlimited runs
-Access to all CopyAI's tools
-Translate into 25+ languages
-Access to newer features
-24/7 email support
-Premium community
For Multiple Seats, you will also get access to CopyAI's upcoming collaboration features. Since CopyAI is still a young platform, it is still trying to improve and add to its features. However, it does a pretty great job at generating different kinds of content and copies in just a matter of seconds, which is the main purpose of the platform anyway. Because you get unlimited runs for the price you pay, you're getting the most out of your plan.
One thing worth noting about CopyAI is that in the platform, you can translate your copies from one language to another. I personally think that CopyAI does really well with its translations, and this feature and would be very beneficial for businesses who want to expand to other regions or reach a larger market through the use of a different language.
Ease of Use
Even beginners will be able to follow the simple steps on how to use CopyAI. Once you get to your dashboard, all instructions are pretty straight-forward as everything you need will already be accessible to you. No more looking through main menus and pressing of buttons as everything is already right in front of you. All you need to do is to choose what tool (what type of content) you want to use, and you're good to go.
Pricing
Here are the plans that are offered by CopyAI: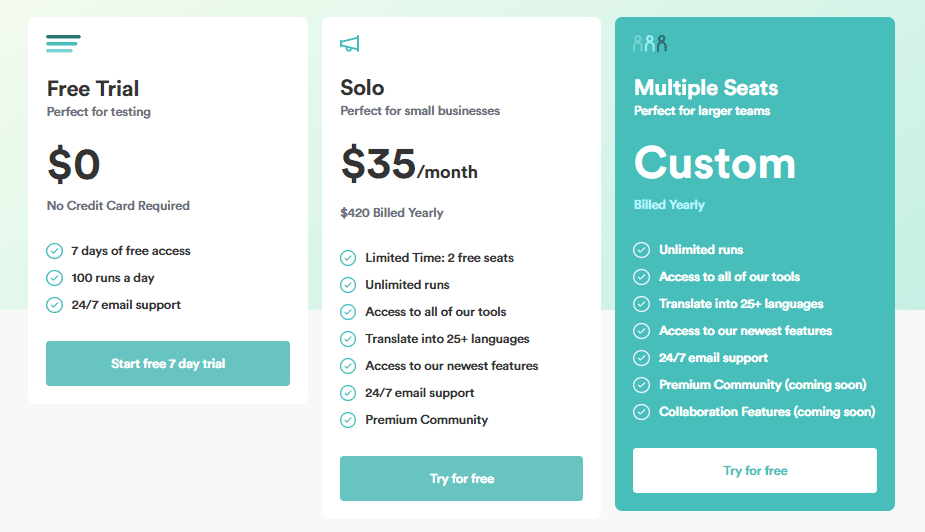 Before asking you to commit, CopyAI offers you 7 days of access to the platform, free of charge. For every day of your trial, you are given 100 runs and 24/7 email support so you could go and ask as much questions as you need.
For a Solo Seat, you will have to pay $35 monthly if you avail an annual subscription to CopyAI. Should you choose to avail only a monthly subscription, you will be charged $49. Currently, CopyAI is giving out 2 free seats when you avail of a Solo Plan. For Multiple Seats, you will have to talk to the CopyAI team for them to bring you a plan suitable for your business and team size.
As I have said, the only difference between the two is the number of allowed users. So, you don't really have to choose between the two. For small business owners and entrepreneurs, CopyAI's Solo Plan is already a good package. If you do wish to have more people work on your copies, or if you are a much larger company, it's best to go ahead and talk to CopyAI to get the best deal possible.
CopyAI's prices are a bit more expensive compared to other known AI copywriting assistants. However, CopyAI does offer a wide variety of tools and templates and does a really good job of translating your copies to other languages.
Review In Detail
Let's go ahead and try using CopyAI.
Signing Up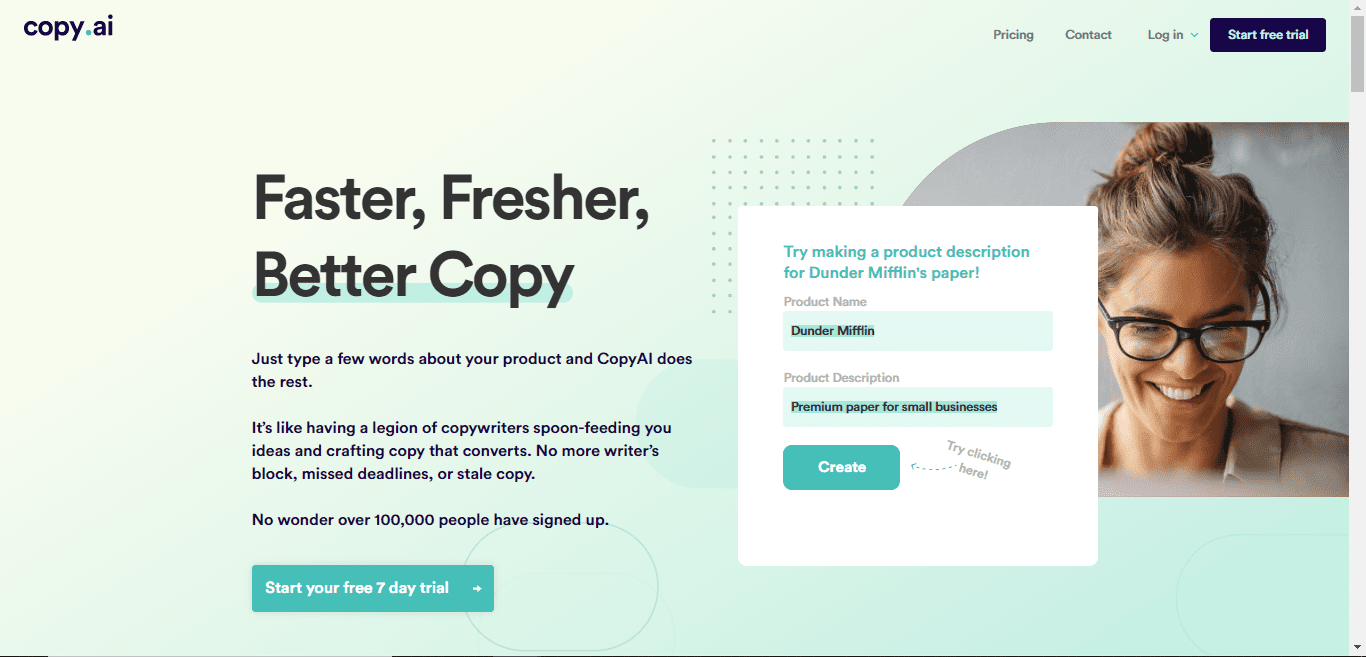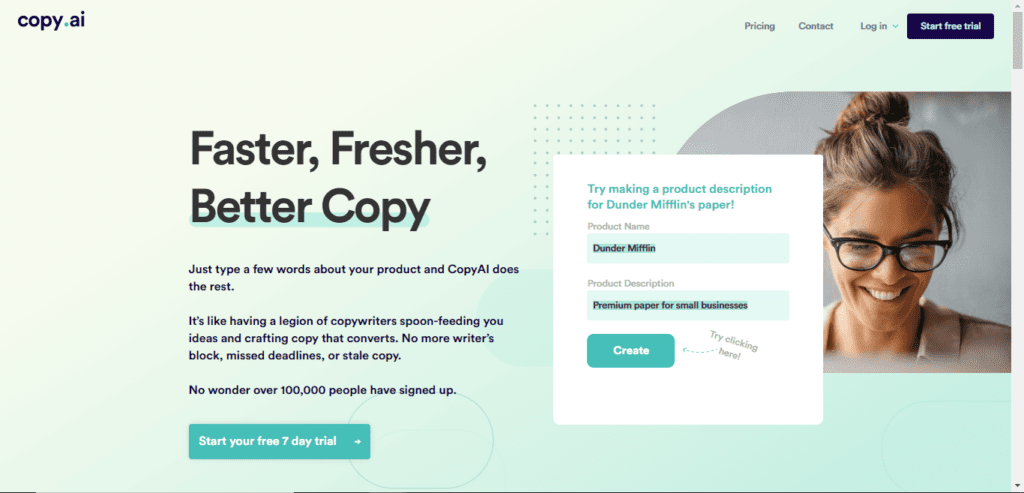 When you get to CopyAI's website, you are immediately greeted with an offer to start your 7-day free trial. The page offers a very concise introduction to CopyAI and, in my opinion, presents the platform in a simple and appealing manner. Scrolling down this page, you are instantly introduced to CopyAI. It tells you what CopyAI is, what you can do with this platform, and how it works. There is even a short sample of what CopyAI can generate.
What you'll also notice is that CopyAI features a lot of testimonials from its happy customers. You'll be able to hear what business owners and CEOs have to say about their service, showing just how CopyAI can be a great part of your business. The CEOs even have legitimate links to their brands or businesses, which is a very good sign of their approval, as opposed to anonymous quotes from different accounts. From these, we can see that CopyAI aims to inspire small businesses and entrepreneurs and show them that they, too, can achieve their goals.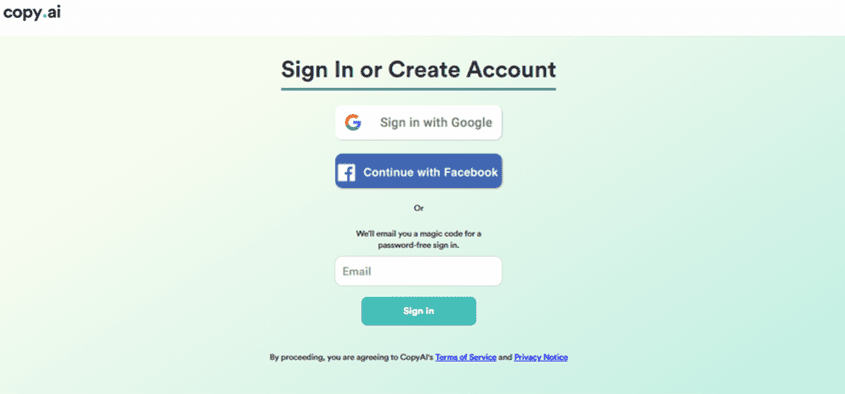 Signing up with CopyAI only takes seconds. To avail your free trial, you only need to enter your email address, and CopyAI will then send you a magic code so that you can sign in without needing a password. You also have the option of signing up using your Google or Facebook account. What's more is that you don't even need to enter any credit card details to avail of the trial.
Dashboard
Once you sign up to CopyAI, you'll immediately be taken to your dashboard. You'll only be greeted with a very simple and direct steps on how to start writing. There aren't any big welcomes or compulsory tours of the platform, but because the interface is very straight-forward, you probably won't need it anyway. You could start making copies right away.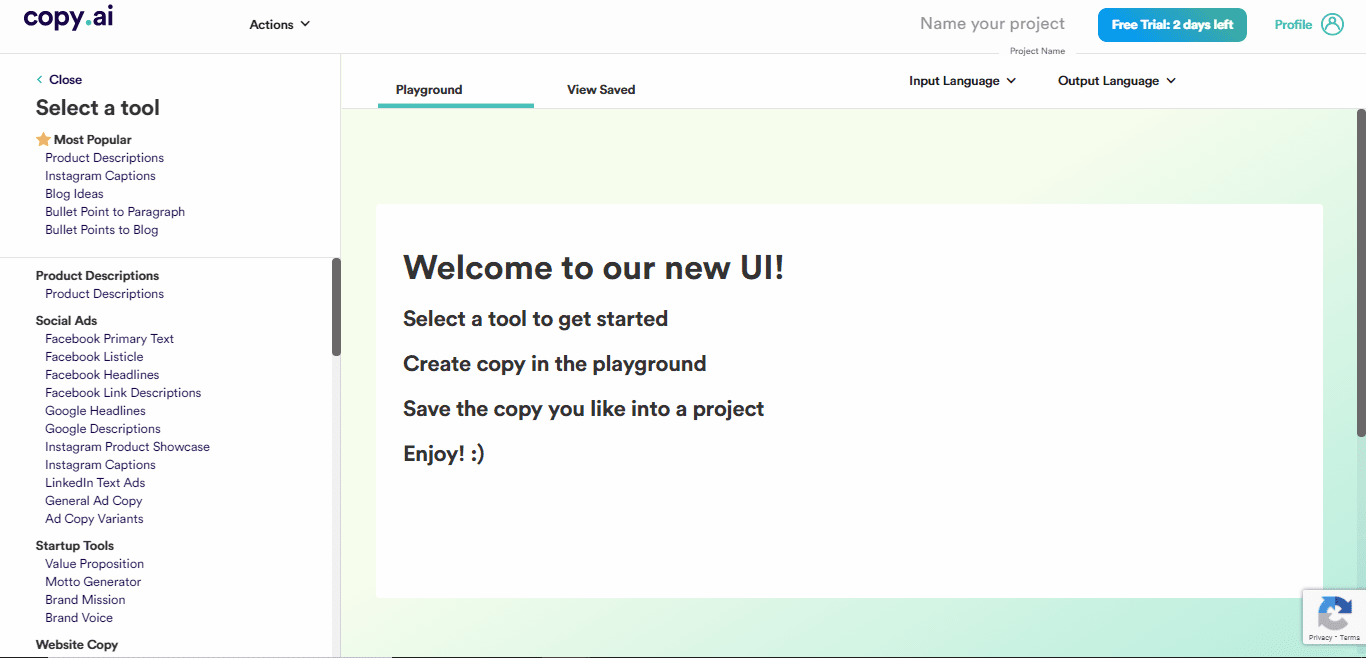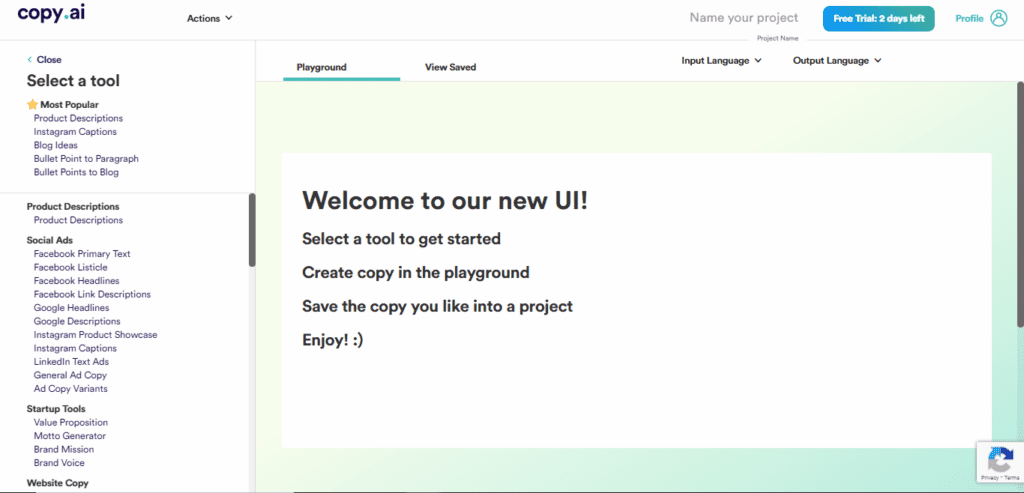 You only need to take one look at your dashboard to figure out where everything is. In the middle is your playground, or your workspace, and on the left side are the different tools you can choose from. On the top right of the screen, you can see where you can name your project, manage your profile, and where you can change your input and output languages.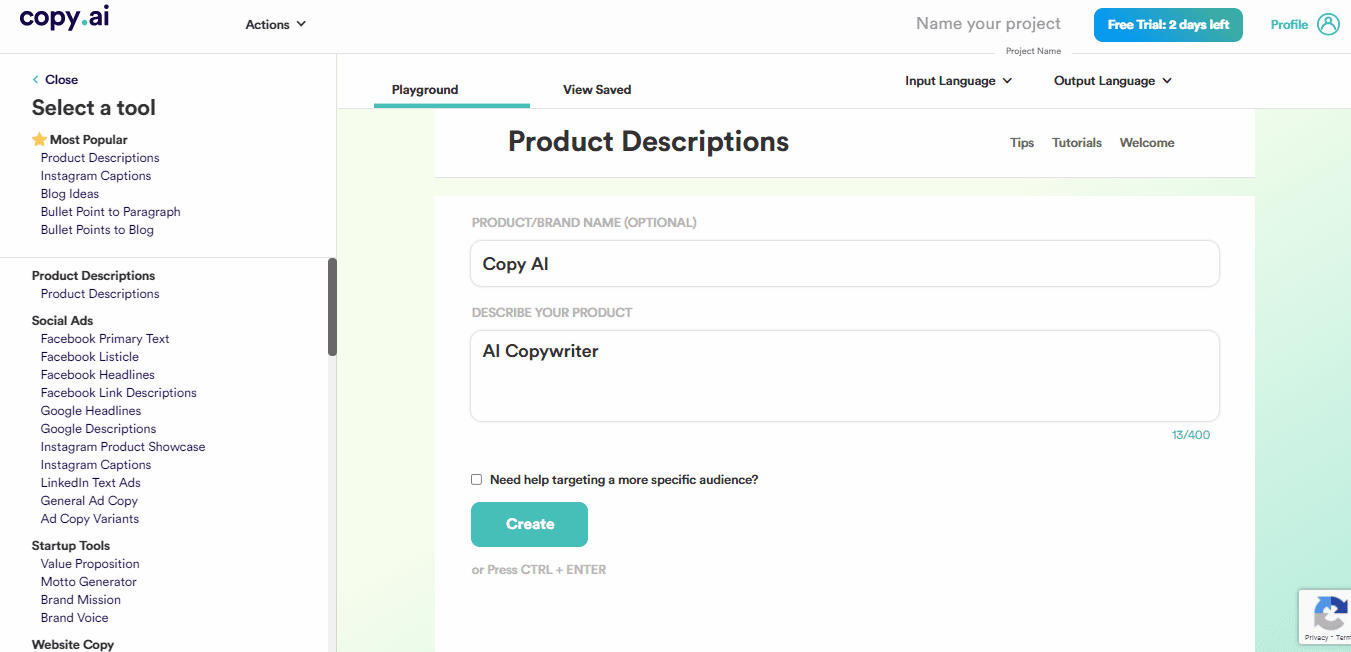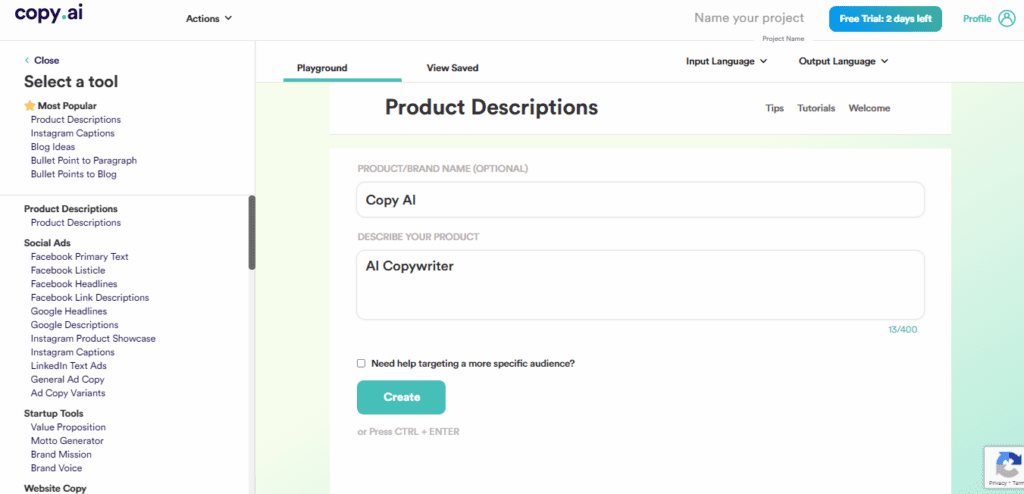 The welcome tour, tutorial, and tips can be found also on the right side of your workspace, available for you whenever you may need it. Clicking on these links will open new windows, giving you short but effective instructions and comments that you might need as you use the platform.
When you click on the View Saved tab, you will see all your previously saved copies which are called your Projects. These projects are sort of like your folders to keep all your copies organized. When you create a project, you will be asked to name your project and an option to input a link to your website. You will also be asked to choose a tone for this specific project, which will help CopyAI generate copies better suited for your purpose.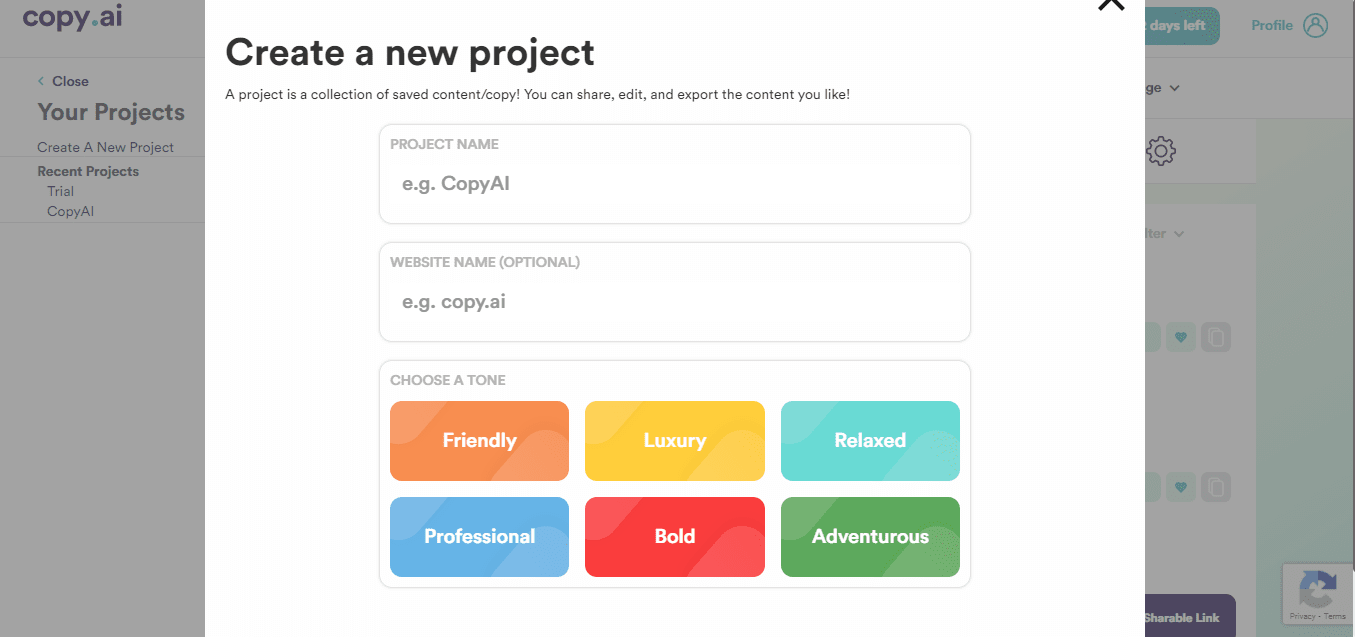 Whatever types of tools you use and copies you make under that project will automatically be stored in the Saved tab. To create a new project, you simply have to click on Actions and select Create New Project.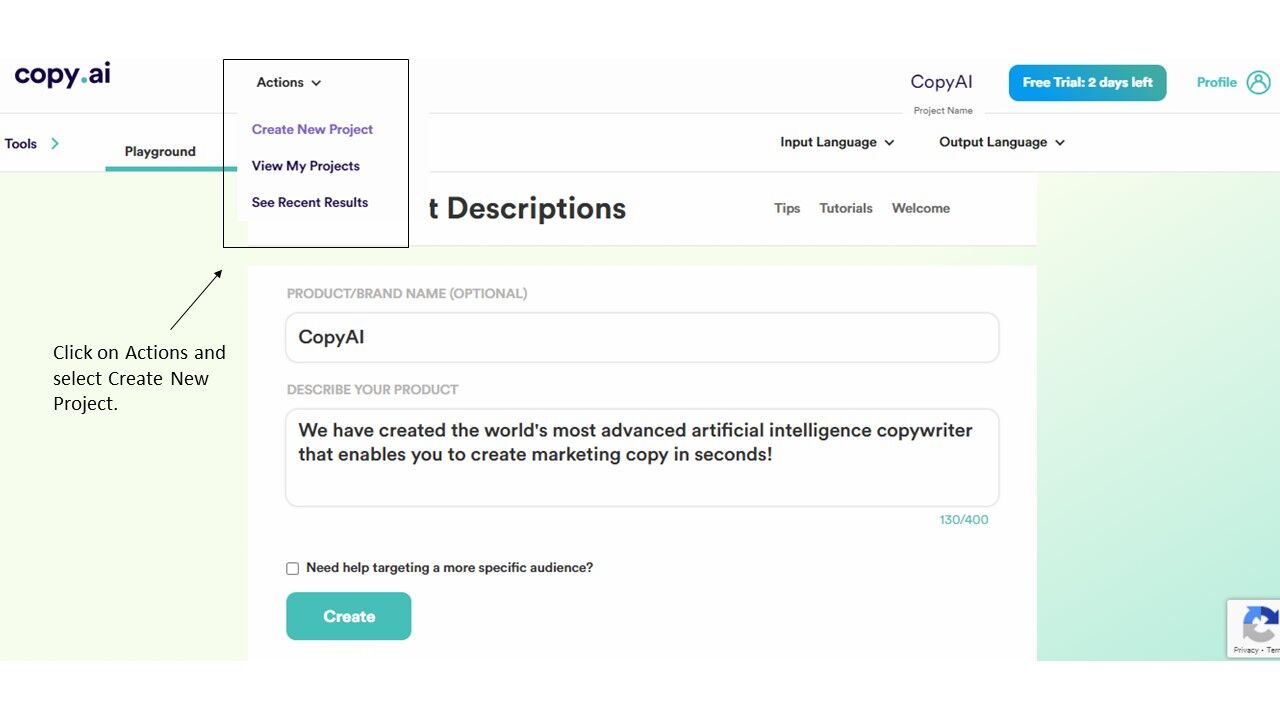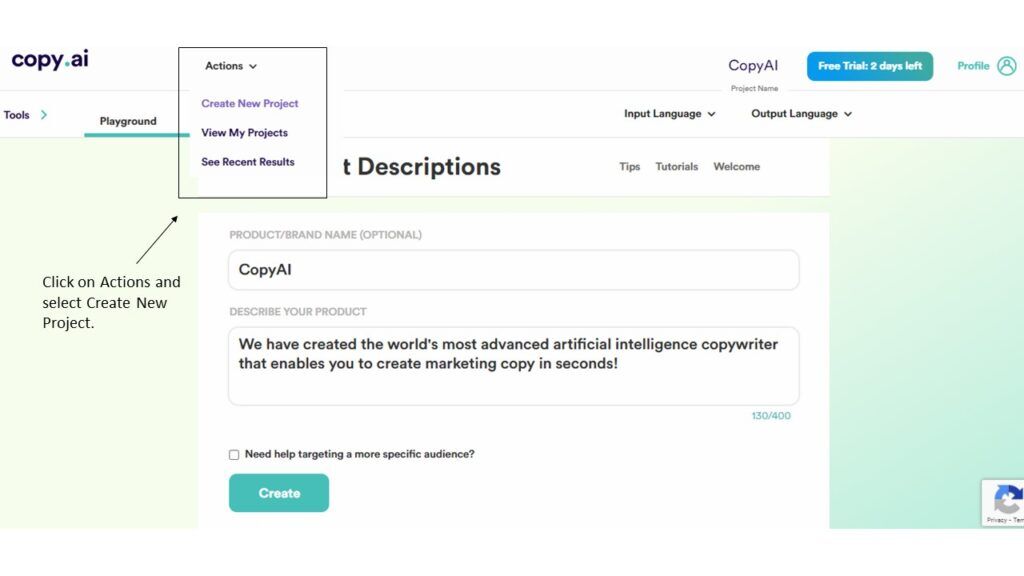 Start Writing
To start creating copies with CopyAI, you only have to create a new project and then take the time exploring the many tools you can choose from. From there, you'll only have to enter about 2 pieces of information for each tool: your product name and the product description. It differs for every tool or template you need, but CopyAI wows its customers by creating complete copies from just a few lines about your product as the program is modelled after how real copywriters create professional copies.
Since Product Descriptions are the most popular form of tool here in CopyAI, let's see what kind of results we get for a t-shirt business called Comfort.
Step 1: Click on the Actions dropdown found at the top of the app and select Create New Project. For our coffee business, let's say that we want our tone to sound relaxed.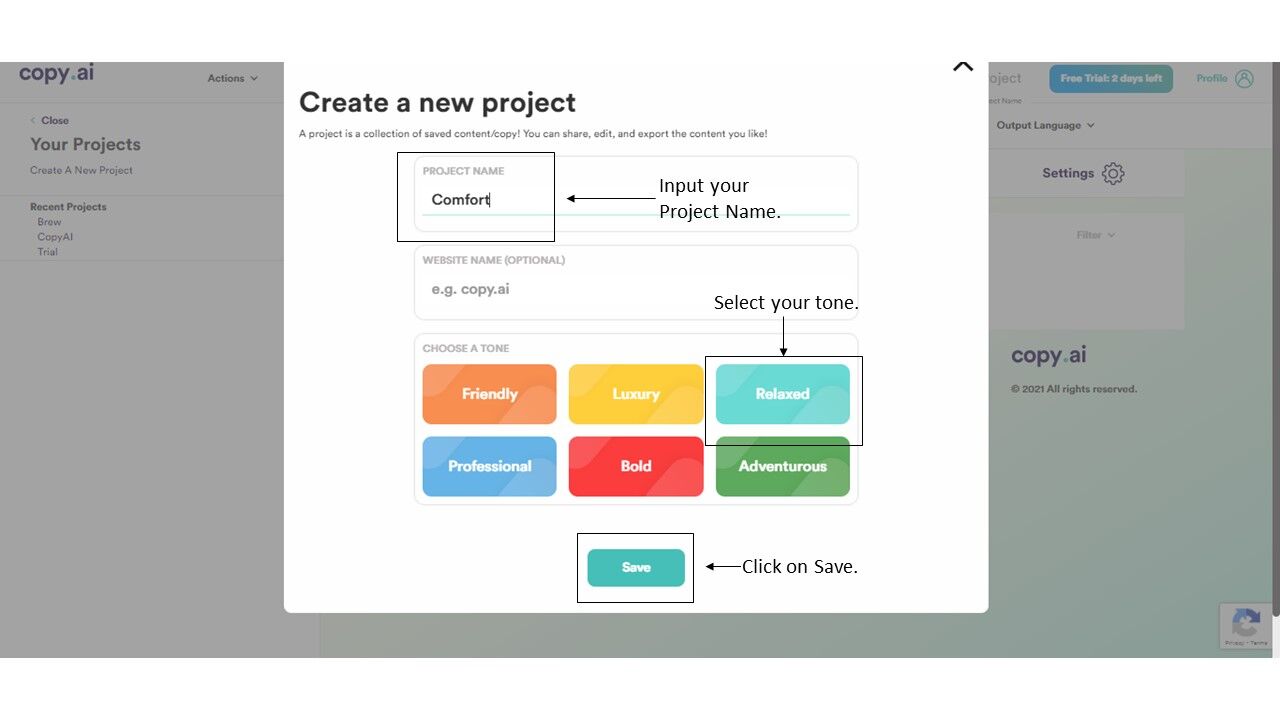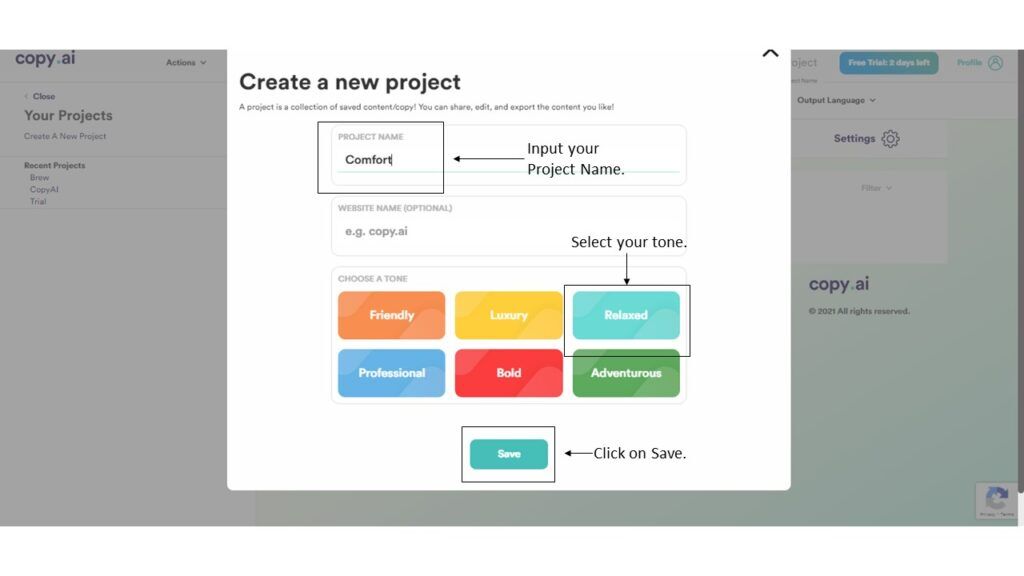 Step 2: Go back to your playground and find the Product Description tool. To generate a Product Description, you really only need to give a description of your product, but it would be best to include your product name. For better results, make sure to give a good description of your product.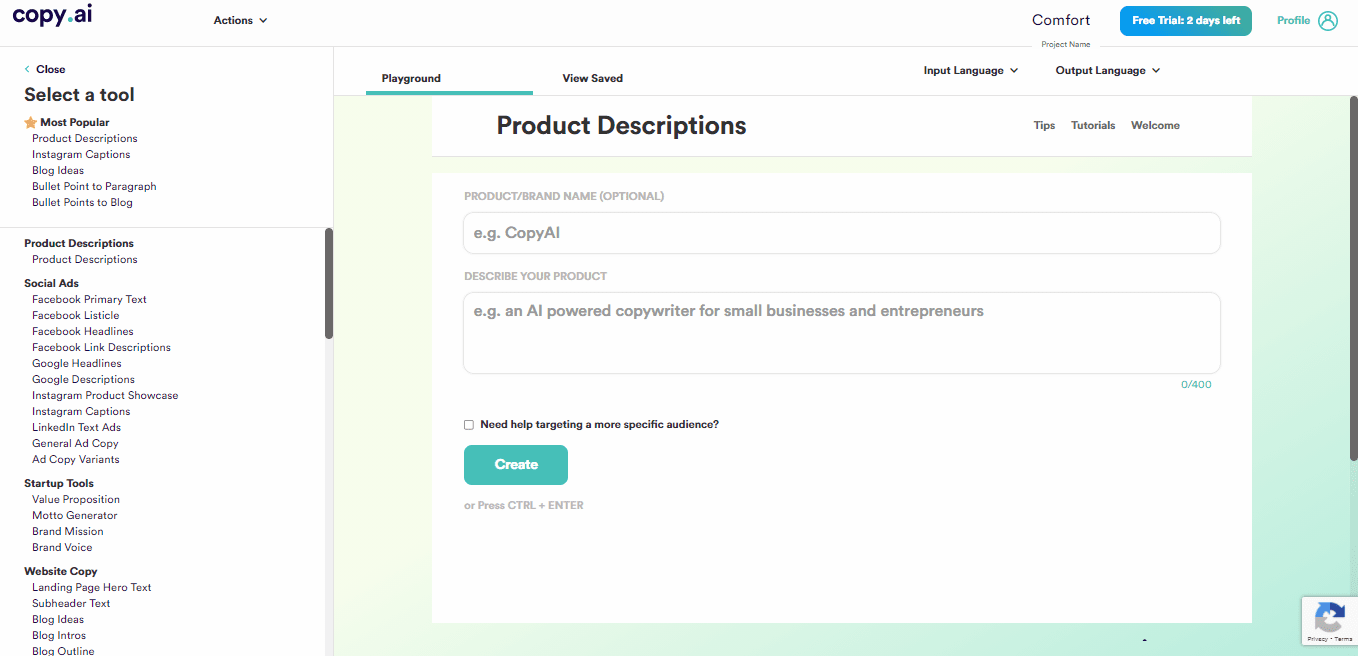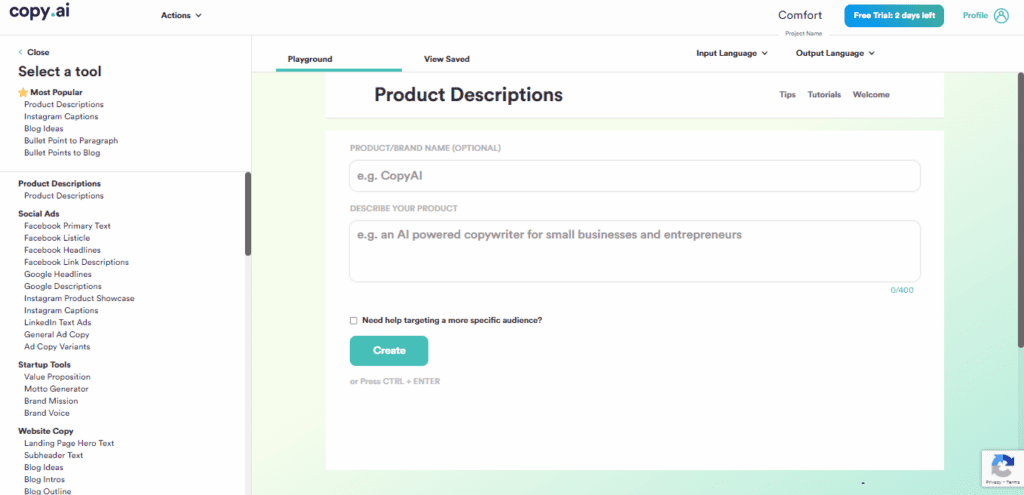 Suppose we need to generate a good product description for a line of shirts fit for everyday use. With CopyAI, there is also an option for you to select if you would like to target a much more specific market, which is a very good feature for business to wish to promote their products even more by having sales and other kinds of promotions for special occasions and events.
For example, we will be having a Christmas Sale for our t-shirt line.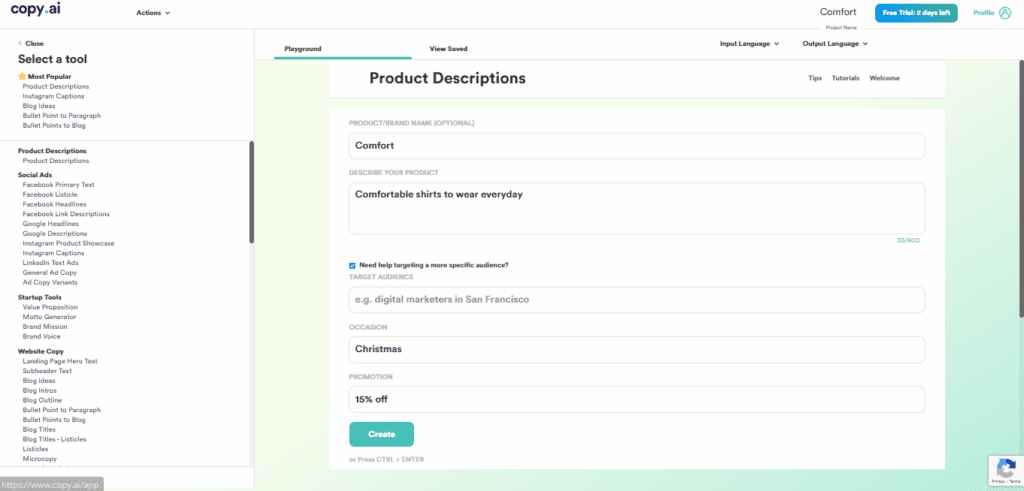 Step 3: Click on the Create button, wait for a few seconds, and just like that, you have several copies to choose from. Here are some of the descriptions that CopyAI was able to generate for us: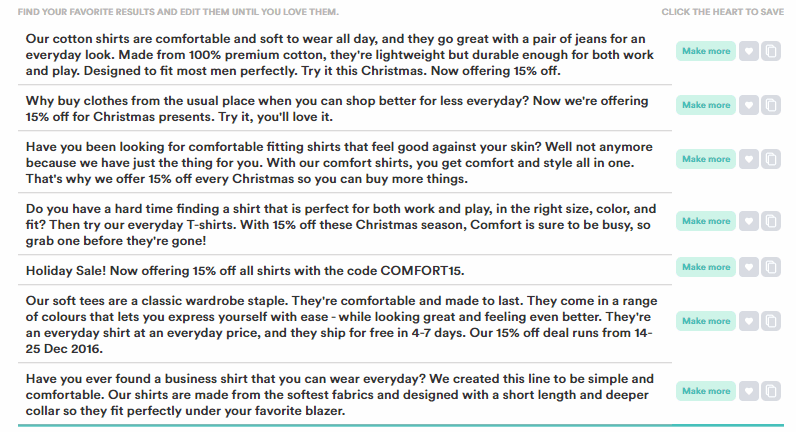 Personally, I think CopyAI really did a great job with the product descriptions. From the very basic product description we've provided, CopyAI was able to generate marketing-worthy copies that can really help you attract customers.
Step 4: Choose your favorite from the results generated by CopyAI and click on the heart icon beside it to save the copy. You can edit the content to your liking simply by clicking on the result you wish to edit. If you don't see anything you like yet, you could always click on Make More for CopyAI to generate even more results.
Step 5: Once you've finalized your copy, it will appear in your projects where you can conveniently edit should you need to in the future. You can also export your copies and share it to your teammates.
Though a lot of the results are really good, there are still some that aren't. You'll notice a few grammatical errors and you might have to give it a touch of you to make it sound less generic, but overall, CopyAI will definitely shower you with ideas and inspiration to get you back on track. After a couple more runs, and a few edits, I was able to arrive with this description for or shirts:
We believe that comfort should always come before style. Our special range of comfort, casual shirts are made to offer the perfect blend of classic styling and modern fit. From classic button up Oxford shirts to casual polos, we'll keep you looking sharp without ever sacrificing comfort. With 15% off this Christmas season, Comfort is sure to be busy, so grab one before they're gone!
CopyAI really does well on its mission to help small businesses and entrepreneurs be the best they can be. You'll be able to spend more time running your business. No more time is spent writing as CopyAI does that for you, perfect for people who have no experience with copywriting and business owners who are busy enough as it is.
Pros
-Offers a 7-day free trial without asking for credit card details.
-Able to generate high-quality content in a matter of seconds, with option to choose tone and target a specific market for a specific occasion
-Faster than other AI copywriting tools
-Wide variety of tools to choose from, including personal letters
-Runs are unlimited for the plan
-Very easy to use and understand
-Offers translations for more than 20 languages
Cons
-A bit expensive compared to other AI copywriting assistants
CopyAI Alternatives & Competitors
One of the main features of Copysmith is a built-in plagiarism checker to make sure that your copies are original, giving it an edge over its competitors. Still, CopyAI offers a much bigger collection of tools to choose from.
Both platforms are easy to work with and give you the option to organize your copies through folders and projects, keeping your workspace free of clutter. However, I do think that CopyAI is much faster with regards to generation of results and offers a much higher quality of content.
Though Copysmith offers more flexible plans, Copysmith makes use of credits which can limit your work if you opt for the Starter Plan. Copysmith also has a much-limited Starter plan whereas CopyAI gives you unlimited access to all its tools. Copysmith's Starter plan is priced at $16 with 50 credits every month, with each credit being equivalent to one generation of results. For small businesses, this could be more than enough for a month. However, if you're planning on using an AI copywriter for bulks of copies, then you might need to go for Copysmith's professional plan priced at $50. At this point, CopyAI would be the cheaper option at $35.
CopyAI vs. Writesonic
Much like CopyAI, Writesonic also offers a big collection of tools and templates. Its other features include other writing essentials such as Content Rephraser, Grammar Checker, and Readability Checker, which are potentially more useful compared to CopyAI's extra features: greeting cards and love letters.
CopyAI enables its users to create projects to organize their copies right there in the web app and allows for editing so you can finalize the copy you wish to save. These are some of the features I think Writesonic is lacking.
Both services provide high-quality copies, some of the best in the business, but comparing prices, Writesonic is the more affordable choice at $25 per month. CopyAI is priced at $35 dollars, but you do get unlimited access to all that it offers.
Conversion.AI makes use of a true AI copywriting assistant called Jarvis with a vast array of templates from SEO meta tags to Youtube video outlines, blog post intros, and Amazon product descriptions. Aside from basic content creation, Conversion.AI can help you improve your content by expanding sentences or rewriting paragraphs.
CopyAI and Conversion.AI are two of the best AI copywriting assistants when it comes to the quality of the copies that they are able to generate. In terms of the tools and services, the two web apps are not too different from each other. As for the user interface, both are pretty easy to use and follow, but Conversion.AI has to be commended for having such an aesthetically pleasing platform.
For $35, you get unlimited access to CopyAI's platform. Conversion.AI offers a lower price for its Starter Plan ($29), but you will be limited to generating only 20,000 words per month. Should you wish to avail of unlimited access to Conversion.AI, you will be charged $109, which makes CopyAI much more affordable.
CopyAI vs. ContentBot
With Contentbot, you get over 25 highly tuned AI tools at your fingertips. Though ContentBot is still developing its AI for more features, it lacks a lot of tools and templates that CopyAI already has. On top of that, ContentBot is much slower.
Both platforms are easy to follow but I do think that CopyAI's interface is more pleasing than that of ContentBot's. I also prefer having the option to edit my copies as they are generated and store them in project folders to keep my workspace organized, which is something you can't do with ContentBot. Also, the quality of CopyAI's content is better compared to most AI services.
Both services are generous when it comes to their plans, offering unlimited access to its features. ContentBot's Premium plan is priced at $29, which isn't really far from CopyAI's Solo Plan which costs $35. Since CopyAI offers more tools, CopyAI may be a better choice.
CopyAI vs. Rytr
Rytr has one of the simplest and easiest to understand user interfaces among the other AI copywriting services. It features a much larger variety of tones to choose from, but what really sets it apart from other services is that it offers a free plan with 5,000 characters per month.
The main difference between these two platforms is that CopyAI offers a much larger collection of tools, templates and services. When it comes to the ease of using these platforms, both CopyAI and Rytr are simple and easy to understand. It's just that with Rytr, it's more of a one-window interface whereas with CopyAI, you click more buttons, and you link to other windows.
CopyAI's Solo Plan costs $35 while Rytr's plan costs $29. Considering that you can do so much more with CopyAI, and that it is one of the platforms capable of producing the best quality of copies, availing a subscription with CopyAI may be much more worth the price even though it is $6 more than Rytr's. Rytr does have a free plan, but because it offers only 5,000 characters per month, it might not be enough for any active marketer or business owner.
CopyAI vs. ShortlyAI
Though it is powered by the same language model as other well-known AI copywriting services, ShortlyAI offers fewer features and capabilities as it focuses mainly on writing, shortening, lengthening, or rephrasing longer forms of content such as blogs, essays, reviews, and stories.
CopyAI and ShortlyAI are both capable of producing high-quality content but with ShortlyAI, you will only get to create blogs, essays, stories, and other longer forms of content. If you are looking to generate social media ads, product descriptions, headlines, and brand missions, ShortlyAI won't be of much help.
With CopyAI, you will be able to create long, short, and even more personal types of content, all being of high quality, making it the better choice between the two. On top of that, CopyAI is the more affordable of the two at $35. A subscription with ShortlyAI will cost you to to $65 per month.
CopyAI vs. Closers Copy
Closers Copy is an AI copywriting software that is jam-packed with features to help you improve copyrighting skills, templates to help you get started, as well as all the copywriting tools you need to be a great copywriter.
CopyAI offers a large selection of tools and templates to choose from, but Closers Copy includes a lot of extra features that will help grow your business and your copies even further such as Power Words Lookup, Thesaurus Lookup, and analysis of copy's Emotions, Sentences, Keywords, and Voice. You can even make use of Closers Copy to quickly reveal whether your email copy will make an impact on your audience or if it will simply get lost in their spam box.
For $29.99, Closers Copy gives you 50,000 characters/month. Compared to other AI services, Closers Copy's pricing is pretty expensive, but it does make up for it with its powerful and unique tools. CopyAI is a bit more generous with unlimited runs for a $35 plan. An unlimited plan with Closers Copy costs $79.99, more than double of the price of CopyAI's plan.
CopyAI vs. Anyword
Aside from basic content creation, Anyword offers some of the best extra features for developing businesses. One of these features is the inclusion of a Predictive Engagement Score for every generated copy, allowing you to determine the impact of your copy and optimize the content for your target audience.
When it comes to the different types of copies offered by the two platforms, it's no competition that CopyAI offers a much larger selection. Although Anyword offers promising features for a much targeted and specific set of copies, the basic feature of generating more quality content is a much bigger factor for most copyrighters and marketers. Considering the quality of the copies they generate, CopyAI's copies are of much higher quality compared to Anyword's, which happen to a bit generic.
As for the prices, Anyword ($19) is much more affordable compared to CopyAI ($35). However, the $19 Starter Plan from Anyword will only give you 15,000 words per month whereas CopyAI offers unlimited access. Consider whether you think 15,000 words are enough to cover all your copyrighting work. Should you ever need to, you can always upgrade your Starter Plan to 35,000 for $39, which would now be more expensive than CopyAI's. So, if you are to use the AI assistant extensively, CopyAI is the better option. But, if you would like to have the unique features that Anyword offers, it's not that much of a difference in terms of price anyway.
CopyAI vs. Nichesss
Nichesss is a relatively new AI copywriting assistant, but it can already do powerful content creation and idea generation. One of the most unique features of Nichesss are the quizzes you can take to help you get ideas in starting or developing your business.
Although Nichesss already has a lot to offer, CopyAI can offer even more. One thing that makes Nichesss stand out among the rest, is its informal but fun interface which can have be positive and negative points for Nichesss. This young and fun look and ideas by Nichesss may be appealing to the younger generation, which comprises most of the current market. However, some people might not like the interface if they prefer a simpler and more professional look. As for quality, CopyAI remains to be one of the best, but Nichesss does really well too.
The biggest difference between the two platforms is the huge difference between their prices, and this is perhaps the biggest deciding factor as well. CopyAI is priced at $35, and compared to Nichesss' $19 Pro Plan, this is very expensive. Because of the features and solid plans that Nichesss is able to do, I would say that $19 is a pretty good deal to make me choose Nichesss.