I've been meaning to review GrooveFunnels for a while now. This tool has been receiving a lot of buzz in the internet marketing space for several months and for good reason.
GrooveFunnels isn't just one tool – it's a multi-feature marketing suite with over a dozen useful services, all packed under one "roof."
Did I get your attention yet? Let's dig deeper and take a look at everything GrooveFunnels has to offer.
What is GrooveFunnels?
Developed by Groove Digital, GrooveFunnels is a suite of apps that allow users to build sales funnels, landing pages, eCommerce sites, selling digital products, creating email campaigns, and launching other kinds of marketing projects and websites quickly and properly.
The hype around GrooveFunnels is justifiable, mostly because of the people connected to this project.
Who is GrooveFunnels for?
GrooveFunnels competes directly with tools like ClickFunnels and Leadpages.
Think of GrooveFunnels as a superpower of digital marketing and e-commerce – whatever online business project you wish to create, there's a good chance GrooveFunnels has the tools to help you turn it into reality.
It is ideal for:
Beginners – If you're new to online marketing and are starting from scratch, GrooveFunnels is the perfect suite to help you understand everything about building and maintaining an online business. And because you have no other points of comparison, learning how to do things from within GrooveFunnels means you won't have to re-learn apps or tools you might have used in the past.
Content creators – Bloggers and online marketers who plan to sell information, membership, or digital products will find the drag and drop, landing page builder exceptionally easy to use and let you create a landing page without trouble.
E-commerce sites or online sellers – If you have products and services to sell, GrooveFunnels would be extremely useful in automating your sales, lead generation, newsletter campaigns, handling email cart abandons, and anything related to upsells, downsells, and order completion.
Business owners – Whether you're new or old to online business, I'm sure you'll appreciate a cheaper alternative to your current roster of tools, as long as they work.
Simply put, if you wish to grow your online business, GrooveFunnels has everything you need to achieve your goal.
Who is GrooveFunnels NOT for?
While GrooveFunnels is literally able to accommodate any online business regardless of niche or industry, it still isn't for everybody.
For example, GrooveFunnels may not be ideal for you:
If you don't have a service or product to promote and sell, it would probably best to just build a blog or company website instead.
If you'll only be using 1 out of the 20+ tools available in GrooveFunnels, paying for this suite may be overkill. It is best to check out an alternative that would serve the purpose you need for a much lower price.
If you already master another similar tool and it is working for you, switching to GrooveFunnels may just break a good thing you have. Don't fix something if it isn't broken, right?
About Groove Digital
Groove Digital may just have been formed in 2018, but the founders of this company have been heavyweights in their respective fields for decades.
Mike Filsaime (CEO of GrooveDigital)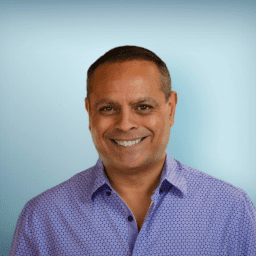 Mike Filsaime was the pioneer of many digital marketing tools in history, such as EverWebinar, WebinarJam, Evergreen Business System, PayDotCom, DealGuardian, Butterfly Marketing, and most recently, another popular sales funnels tool called Kartra.
Mike Filsaime has generated over $100 million in building tools to help digital marketing progress to what it is today.
Mike Filsaime left Kartra to form GrooveFunnels and compete with it directly.
John Cornetta (GrooveDigital President)
This guy is an expert in eCommerce and traffic generation with his own portfolio of eCommerce stores making a whopping 6-figures per site per month.
You can see Cornetta's expertise within GrooveFunnels' own shopping cart "GrooveKart," which may just compete directly with known e-commerce platforms like Shopify or BigCommerce.
Matt Serralta (COO)
Matt is the actual architect that built GrooveFunnels' eCommerce products from scratch. He works side by side with John Cornetta in the creation of GrooveKart.
Serralta has decades of experience in sales, eCommerce, and admin operations, working as a consultant for big companies like Office Depot and Prestashop.
Matt Naus (CTO)
As the company's CTO and founding member, Matt Naus uses his expertise in building software products to good use.
Matt has worked with Mike Filsaime from the very early stages of GrooveDigital and is most likely the company's go-to in picking which software products and services to develop as part of the GrooveFunnels line next.
GrooveFunnels Apps
Okay, now that you have some idea of the people behind GrooveFunnels and if this suite of tools would work for you, I'm going to take this GrooveFunnels review deeper into the apps one by one.
EXISTING GROOVEFUNNELS
As I stated earlier, the development of GrooveFunnels is continuous. By the end of 2020, the company has launched over 10 of its major features with A LOT more tools scheduled to be launched in early 2021 and beyond.
Take a closer look at GrooveSell, GrooveAffiliate, GrooveMail, GrooveMember, and other marketing tools you can already take advantage of once you join:
GroovePages
Let's focus this GrooveFunnels review on GroovePages, the suite's website, and landing page builder.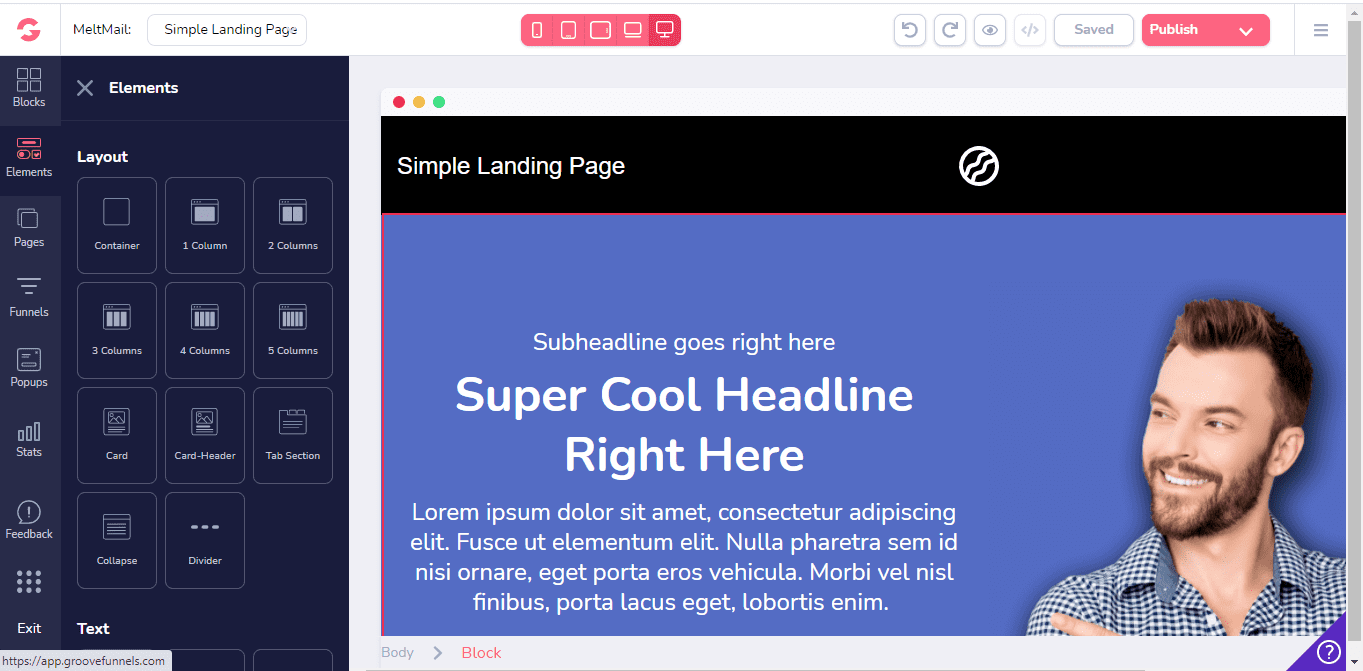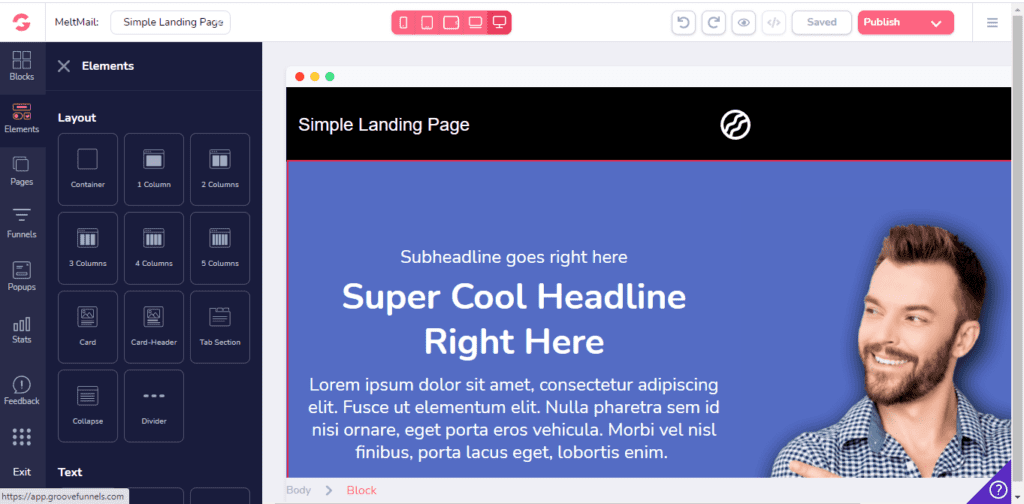 If you joined GrooveFunnels with a free trial, you'll be able to play around with the easy drag and drop sales funnel and page builder. You can create individual landing pages or an entire website for your online business. All of them will be listed as "My Sites."
Begin by picking a ready-made template to start with. The available templates are well-designed, even for the free version. Some templates have "sisters" complimenting an existing template, which are perfect for multi-page sites with different layouts.
If you prefer to start from scratch, you can.
GroovePages Template Editor
Like other drag and drop site builders, GroovePages is very easy to use, even if you don't have any experience.
On the left sidebar, you can pick layouts, add a column or two, create sales funnels, build a store where you could sell digital products, and integrate third-party apps. You can even use GroovePages for Shopify if you prefer to combine the two.
At the top of the editor, you'll see page settings. The editor is straightforward, from adding images to choosing fonts; they're all there to be switched on/off and visually tried before publishing. I personally love the pop-ups tab, which makes it super-quick to build pop-ups from scratch or pre-designed templates. You only have to set entry/exit triggers and other settings.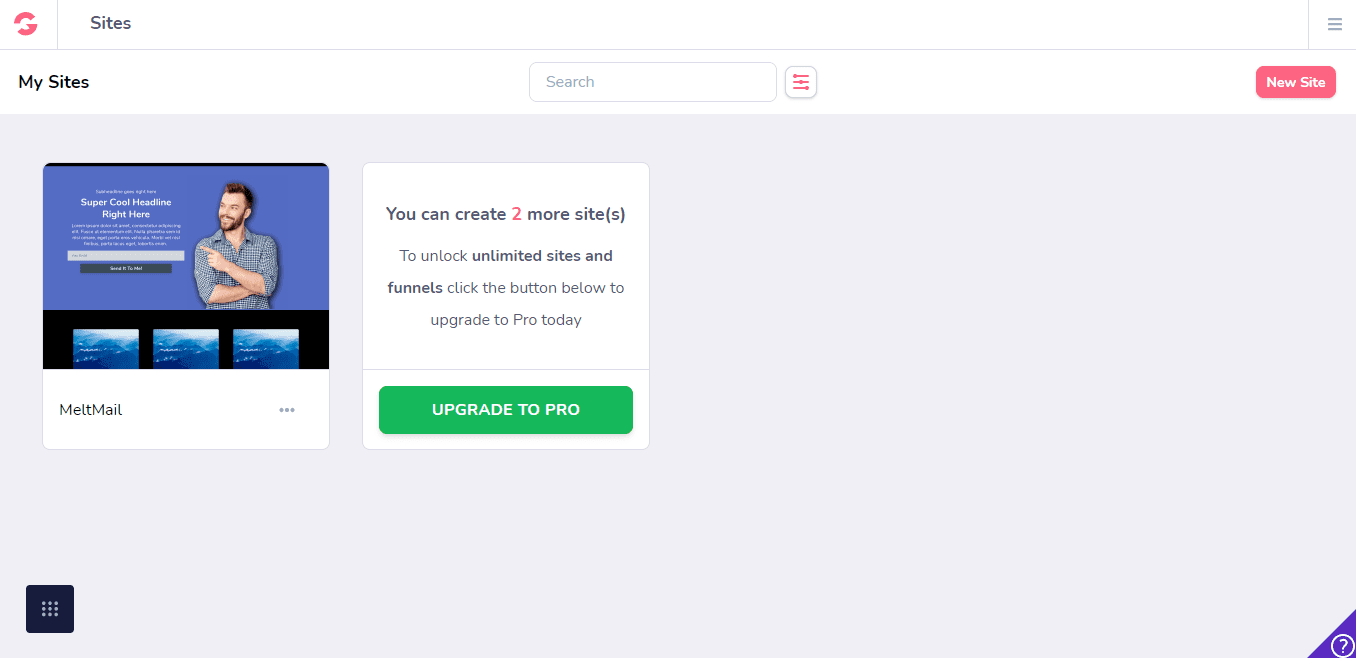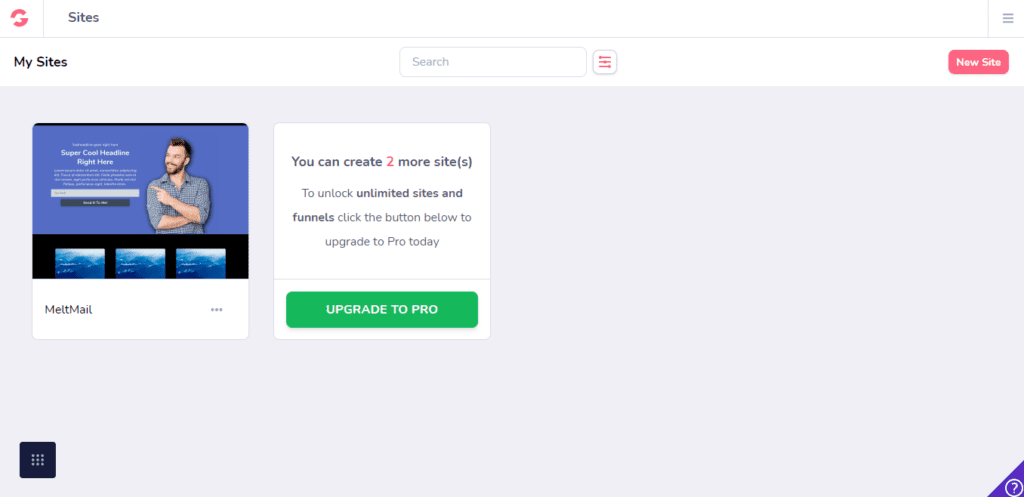 Plus, every site you make will have its "site stats" overview, so you could see the number of visits, unique visitors, and bounce rate on a daily, weekly, bi-monthly and monthly basis.
Pros and Cons of GroovePages
PROS
Easy to use drag and drop
Comes with Unlimited bandwidth and free SSL certificates (only for paid plans)
Ideal for beginners and advanced users (Expert mode allows you to customize attributes and so on)
Switch from desktop to phone view instantly (so you could see how the landing pages you're working on look like with specific gadgets)
Use your own custom domain
GroovePages for Shopify
CONS
Not the most extensive collection of widgets and elements, but good enough as a page builder could go
Other tools are not yet active, so you must be patient
GrooveSell
GrooveSell is a powerful sales and affiliate platform, where payments are processed and the shopping cart function is set. If you're planning to sell anything (digital products, physical products, services, memberships, etc.) or create your own affiliate marketing program, this app was made for you.
GrooveSell supports PayPal, Stripe, AuthNet, Braintree, NMI, Merchant Tree, and other payment processors planned in the future.
Even if you're using the free plan, you'll have access to GrooveSell and all its potential. On the main dashboard, you can get an overview of:
Total initial sales
Total new sales + rebills
Total revenue
Total commission
Total Profit
Total Refunds
Total Net Profit
Total EPC
A chart that compares your revenue, visitors, active subscriptions, and average retention
This is just the first page. Dig in a little deeper using the left sidebar for more useful tools.
PRODUCT FUNNELS
This section allows you to create new product funnels. (Read below for a demo showing how to add products and populate your reports.)
You can also monitor from here everything about the sales funnel, from coupons to page tracking, sales tax, partner contracts, and more.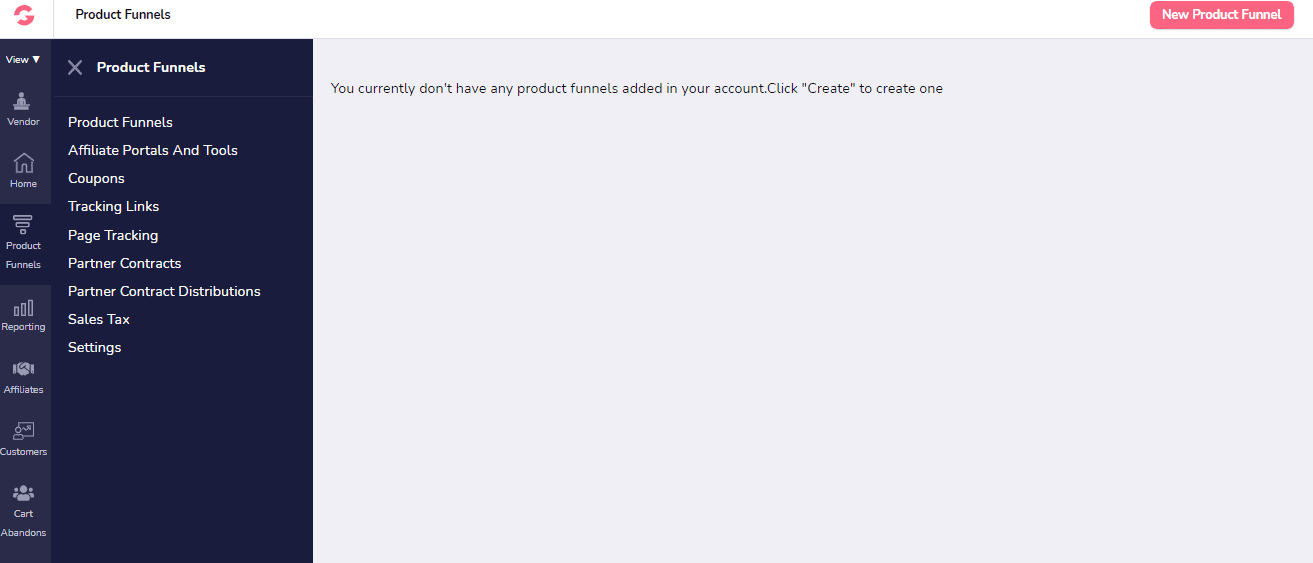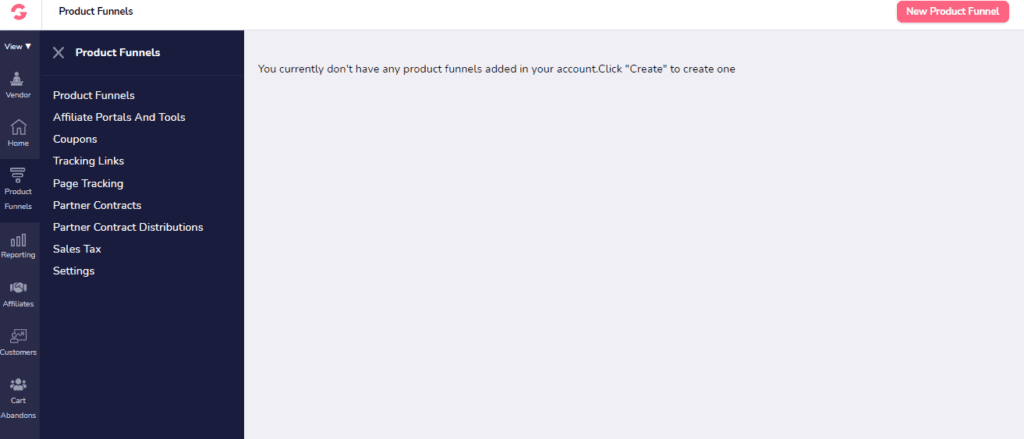 REPORTS
If you're like me and you love organized reports, you'll appreciate the easy-to-use transactions reporting page that let you toggle between successful and failed transactions.
The transactions page details your customer name, items bought, how much they paid, date/time they paid, and even location.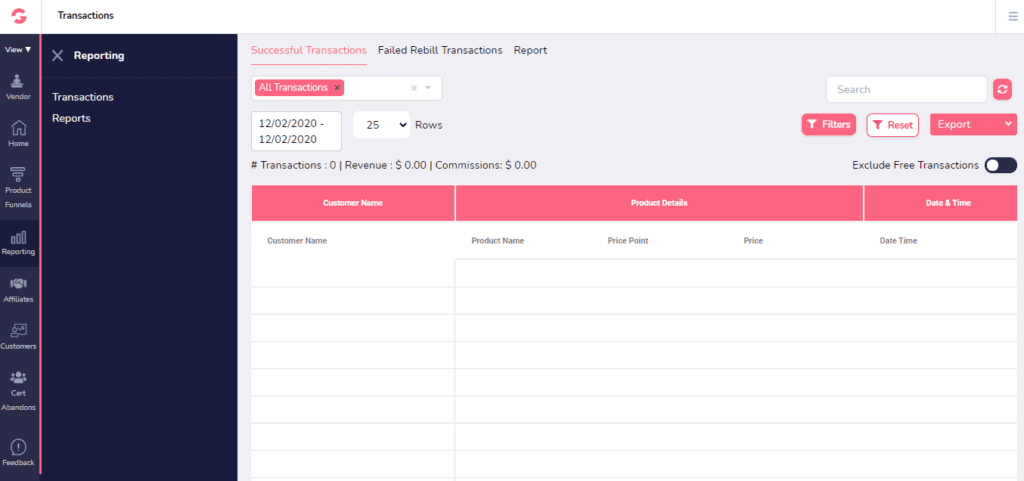 MANAGING YOUR OWN AFFILIATE PROGRAM
The affiliate platform is also found under GrooveSell. Those who have their own affiliate program can easily monitor affiliates and second-tier affiliates (along with their payouts), check payment history, and view affiliate performance.
To learn how to create your own affiliate program using GrooveSell, GrooveFunnels has an hour-long tutorial to help you build your first one.
Pros and Cons of GrooveSell
PROS
No monthly fee, transaction fee, or commission fee for Platinum users
Use a shopping cart without added fees
Supports the Social Proof widget (since the customer information is saved here)
Ability to toggle upsells, downsells, and order bumps (helps in abandoned carts)
Cancel subscription of customers manually (instead of chargebacks)
Easily integrates all the leading payment gateways available
Provides a step-by-step of building your first funnel
CONS
GrooveAffiliate
GrooveAffiliate is an affiliate marketplace tool, which is part of the GrooveFunnels suite.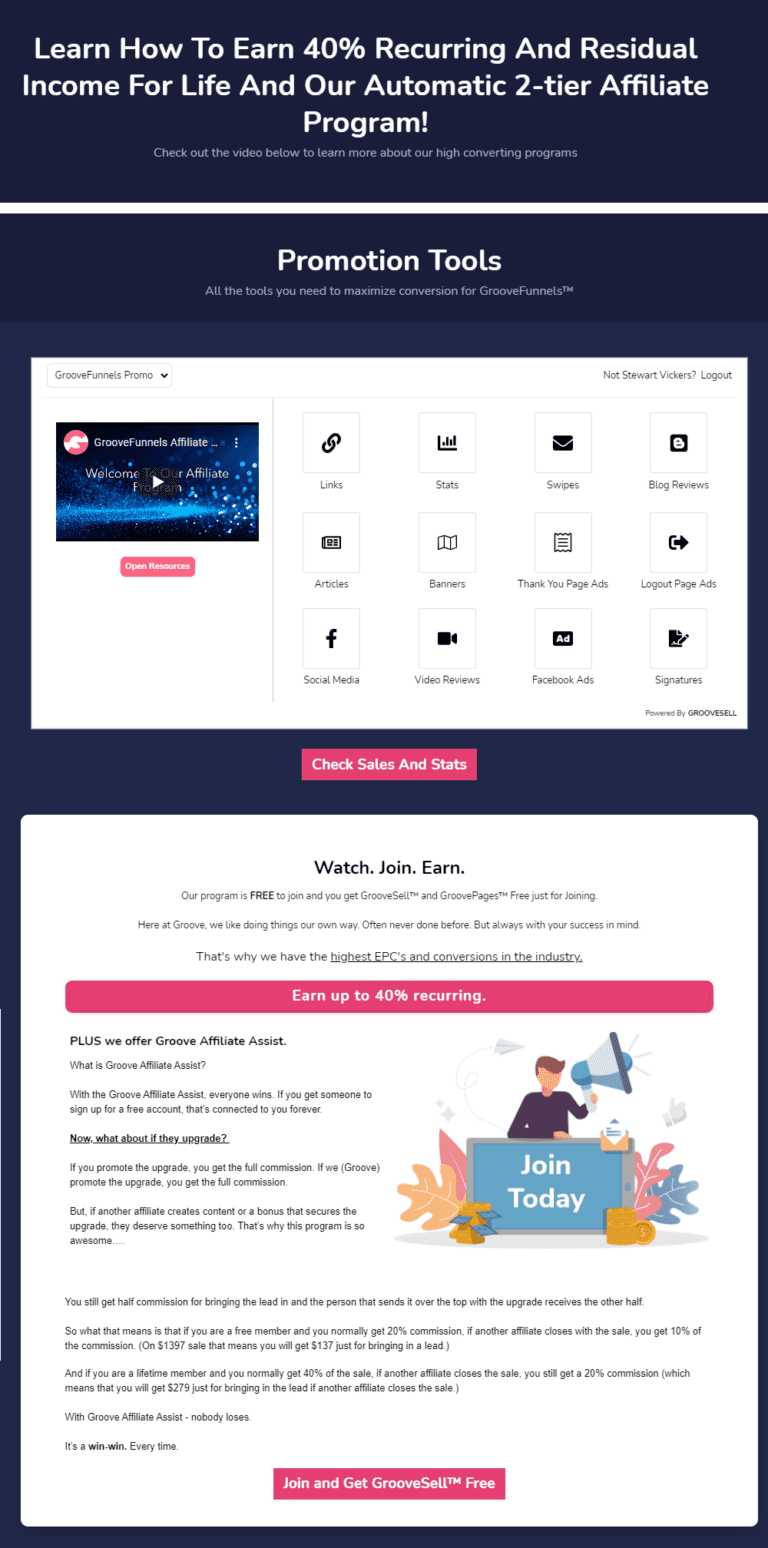 So here's what you need to know:
Anyone who has registered with GrooveFunnels (even for the free plan) will AUTOMATICALLY become affiliates and begin promoting GrooveFunnels products to earn commissions.
GrooveAffiliate (as well as its dashboard) is connected to GrooveSell and shows BOTH your sales and affiliate transactions.
You can find your affiliate links, email swipe files, Facebook ads, social media posts, banner ads, blog post samples, and other affiliate content within your Partner Program dashboard.
Pros and Cons of GrooveAffiliate
PROS
Easy to understand dashboard
Referrals locked to you for life – If you referred a person to GrooveFunnels and he/she only signed up a year later, you will still be credited with the referral and still earn a commission from it.
Earn from second-tier affiliates – If you know your way around online marketing products and Software as a service (SaaS) programs in the past, only a few offer second-tier affiliate programs. The fact that GrooveFunnels is giving free members 5% commissions (and paid members 10%) on all sales made via their referrals is pretty impressive.
CONS
Paid users earn more (40% commissions) than free users (20% commissions)
GrooveMail
GrooveMail is the email marketing powerhouse of GrooveFunnels. And like all the leading email marketing tool today, GrooveMail features:
Email marketing automation (sequencing)
Email broadcasting
Text and Voice SMS broadcasting


You can see that GrooveMail email marketing was inspired by different marketing tool of the past (and present). And like all other apps from the GrooveFunnels suite, GrooveMail is trying to be the all-in-one solution for your email marketing needs. But can it?
I could talk about GrooveMail throughout this GrooveFunnels review and won't run out of things to say. But here's what I know about GrooveMail so far:
The GrooveMail Analytics has all the data you need for a proper email marketing campaign – reports on conversion rates, clickthroughs, open and delivery rates are all listed down.
Assign Tags and Segments – Being able to read leads and email analytics is essential in implementing the best campaigns. With GrooveMail, you can assign tags and segments to help with automating your email sending.
Third-party tool integration – If you're not yet sold with GrooveMail, this app can also track and monitor other mail platforms like GetResponse.
Is it one of the best email marketing tools around? Not quite YET. But it could be in the future.
Pros and Cons of GrooveMail
PROS
Organizes mails nicely
Ability to divide email list by tags and only run campaigns for a particular group
Comprehensive email analytics
Brings all tools in one dashboard (even third-party mail programs)
CONS
Not yet fully functional (some features need to be ironed out)
GrooveMember
If you're taking advantage of the GrooveFunnels email marketing platform above, this membership platform will be used side-by-side with your campaigns.
Some highlights include:
Online Course Platform – where you could host online courses
Membership Content Management System – where you can create unlimited membership sites
As you can see from the image above, free plans cannot get access to this feature. But it is a much-appreciated addition mainly because membership areas have become a common part of sales funnels recently.
I think this is a good call. Studies upon studies have shown that having a members area translates into a more loyal clientele with higher conversion rates and improved revenues.
If the GrooveFunnels team is trying to compete with what Kartra built for their membership sites, then GrooveMember is something to watch out for.
Pros and Cons of GrooveMember
PROS
Integrates with GrooveMail, GroovePages and GrooveFunnels nicely
Drag and drop editor (similar to the funnel builder) means you no longer have to find third-party templates
Password-protected members area
Increases visitor engagement
CONS
Not enough features to switch (if you're coming from Facebook Groups), but this could change once GrooveMember gets launched officially.
GrooveVideo
As I got deeper into this GrooveFunnels review, one thing I'm sure about is that the company is really trying to be an all-in-one eCommerce solution. With GrooveVideo, the idea is to compete against YouTube, Vimeo, and other video hosting platforms with analytics.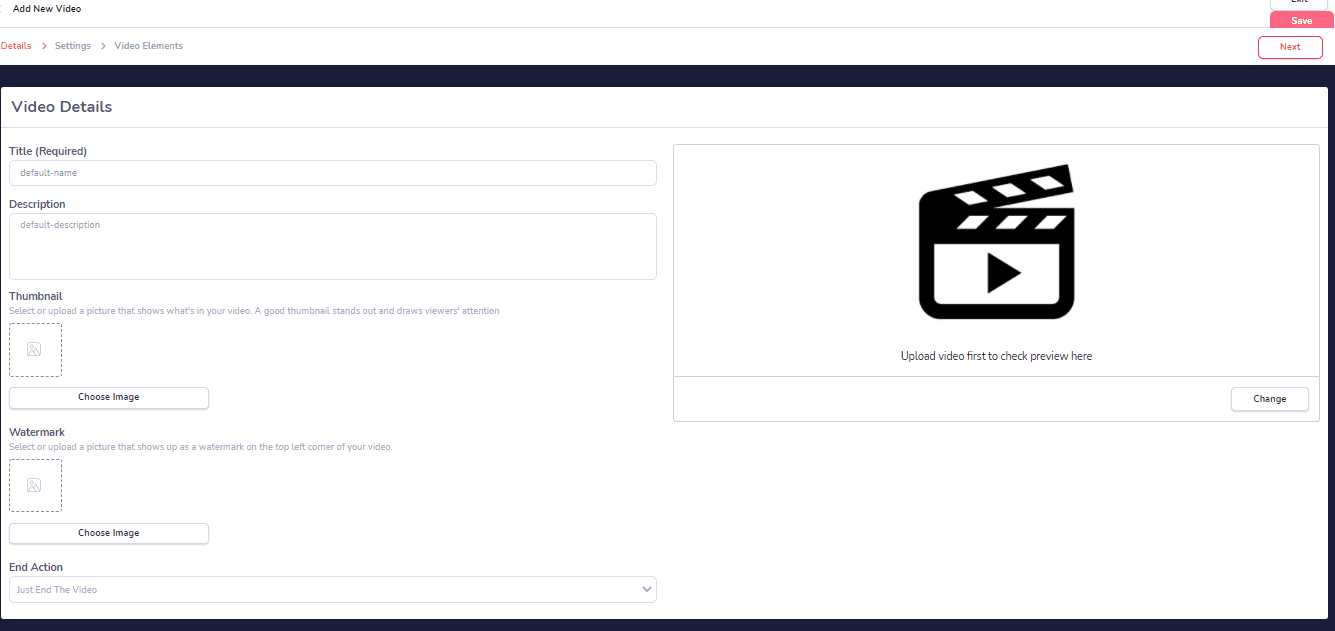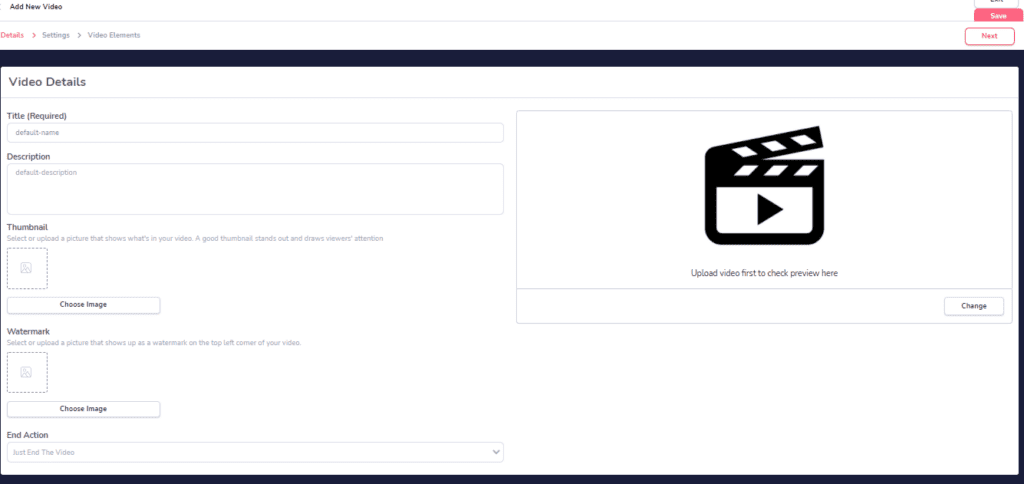 And since everything about your business, from the landing page to your online store with the shopping cart, affiliate programs, marketing pop-ups and other types of GroovePages connected within the GrooveFunnels dashboard, it makes sense that GrooveVideo is added as well.
On first look, GrooveVideo should be able to:
Engage visitors without leaving your page
Include call-to-action in the videos
Use video analytics as a marketing tool to learn about your market
Customize triggers and automation settings based on what a visitor watches
Free plans get to add 15 videos, but you have to link your Amazon S3 account for storage. Paid plans get free 100 GB storage and allow you to create unlimited videos.
However, don't expect it to be anywhere close to replacing YouTube. While adding videos seem like a straightforward process, the actual app isn't wow-worthy yet.
You have to keep in mind that GrooveFunnels is still pretty young, and the company has a LOT of plans for all its apps, including GrooveVideo, so there's still a chance that advanced features are added in the future.
Pros and Cons of GrooveVideo
PROS
Engage visitors on your own page (no distractions of featured videos like YouTube)
Free hosting on paid plans
Customize automation and call-to-action
CONS
No way to import videos from other platforms
Lacks templates
The videos you upload can be downloaded by anyone
GrooveKart
GrooveKart is the Shopify alternative by GrooveFunnels. You can get it as a standalone productor as part of the 17-app GrooveFunnels suite.
If you bought the lifetime deal (Platinum lifetime membership), you can create UNLIMITED online stores with unlimited products, sales pages, funnels, and order bumps. The possibilities of lifetime access to GrooveKart are endless. You can offer a built-for-you store for other small businesses, or build a dropshipping empire with the help of GrooveKart.
If you joined GrooveFunnels with a free plan, you can only create one store every 30 days (see below). This feature used to be exclusive to paid members. At least free users get access to GrooveKart, even if it means you have to wait in line for your store to be created.

Out of all the existing apps on this GrooveFunnels review, GrooveKart deserves its separate review. But for now, let me just highlight the features I think make GrooveKart worth checking out:
One-click move from Shopify to GrooveKart – Stuck paying Shopify's high monthly fees, decided to move to GrooveKart, but don't know how to go about it? You can switch from Shopify to GrooveKart with just a few clicks. No need to start from scratch once you move.
No coding is needed. Like the funnel builder of GroovePages, the user interface of GrooveKart is friendly to non-techy users. Just pick and choose templates, elements, and widgets, then publish your store.
GrooveKart Studio, built-in apps & SDK – The store builder, along with built-in apps are all ready to be used whether you wish to just pick from over 300 premade designs, or customize every detail from scratch. GrooveKart is a full e-commerce solution, so you can just integrate your chosen payment gateways, apps, and apps like the in-house Print-on-Demand feature and put them to good use.
No extra fees. The problem with other eCommerce platforms is that fees pile up non-stop with every new feature added or once the maximum number of apps/pages/stores/products/upsells is reached. With GrooveKart, you only pay for the monthly fee you committed to paying (or the lifetime fee you paid upfront with GrooveFunnels).
Pros and Cons of GrooveKart
PROS
Can be paid monthly as a standalone product, or as part of GrooveFunnels
Build unlimited stores (GrooveFunnels lifetime members) without paying anything per store built
Competes directly with Shopify but with a more flexible payment scheme
Extensive user training
CONS
The GrooveFunnels one-time fee is expensive (if you're new to e-commerce). Although if you're coming from Shopify, which could cost $500 to $1000 a month, paying the standalone GrooveKart would turn out A LOT cheaper.
FUTURE APPS of GROOVEFUNNELS
Because this suite is still in beta and is continuously working on SO MANY more tools, you can find Grooveblog, GrooveDesk, GrooveCalendar, Groovesurvey, and GrooveWebinars on the Dashboard, but they're not yet ready for use now.
I'll update this GrooveFunnels Review as each of the apps are launched.
But for now, check what apps are scheduled to be introduced anytime soon (for specific dates, check the official GrooveFunnels timeline):
GrooveBlog
This will directly compete with other blogging tools, which means you can launch and manage your own blog straight from the GrooveFunnels dashboard. It's a pretty exciting feature, especially since I'm sure there would be a marketing twist to GrooveBlog.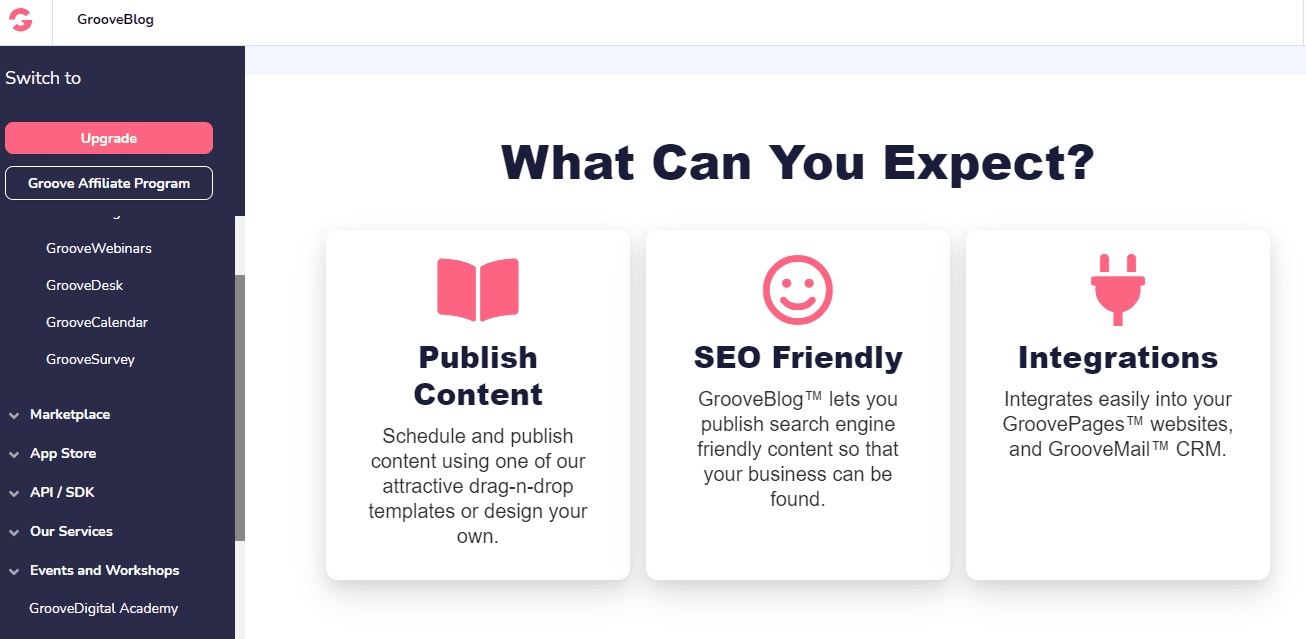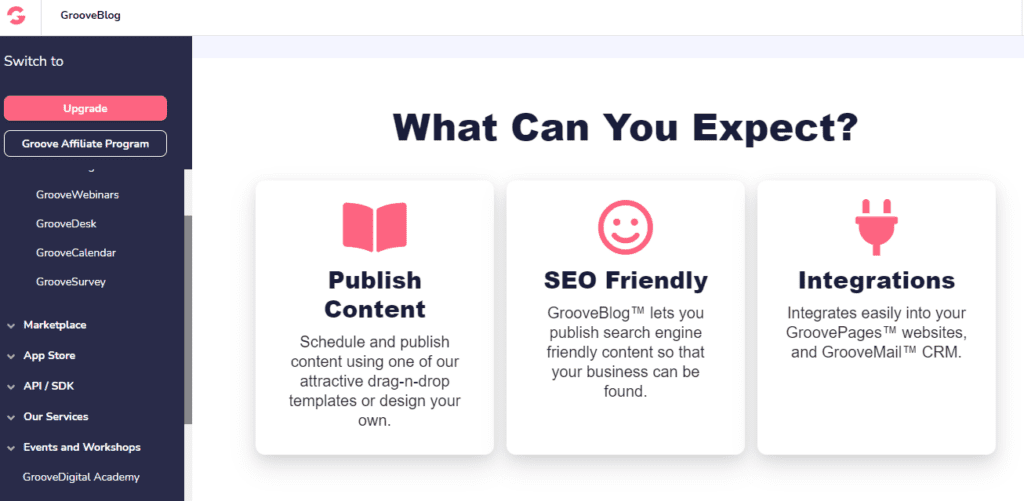 You can expect GrooveBlog to be SEO-friendly and remove the need to purchase tons of themes, and plugins for two or more sites.
This will be available in the Lifetime plan.
Having said that, I'm always sceptical of platforms that claim to be SEO-powerhouses. A great website builder has marginal impact on SEO besides having a fast and stable platform.
Real SEO gains come from having a good strategy – keyword research with a tool like SEMRush so you only write what people are actively searching for, an optimizing your posts with Surfer to rank thanks to their powerful AI analysis of competing pages.
GrooveDesk
GrooveDesk is going to be a helpdesk software that would improve customer support and provide additional automation support. It is supposed to help online businesses manage tickets, inquiries, live chats, and more all in one dashboard.
GrooveCalendar
Inspired by Google Calendar, the in-house GrooveCalendar will make it easier for an online business to schedule meetings of clients since the clients themselves will be picking appointment dates instead. This also sets alarms and reminders to ensure they get to "attend" such appointments.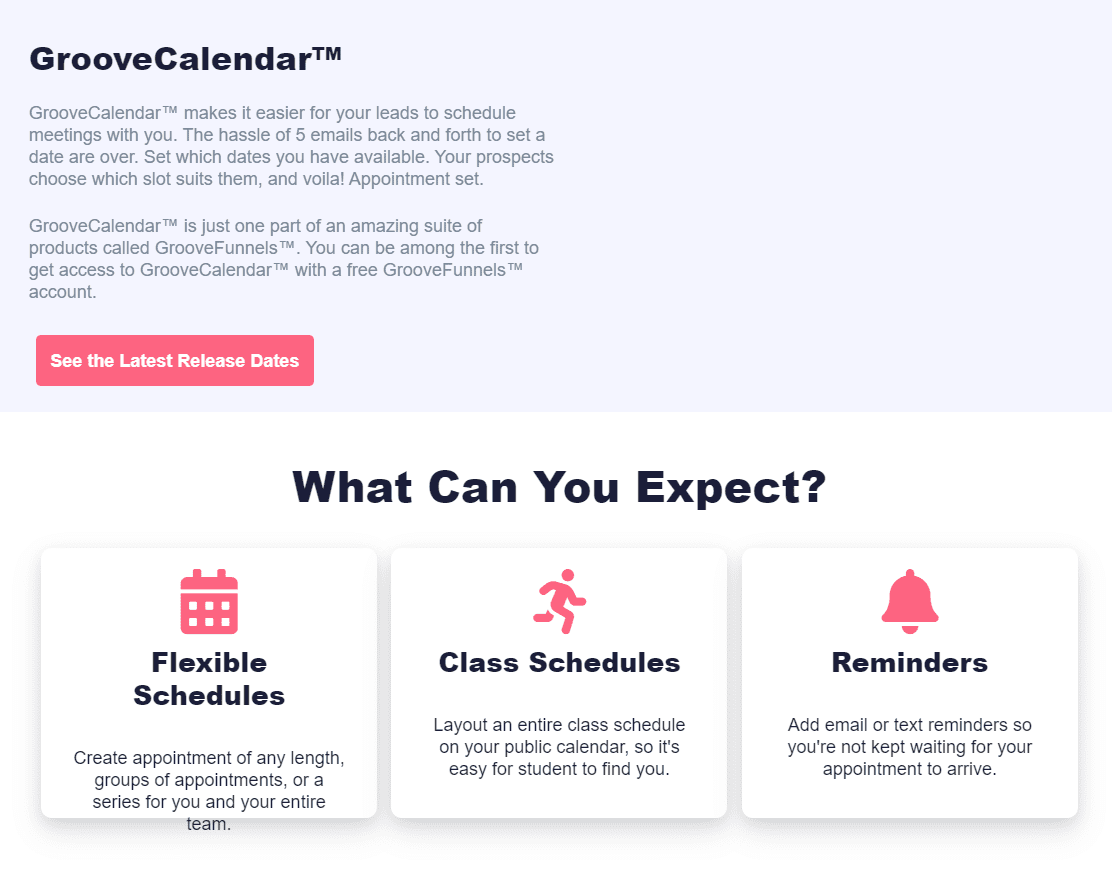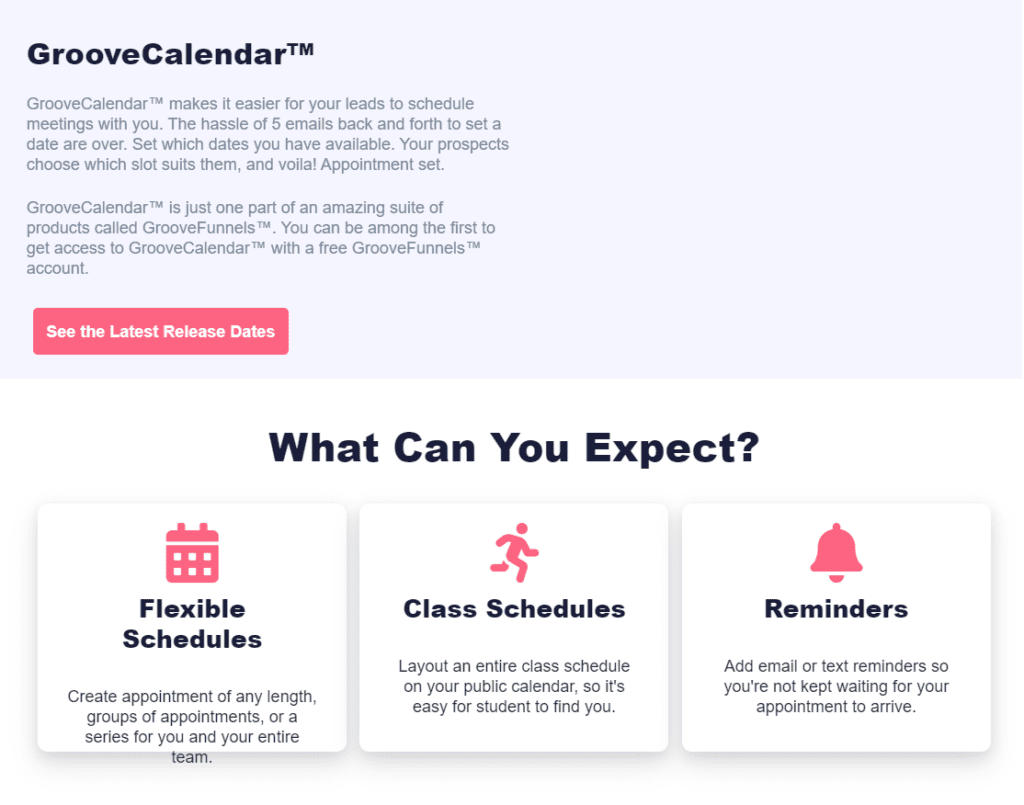 GroovePipe CRM
There is no information about this app yet, but I am thinking this is a CRM platform that would rival the likes of WordPress and other CRM.
GrooveFunnel Mapping
With GrooveFunnel, you'll be able to track your high converting sales funnels and use them as a guide when creating more funnels. This kind of in-depth statistical analysis makes the difference between your funnels and others created without any kind of data.
GrooveProof
I assume this app would let us customize social proof.
The idea of social proof is to show website visitors that others are buying stuff. If you noticed pop-ups on some sites that say "Ms. Ana from London UK just bought product 123," and other similar notifications.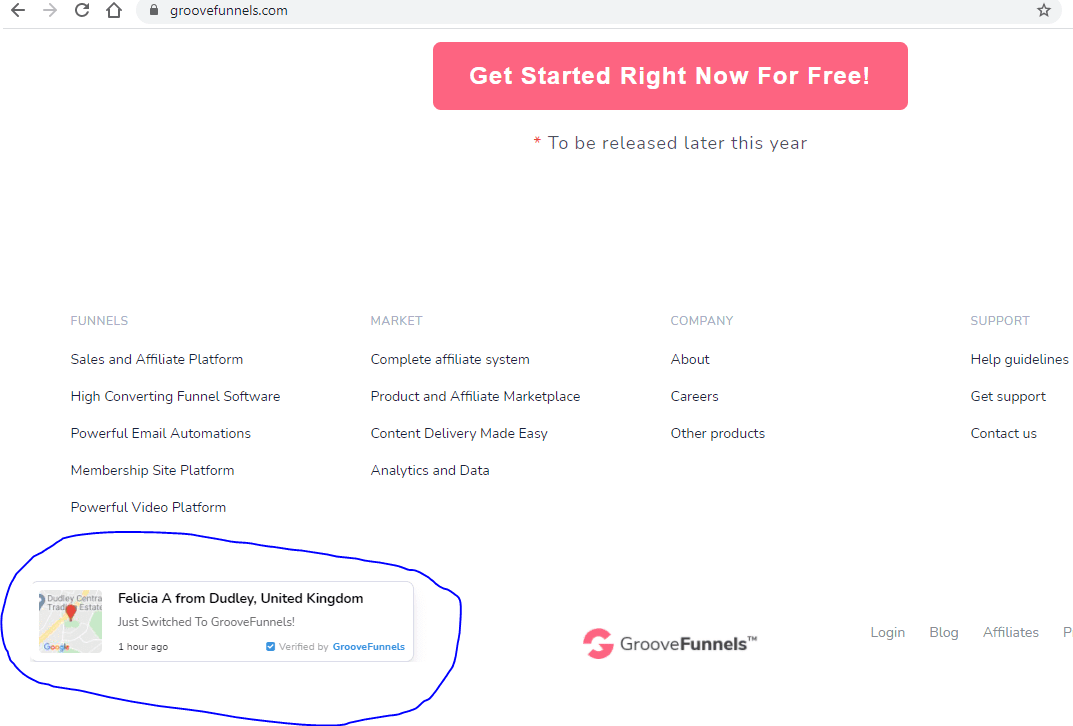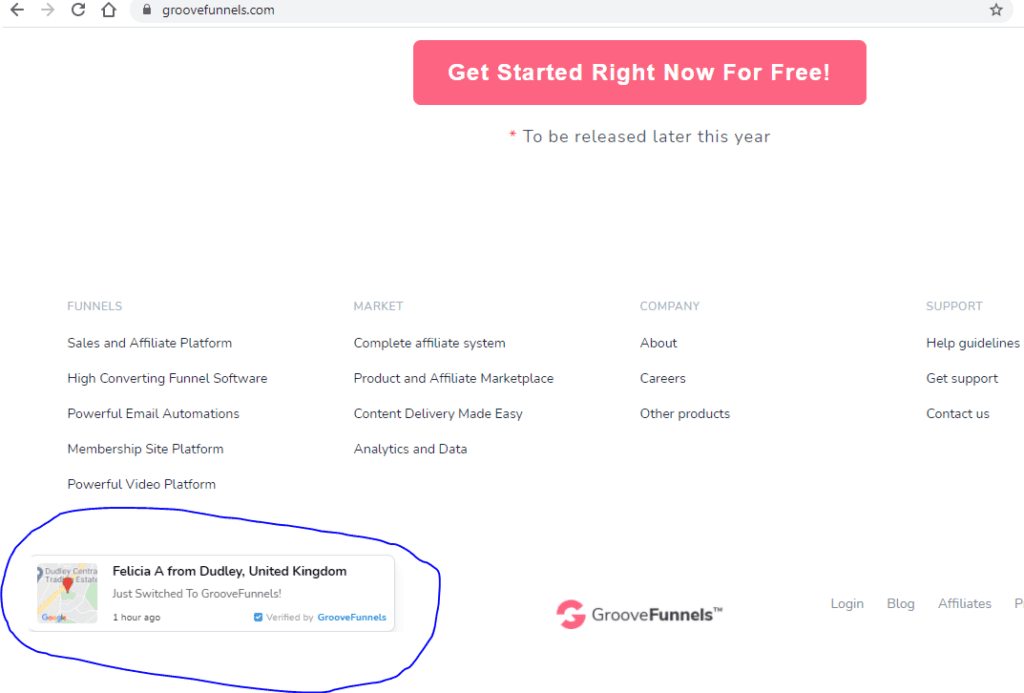 Seeing such proofs could help encourage other people to buy as well. In marketing, this theory is called social proof.
It would be interesting to see how GrooveFunnels could implement this theory into its own app.
GrooveAutomations
This one can be VERY powerful. Imagine being able to code automate stuff like:
Sending an email to newly registered potential buyers to remind them of an abandoned cart
Sending a text message right after buying a product
Answering inquiries from a prepared script
Connecting a customer to live chat if he/she spends a long time stuck in a spot on the page
And so on…
By adding well-placed triggers, you essentially save everybody's time as they visit your landing page or website.
GrooveSDK
As its name suggests, GrooveSDK should be able to give you any 3rd party developer access and integrate a wide range of apps into your funnels, landing pages, and so on. Imagine the possibilities of being able to integrate software development kits (SDKs) from third-party sources and extend the functionally of the already-robust GrooveFunnels.
GrooveWebinars Live
This tool will help websites and business owners host and stream live webinars, which are the hottest type of content today.
This will particularly be more beneficial to professionals promoting their services or selling digital content, such as courses, ebooks, and other similar products.
The GrooveWebinars Live tool is expected to be released in January 2021. Once they're launched, they can be easily integrated into your sales funnels, web pages, and cart.
GrooveWebinars Automated
This tool is the same as GrooveWebinars Live, except you are scheduling the webinars in advance and not hosting it live.
Because the process is automated, you can set the webinar weeks ahead and just see how effective it went in building your email list or selling your goods.
GrooveWebinars Automated comes live in January 2021.
GrooveStreaming Live
With this tool, any business owner, blogger, author, eCommerce, and other entities can stream live video to multiple platforms like Facebook and YouTube simultaneously. The concept is pretty cool, and it saves a ton of time attracting different people on different platforms (Facebook vs. TikTok, for example).
According to GrooveFunnels timeline, the Live streaming tool will be released by December 2020.
GrooveStreaming Automated
Available in either late 2020 or early 2021, the automated GrooveStreaming tool lets you live stream on a scheduled day and time.
GrooveSurvey
This tool is geared toward a business owner who is looking for feedback from its clients (and would-be clients). The survey can be used for lead generation, upselling products, and simply as a way to build stronger relationships with existing customers.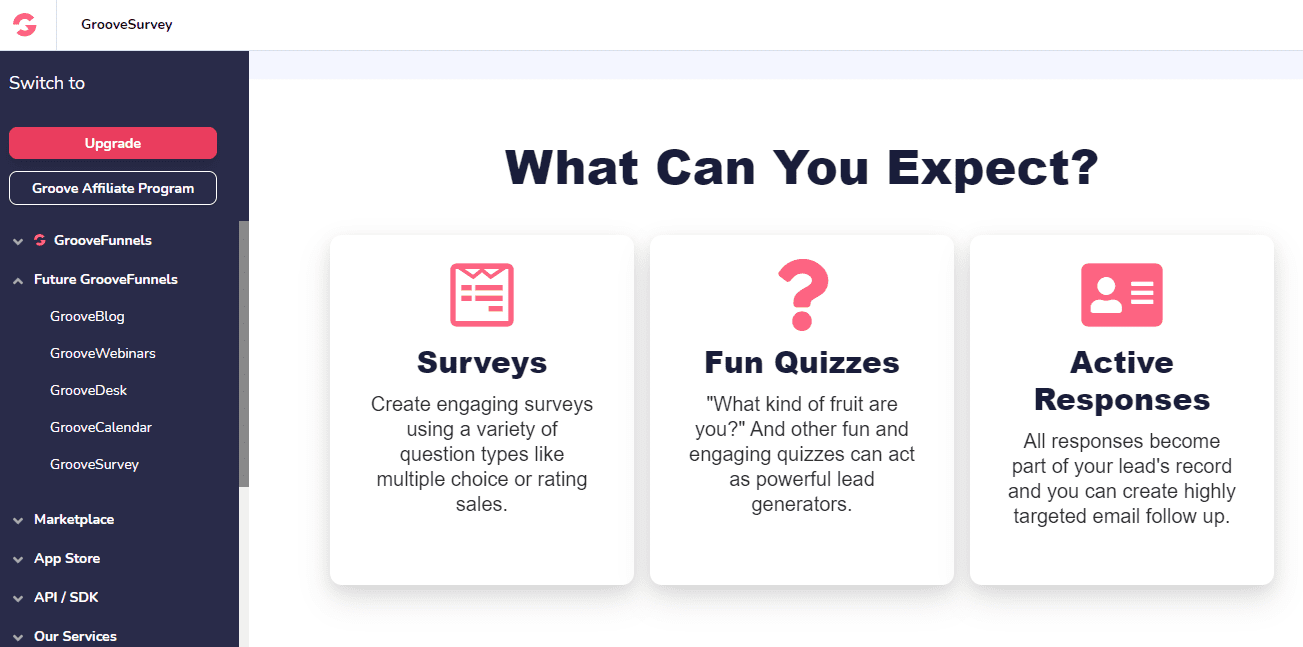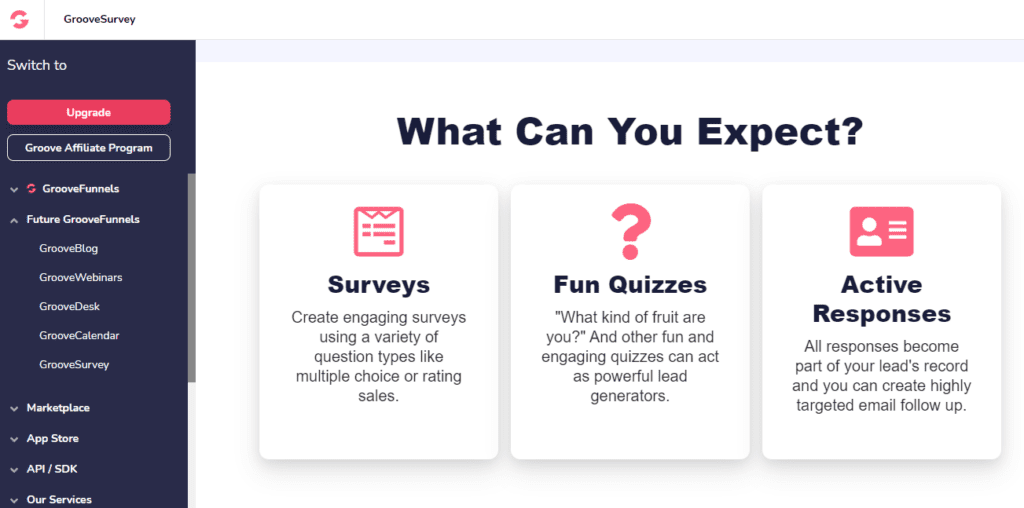 GrooveQuiz
This software helps you create online quizzes, which can engage website visitors and encourage them to click, buy, or hire you. It can be added to sales funnels, landing pages, websites, and other digital platforms.
What's interesting with GrooveQuiz is that it was actually a requested feature by a couple of users. It is for release either late 2020 or early 2021.
Funnel Builder Demo: 11 Steps to Add Products to Your Store
There are plenty of tutorials showing you how to create GroovePages, pick templates, and customize these premade designs to build your own look. But in this GrooveFunnels review, I wanted to demo GrooveSell and how to start building your store from within.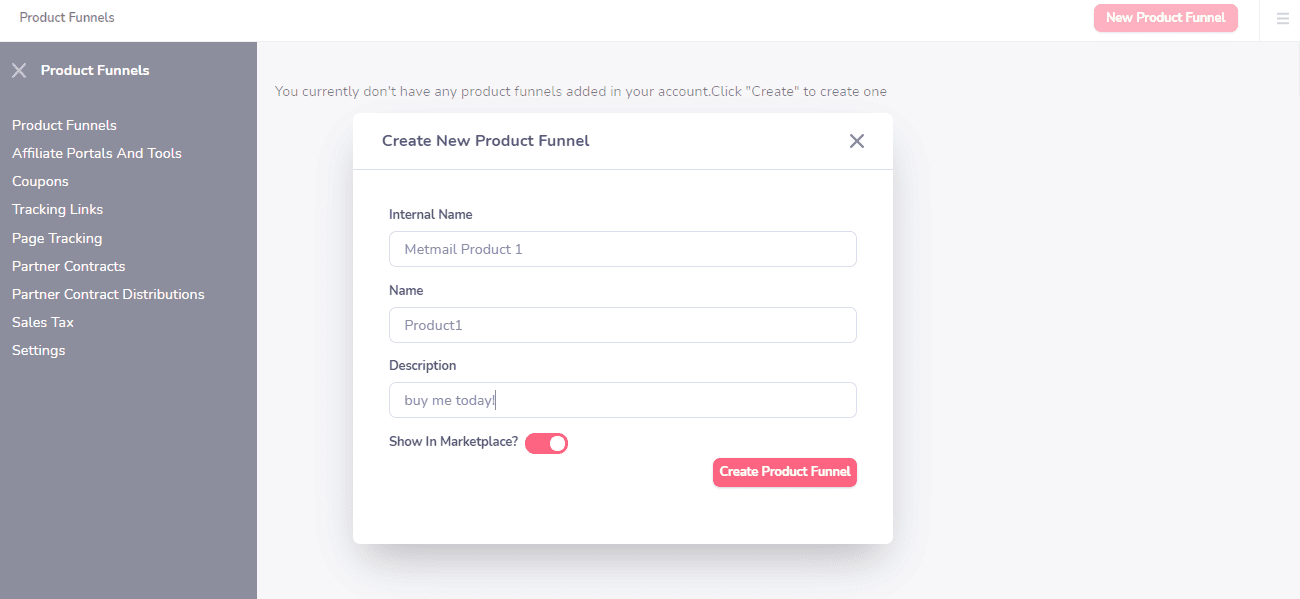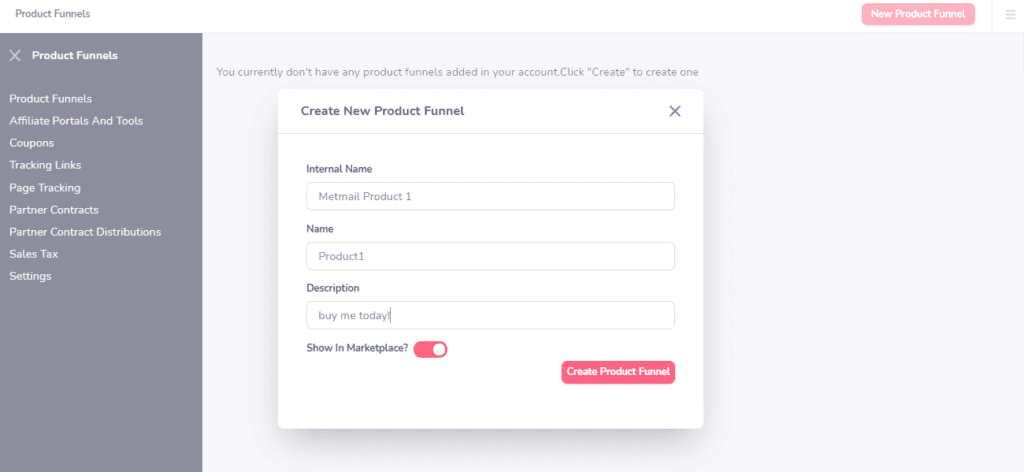 This is just as important because once the look of your store is done, you need products and sales from these products to populate the reports. Manually add your products by going into GrooveSell> Product Funnels and click the pink button on the upper right corner that says "New Product Funnel." Enter the details of your first product.
Now save, and go back. The new product will then be listed along with other products. Find the "Edit product" button and begin the 11-step wizard GrooveFunnels created to ensure you get the most out of all the apps.
1. Enter details of your product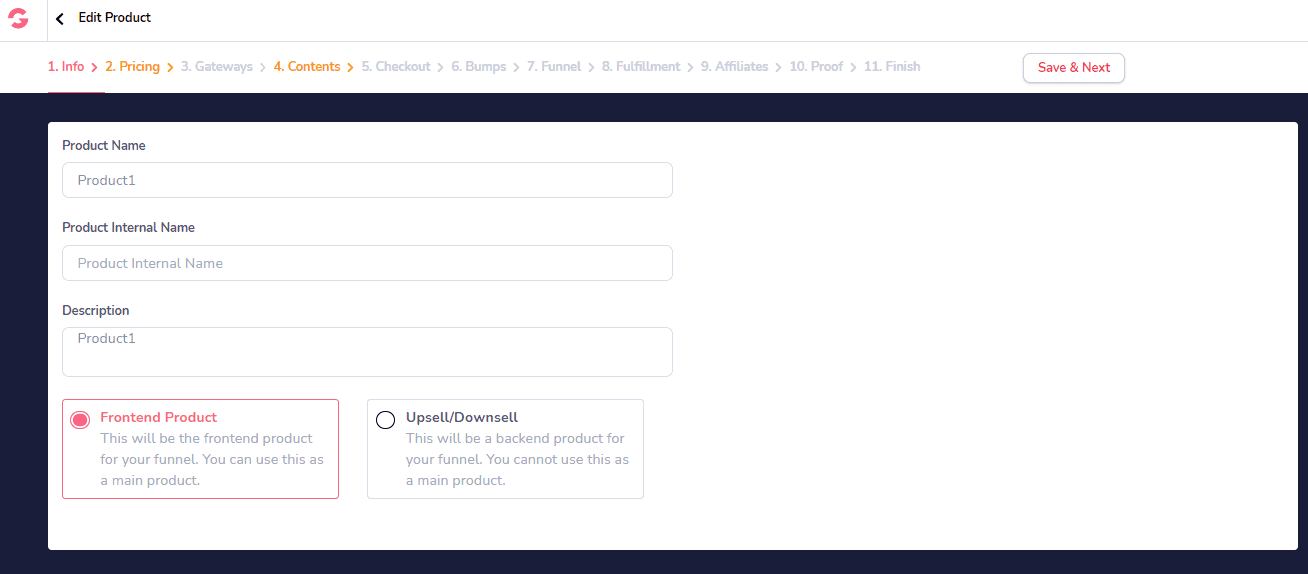 Declare if the product is a frontend or backend product. Add the name, internal name, and description of the product. Once you're done, click the "Save and Next" pink button.
2. Choose a payment method
Add a pricing plan for that particular product. Pick if it is a one-time price, recurring bill, installment (split-pay), recurring installment, etc.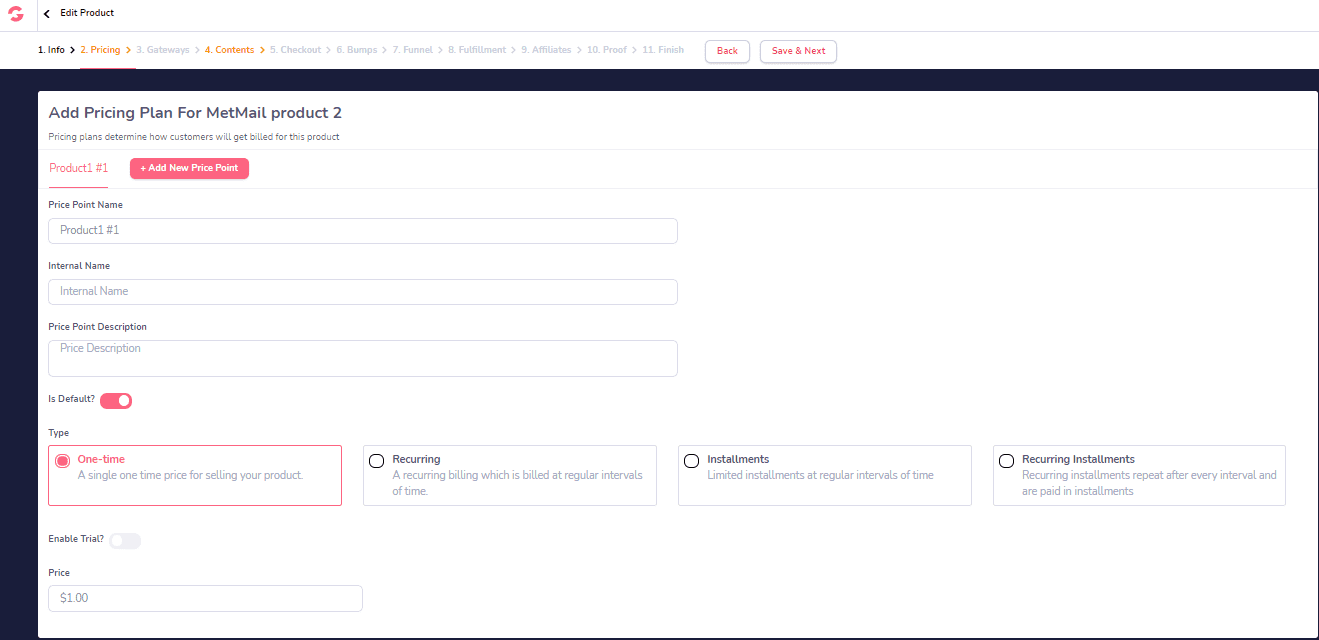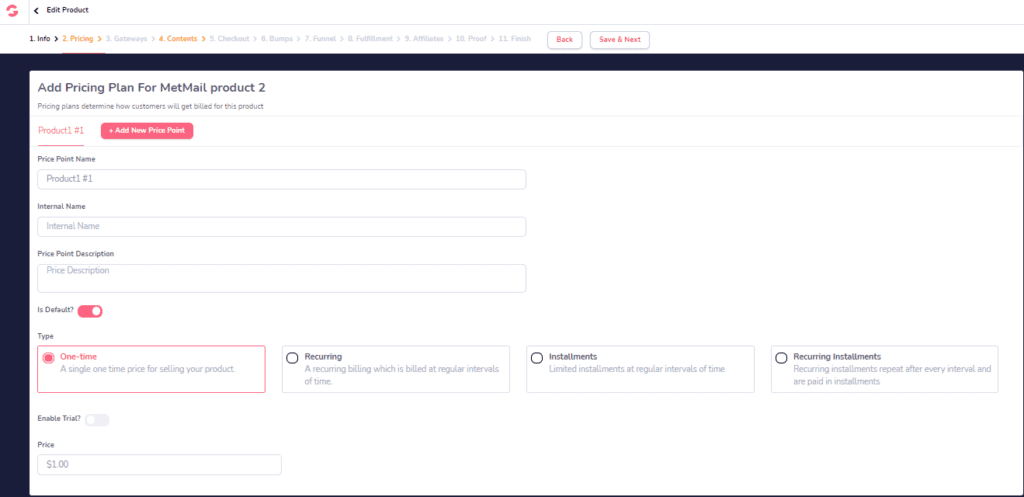 You can even tick the "Trial" button if the product is free and considered a trial. Enter the product amount, and then click "Save & Next" when you're done.
3. Choose a Payment Gateway


You'll be asked to choose which payment gateway integrations you want to link to. There's Stripe, PayPal, Credit Card, and GrooveDigital's own "GroovePay."
4. Include the Thank You Page, Sales Page, and other Pages you want your customers to visit after purchase.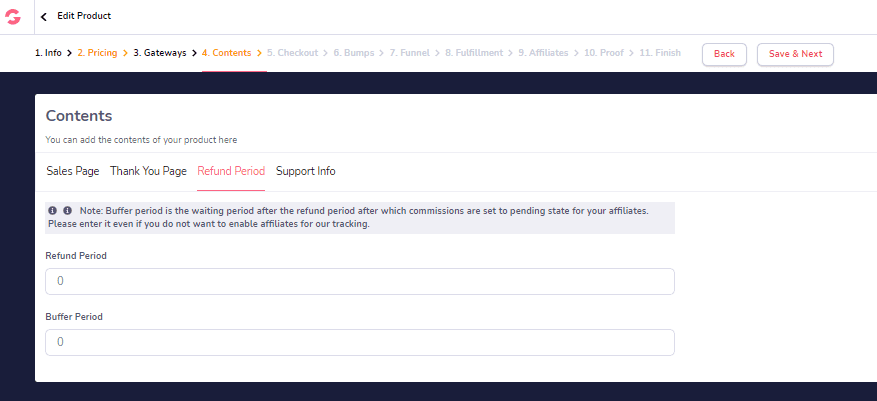 The "Contents" section lets you customize the sales page URL, Thank You page URL, refund details, and other support info.
5. Configure Checkout Page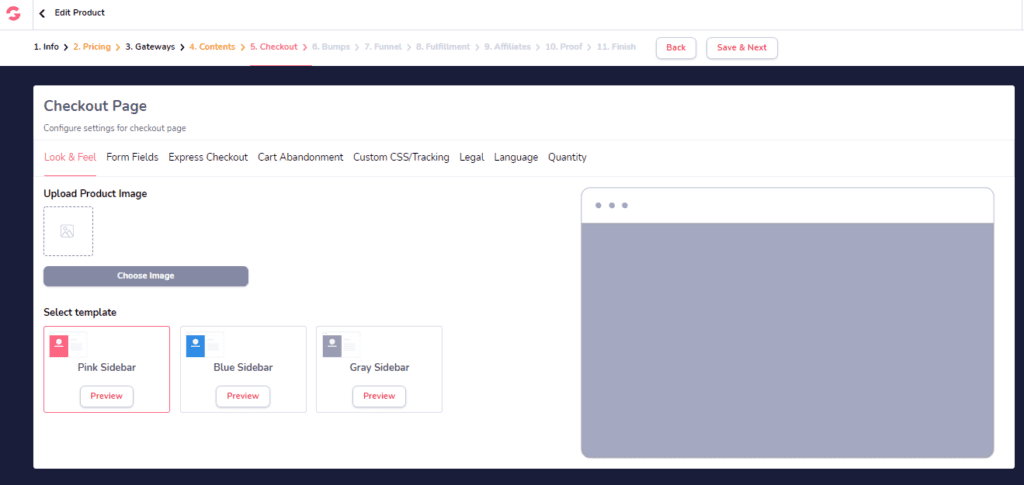 Your Checkout Page would include a couple of customization options, including:
Look and Feel – Add product image, and select a premade template of the product page.
Form Fields – This is where the customer will enter the name, billing address, phone, and so on.
Express checkout – Decide how you want the checkout process to go
Cart Abandonment – How do you want to handle abandoned carts? You can include integrations here.
Custom CSS – Paste codes, scripts, and other custom CSS if you wish
Legal – Set the policy, terms, and conditions, etc.
6. Set a Bump Offer (or Not)
Choose if you wish to activate (or keep inactive) the order bump settings for your checkout page.
7. Funnel: Set the URL where customers will automatically be redirected after purchase
This is the post-transaction page your customers will be redirected to after the transaction. Configure Thank You Page or Upsell/Downsell pages, OTO pages for your sales funnel here.
8. Fulfillment
Configure settings on how the product will be fulfilled. You can set up:
Memberships (if you have already created a GrooveMember membership)
Integrations you want to be added
A new Webhook URL
9. Set up affiliate options


Decide if you wish to activate giving affiliate commissions or not. Your affiliate program must already be set up for this option to work.
10. Create Social Proofs
Pick a social proof you want to be incorporated into this order. If you don't have it yet, you can create a new proof from here.
11. Save and Exit
Congrats! You reached the end of your product configuration. Make sure to save your settings first before exiting the wizard.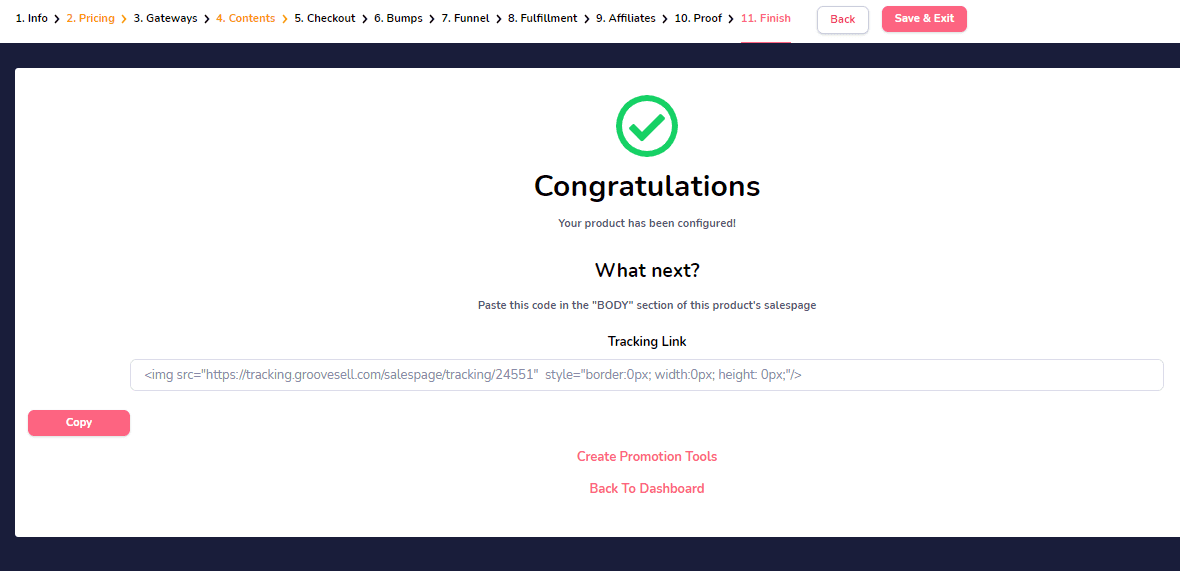 Repeat the step for all your products. Once all your products are set up, the GrooveSell dashboard can now provide you with an overview of all your sales, commissions, profit, and so on. You can see which sales failed (that you can eventually upsell/bump as you please).
GrooveFunnels Support
There are 3 ways you can get support from GrooveFunnels:
Directly from the company – They have an active email (

[email protected]

), live chat (here), and knowledgebase or blog.
Directly from affiliates – Some of the most loyal GrooveFunnels users are affiliates as well, so it's just reasonable to seek answers to inquiries from people who have actually used the suite and are confident enough about GrooveFunnels to actually promote it.
From a VERY active GrooveFunnels Facebook community – For any question about GrooveFunnels, GroovePages, GrooveKart, and other Groove Digital tools, join the Facebook group. It has over 40,000 members who can help you with presale inquiries, specific funnel builder questions, and more.
GrooveFunnels Pricing: How much is GrooveFunnels?
No GooveFunnels review would be complete without getting into the nitty-gritty of cost. So how much does GrooveFunnels cost?
GrooveFunnels pricing is divided into two: free and paid options.
GrooveFunnels Free Plan
The GrooveFunnels free plan may also be called "lite version" or "base plan." This plan gives you access to GrooveSell, GrooveAffiliate, GroovePages Lite.
Once you register for the free plan, you can keep using your account FOREVER. There is no trial period and you don't even need to enter your credit card details. Just use the GrooveFunnels Lite version as you wish.
However, there will be limitations to the GrooveFunnels base plan:
GroovePages Lite only lets you access 1 funnel template, build 3 sites and create 3 funnels with the free plan
All users with a base plan who decide to join the GrooveFunnels affiliate program can only earn a 20% commission of any sales they make.
Base plan users are not allowed to use custom domains.
If you wish to get access to other apps beyond GrooveSell, GrooveAffiliate, GroovePages Lite, you must first activate GroovePages Pro and check out which of the paid or lifetime deal is best for you.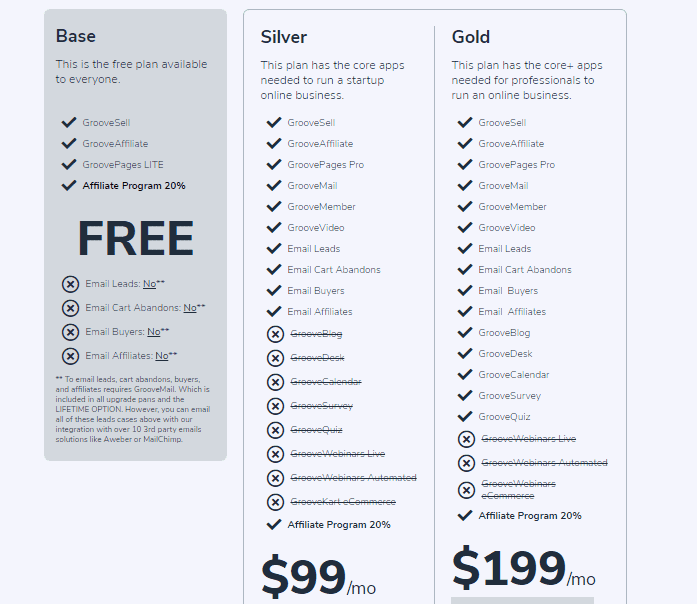 GrooveFunnels Monthly Paid Plans
If you think the free plan is too restrictive, then the monthly plans of GrooveFunnels may work for you.
GrooveFunnels Silver Plan ($99/month)
The biggest deciding factor why users opt for the paid plan is the lifetime access to GroovePages Pro. With the Pro version, users can build as many landing page, sales funnel, and websites as they want without extra charge. It also has unlimited templates ready to use.
Other benefits of the silver plan include:
Featured apps from base plan GrooveSell & GrooveAffiliate
Access to more apps: GrooveMail, GrooveMember, GrooveVideo
Ability to use their own custom domain name
Use GrooveFunnels' free hosting
Email Leads, Email Cart Abandons, Email buyers
20% commission to the affiliate program
GrooveFunnels Gold plan ($199/month)
The Gold plan includes everything in the silver plan, as well as the following apps:
GrooveBlog, GrooveDesk, GrooveCalendar, GrooveSurvey, and GrooveQuizz
GroovePages Pro
This plan is ideal for businesses running multiple sites.
GrooveFunnels Platinum plan ($299/month)
As of December 2020, this plan is not yet available. It will be offered once the Lifetime Upgrade promo is over, probably by end of 2020 or early 2021.
If you choose the monthly GrooveFunnels Platinum plan, you'll get:
All features of the Gold plan
GrooveWebinars for Live and Automated Webinars
GroovePages for Shopify
40% commissions on all referrals for life
Of course, if you can afford the lifetime plan below, I recommend you take it.
Platinum Lifetime Plan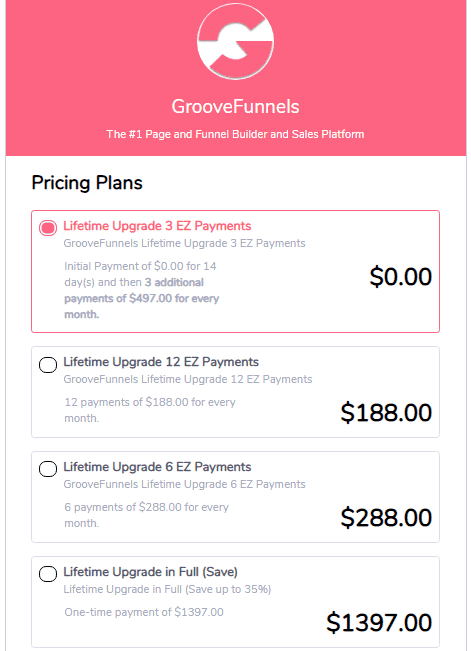 GrooveFunnels Lifetime Deal, the Platinum Lifetime license is available for a one-time payment of $1,397. It may seem expensive, but you have to keep in mind that GrooveFunnels is still in Beta and as you can see from the existing apps and scheduled apps, GrooveFunnels will become a massive suite with all kinds of marketing tools.
The good thing about the GrooveFunnels Platinum plan is that you are given lifetime access to GroovePages Pro and all other apps, services, and products under the GrooveFunnels brand. And whenever the company rolls out new features, you won't need to pay any recurring subscriptions or monthly payments.
Another advantage of paying for the GrooveFunnels Platinum lifetime license is the possibility of earning 40% affiliate commissions on sales (and 10% tier-2 commissions) if you decide to participate in the GrooveFunnels affiliate program.
Note that like most marketing tools, this GrooveFunnels Lifetime deal won't be offered after the official launch. After the beta phase, only the silver plan and gold plan will be available. However, it isn't clear when you can purchase the GrooveFunnels lifetime deal.
The GrooveFunnels Lifetime deal is offered in 4 payment options:
Lifetime Upgrade 3 EZ Payments – Choose this plan and pay $0. After 14 days, your card will be debited $497, followed by a monthly payment of $497 for the next 2 months.
Lifetime Upgrade 6 EZ Payments – Pay $288 monthly payments, for 6 consecutive months.
Lifetime Upgrade 12 EZ Payments – Pay $188 per month, for 12 consecutive months.
Lifetime Upgrade in FULL – You'll save the most (about 35%) if you decide to shell out a one-time payment of $1397 upfront in full.
Other Related Groove Products & Services
Technically, this GrooveFunnels review should only focus on the apps/tools under the GrooveFunnels suite. However, I wanted to let you know that Groove Digital also has other products and services that can easily be integrated with your GroovePages.
GroovePay – a payment processing platform that accepts credit cards and offers 35% less processing fees versus other similar merchant tools.
GrooveAds – let a group of copywriters, internet marketers, and experienced ad executives handle your campaigns for you. This is focused on Facebook Ads, YouTube Advertising, and Google Ads.
If you think the 17+ apps of GrooveFunnels won't make it an "all-in-one marketing platform," maybe the addition of GroovePay and GrooveAds will. Unfortunately, these related Groove Digital tools come at extra cost and there is no guarantee that they will be added to GrooveFunnels in the future.
Overall Thoughts about GrooveFunnels
When I began this GrooveFunnels review, my expectation wasn't so high because I knew that the suite is mostly in the beta phase. But even if there were still missing features, GrooveFunnels already has many things to love.
GrooveFunnels PROs
Built-in apps and third-party integrations – GrooveFunnels try to include every useful app into the suite, so users no longer have to pay for third-party apps. However, this doesn't mean GrooveFunnels would keep you from using them if you prefer to do so. GrooveFunnels can actually integrate with a bunch of tools, from Google services to popular programs like InfusionSoft, Flodesk, Aweber, and so on.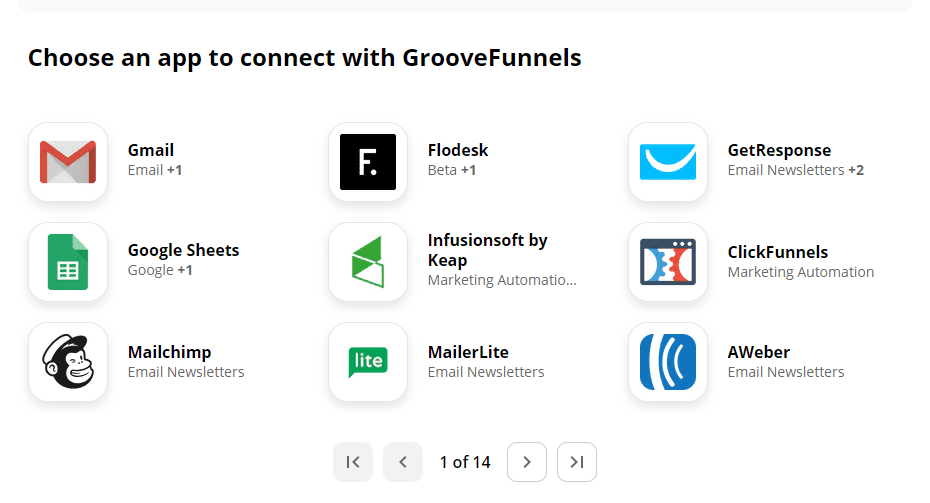 Long-term vision from trusted people in eCommerce – The people who built (and continue to build) GrooveFunnels have created other similar tools in the past. You can actually see it in GrooveFunnels that these experts incorporated the good and moved past the good of their old projects, plus added new things that would herald GrooveFunnels into the future of e-commerce and online business.
User-friendly interface – The funnel builder, pop-up maker, store creator, and all other dashboards within GrooveFunnels are designed to make it as easy as possible for users to explore and utilize.
Save money – If you use many tools with monthly/annual subscriptions, these add up pretty quickly and make up a HUGE chunk of your expenses. If you can switch to GrooveFunnels exclusively and leave other apps, you'll be able to save hundreds (or even thousands) of dollars every month.
GrooveFunnels CONs
I know GrooveFunnels is open about its app development timeline (there's an entire page dedicated to the progress of upcoming apps or updates to existing ones), so I won't be talking about these anymore. I'm sure GrooveDigital is on top of it.
But here are other things I think they should work on:
There is a learning curve – If you're coming into GrooveFunnels with knowledge of how to use other tools, you'll experience some learning curve once you begin working on GrooveFunnels. Meanwhile, those who are new to building their online business could get overwhelmed by the number of apps available in GrooveFunnels.
Missing features in already-released apps – Yes it is still in beta, but some apps may still need cooking before release.
Wrap Up: Is GrooveFunnels legit? Is it Worth Your Money?
As I end this GrooveFunnels review, one question remains: is it worth your money?
To answer this question, here's what I know:
1. GrooveFunnels is legit. GrooveFunnels isn't a pyramid scheme, since it isn't earning money solely from memberships. Instead, the company offers real products and services.
2. GrooveFunnels is a product of many experts in the online marketing/eCommerce field. Mike Filsaime and the team behind GrooveDigital have already proven their expertise in similar tools launched even before GrooveFunnels.
3. GrooveFunnels is still a BETA product, so many features are either still in progress, or incomplete. Whether you register with a free plan or jump right in with a paid plan, you should manage your expectations because a lot of features are not yet live.
4. GrooveFunnels has A LOT OF POTENTIAL as an all-in-one marketing platform. Everyone is excited about GrooveFunnels because if all missing features are completed, the entire GrooveFunnels suite can replace a LOT of other tools such as:
GroovePages replaces ClickFunnels, Unbounce
GrooveMail replaces MailChimp, Active Response, Get Campaigns,
GrooveVideo replaces Vimeo, YouTube, etc.
GrooveSell, GrooveKart & Affiliate replaces Shopify
GrooveMember replaces Teachable, or Kajabi
GrooveVideo replaces Wistia
GrooveDesk replaces Zendesk
Imagine the savings you can get if you're able to replace all other tools with just a single GrooveFunnels suite.
If GrooveDigital succeeds in flawlessly implementing everything into GrooveFunnels, then they can be the Google of eCommerce. For this reason, I recommend everyone to try it out while it is free to register and review all the features you're interested in.
And if you have the funds to take the lifetime deal (which is only available for a limited time), I encourage you to do so, as I'm sure the suite will pay for itself after months of use.