Rytr is an AI copywriting tool powered with a set of tools and services to help you create highly engaging marketing copies in just a few seconds, saving you much time and effort. With only a brief description of your product or topic, Rytr can help you create social media ads, product descriptions, blogs, and even songs.
Aside from its great collection of tools, fast generation of results, and the quality of the results, Rytr also has one of the simplest and most beginner-friendly user interfaces. At a single glance, you'll quickly be able to learn how to make use of the platform. Because it is optimized for mobile use as well, you can take Rytr anywhere and write conveniently on your phone.
Rytr offers a free plan for its users. For each month, you are entitled to generate up to 5,000 characters. For the occasional ads, paragraph rewrites and the like, you can probably get by with the limit. However, to really get the most of Rytr, availing a subscription to Rytr Premium is best.
With Rytr's affordable $29 Premium Plan, you already get unlimited runs and access to its use cases, tones, and languages, as well as priority email and chat support.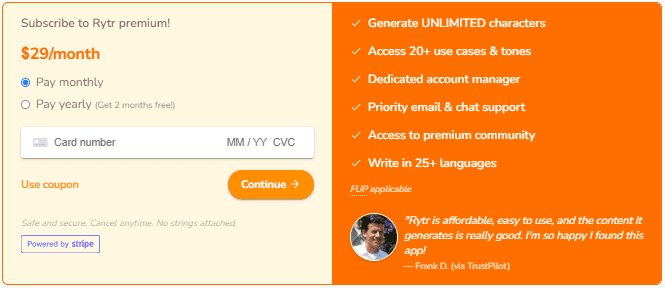 Is Rytr Premium worth it?
Rytr offers a large collection of tools for you to choose from. You can create short marketing copies such as caption ideas, product descriptions, and social media ads or longer types of content such as blog sections, testimonials, and reviews. Rytr can also help you with creating profile bios, Q&A's, emails, and replies to questions to further help you with your business. For more recreational purposes, you can also create song lyrics and story plots with Rytr.
To give you another idea of what Rytr can do, you can choose to use one of the 20 tones for your copy or translate your content into over 30 different languages. With a click of a button, you can also ask Rytr to rephrase, improve, or lengthen your sentences.
There are other AI copywriting services that offer plans for lower prices, but you'll find that most of them make use of a credit system which means that you won't necessarily get unlimited access to the platform. I would say that Rytr's $29 plan is a pretty good deal considering its capabilities, powerful tools, ease of use, and convenience.
With a subscription the platform, you'll never run out of content and ideas for various writing purposes. So, if you often find yourself struggling for words, be sure to check out Rytr's Premium Plan as it gives you great value for your money.