Thinking about what you want to write often takes more of our time than writing itself. Sometimes, we just need someone or something to give us ideas and put us on the right path. Luckily for us, AI-powered copywriting assistants have entered the market. Two of these services are Rytr and Writesonic.
Rytr is dedicated to helping you boost creativity and productivity by creating high-quality copies in a matter of only seconds. To start generating copies with Rytr, you will simply need to choose from Rytr's growing collection of AI tools and describe what you want to write about. Rytr will take care of the rest.
Writesonic also makes use of an AI trained on high-performing copy and is designed to help you create better marketing copy with much less time and effort. With Writesonic, you can create copies in just 4 easy steps: choose a template, describe your product, generate results, and finally, launch your final copy.
Let's see how the two compare to each other.
Functionalities
The following are the types of content that are currently supported by Rytr:
Blog Article and Idea Outline
Blog Article Intro and Content
Business Pitch Idea
Email
Facebook, Google, LinkedIn Ads
Interview Questions
Job Descriptions
Landing Page and Website Copies
Post and Caption Ideas
Product Description
Profile Bio
SEO Meta Description
SEO Meta Title
Tagline and Headlines
Testimonial and Review
Video Descriptions
Along with these, Rytr also offers text editing services such as Append Content, Expand Content, Paragraph Content, Reword Content, and Shorten Content.
For Writesonic, you can choose to use any of the following tools:
Website Copy
Digital Ads Copy
Article/Blog Copy

Blog Ideas, Intros & Outlines

Content Rephraser & Expander

eCommerce Copy
Copywriting Formulas
Other Tools

Company and Personal Bios
With regards to functionality, Rytr and Writesonic are tied. Both services offer just about the same tools—both short forms and longer forms of content, much like other AI copywriting software. Most of us will probably only use the copywriting services, but Writesonic does offer tools that can help you generate ideas for your brand or business so you may want to take that into consideration.
Ease of Use
Creating content with Writesonic is pretty straight-forward. The website has a simple and pleasing look, and its easy to navigate even for beginners. Rytr's, however, is probably the simplest and is even easier to navigate compared to Writesonic.
Rytr eliminates the need for doing much scrolling and clicking of links to get to another window. With one look at your workspace, you'll immediately see all your tools and options in one side of the screen and your output on the other. All tools will be in a single drop-down menu as opposed to having to click on one option to lead to another set of options. Also, Rytr's platform is optimized for mobile use, allowing you to conveniently create copies even when you're on the go.


Writesonic is one of those platforms that don't operate on single windows, meaning that you'll have to click on an option that will lead you to another set of options. It's not that big a deal at all, but compared to Rytr, you will have to do a lot more clicking with Writesonic. Although you are required to click on links, it is very easy to follow and isn't at all overwhelming. No need to worry about getting confused as Writesonic will give you a lot of reminders and tips as you are working and inputting details for your copies.
The first thing you will see in your dashboard is this blank workspace. To see the list of tools and types of content you can create, click on the New Project button.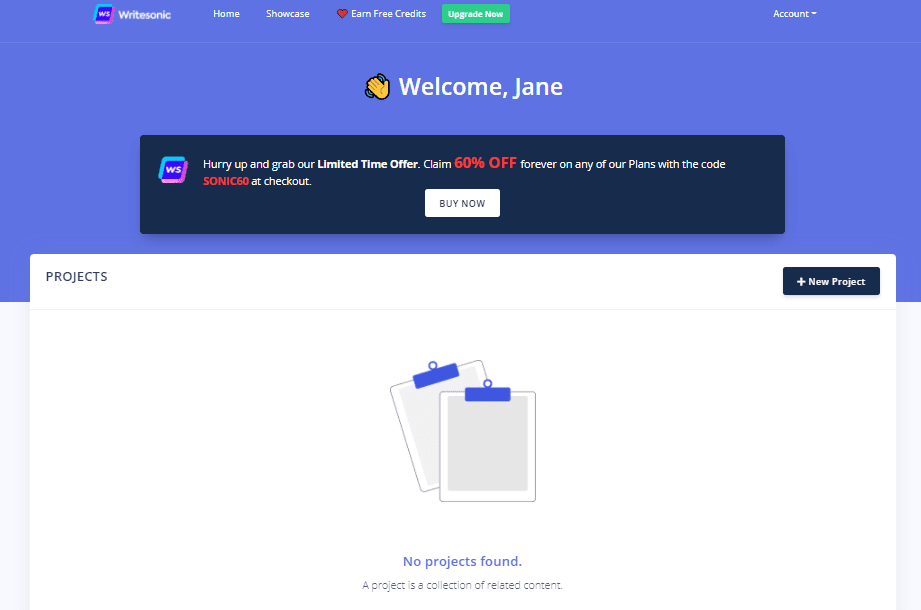 Once you create a new project, you'll be met with a long list of the content you can produce with Writesonic. Once you select what you wish to write, you'll be asked to fill out a form optimized to the needs of your chosen content type. This allows Writesonic to have an idea of what you are looking for.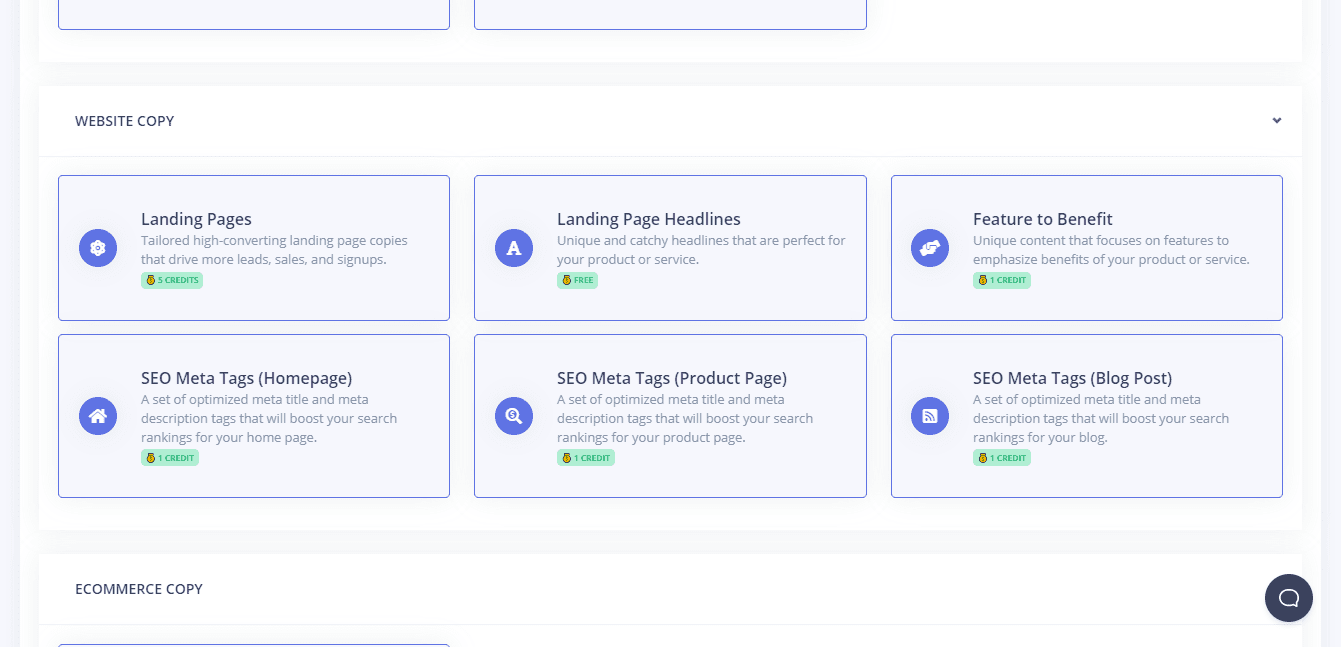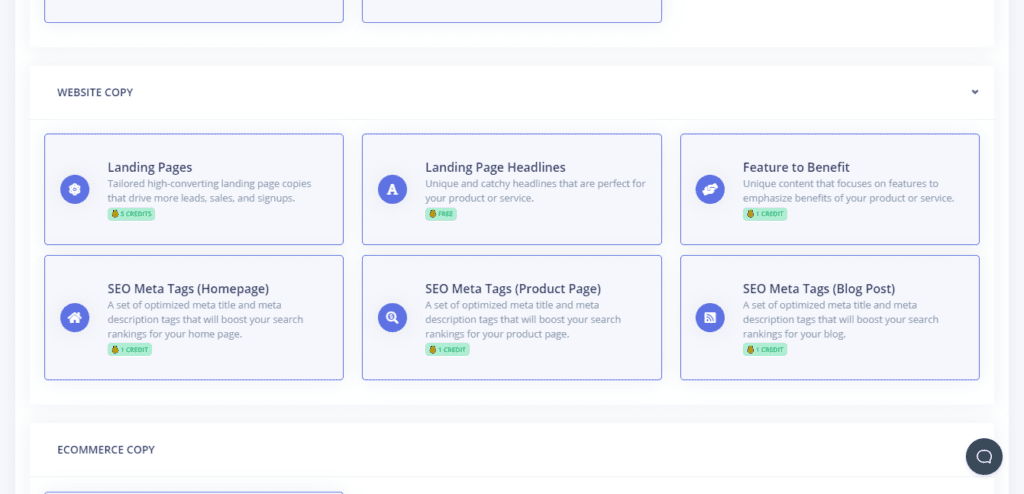 Sample Output
To give you an idea on the quality of their copies, let's go ahead and test out Rytr and Writesonic.
With Rytr, creating copies will only take a few seconds of your time. Simply click on Create a New Document, and select the language, tone, type of content, and the number of variants you would like Rytr to generate for you. One feature of Rytr is that it offers over 20 different tones for you to choose how you want your content to sound like. Aside from the usual Professional and Funny tones, you can choose to create content that is Assertive, Thoughtful, or Worried, as Rytr acknowledges the need for flexibility in content creation.
For Rytr to get an idea of what you want your copy to be about, you will also be asked to provide some key points and keywords. Make sure to be as specific as possible to get the best results.
For this trial, let's say that we are to write an email reminding our subscribers of an upcoming sale. Here's the email template that Rytr was able to come up with.
As shown in the sample, you will be able to see all options on the left side of your screen. On the right side of the screen is where your results will appear after just a few seconds. On top of your results, editing tools are conveniently placed so that you can customize or personalize your copies even more.
As for the resulting email template, I like how the thoughtful tone became evident in the email. I've entered only a very simple key point, but Rytr was able to come up with a decent email in just a few seconds. I do think that it needs a bit more personal touch but putting a lot more thought into your key points will allow for better results.
Now, let's take a look at Writesonic.
To start writing with Writesonic, you will first have to create a New Project and then, select the content you wish to create from their list of available tools. You will then have to fill out the necessary details on the short form to help Writesonic provide you with the most unique results as possible.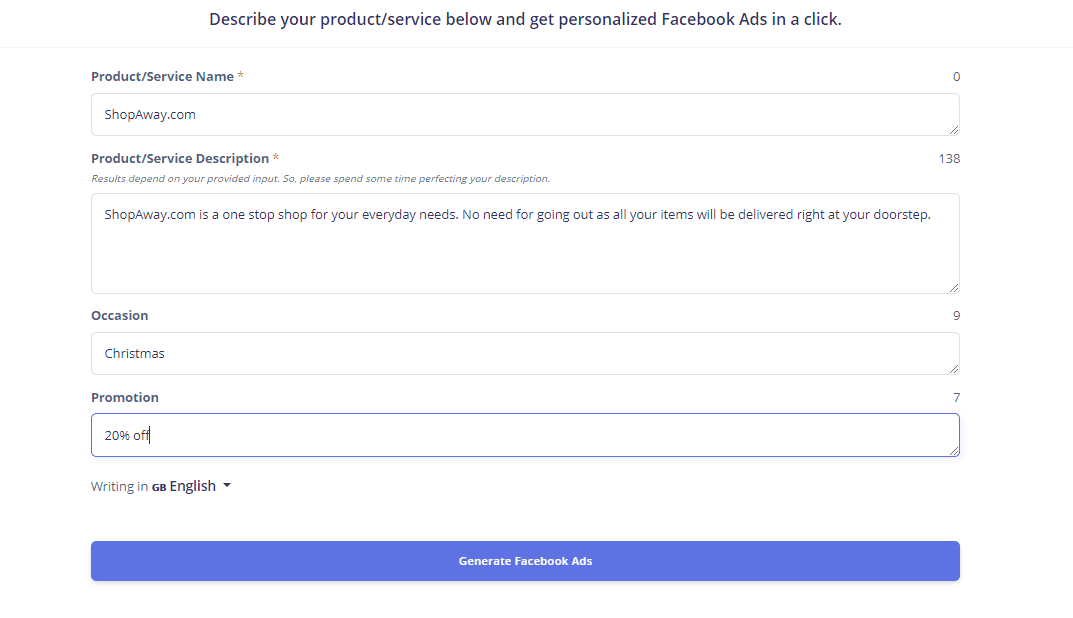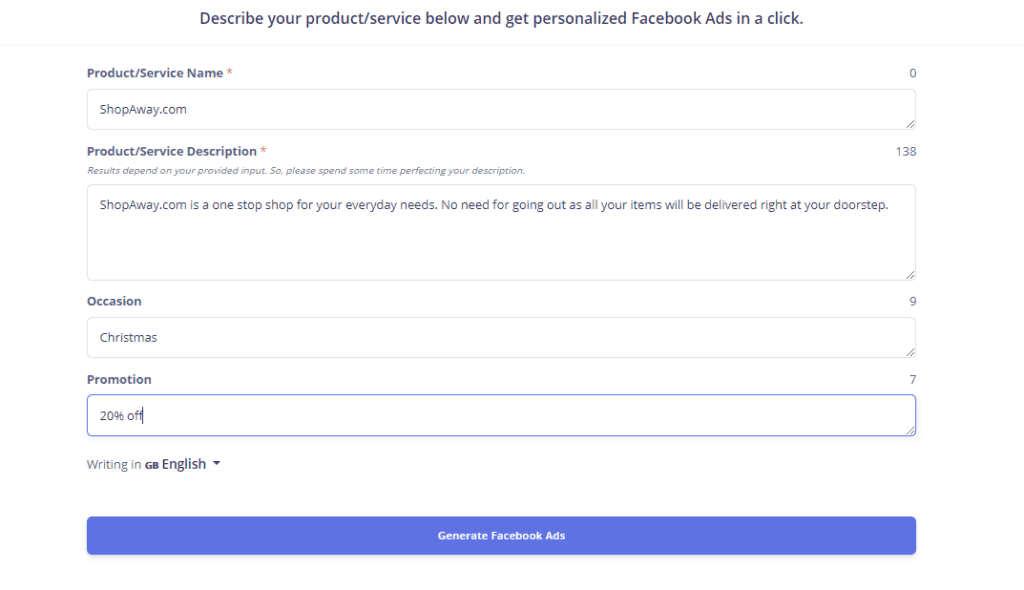 After filling the details, simply click on Generate, and wait for your results. One thing that is different from Rytr is that with Writesonic, you won't have to select how many results you want to generate. It will automatically generate a handful of results in one click. If you cannot find any favorites in that first click, you can always generate even more.
I went ahead and tried generating Facebook ads and here are some of the results generated from my first click: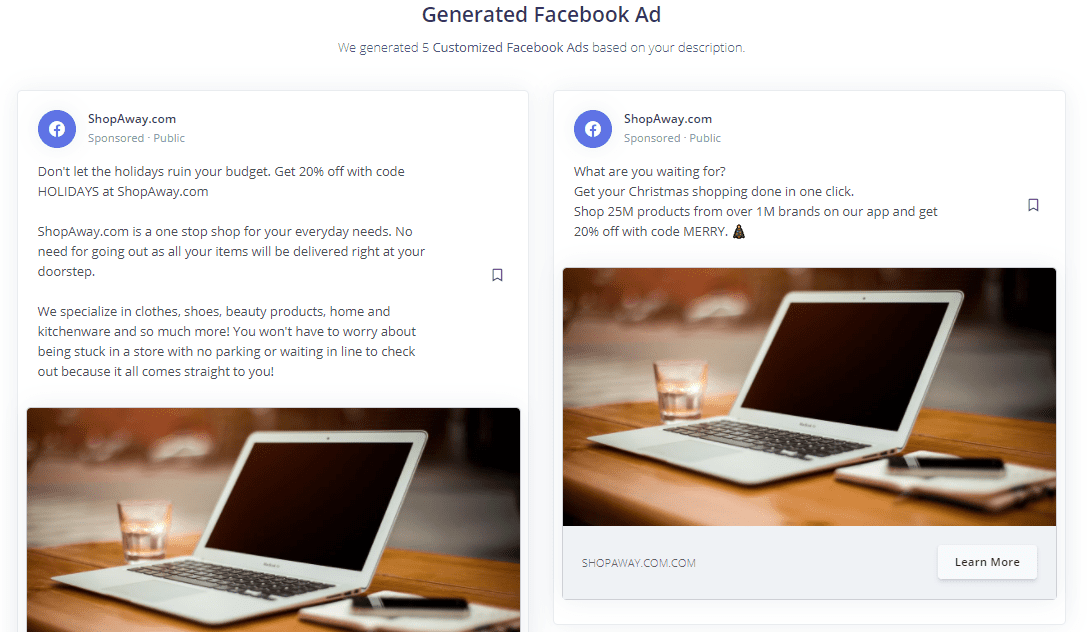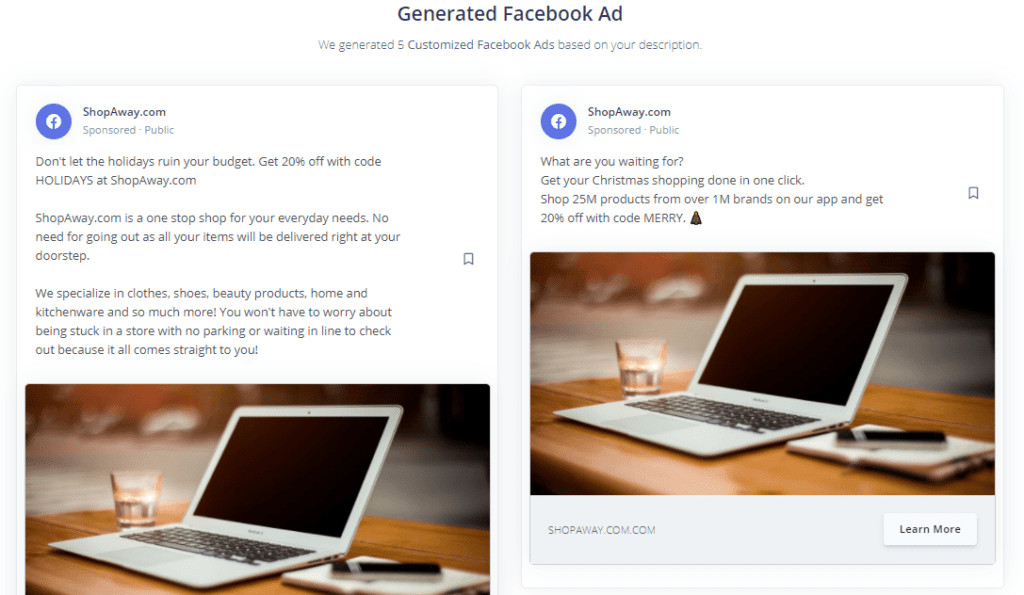 One thing I really liked about Writesonic is how it presents the copies it is able to generate. It really provides you with a peek of how your copy would look like once you use or post it online, which would be a helpful deciding factor for when you are choosing which caption, description, or ad to use. I also think that Writesonic was able to produce good results that can potentially be used online.
One thing I didn't like is that you can't edit your results right away, unlike with Rytr. You will have to download the text files of your favorite copies and edit them on your own.
Pricing
One of the most interesting features of Rytr is that it offers a Free Plan with a limit of 5000 characters per month. With this Free Plan, you will already have access to all of Rytr's tools and use cases, as well as its other services. Although the 5000-character limit may be good enough for the occasional social media ads, it may not be enough if you're looking to create longer forms of content such as blogs and articles.
For $29 a month, you can avail Rytr's Premium Plan with unlimited access to all of Rytr's features.
Writesonic offers 3 plan types—Starter, Professional, and Business.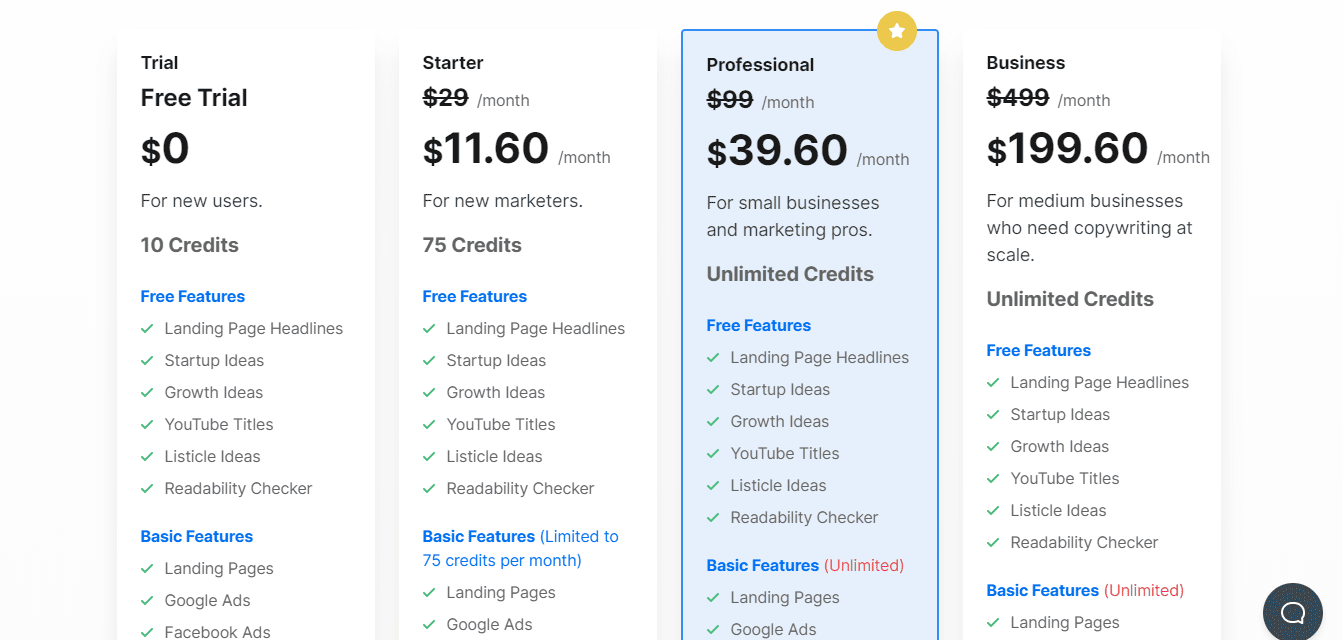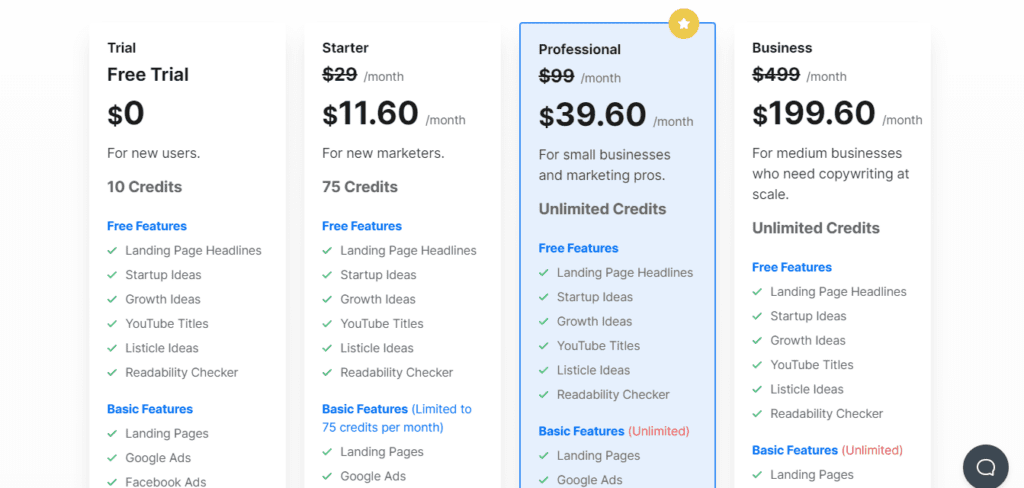 The regular price for a Starter plan is the same price as Rytr's Premium Plan, but with Writesonic, your access to its Basic and Advanced features is limited to only 75 credits per month, and these credits reset every month. If you're not already familiar, credits are sort of like the tickets you use to avail content from Writesonic. 75 credits is 75 clicks of the Generate button. Depending on the amount of times you will need to use Writesonic, this may or may not be enough for you.
If you would like to get unlimited access to Writesonic's features, you can avail the Professional Plan for $99 per month.
Overall, both Rytr and Writesonic are very capable and competitive AI copywriting services that are guaranteed to boost your productivity. However, one stands out when it comes to pricing. For $29, you can avail of plans from both platforms, but with Rytr, you already get unlimited access to all tools and services that it offers. To get unlimited access with Writesonic, it will cost you $99, which is more than three times Rytr's Premium Plan.
Taking into account this pricing, the quality of the copies produced, and the convenience of using the platform, a subscription to Rytr gives you the best value for your money.