Builderall vs Getresponse is probably one of the most heated rivalries in the online marketing octagon. First, let's look at their names. GetResponse is primarily focused on email marketing.
This is a platform you should use to quickly engage the interest of your customers and get a response from them. Builderall, on the other hand, can help you build all you need for your online business, including blogs, websites, video portals, etc.
The list of features of GetResponse spans the following categories: Email Marketing, Landing Pages, Webinars, and Marketing Automations.
You can also use GetResponse to build sales funnels, lead generation funnels, list funnels, or webinar funnels. All these tools help your business grow quickly and steadily.
Builderall is a far more complex platform with more comprehensive features. It offers all of the online marketing solutions listed above, plus the ability to manage and optimize your content quickly and effortlessly.
So, Builderall gives you the email marketing power of GetResponse, plus the ability to build fast-loading webpages and manage their content with ease.
Builderall vs GetResponse Key Differences
Before looking in detail at the key differences between Bulderall vs GetResponse, let's see what their official statements read.
Builderall vs GetResponse: Official Statements
Builderall's staff are committed to offering their customers the best digital marketing platform in the world and amazing user experience.
When you purchase a Builderall account, you can rest assured that that you have the latest technology on your side to help your business grow quickly and steadily.
The guys at GetResponse have developed a comprehensive online tool for your business marketing needs. It helps you create content, boosts your sales, and increase the traffic to your website.
While the content creation capabilities of GetResponse lag behind those of Builderall, the platform offers easier to launch email campaigns and effective autoresponders.
Builderall vs GetResponse: Customer Service
Albeit Builderall boasts an ineffable 24/7 customer service, reaching these guys is easier said than done. I tried to ask them something simple, like if I can close my account at any time without a penalty.
So, I had to first go to their support page, type in my query and, because it was basic, my query automatically became a ticket. Builderall refers you to their 24/7 chat service only if they judge your question as super important. To be honest, ticket forms are processed in about ten minutes.
On GetResponse, all you have to do is type your question in the 24/7 live chat and hit Enter. It immediately reaches a customer support agent who actually reads it and gives you a detailed explanation of the issue, what might have caused it, what you can do to resolve it, or what they are going to do to help you out. It took the agent less than 2 minutes to answer my question.
So, GetResponse wins in this category thanks to their fast and personal customer service.
Builderall vs GetResponse: Landing Pages
On Getresponse, you can easily access the landing page pannel and select one of their templates from the library, or select a blank page. From the same place, you can choose to build a sales funnel, a lead management funnel, etc.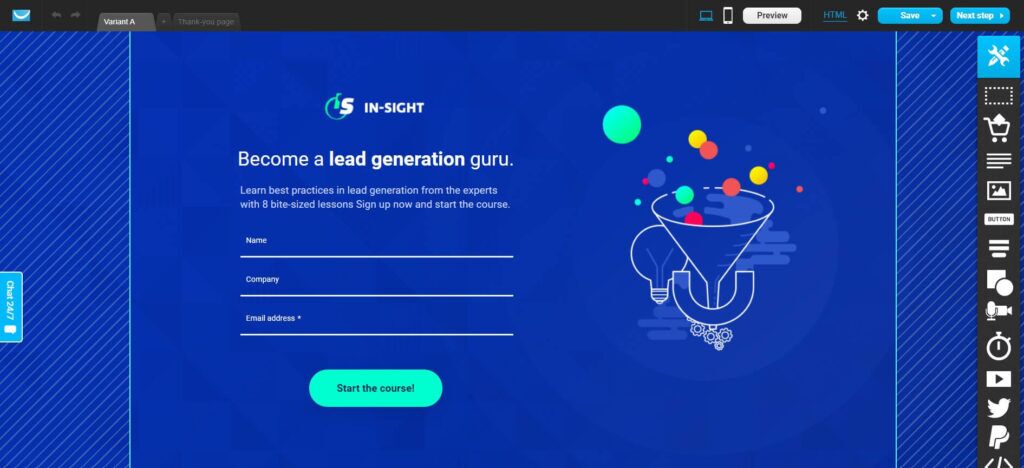 Once you choose a template, you can write a cool and enticing title, use a picture as a background or use the drag and drop editor to add different elements. If you don't like an element in the template, you can delete it just as easily. On the whole, the landing page builder of GetResponse is super user-friendly and intuitive.
On Builderall, you can use pre-designed landing page templates, as well as start creating your page from scratch. But the key difference is that you have more video and audio integration tools at your disposal. Also, you can use Blog templates, as well as one for sales funnels.
Depending on the type of landing page you want to create, you can choose from a number of different builders. Read on to find out more about the page builders that these two marketing platforms offer. The landing page drag-and-drop editor of Buiilderall is also easy to use and intuitive.
However, it also allows you to switch to Mobile View at any time during the page building process and see how all elements stand on a mobile phone's screen. On the whole, the process of removing pre-added elements or editing existing ones takes less time on Builderall. The interface actually resembles that of PowerPoint.
So, if we compare Builderall vs Getresponse in terms of their landing pages, the winner will be Builderall.
Builderall vs GetResponse: Third-Party Plug-ins
Because GetResponse is mostly an email marketing platform, you'll have to use all sorts of third-party tools and plug-ins to get your online business going in the right direction. Sometimes they can cost you more than 200 dollars per month.
In terms of the number of integrations that it offers, Builderall is a much better platform. Its abilities are so vast and comprehensive that they even allow you to integrate forms that you have created on GetResponse into your sales funnel or website you've created with Builderall's Cheetah Website Editor.
Because Builderall can save you hundreds of dollars worth of external tools and plug-ins, it wins the big prize in this category.
Builderall Pros and Cons
At this stage of our Builderall vs GetResponse review, let's take a look at some advantages and disadvantages of our contenders.
Builderall Pros
Builderall 3.0 comes with a really good Canvas Funnel Builder that now allows you to map out your sales funnel by linking different landing pages. You can modify all elements of your funnel with the help of the Pixel Perfect Builder.
The Second thing that most Builderall users seem to fancy is that the platform is constantly evolving. The list of features gets longer every year, which can't be said about GetResponse.
The third undisputed advantage of Builderall is the chance to receive referral incentives. The new BuilderAll 3.0's Business Plan offers a Dream Car Program. It automatically sends you a check for $500 at the end of each month during which you've maintained 100 active affiliates. For 200 affiliates, Builderall will pay you $1,000. That's how you can start saving for your dream car.
Builderall Cons
Tech-savvy online marketers have expressed opinions that Builderall's name can also be interpreted as "Jack of all trades, master of none", adding that none of their tools excels in its class. For example, they split testing tool is no match to the a/b testing powers of some dedicated software like, say, Optimizely. Besides, their MailingBoss can't really compare with the suite of email marketing tools offered by GetResponse.
For all of their fast-loading landing pages, the platform appears to be a bit clunky at times. For example, it has the annoying tendency to open a new tab at every step, even when you log in. More importantly, there are significant delays when switching between your webpages.
They say that their apps communicate effortlessly with one another, but that's not always true. Online marketers complain that they have to learn every new tool that comes out from scratch.
GetResponse Pros and Cons
Having outlined the pros and cons of Builderall, let us now have a look at those of its rival, GetResponse.
GetResponse Pros
Honestly, GetResponse is probably the cheapest email marketing platform out there. If paid for one or two years ahead, their plans become even cheaper.
Few other platforms offer such a vast array of marketing automation tools and marketing segmentation features.
All plans of GetResponse include a landing page builder with decent A/B testing capabilities.
The customer support service of GetResponse is very good.
All products and features of GetResponse come with a 30-day free trial.
GetResponse Cons
Some opinions expressed in authoritative sources suggest that GetResponse's drag-and-drop page builder is a bit fiddly.
The platform does not provide 2-factor authentication at login, which is a prerequisite for security breaches.
GetResponse's evolving curve is rather slow, so you may need to migrate to another platform as your business grows.
Builderall vs GetResponse: Review in Detail
Having outlined the key differences between GetResponse and Builderall, as well as the strong points and disadvantages of each email marketing platform, let us now look more closely at their key features and tools.
Landing Page Builder
GetResponse's landing page editor works in three main directions: contact list growth, sales funnels creation, and webinar promotion. All three features are aimed at turning your landing page into a self-sustainable business. In the library, there are many different templates to choose from, depending on the kind of your business.


There, you can find free photos from Shutterstock and cute gifs from Giphy that'll make your page even more engaging. All templates are fully customizable and also allow you to integrate videos from Wistia, Vidyard, YouTube, and Vimeo.
The opinions expressed on the drag-and-drop editor's ease of use vary widely. Some users find it too fiddly, while others swear it's the most intuitive and user-friendly editor they've ever used. On the whole, it isn't very complex but still does its primary purpose fairly well.
By comparison, Builderall offers several editors depending on the kind of page you'd like to build. You can find them on the left of your page building screen. These include the Drag-and-Drop Pixel Perfect Editor, the Drag-n-Drop Responsive Builder, The Mobile-First Drag-and-Drop Builder, and the App Creator.
Of these, the Mobile Builder and the Pixel Perfect Editor are easier to use and more reliable, while there's still room for improvements in the Responsive Builder of Builderall. However, the Responsive Builder offers more sales funnel templates, while the Pixel Perfect Editor is better at website building.
Because GetResponse offers just one basic landing page creator vs Builderall's four, the latter platform scores a decisive victory in this category.
Sales Funnels
To build a sales funnel on Builderall, you need to employ the following tools: the Builderall Canvas, the Cheetah Drag-n-Drop Editor, and the Email Autoresponder, aka MailingBoss.
On the Canvas, you can select the type of funnel you'd like to build. When you have arranged the different building blocks of your funnel in the order you want them to appear, you can switch to the Cheetah Builder and select "Build New Website".
It's a good idea if the title matches the one on the Canvas. You can build the site from scratch, or use one of the pre-loaded templates. Every segment of the sales funnel is built as a separate webpage.
The Cheetah Builder automatically adjust the sites' mobile versions, so you needn't worry about that. Once you're done with the page set up, you should go to the MailingBoss to configure your email list. You can either import or create one.
The MailingBoss actually configures your webpage to work as a sales funnel, but this is a multi-step process that involves coping codes from one tab into another on several occasions.
Overall, it takes 15 minutes to set up an email marketing funnel on Builderall, if you know what you are doing. If you don't, it can take much longer.
The same process on GetResponse starts with the Create Funnel button. The name of your funnel will be the product or service you are promoting. The new sales funnel integrates the following PayPal, Stripe, PayU, and BlueSnap.
Here it should be mentioned that you don't need to work in three separate tabs to create your GetReesponse funnel and the whole process appears to be pretty straightforward and easier to complete.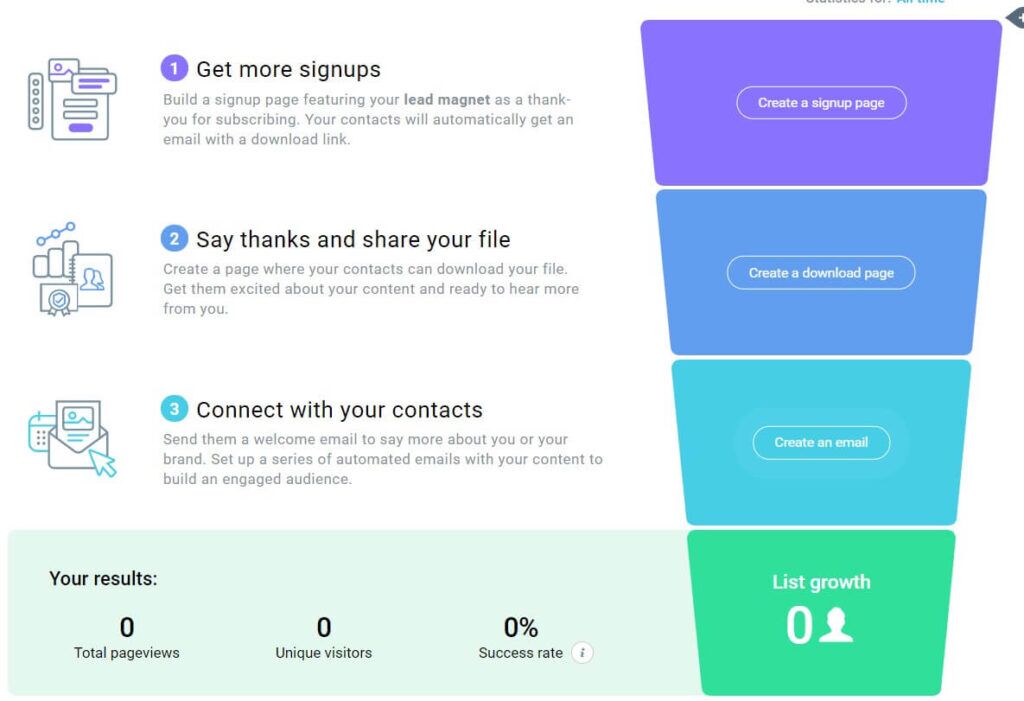 Even if the funnels of Builderal have more functions and features, those of GetResponse are faster and easier to build. So, the clear winner in this category is GetResponse.
Email Marketing
The main email marketing tool of Builderall is called MailingBoss and is part of the platform's BackOffice. The number of email marketing tools that you get access to depends on your plan.
For this reason, I recommend the plans from Builder upwards. In the MailingBoss bundle, you can find social media broadcasting tools, a Data and Optimization suite with decent split testing capabilities, and an Autoresponder Service.
To start using the MailingBoss, you should first open an account. That's strange, considering the fact that you already have a Builderall account.
On the whole, the process takes less than two minutes, but the fact is that MailingBoss behaves like an app that's external to Builderall.
The main drawback we encountered while testing the email marketing functionalities was they do not communicate very well with their other apps. The fact that Builderall's list of features is growing all the time only exacerbates the problem.
On the other hand, GetResponse is all about email marketing. And this becomes especially obvious when we compare the email campaigns and templates of the two platforms.
Not that Builderall does not have a rich library, but those offered by GetResponse are easier to manage, edit, and scale up or down.


And while Builderall tries to impress the user with their paraphernalia of different tools, GetResponse relies on just four: Autoresponder 2.0, Email Editor, a split-testing tool, and the RSS to Email feature.
The last one automatically sends out alerts to your followers and leads whenever you post something new on your page. The a/b testing capabilities of the two platforms are roughly equal, GetResponse's email editor is far more efficient.
It allows you to edit HTML code and preview your messages before sending them. But what casts the final blow on Builderall's MailingBoss is the spam checker tool. No online marketer ever wants their emails to end up in their lead's spam folder, right?
So, GetResponse's Spam Checker makes sure that the emails you sent out are not recognized as spam.
In the Builderall vs GetResponse contest, the latter platform definitely outclasses its rival in the email marketing field.
Pricing
In terms of pricing, the Builderall vs Getresponse competition is especially heated.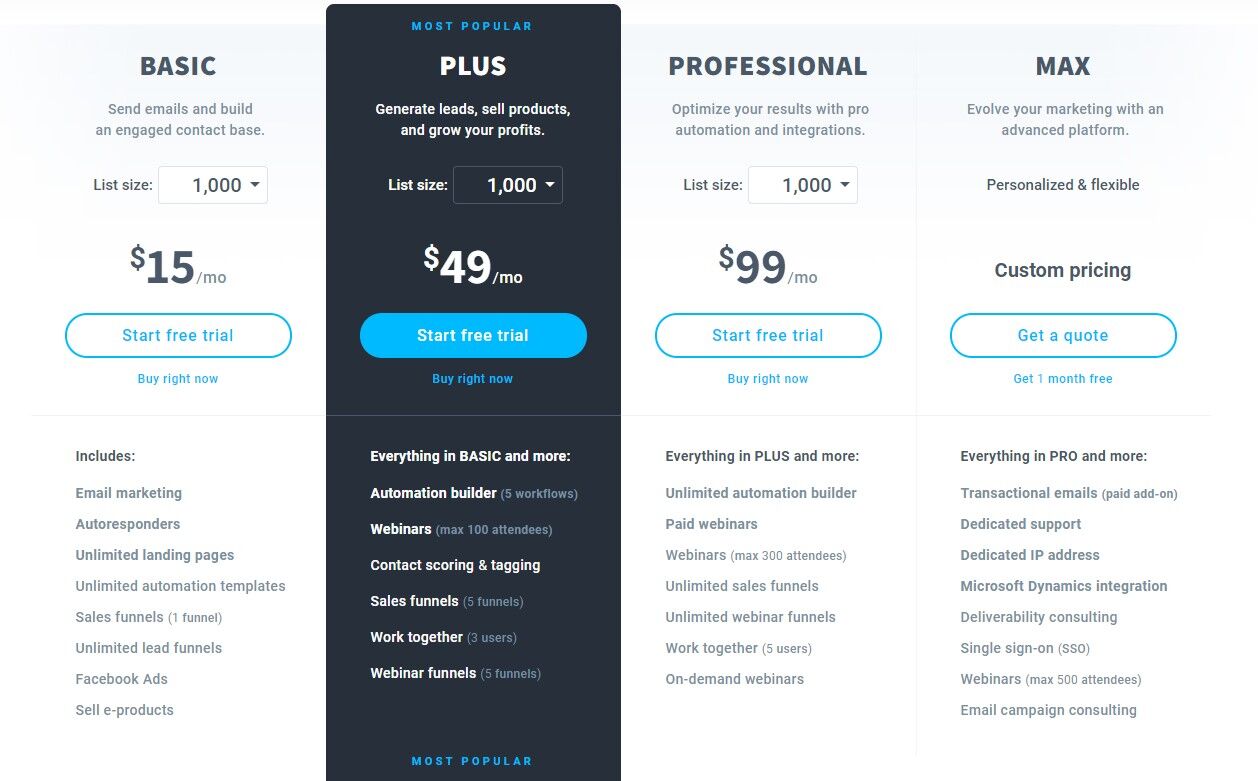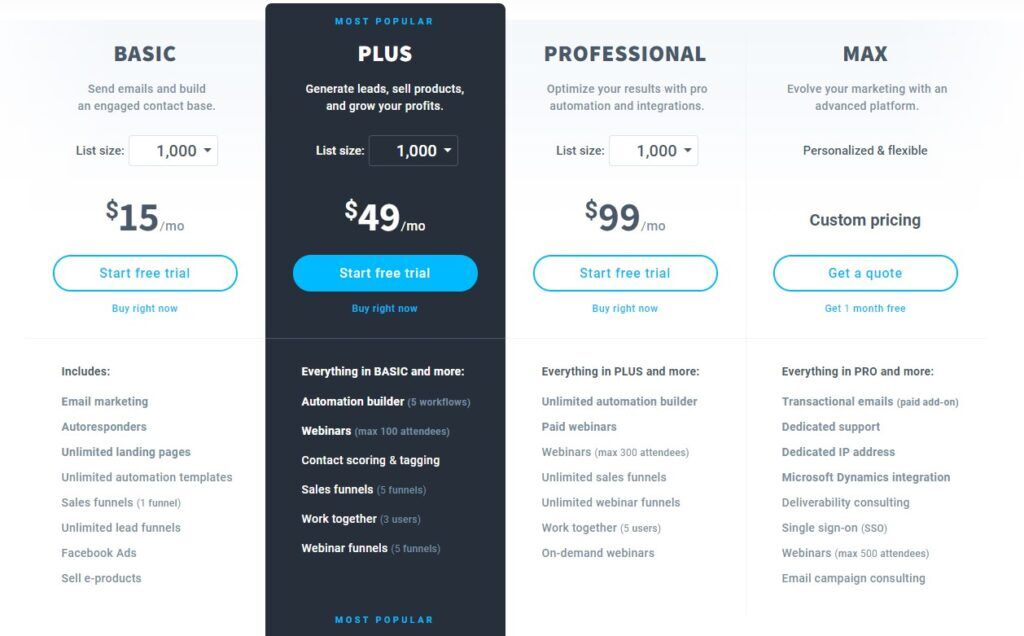 GetResponse offers four pricing options and each of them includes a free trial. The Basic Plan costs $15 per month and includes one funnel, one e-store, Facebook ads, as well as an unlimited number of lead funnels, automation templates, and landing pages. With it, you can also get access to the Platform's email marketing tool.
The most popular plan of GetResponse is called Plus. It costs $49/mo and includes everything in the basic plan, plus five automated workflows, webinars with up to 100 attendees, five sales and five webinar funnels, and three connected accounts.
GetResponse Professional costs $99 per month and offers everything from the Plus pricing option, plus the ability to launch paid and on-demand webinars, as well as ones with up to 300 participants.
There's no limit on the number of sales and webinar funnels or marketing automations you can create. You can also set up 5 connected accounts.
All of the above plans cost 18% less if pad for one year and 30% less if paid for 2 years.
The price of GetResponse Max is negotiable. This premium plan includes your very own IP address, state-of-the-art email marketing solutions, VIP customer support, and free one-to-one consultations that cover every aspect of your online business.
None of Builderall's four paid plans includes a free trial, but the platform offers a free plan with the following functions:
Cheetah Drag-n-drop Builder
Unlimited subdomains, impressions and membership areas
Affiliate sales checkout
Upsells, bumpsells, and downsells
Desktop and mobile page loading accelerator
Countdown and scarcity timers.
The Free Plan also comes with 1 GB of disk space, support tickets, three websites, and up to 100 subscribers, but it does not include any domain connections or split-testing capabilities.
With Builderall's Builder Plan you get access to three domain connections, support via tickets and live chat, 100 subscribers, and 2 GB of disk space for $19.90/mo. All plans from Builder upwards include a/b testing capabilities.
Builderall's Marketer Plan costs $29.90/mo and provides everything in the previous two plans, plus 5 connected domains, 5 GB of disk space, 5,000 subscribers, CRM tools, SMS marketing, and Builderall's Telegram Automation tool.
The Essential Plan costs $49.90/mo and offers 15,000 subscribers, 10 domain connections, 10 GB of disk space, everything in the previous plans, plus a messenger bot and a website bot.
The Premium Plan of Builderall costs $69.90/mo and includes everything in the Essential Plan, plus an unlimited number of subscribers, a list import function, and access to the Funnel Club.
The list of premium tools continues with a 3-click WordPress integration, Builderall's Magazine & E-learning platform Creator, tools for live streaming on YouTube and Facebook, and the exclusive Magento Commerce app.
Because Builderall's plans do not get cheaper if paid in advance for a year or two, and because none of them offers a test period, the winner in the Pricing Category is GetResponse.
Builderall vs GetResponse: CRM Tool
Before we pass our final verdict in the Builderall vs Getresponse rivalry, let us have a look at the CRM functions of the two platforms.
Builderall's plans that include CRM capabilities are Marketer, Essential, and Premium. Make sure to enable the CRM function of the website you create with the Pixel Editor so as to be able to manage leads from them.
The CRM assistant of Builderall enables you to set different incentives and alerts for the different steps a lead takes on your page. You can also rearrange the order of the steps according to your business vision.
Each action like opening a link on your page will bring the visitor different lead points. Again, the whole process of lead management is comprehensive and very technological but takes many mouse clicks and tab switching to complete.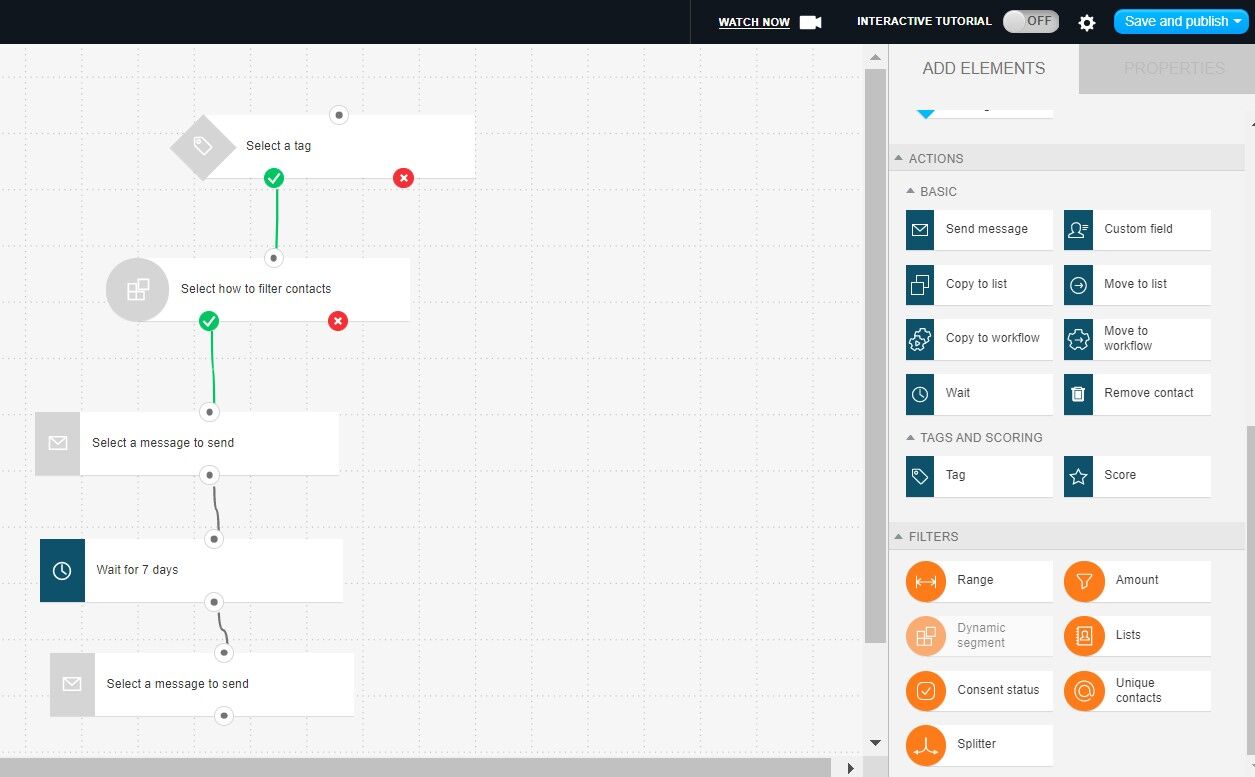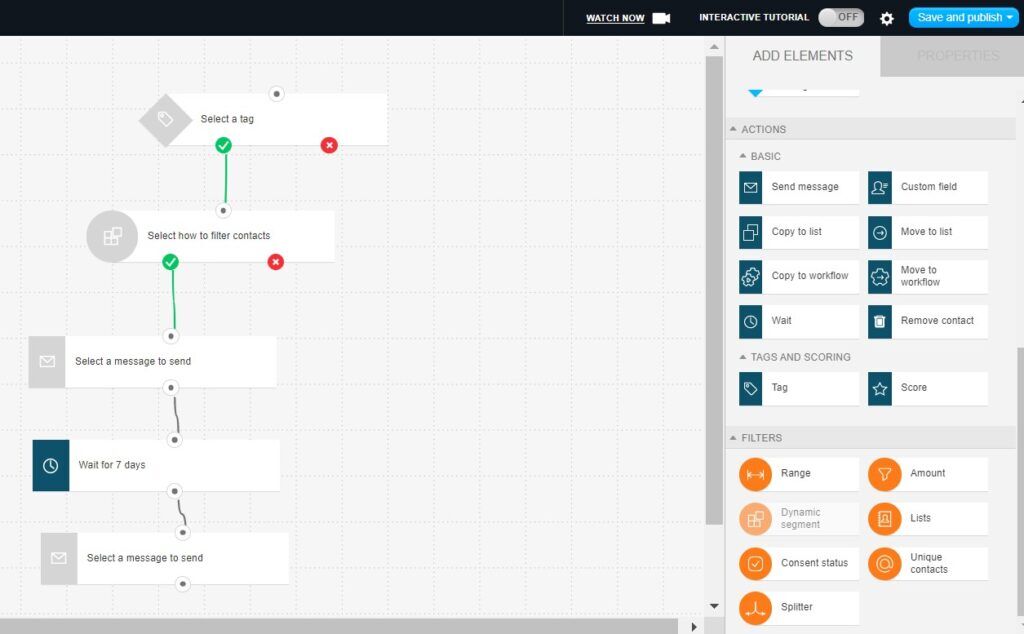 By contrast, the CRM tool of GetResponse is far easier to use and turns leads into customers with a minimum number of clicks. The CRM Dashboard is eye-friendly and the available apps are neatly organized according to their functions.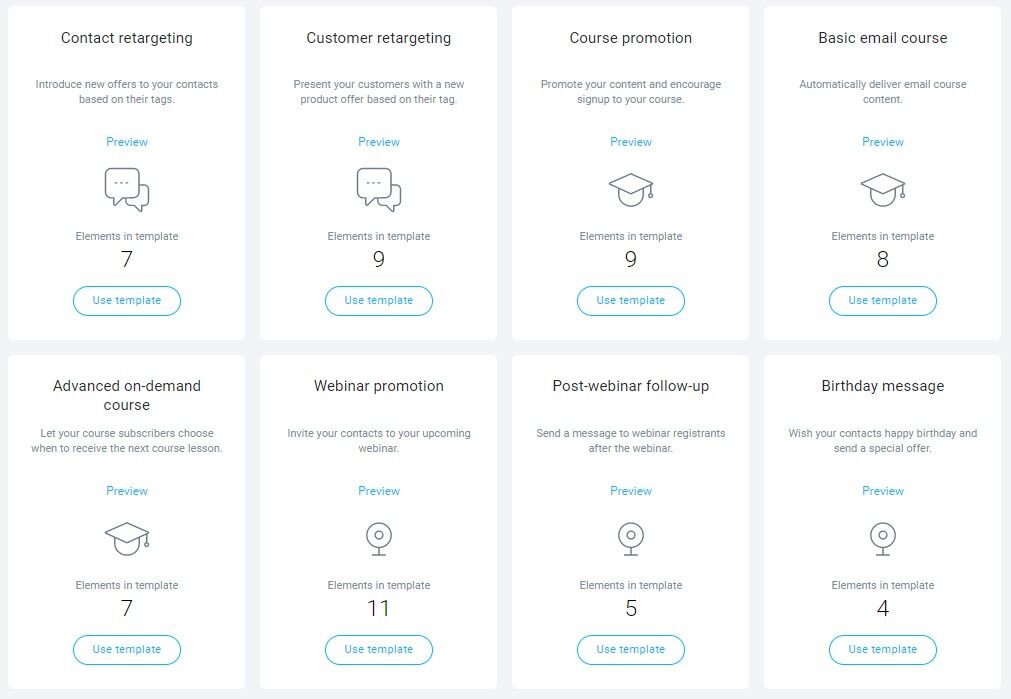 Here, again, we can see the seamless communication between the CRM tool and the other native apps of GetResponse in action.
So, at the final stage of the Builderall vs Getresponse competition, the winner again is GetResponse!
Final Verdict
Builderall is your platform if your business involves blog writing and content management. For this purpose, you can take advantage of their multi-functional page editors and the WordPress integration that is available in their Premium Plan.
Because of its efficiency, user-friendliness, and effectiveness, the winner in our Builderall vs GetResponse head-to-head comparison is Getresponse.
It does not offer as many functions and apps as Builderall, but the ones that are provided communicate seamlessly with one another and create a stress-free user-experience. And if you scroll up, you'll see that GetResponse has only three cons.