Being a content creator is no easy task. You need creativity, time, and a lot of effort into everything you release to your audience— from brainstorming ideas to the actual implementation of those ideas. What happens during those days when you can't seem to think of anything good?
Content marketing services such as Quuu are designed to help you save time thinking about new ideas to share to your social media followers.
How exactly does it help you?
WHAT IS QUUU?
Quuu is a content curation tool designed for social media. With the help of Quuu, you'll be sure to have the freshest and most relevant content to share to your followers, allowing for you to maximize your views and engagement on social media.
WHO IS QUUU FOR?
Quuu is designed to service anyone who needs a bit of help in brainstorming ideas for relevant and engaging content, and those who wish to grow their social media profiles. This is perfect for aspiring content creators and small online businesses who need a bit of a boost!
FEATURES
Quuu boasts 6 main features that are sure to help you grow and boost your social media presence.
Discover
Quuu isn't just an AI marketing tool. It is a community of creators and consumers, just like you, who are brought together to share and exchange relevant content across 500 interest topics. With Quuu, you will be able to follow your favorite creators, submit your own content and explore content in a beautiful reader.
Hand Curated
Quuu guarantees that you'll get the best and trusted content suggestions to fill your social media profiles. Quuu will provide you with hand curated suggestions just for you. You have the option to connect to your favorite social media scheduling tools and share content from over 500 topics in an automatic or manual mode.
RSS Feeds
There's so many topics to choose and explore with Quuu. Find any feed or newsletter that catches your eye and subscribe to be updated of the latest content, trends, and other news.
Read Later
With Quuu's Read Later feature, you can save articles, videos, and other newsletters from anywhere online and read or watch them later from any device. Quuu serves as your own online space full of everything you can't wait to learn. Quuu automatically categorizes your saved files to keep things organized. You also have the option to download their free browser extension for more convenience.
Reader Mode
Reading content is made more enjoyable and convenient with Quuu's Reader Mode. Along with a distraction-free web reader, you can also make use of Quuu's text-to-speech and customization options.
EASE OF USE
Although Quuu offers a lot of tools and services which may sound a bit complicated at first, you'll find that the platform is easy to use and will be quite enjoyable to explore. Once you sign up and get into your account, everything is pretty straight-forward. Simply click on the tabs on the menu to navigate Quuu's different features. From there, take your time exploring the different ideas and content you can get from the platform.
Another interesting thing to take note is that Quuu enables Night Mode which allows for a much convenience as you scroll through hundreds of content ideas.
PRICING
Quuu offers the following plans for you to enjoy: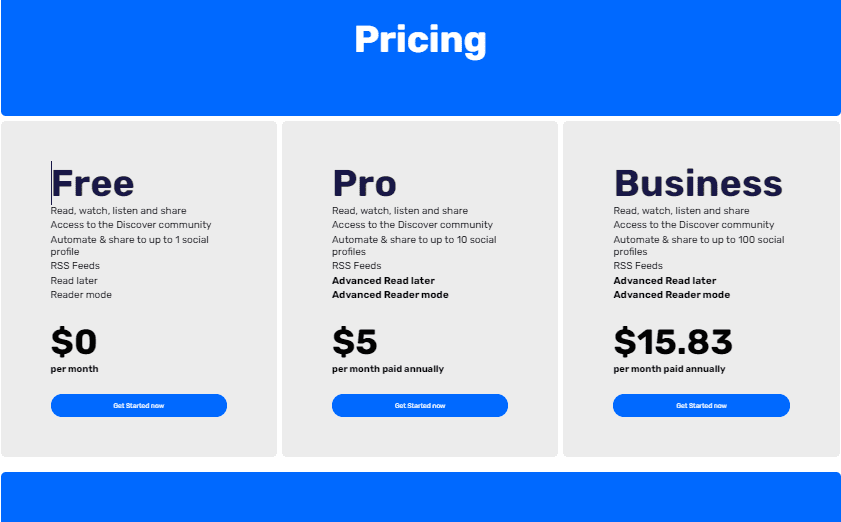 To get access to Quuu's hand curated content, Discover community, RSS Feeds, and so much more, you won't even have to pay a cent. With this Free Plan, you can already read, watch, listen, and share content as much as you want. The only catch is that you can only automate and share to 1 social profile. If you're just starting out and simply looking to explore content, you'd probably get more than enough with the Free Plan.
Should you wish to automate and share to more social profile, you can opt to avail Quuu's larger plans for affordable prices. A Pro Plan gives allows you to share to up to 10 social profiles while a Business Plan allows you up to 100 social profiles. Priced at $5 and $15.83 annually, along with the hundreds of content ideas you get with the platform, you'll be getting really good value for your money.
REVIEW IN DETAIL
To give you a more in-depth look at what Quuu has to offer, here's a short run through of what you'll be seeing once you sign up to the platform.
Signing Up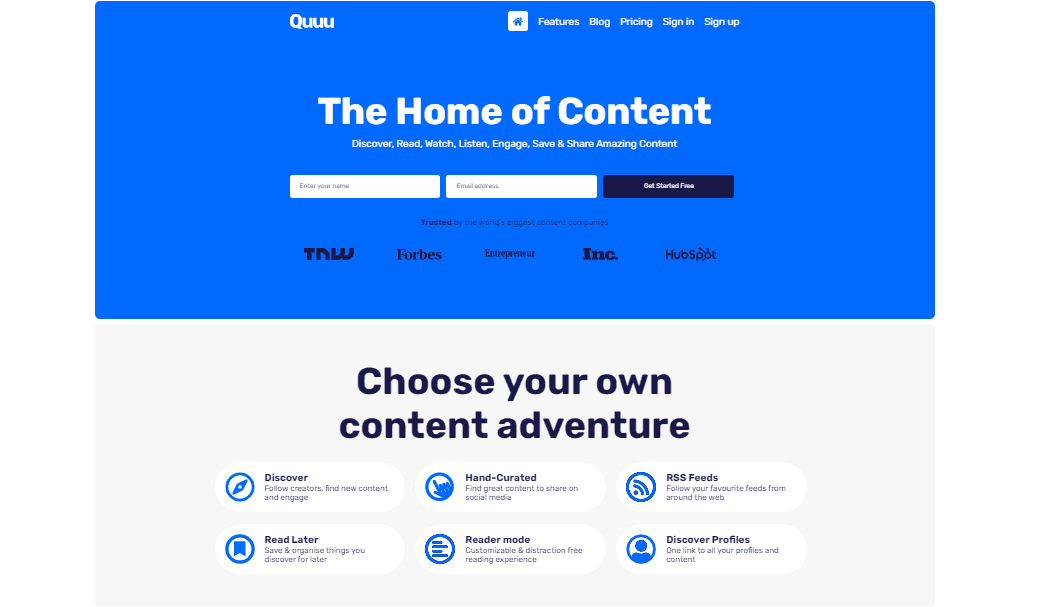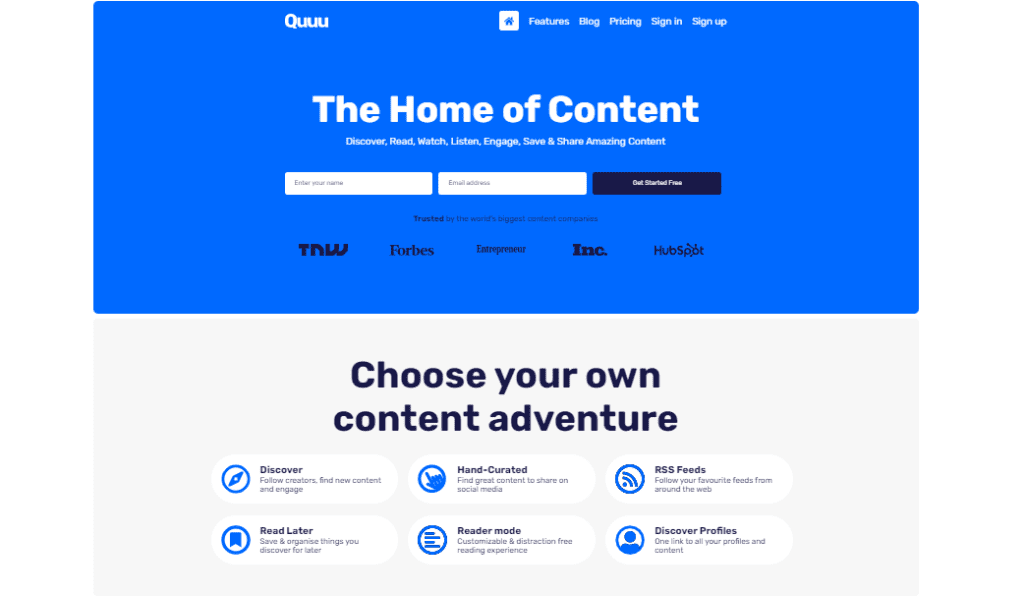 Quuu's landing page is a brief description of all its tools, features, and plan options. With a quick scroll of their page, you will already get to learn all about Quuu. By clicking on the Features tab on top of the page, you'll be able to read more about every feature the platform has to offer.
Signing up to Quuu won't take a lot of time. Simply enter your name, email address, and select a password for your account to get hold of its free plan. Quuu will then ask you about what you want to do for it to personalize your experience with the platform. Among the things you can do with Quuu are to share hand-curated content, share your own content, browse through RSS feeds, join a sharing pod, and engage with a community.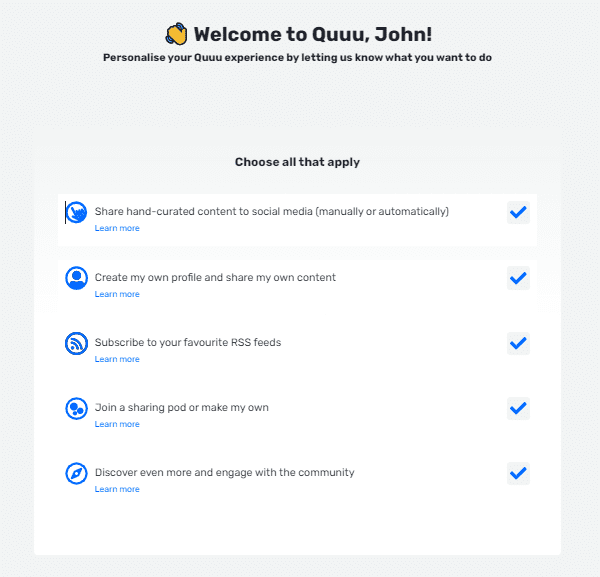 To enable hand curated content, Quuu will give you two options on how you can receive suggestions. You can opt to connect your social media profiles directly, or you can use third party scheduling tools.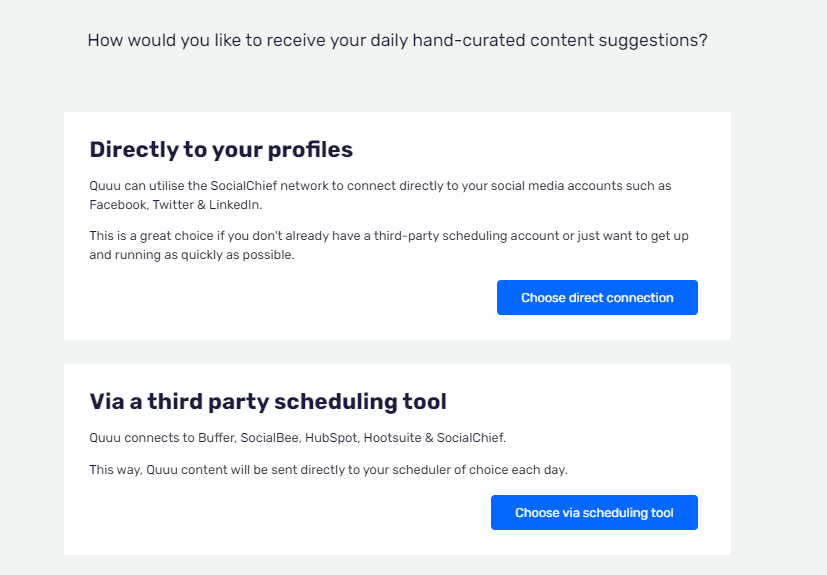 For direct connections, you can choose to connect any page or profile of yours for the following social media platforms.
The third-party scheduling tools currently supported by Quuu are the following: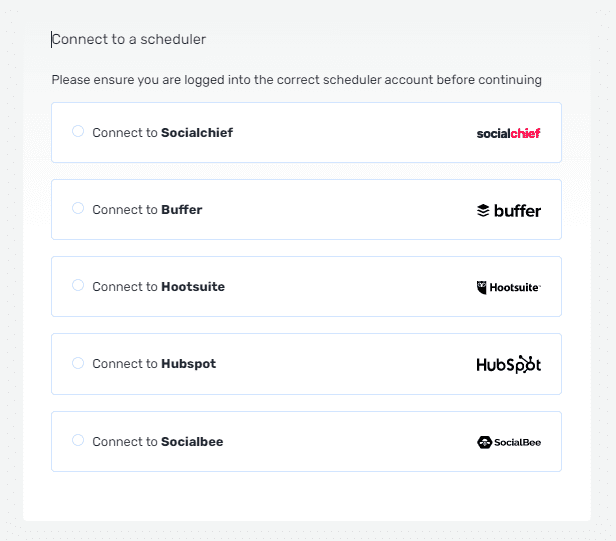 Dashboard
Once you finish setting up your account, you will then be taken to the Quuu platform itself where it's pretty much up to you to explore. On the top right part of your screen, you'll find 5 main tabs representing the Quuu's features— Hand Curated Content, RSS Feeds, Pods, Discover, and Read Later. You'll also find the Notifications button, as well as More Options to access and edit your account.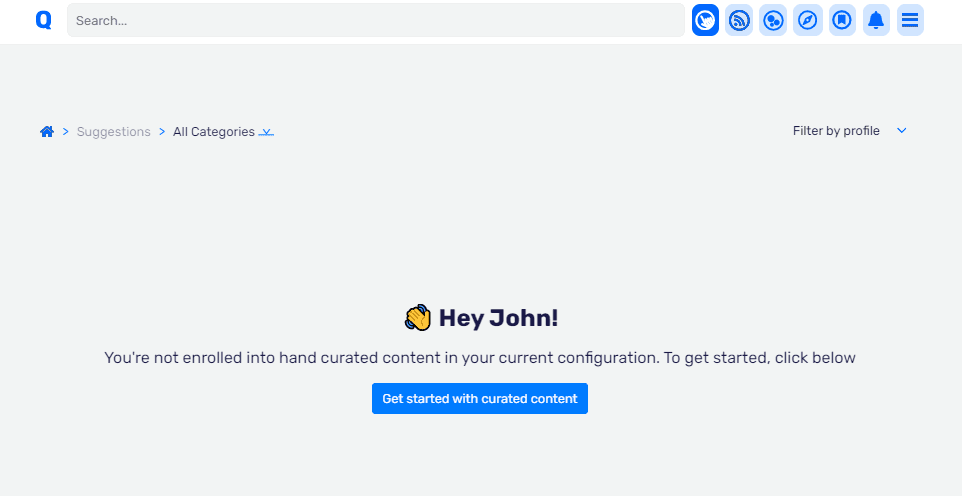 Clicking on the More Options button will open a list of settings, and it is also where you can switch to the web app's Night Mode.

Start Exploring
Now, let's go back to our main menus. First off is the Hand Curated Content window. Again, to enable this feature, you will have to link your Quuu account to a social media account or a third-party scheduling tool. Simply follow Quuu's instructions for linking your account and you'll be set to receive personalized content any time you please.
Next, we have the RSS Feeds where you can read about all your trusted publications and blogs in one place. With this convenient feature, you can keep up with the topics and latest trends you care about. You'll find all sorts of umbrella topics under this window, from health and fitness feeds to motorsports and auto mechanics.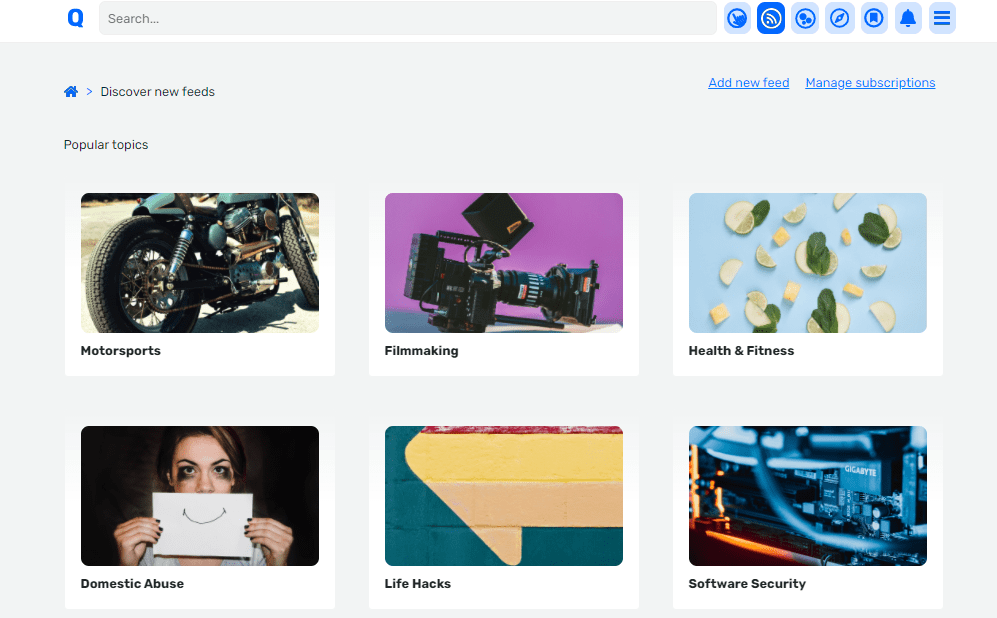 Once you select an umbrella topic, you'll be given results for various feeds that you can subscribe to. As an example, I selected the Freelancing topic and here are some of the feeds suggested to me by the platform. This allows you to optimize the kind of content you are met with as you scroll through Quuu. If you're feeling more adventurous and want to branch out from your usual reads, this is also a great way to find new things that would capture your attention.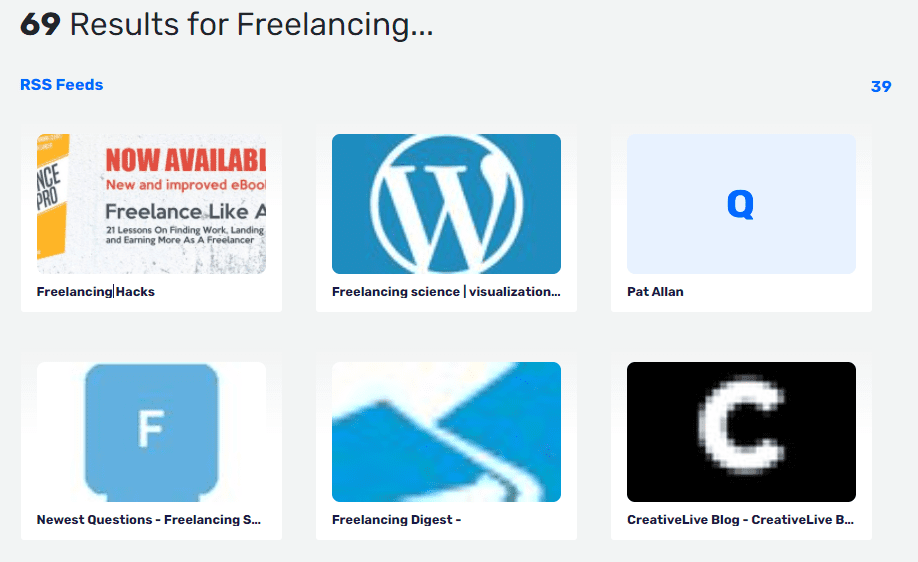 The Pods tab will take you to Quuu Pods where you can create and share your own content with friends, followers, and colleagues. This gives you the opportunity to create and be a part of a community of people with the same, likes, interests, and niches. This feature brings you closer to those communities and allow you to brainstorm and send ideas back and forth.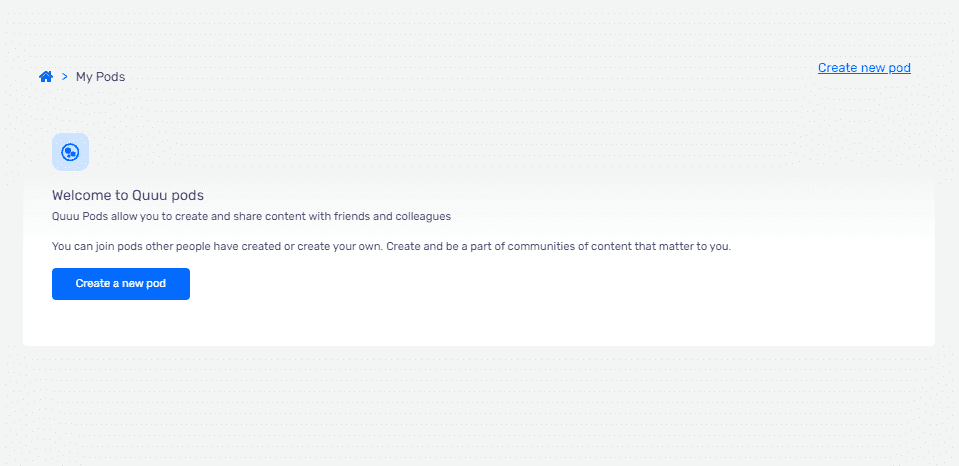 Clicking on the Discover tab will bring you to a space where you can follow creators and find new content. Much like with the RSS Feeds, you will find a lot of articles and creators focusing on almost every topic under the sun. With this feature, you'll be able to catch up with the latest content from your favorite creators and continue to discover new ones.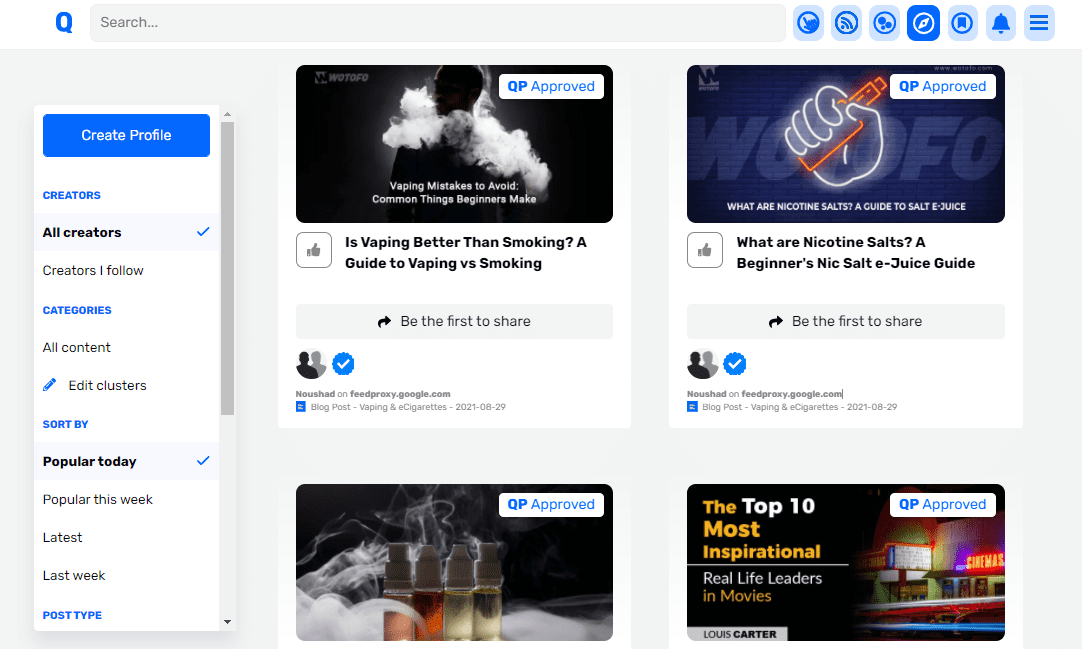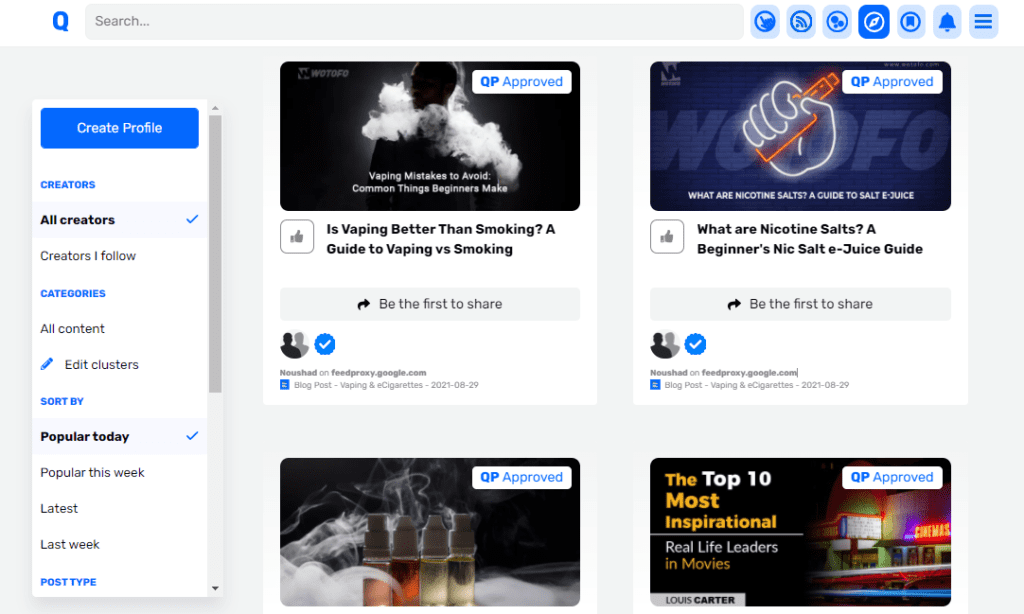 The last tab for Quuu is the Read Later tab. Everything you want to save for later will appear in this part of the platform, making it convenient and organized for you. Never miss out on worthwhile reads with the help of this feature. Quuu makes the experience even more convenient with their Chrome extension.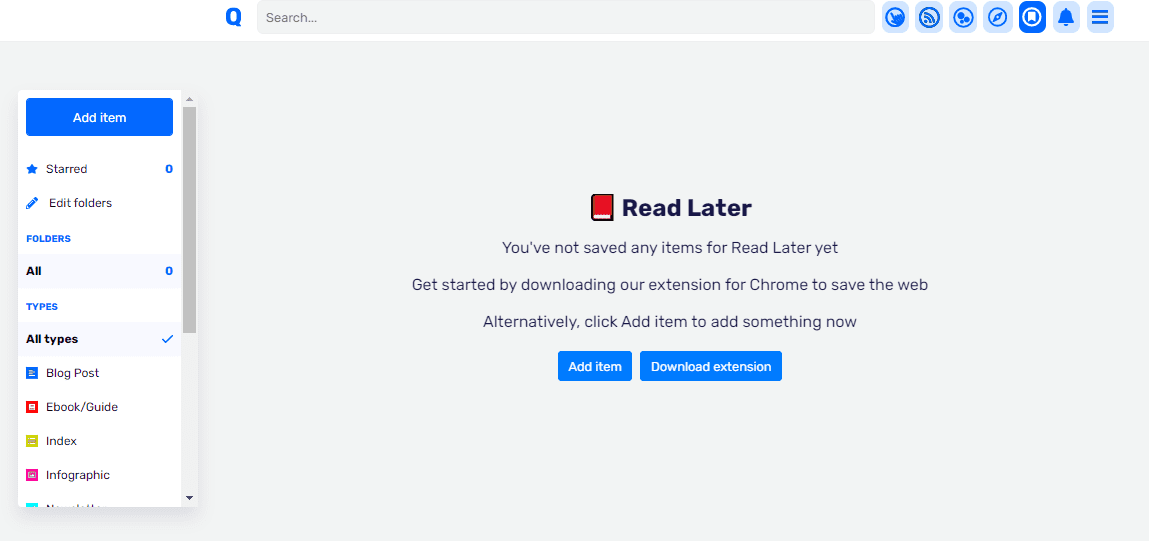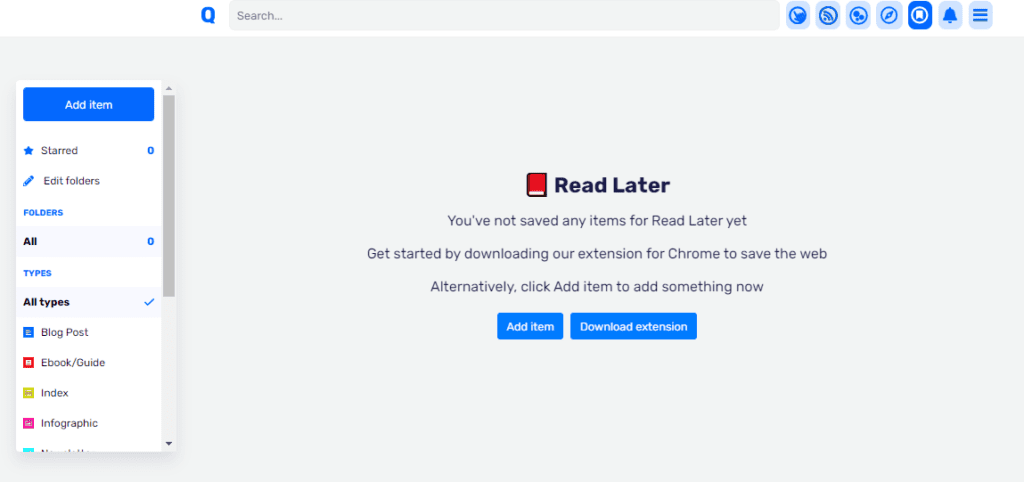 That's everything you'll see once you sign up to the platform, but to really make the most of Quuu, you'll have to do much exploring on your own. As you go subscribing to RSS Feeds and following creators that capture your interests and niche, Quuu will be able to personalize the content and ideas it brings.
Overall, I would say that Quuu will definitely be a game-changer for content curation and social media growth needs. It only takes a few seconds to set up, can be linked directly to your social media profiles, convenient to use, and of course, it delivers quality content. A lot of its users have stated that they are pleased with Quuu's performance and that the platform has always given highly relevant content. With the help of Quuu, you'll always have a wealth of content to help you keep your engagements high.
PROS
Offers a free plan
Easy to set up, use, and navigate
Delivers good quality and highly relevant content
CONS
Availability of content in a specific field may not be that much compared to others
QUUU ALTERNATIVES
Quuu vs. Tagpacker
Tagpacker is a content curation tool that allows you to collect, organize, and share your favorite links. Tagpacker turns the task of managing information an enjoyable process with the help of an easy drag and drop technology coupled with a genius search engine and a revolutionary tagging system, making it one of the best tools available in the market.
Much like Quuu, Tagpacker is able to provide you with high quality content but with Tagpacker, you get a little more personalization as it allows users to select their own thumbnail images for later reading. Although Quuu also offers a free plan, Tagpacker gives its users complete access to its platform entirely for free.
Quuu vs. ZEEF
ZEEF is content curation platform designed to let people cut through the noise of the web and share the best dev/tech resources via lists. ZEEF is a growing community with over 8,000 users catering to any topic about technology and development.
Compared to Quuu, ZEEF targets a much more specific audience. If you're all about technology and development, ZEEF will provide you the best resources online. However, if you're looking for a much broader collection of topics, Quuu will be the better option for you.
Quuu vs. Listly
Listly allows you to share your interests, involve your audience, and collaborate with your friends through the creation, curation, and publishing of all kinds of lists for all types of topics— bookmarks, playlists, app lists, places lists, product lists, people lists, and more.
What makes it interesting is that it understands all kinds of links and media such as YouTube, SoundCloud, Images, Places, Products, People and Apps. Simply enter a link, or search for media and add them to new or existing lists to build a list in just a few minutes. This specific method of content curation is what differs Listly from Quuu.
Quuu vs. Zest
Zest is information enablement tool which lessens your time spent searching for information, allowing for you to focus on your work. With Zest, you'll only need a single shortcut to open any document, file, or contact from the cloud. All your files are accessible through a unified, intelligent search bar. No more app switching as all your files will be at your side.
Comparing the two, Quuu is the more general content curation tool. Zest offers a much more personalized experience and also comes with a reliable app for even more convenience. However, both platforms are very capable of providing you with high quality and relevant content.